How to Find the Right Computer Science Scholarships For You
It is predicted that the computer and information technology industry is going to witness 11% job growth between 2019–2029. This is almost three times higher than projected rates for any other occupation. Most computer science positions demand at least a bachelor's degree, so going to college is a smart decision—and using computer science scholarships to pay for your studies is even smarter.
Why get into debt when there are numerous scholarships that help students in this field? You do need to surface different scholarship types that you qualify for first—but DoNotPay is here to help.
Find out what type of non-repayable aid is offered to computer science students and how you can apply.
Possible Scholarships for Computer Science Majors
Types of scholarships are numerous as you can get one based on special characteristics and situations—such as being a minority or a child of a single parent. Besides looking for scholarships for a computer science major, you can narrow the search down to find more sources of funds.
Different organizations, foundations, and even government entities offer scholarships to computer science students. The purpose is to fill the growing demand for these professionals.
You can start your search by looking into the following categories of scholarships within the computer science major:
Scholarships for women in computer science
Computer engineering scholarships
Computer science scholarships for high school seniors
Computer science scholarships for minorities
Other scholarships in computer science
Scholarships for Women in Computer Science
Women account for only 20% of computer science professionals. To increase the inclusion of women in this field, there are scholarships awarded to female students specifically. Some of the most prominent scholarships are:
The Google Anita Borg Memorial Scholarship
Admiral Grace Murray Hopper Memorial Scholarships
Association for Women Scholarship for Women in Computing
Computer Engineering Scholarships
If you are enrolled or plan to enroll in a computer engineering program, you can also apply for scholarships that target this field. Here are a few options you can consider:
Richard E. Merwin Student Scholarship
SMART Scholarship
Armed Forces Communications and Electronics Association (AFCEA) Cyber Security
Computer Science Scholarships for High School Seniors
You can apply for a computer science scholarship while you are in high school. To do that, you need at least a 3.0 GPA, and you need to be accepted into a computer science major. If you meet those requirements, revise these scholarships:
Intel International Science and Engineering Fair
Northrop Grumman Foundation Scholarship
Pitney-Bowes Scholarship
Computer Science Scholarships for Minorities
Minorities are outnumbered when it comes to jobs in computer science. Recent research shows that only 7% of students who took the AP Computer Science Principles exam were African-Americans. To restore the balance, certain foundations and organizations provide financial aid to specific groups. Here are some of the scholarships for minorities:
Vice Admiral Samuel L. Gravely, Jr. Memorial Scholarship
The HP Scholar Program
Xerox Technical Minority Scholarship
Review different minority groups in the table below:
Other Scholarships in Computer Science
College scholarships for computer science majors are also provided to students who identify with a specific group. You should think about what makes you stand out as that can open new doors for scholarships. For example, you can search for scholarships for Muslim students, out-of-state students, disabled students, and so on.
Take a look at the following examples of scholarships to understand the variety of this aid:
Where To Look for Computer Science Scholarships
Information about scholarships and grants is scattered across the web. You will need to resort to extensive research to surface different aid you qualify for. Here are a few ways to approach the search:
Go to the websites of schools you are interested in
Use the U.S. Department of Labor online scholarship search tool
Ask organizations that correspond to your interests about their offers
The more scholarships you find, the better your chances will be to cover the education expenses.
It can be tough to find every single scholarship you are eligible for—unless you sign up for DoNotPay. Our effective app will create a full list of potential scholarships in two minutes or less!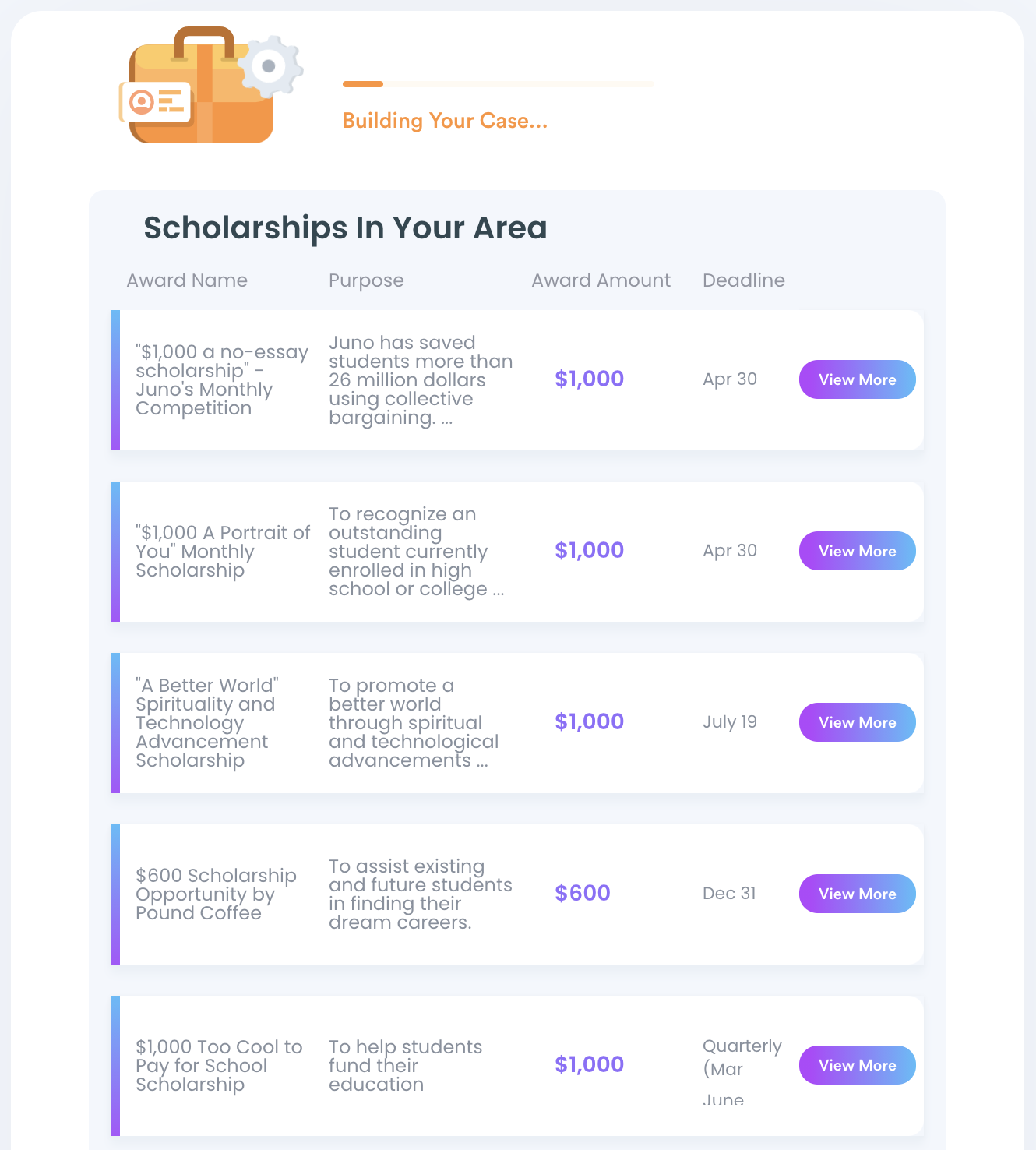 Who Can Get Computer Science Scholarships?
High-school students, undergraduates, and graduate students can all apply for and get a computer science scholarship. The general requirement is that a student must be:
Accepted in computer science major
Enrolled in computer science major
Working towards computer science degree—bachelor's, master's, or doctorate
Other criteria can include a strong academic record, demonstrated financial need, or expressed leadership potential. You need to revise every scholarship individually to find whether you meet the requirements.
How To Get Computer Science Scholarships
The application processes can differ. If you find a scholarship you are eligible for, follow the instructions for that specific aid to apply.
What most students are asked to do is:
Complete the FAFSA form
Write a scholarship essay on a given subject
Provide letters of recommendation
Supply documents that prove how you meet the set requirements
Simplify the Search Process With DoNotPay
If you want to cut down the time you spend exploring scholarships, subscribe to DoNotPay. Days-long research can become a few-minute-long process with the help of our app.
Create an account and take these simple steps to get a full list of scholarships and grants:
Locate and click on the Apply for Scholarships tool
Let us know about your level of study, college major, type of scholarship you want, and other relevant info
Submit the questionnaire
We will use the data you shared to pull out every scholarship you have a chance to get. You can even skip the procedure for no-essay applications—we can apply in your stead.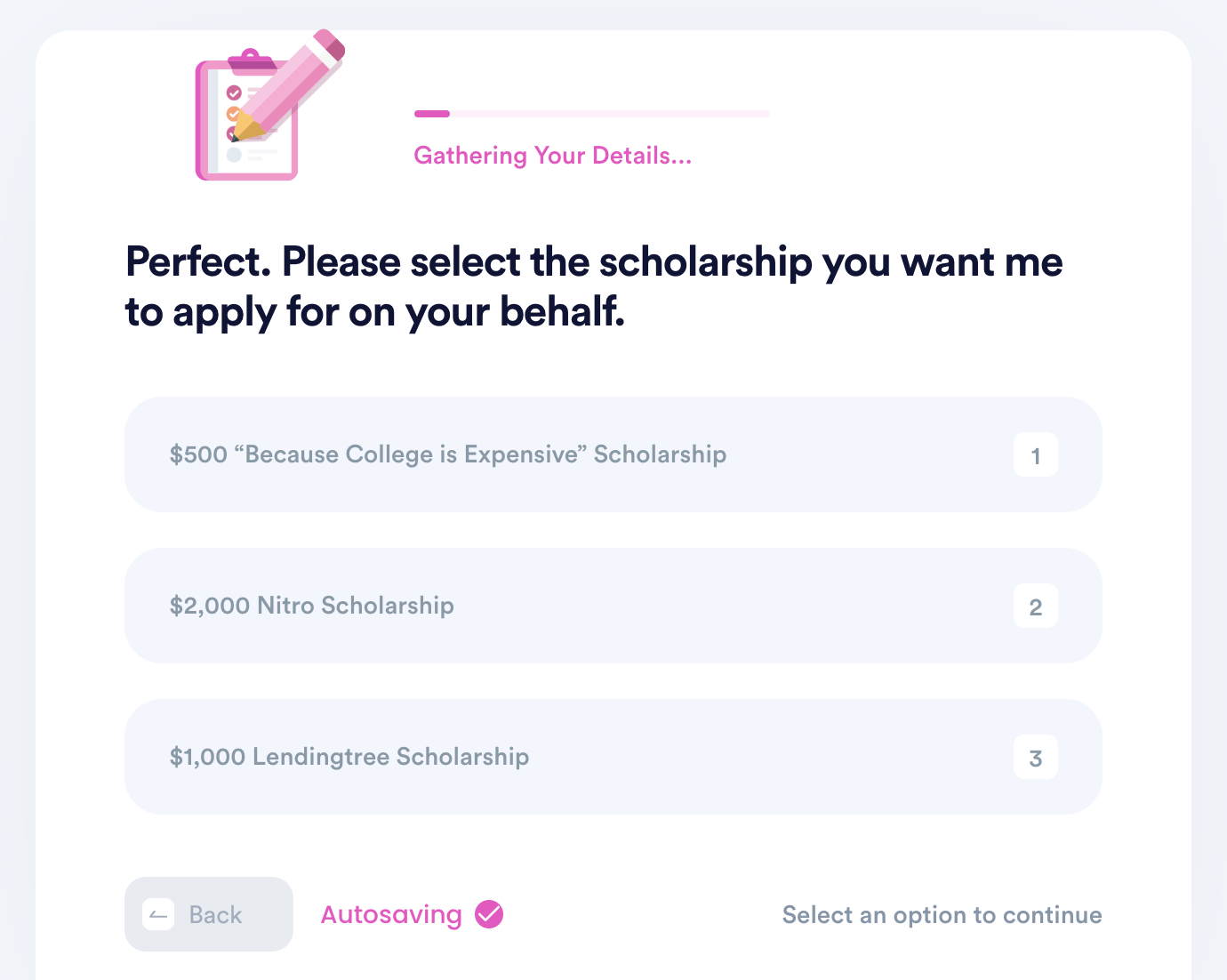 Administrative Issues? We Don't Know Them!
Forget about getting frustrated and overwhelmed by the administrative tasks waiting for you to complete them! With DoNotPay's numerous tools, you can easily resolve such tasks in a heartbeat! All you need to do is sign up for our app, and you'll be able to:
Use DoNotPay To Protect Yourself at All Times
Are pesky robocalls and email spammers working your last nerve? Don't despair—we are happy to help you get rid of them! In a few clicks, you can also stop text spam and avoid the incessant phone buzzing!
You can use our app to protect your privacy by creating burner phone numbers and virtual credit cards. That way, you don't have to disclose personal info when subscribing to online services.
In case you're looking for a way to keep yourself safe from stalkers or work discrimination, we'll help you report the case and walk you through the entire process!
Protecting your work from copyright violation and asking for violent crime compensation in your stead is also something DoNotPay can do!