A Guide to the ROTC Scholarships Requirements
A military scholarship is usually an award-for-service program. This means that eligible applicants get scholarships to fund their college education in return for a military service commitment. This guide will help you understand what the ROTC scholarships requirements are and how you can apply for them.
Want to look into other financial aid opportunities? Use DoNotPay to cut down on the scholarship search time. In a matter of minutes, you will discover all the scholarships and grants you qualify for.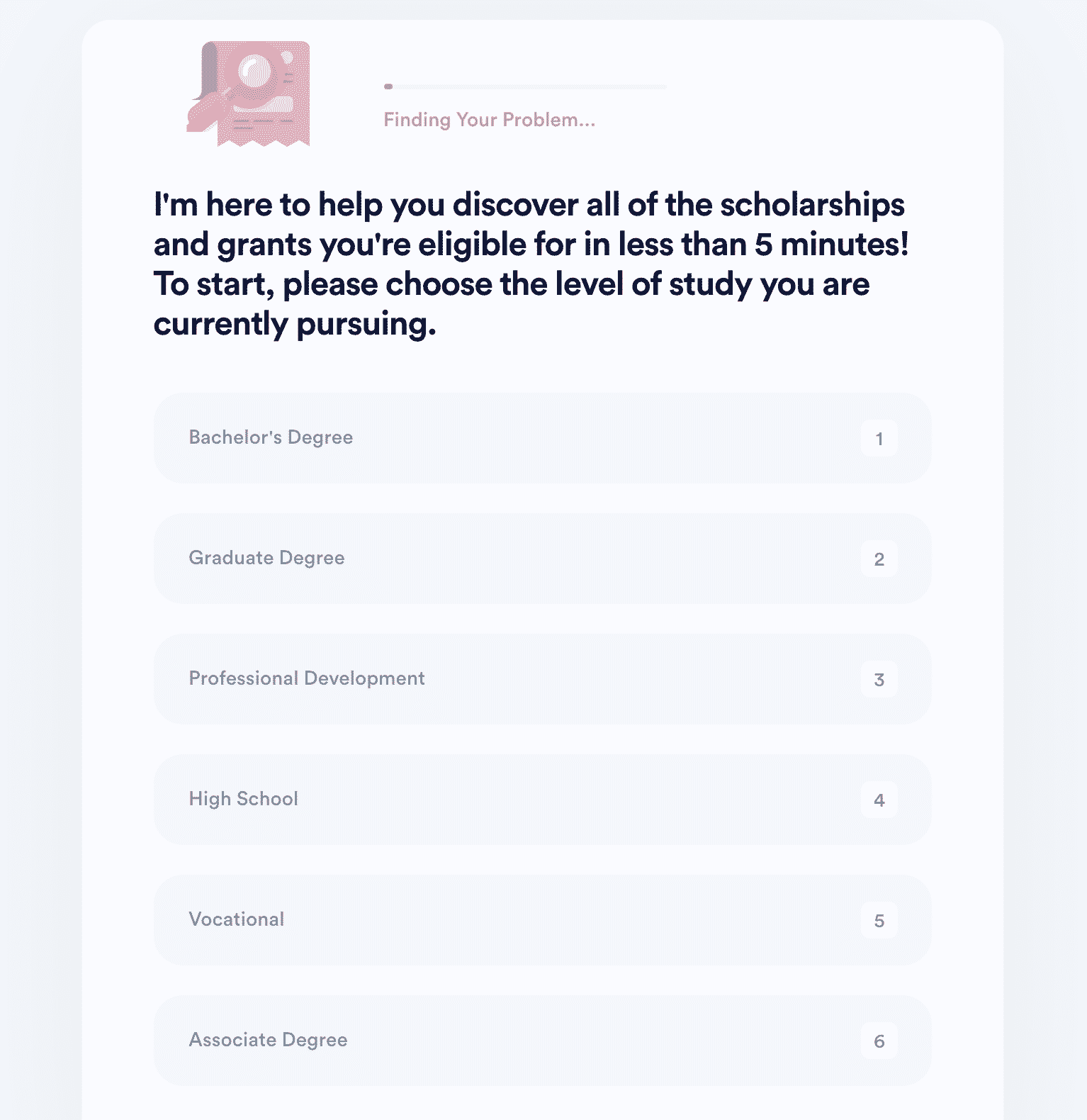 What Are ROTC Programs?
The Reserve Officers' Training Corps (ROTC) are college programs that prepare participating students for military service after graduation. The Navy, Air Force, and Army each have their own ROTC program offered to high school students who are planning to join a four-year college and current college students. The Marine Corps doesn't run an ROTC program, but students who enroll in the Navy ROTC have the option of joining the Marine Corps.
You can apply for any of the following scholarships:
Army ROTC Scholarship
Navy ROTC Scholarship
Air Force ROTC Scholarship
ROTC Scholarships Eligibility Criteria
Although some of the eligibility requirements are similar across the different ROTC scholarships, others vary, as detailed in the table below:
Air Force ROTC
Army ROTC
Navy ROTC

Be a U.S. citizen
Pass a Department of Defense Medical Examination Review Board (DODMERB) medical exam
Have a high school GPA of at least 3.0
Score at least 1240 on the SAT or 26 on the ACT
Complete the required Physical Fitness Assessment comprised of a 1.5-mile run, sit-ups, and push-ups

Be U.S. citizen
Be aged between 17 and 26 years
Have a cumulative unweighted GPA of 2.50
Have a high school diploma or its equivalent
Score at least 1000 on the SAT (math/verbal) or 19 on the ACT
Pass the Physical Fitness Test

Be a U.S. citizen
Be at least 17 but no older than 23 by September 1 when attending college and below 27 years during graduation and commissioning
Pass a Department of Defense Medical Examination Review Board (DODMERB) medical exam
Complete a Navy ROTC Applicant Fitness Assessment (AFA) and report the scores to the recruiter
ROTC Scholarships Requirements
ROTC programs are run concurrently with a student's normal degree program. To remain eligible, recipients of the ROTC college scholarships are required to follow these program requirements:
ROTC Courses—Besides the college classes leading to a bachelor's degree, cadets need to take ROTC courses offered in their school
ROTC training—Cadets also get military training to learn what it takes to become a military officer
ROTC summer programs—Cadets are required to complete different summer courses depending on the ROTC program they are enrolled in:

Leader's Training Course at Fort Knox, KY—A four-week program for students who joined the Army ROTC program without taking the first two years of military classes. All cadets who enroll in the Advanced Course after the first two years must participate in the Leader Development and Assessment Course at Fort Lewis, WA, for five weeks
13-day summer field training course at Maxwell AFB, Alabama—For Air Force ROTC cadets in their sophomore or junior years
NROTC Indoctrination Program, CONTRAMID, Marine Corps Orientation training—For cadets enrolled in the Navy ROTC
ROTC Service Commitment After Graduation
The military service commitment a cadet has to meet is determined by the ROTC scholarship they got:
ROTC Scholarship
Military Service Commitment
The Army ROTC
Full-time active duty for four years in the Army and four years in the Army Reserve or Army National Guard
The Navy ROTC
Marine Corps and Navy Nurse Corps scholarships call for a four years military service
The Air Force ROTC

Non-flight careers (Four years)
Air combat systems (Six years)
Pilot career path (Ten years)
How To Apply for ROTC Scholarships
The application process depends on the ROTC scholarship you want to obtain. Students who are currently enrolled at a college should consult their school's Military Science Department. Below are the instructions on how high school seniors can apply for the various scholarships:
ROTC Scholarship
Application Process
Army ROTC Scholarship

Create an MY GOARMY account
Use your credentials to log in to the scholarship application site
Submit the required documents, such as high school transcripts and ACT or SAT scores
Complete the online application by following the on-screen instructions
Download the ROTC Physical Assessment Card
Take the fitness test with the supervision of a coach
Attend an interview, preferably at your first-choice school

Applications should be complete by February 4

Air Force ROTC Scholarship

Create an Air Force ROTC account
Sign in, fill out the My Profile Page, and submit
File the My Afro ROTC Application
Print the Counselor Certification Form
Upload the copy signed by the counselor and your high school transcripts (grades 9–11 are mandatory)
Download the Physical Fitness Assessment form
Complete the fitness test with the supervision of an examiner who should sign the form
Enter the fitness date and also upload a scanned copy of the worksheet
Enter your GPA and submit your SAT or ACT directly via the testing agency using the AFROTC Test Code 0548

The AFROTC scholarship deadline is January 13

Navy ROTC Scholarship

Navigate to the NROTC online application system
Download the Application Information Checklist
Complete the online application
Submit your application
Edit any necessary information by January 31

The scholarship application deadline is December 31
Find and Apply for Scholarships Using DoNotPay
If the ROTC scholarship doesn't cover all your educational expenses—for instance, room and board—you can use our app to find more financial aid. Whichever student group you belong to—women, disabled students, graduate school students, foster kids, veterans, international students, nontraditional students, or others—you can get all scholarships you are eligible for in less than five minutes. Don't waste time browsing different scholarships lists on the internet—get your personalized list in a flash and in three steps only:
Find the Apply for Scholarships product
Answer a few questions relating to your academic background
We can also submit your application for no-essay scholarships on your behalf as you concentrate on essays, cover letters, resumes, personal statements, and recommendation letters for other programs.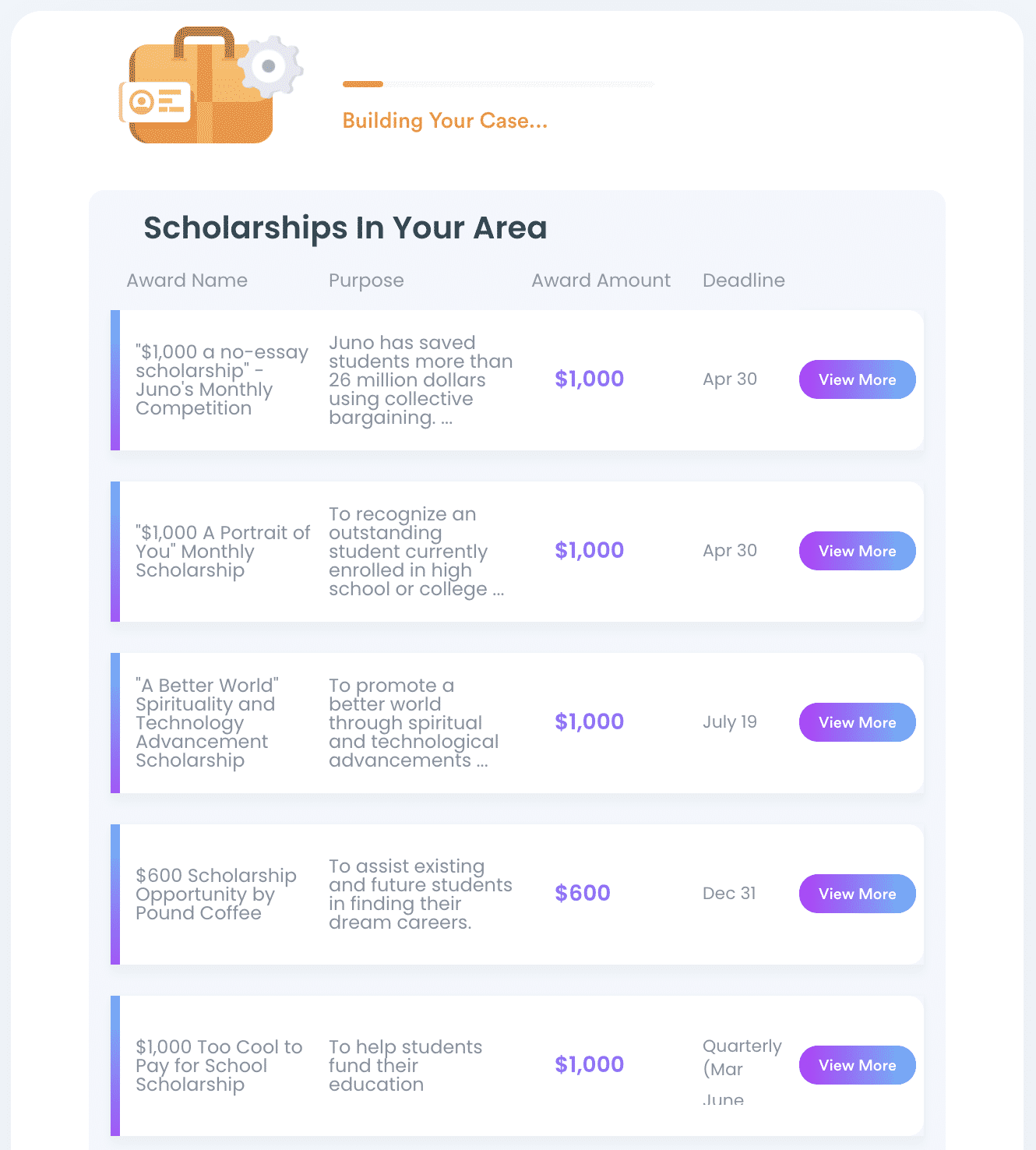 Resolve Any Other Issue You Have Swiftly With Our Assistance
The world's first robot lawyer is capable of tackling any legal or administrative task in your stead. We can draw up any legal document for you—including a power of attorney, child travel consent form, and divorce settlement agreement, to name just a few—help you sue any company or individual in small claims court, send a letter of warning to your noisy neighbors, help you reduce your property taxes and utility bills, and a lot more.
Sign up now if you want to stop email and text spam, claim any insurance or warranty, appeal parking tickets, schedule a DMV appointment in a flash, mail anything worry-free, find your missing assets, create passport photos, or contact embassies and consulates effortlessly.
Let DoNotPay Guide You Through Any Obstacle
Are you tired of corporations not taking their customers seriously? So are we, and that's why our nifty product will assist you in suing any company or individual in small claims court!
If you don't want to have any online service take advantage of you, you can sign up for any free trial completely risk-free with our virtual credit card's help, cancel any membership on time, and demand a refund or chargeback in a split second. DoNotPay can also draw up an airtight return request and send it to a company of your choice instantly.