Everything You Wanted To Know About Scholarships for Cheerleaders
People used to believe that cheerleading exists only to support football teams. This activity is widely considered a sport today, but it is still not recognized by the National Collegiate Athletic Association (NCAA).
Fortunately, modern colleges recognize cheerleading as an impressive athletic undertaking and offer plenty of scholarship opportunities for students who take part in this sport.
Most colleges are not actively recruiting for their cheerleading teams, so you'll need to learn how to apply for and where to find scholarships for cheerleaders. Find all information you need in this comprehensive guide DoNotPay has prepared for you!
What You Should Know About Scholarships for Cheerleaders
There is significantly less funding available for cheerleading scholarships compared to other sports, but you shouldn't give up on applying straight away. If you are a talented and committed cheerleader, the chances of winning a scholarship are pretty high.
Most scholarships for cheerleaders are awarded directly by colleges, but there are also some awarded by cheerleading associations and organizations, such as:
USA Cheer—once known as the American Association of Cheerleading Coaches and Administrators (AACCA)
National Council for Spirit Safety and Education (NCSSE)
You should keep in mind that full-ride scholarships for cheerleaders are not common due to the size of the average team and low funding. The amount of financial aid you can expect is usually between $500 and $1,000 per year.
In some cases, scholarships may also include book allowance, meals for students who live on campus, or tuition discounts. One of the few educational institutions that offer full-ride scholarships is the University of Hawaii, which offers 12–14 scholarships that will cover all your costs each year.
Unlike cheerleading scholarships for college students, this type of financial aid is not available for grad school students.
Who Qualifies for Cheerleading Scholarships?
Unlike student-athletes who take part in sanctioned NCAA sports and must meet a number of eligibility requirements, there are no officially prescribed requirements for cheerleaders. For this reason, each cheerleading college creates its own requirements, such as a GPA of 2.5 or higher.
What Are the Best Scholarships for Cheerleaders in the U.S.?
Here are some of the best colleges with cheerleading scholarships:
The most popular scholarships for cheerleaders are listed in the table below:
| Scholarship | Award Amount |
| --- | --- |
| Foot Locker Scholar Athletes Program | Up to $25,000 |
| University of Hawaii Cheerleading Scholarships | Full-tuition coverage |
| Amber Huber Memorial Scholarship Fund | $1,000 |
| Iowa Cheerleading Coaches' Association Scholarships | $500 |
| Marc E. Lewis Youth Scholarship | $5,000 |
Amber Huber Memorial Scholarship is open only to female candidates, while Marc E. Lewis Youth aims to make high school athletics safer and more inclusive for lesbian, gay, bisexual, transgender, and queer (LGBTQ+) students.
Note that you can combine scholarships and grants to lower your cost of attendance even more.
How To Get a Scholarship for Cheerleaders
To win a cheerleading scholarship, you'll have to stand out among other cheerleaders with exceptional skill and commitment to training. To better your chances, take the following steps:
Maintain a high GPA
Have a rich resume
Attend college cheer clinics to learn what routines will be performed at tryouts
Make sure the college you wish to attend is also the best academic fit for you
As a high school senior who practices cheerleading, you shouldn't wait for colleges to recruit you because it is unlikely to happen.
Find a scholarship you qualify for on your own and submit the application. Keep in mind that this is not an easy task, and you'll probably need to waste a couple of hours on meticulous research. If you want to avoid all the hassle, sign up for DoNotPay. Based on the answers you provide in our online form, we will match you with the best scholarships you qualify for!
How To Apply for a Scholarship
You will need to submit several documents to successfully apply for most cheerleading scholarships. Some of these documents may be:
GPA scores
A short scholarship essay
A resume
A transcript of your grades
A video that demonstrates your specific skills
Find a Suitable Scholarship With DoNotPay!
Why would you spend hours or days searching for the perfect cheerleading scholarship for your needs when DoNotPay can complete this task in minutes? Not only that—our app can apply for no-essay scholarships in your stead.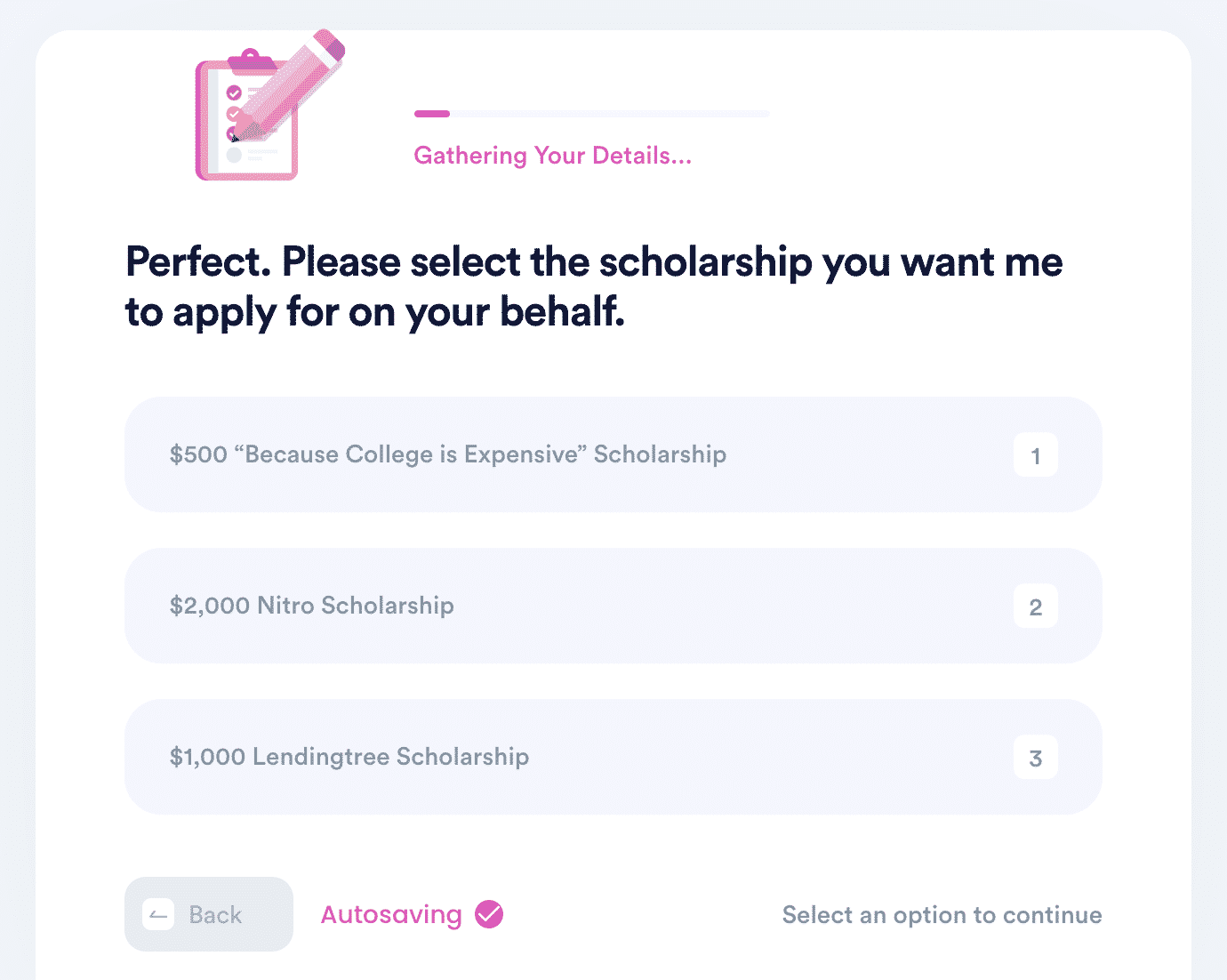 To get the list of the best scholarships you qualify for, all you have to do is:
Find the Apply for Scholarships feature
Answer a few questions from our chatbot regarding your:

Academic interests
Residency
Career goals
Any special social status (for example, veteran or international students)
We will process this information in a few minutes and send you a customized list of scholarships that are the best fit for you!

Save Time With DoNotPay
DoNotPay is not done helping you! We offer you assistance in completing a variety of tasks quickly and efficiently, such as:
Canceling Subscriptions Has Never Been Easier!
If you keep getting charged a monthly subscription fee even though you no longer want to use a certain service, don't let your money go to waste! Some companies tend to renew your subscription automatically, but that doesn't mean you have to put up with it—use our app to terminate your membership or subscription in a few clicks!
Do you want to sign up for free trials and create a virtual credit card or a burner phone number to protect your sensitive info? Once you subscribe to DoNotPay, we will walk you through the process of doing all of the above in no time!
You can also count on our assistance if you need to get rid of spam or robocalls.