Getting Familiar With Scholarships—Requirement Guidelines You Should Be Aware Of
A scholarship is a type of non-repayable financial aid given to a student to help them pay for college or grad school. Some students are awarded scholarships for their academic achievements, while others are rewarded based on demonstrated financial need.
Before applying for certain scholarships and grants, you should check all the requirements to ensure you're qualified to receive the award.
Read this comprehensive guide DoNotPay has prepared for you and find out all there is to know about scholarship requirements.
What Are Some Typical Scholarship Requirements?
Each scholarship has its set of requirements, but there are some universal ones, such as the following:
Student Aid Categories Based on College Scholarship Requirements
Based on requirements, scholarships can be divided into nine groups. Check them out in the table below:
Scholarships Types
Description
Academic scholarships
Such scholarships are entirely focused on excellence in schooling, considering your:

GPA
Test scores

Merit scholarships
To qualify for merit scholarships, you have to boast exceptional academic achievements or exceptional performance in sports, arts, etc.
Financial-need scholarships
A majority of these scholarships require you to demonstrate financial need. You will also need to demonstrate some kind of achievement—either academic, athletic, or artistic
Scholarships based on a particular major
These scholarships are dedicated to a particular field of study, such as:
Scholarships based on a particular interest
If you have an interest or hobby unrelated to your field of study, this type of scholarship is perfect for you!

There are a number of scholarships based on all kinds of students' interests available in the U.S.

State-specific scholarships
You can qualify for these scholarships only if you reside in a certain state. Often, you'll have to meet additional requirements.
University-specific scholarships
To qualify for such scholarships, you need to be a student at a specific university.
Scholarships based on extracurricular activities
They are given to students who take part in all kinds of extracurricular activities—from school clubs to athletic teams.
Special Scholarship Requirements You May Need To Meet
There are also other scholarships that require you to fulfill additional requirements. These requirements may be:
If the requirements of the scholarship you're interested in include some restrictions, make sure you're comfortable with them before applying. Here are a few examples of restrictions:
Having to live and work in a certain state after graduation
Not being allowed to live off-campus
International and online students can qualify for most of the scholarships regular U.S. students are eligible for but usually have to meet different requirements.
What Are Common Scholarship Retention Requirements?
Aside from requirements you need to meet before applying for a scholarship, there are additional requirements to fulfill after you win (to keep receiving the scholarship). In most cases, you'll have to:
Keep a certain GPA
Stay involved in an extracurricular activity
Continue to demonstrate financial need
If you accept the award but are not able to meet the requirements in the future, you may have to repay a portion or all of the money you were given.
How To Find Scholarships
Searching for scholarships and going through a sea of different requirements on your own is a difficult and time-consuming task. Many websites provide different lists of scholarships, but they are often incomplete. Apart from googling, other places where you can look for a scholarship may be:
Financial aid office at your school
Non-profit organizations
For-profit organizations
What if there was a faster and easier way to get the job done? That's exactly what DoNotPay is specialized for! All you have to do is sign up for our service and answer a few simple questions from our chatbot.
Find the Most Suitable Scholarship With DoNotPay!
Our app is the most convenient tool for scholarship search because it can match you with all scholarships you qualify for within minutes!

To get a list of scholarships you're eligible for, complete these simple steps:
Log in to your DoNotPay account from any web browser
Look for the Apply for Scholarships feature
Answer a few questions about your:

Grades
Level of study
Residency
Educational interests
Types of scholarships you're interested in
Are There Any Scholarships With No Requirements?
There are numerous scholarships with no requirements—no essay, financial need, academic achievements, or extracurricular activities are taken into account. DoNotPay can apply you for such scholarships automatically.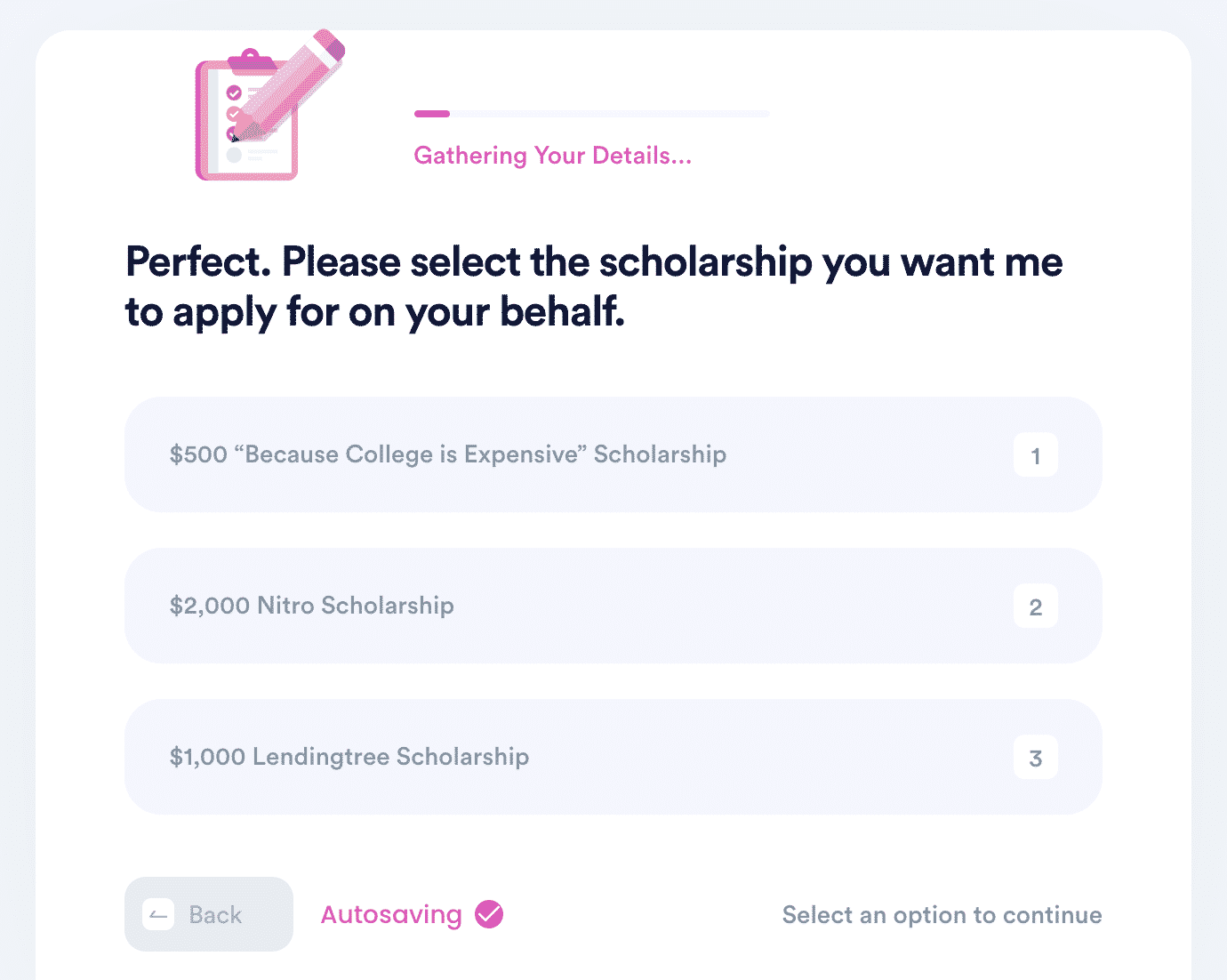 Use DoNotPay To Deal With a Plethora of Bureaucratic Tasks!
Tired of dealing with bureaucracy? We understand the struggle, and that is why our app makes handling administrative tasks a breeze!
Regardless of whether you need to compose a legal document, such as a power of attorney or a child travel consent form, appeal property taxes or your parking tickets, file a financial aid appeal and a FOIA request, or get a document notarized, DoNotPay has got you covered!
In case you also need to submit anonymous HR complaints, our app will provide you with the easiest way to do so!
Go on a Stress-Free Shopping Spree With DoNotPay
Do you like to shop until you drop? With DoNotPay, you won't have to worry about dropping! We'll make sure you can:
If you need more money to continue your shopping spree, let our app help you find any unclaimed funds under your name and enter numerous giveaways and sweepstakes!