Empower Yourself With Scholarships for Victims of Domestic Violence
Every year, over three million people in the U.S. are subjected to some form of domestic violence—with women being the victims in 95% of the cases. Even after escaping their abusers, domestic violence survivors have to live with long-term post-traumatic stress disorder (PTSD) symptoms that bring their personal and professional progress to a standstill.
Scholarships for victims of domestic violence can be a launchpad for those who are struggling to put their life together after enduring debilitating abuse. If you are one of those victims striving to get an education and carve a career path, you're a true hero, and this article was always meant to find you!
Why Are Certain Scholarships Earmarked for Domestic Violence Survivors?
Continuing education is challenging for domestic violence survivors due to the severe socio-economic repercussions of abuse. Finding suitable scholarships can help the victims recover financially and regain the confidence to pursue their dreams.
The socio-economic damage suffered by a victim depends on three factors:
The age of the victim—As per national statistics, a large number of domestic violence victims are students who were abused by an intimate partner over their schooling years. These victims often fall behind on their education—typically because they don't find scholarships to help with one or more of the following struggles:

Adolescent pregnancy and related complications
Chronic pain or other

disability

because of sexual assault
Clinical depression or anxiety

Psychological

triggers
High school or college scholarships can help teens and young adult victims restart their education without financial struggles
Loss of earning opportunities—Almost 60% of domestic abuse victims face problems at work or lose their jobs because of the impact of abuse. Scholarships or grants act as the much-needed push to help them rebuild their careers
Available Scholarship Opportunities for Victims of Domestic Violence
At present, domestic abuse victims can find graduate, undergraduate, or doctoral scholarships in a multitude of fields—we have listed some examples in this table:
Academic Field
Profession

Science

Engineering

Political Science

Medicine

Artist

Musician

Creative writer

Lyricist

Aesthetician
Scholarships for Domestic Violence Victims—Where To Find Them
Unlike national or state-sponsored scholarships and grants, victim-oriented scholarships are not readily available. You can find them by checking the websites and bulletins of groups such as:
Organizations that work to protect human rights
Non-profit organizations focusing on uplifting women

Legal

advocacy groups
Companies involved in domestic violence awareness campaigns
Certain universities (for example—the University of Kentucky and Ashford University)
Scholarships for Abuse Victims—What To Look For
While looking and applying for scholarships for abuse victims, pay attention to options that prioritize helping minorities and marginalized communities, such as black women, women over 40, senior citizens, mothers, single parents, transgender people, international students, veterans, or foster teens.
Most of the common scholarships for abuse victims focus on women and children—here are some examples:
The R.O.S.E. Fund scholarships that help with tuition, housing, and other living expenses for vocational students
Patsy Takemoto Mink Education Foundation For Women And Children only offers help to battered mothers
Accounting Scholarships For Women In Transition are offered to female abuse victims who are the sole breadwinners of their families
The Hendrick Scholarship Foundation awards full-ride scholarships to all survivors, irrespective of gender
The General Federation of Women's Clubs (GFWC) awards eight scholarships every year (worth $1,000) to students with recommendation letters from various non-profit domestic violence service agencies
We know it's hard to keep tabs on multiple sources to find scholarships. Whether you use a scholarship search engine or make a basic internet search, you'll be bombarded with thousands of irrelevant scholarships. If you want straightforward info, use DoNotPay to find exclusive domestic-violence-focused scholarships.
DoNotPay's handy scholarship finder is a great tool that matches you with all scholarships as per your student criteria. All you need to do is provide your details to our chatbot—we will curate a list of all scholarships that tag you as an eligible candidate!
to view your personalized scholarship database in under five minutes!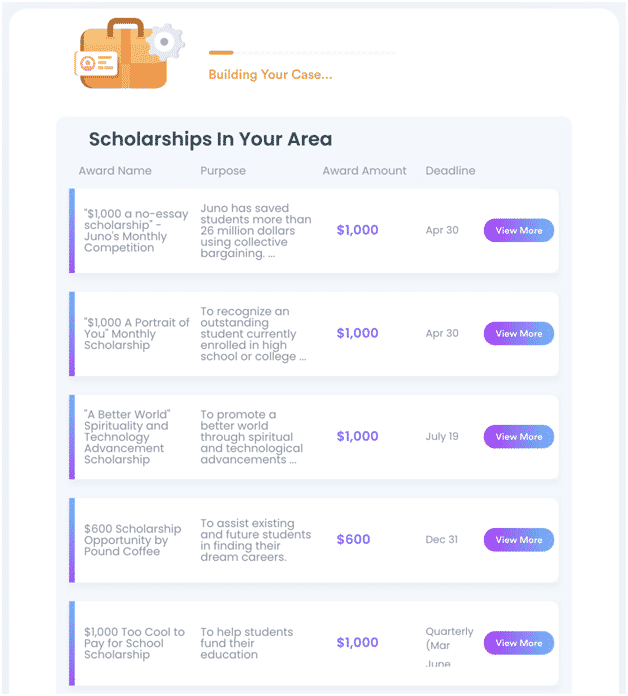 Scholarships for Victims of Domestic Abuse—Use DoNotPay To Apply Now
Living with domestic abuse can scar your mind and your soul to no end—but getting out of a toxic situation and starting an education is already a move in the right direction. The right scholarship will surely help you rise like a phoenix!
DoNotPay's scholarship support product can be your dependable tool as you look for the most beneficial domestic abuse scholarships. Our app not only gives you a thorough list of all scholarships available to you but also helps you apply!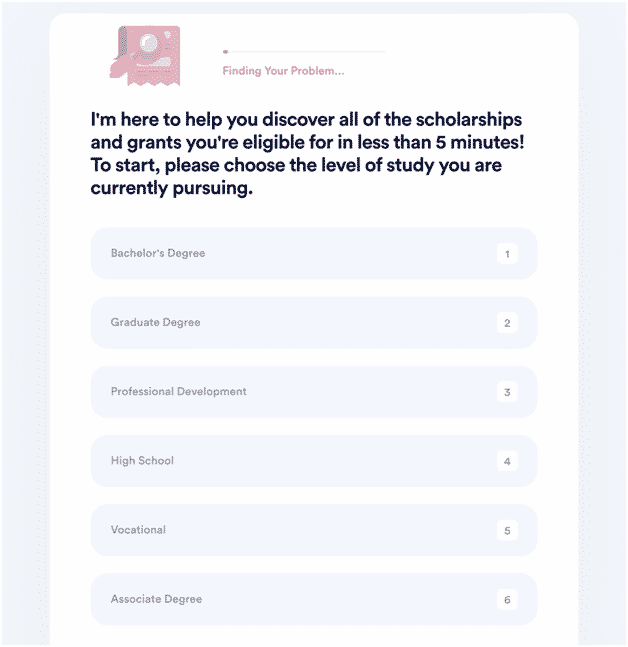 Here is what you need to do:
and select Apply for Scholarships
Enter your student info—such as grades, location, and interests
Choose if you want to view the list or apply directly
If you choose to view the list, we will compile and present you with every single active scholarship that you can apply for. The Apply option lets you browse the list of no-essay scholarships you qualify for. Once you select your favorites, we will automatically send your application and email you a confirmation.
Since most scholarships for victims of domestic violence don't require you to write an essay, using our app will be a time-effective way to apply for as many scholarships as you can within a couple of minutes!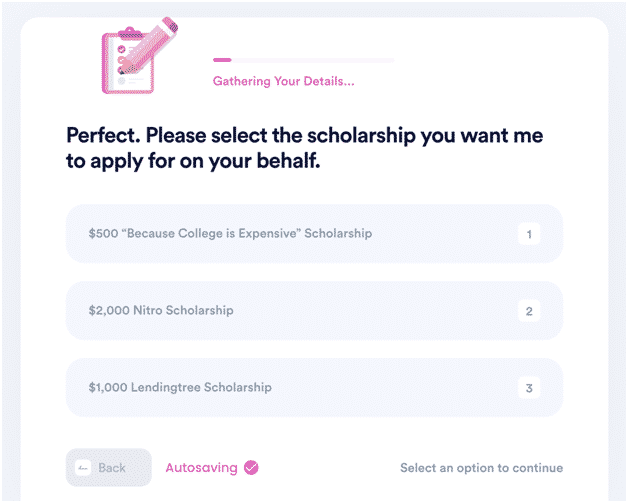 DoNotPay is also a reliable search tool for every kind of scholarship under the sun—we make sure you never miss out on scholarship opportunities that fit you!
Scholarships for Sexually Abused or Rape Victims—Special Requirements
Did you know that majority of domestic violence cases also double up as sex offender or stalking cases?
Many top educational institutions offer supportive scholarships to rape or sexual assault victims who want to enroll in a course. To qualify for these scholarships, the applicants may need to fulfill the following requirements:
Be legally separated from the abuser
Stay away from the abuser for a specified period before applying
Agree to attend counseling sessions
Show resolve towards building a career
Provide proof of prior education
Submit income certificates (if the financial award is tax-free)
Save Time With DoNotPay
DoNotPay is not done helping you! We offer you assistance in completing a variety of tasks quickly and efficiently, such as:
Canceling Subscriptions Has Never Been Easier!
If you keep getting charged a monthly subscription fee even though you no longer want to use a certain service, don't let your money go to waste! Some companies tend to renew your subscription automatically, but that doesn't mean you have to put up with it—use our app to terminate your membership or subscription in a few clicks!
Do you want to sign up for free trials and create a virtual credit card or a burner phone number to protect your sensitive info? Once you subscribe to DoNotPay, we will walk you through the process of doing all of the above in no time!
You can also count on our assistance if you need to get rid of spam or robocalls.