Find the Right College Sport Scholarships For You
The average cost of attendance for four-year institutions is approximately $53,900. Indeed, it's becoming increasingly more difficult to get a college degree without any financial aid from the outside.
The good news is, if you're a college athlete or a high school senior looking forward to a college career, you can apply for a number of scholarships and grants. We'll explain how sports scholarships in college work, where you can find them, and how you should apply for them.
We'll also show how DoNotPay can help you find the right scholarship for you, and guide you through the application process.
College Sports Scholarships—What Are They?
Sports scholarships offer college athletes money to cover their tuition fees and costs of attendance so they could focus on their sports careers. The National Collegiate Athletic Association (NCAA) claims it awards around $3.5 billion in scholarships to over 180,000 athletes.
These numbers show there are a lot of opportunities for athletes to forget about at least a part of their cost of attendance. Students who apply don't have to be the next Tom Brady or LeBron James as college sports scholarships offer aid to:
Recreational athletes
Potential professionals
Scholarships for Recreational Athletes
Recreational athletes can look forward to financial aid programs that are akin to need-based scholarships. As they don't show much promise or stand out from the group, these students need to show a certain level of financial need as well as academic excellence.
Each scholarship program defines the limit of the Estimated Family Contribution (EFC). Students need to fill out the Free Application for Federal Student Aid (FAFSA) form or the College Scholarship Service (CSS) profile to prove their financial status. If their families' yearly incomes are above the limit, they won't be able to apply.
Similarly, they need to demonstrate a level of academic excellence by:
Scholarships for Potential Professionals
Even if there are a lot of college scholarships for athletes, it doesn't mean that getting one is an easy ride. Students first need to compete for a spot at the college of their choice and then fight off the competition for financial aid.
This highlights the importance of scouting various universities before settling on one. Scholarships for pro athletes focus on students' athletic performance and sports achievements. Many programs require students to show academic performance too.
What Is the Best Sport To Get a College Scholarship For?
When looking at what the best sports for college scholarships are, there are two things to consider:
The popularity of the sport
The number of scholarships for that sport
For instance, the most numerous ones are football scholarships, but they are not easy to get because the biggest percentage of college athletes are football players. The success rate in landing a scholarship for a specific sport also differs for men and women.
Check out this table to see how many male athletes compete in a certain sport and how many scholarships for that sport there are:
| Sport | Number of Athletes | Number of Scholarships for the Sport | Ratio |
| --- | --- | --- | --- |
| Football | 1,112,024 | 25,918 | 43:1 |
| Basketball | 541,054 | 9,504 | 57:1 |
| Lacrosse | 106,720 | 1,251 | 85:1 |
| Baseball | 482,629 | 8,062 | 60:1 |
| Ice hockey | 35,393 | 981 | 36:1 |
| Golf | 152,647 | 2,998 | 51:1 |
| Soccer | 417,629 | 6,152 | 68:1 |
| Gymnastics | 1,955 | 101 | 20:1 |
Check out the following table that shows the stats for female athletes:
| Sport | Number of Athletes | Number of Scholarships for the Sport | Ratio |
| --- | --- | --- | --- |
| Basketball | 433,344 | 10,165 | 43:1 |
| Soccer | 374,564 | 9,266 | 40:1 |
| Lacrosse | 81,969 | 1,779 | 46:1 |
| Ice hockey | 9,150 | 612 | 15:1 |
| Rugby | 322 | 36 | 9:1 |
| Rowing | 4,242 | 2,080 | 2:1 |
| Gymnastics | 19,231 | 810 | 24:1 |
| Tennis | 215,737 | 4,480 | 48:1 |
College Sports Scholarships—Athletic Scholarship Requirements
The requirements vary depending on the sport and the program you're applying for. Different metrics can be applied to various sports, but they don't paint the whole picture, which is why many of these scholarships have an extensive list of demands, including:
Running times
Jumping distance
Shot percentage
Passing percentage
Successful take-ons
Number of interceptions
Number of strikes
Accuracy
Shot speed
Additional requirements can include belonging to a specific group of students, which some financial aid programs demand. For instance, some scholarships offer awards only to international students, minorities, or children of veterans.
Where Can You Find College Sports Scholarships?
College athletes—both undergraduates and graduates—can rely on a large number of financial aid programs. This can be a double-edged sword, as many students spend months researching and trying to find the scholarship that suits them.
Here are a few tips on where to focus the search if the process is lasting too long:
Your school's website
Your school's financial aid office
DoNotPay
With DoNotPay, you can forget about having to do all the manual work by yourself. You can to get a personalized list of all sports scholarships for college you're eligible for within minutes.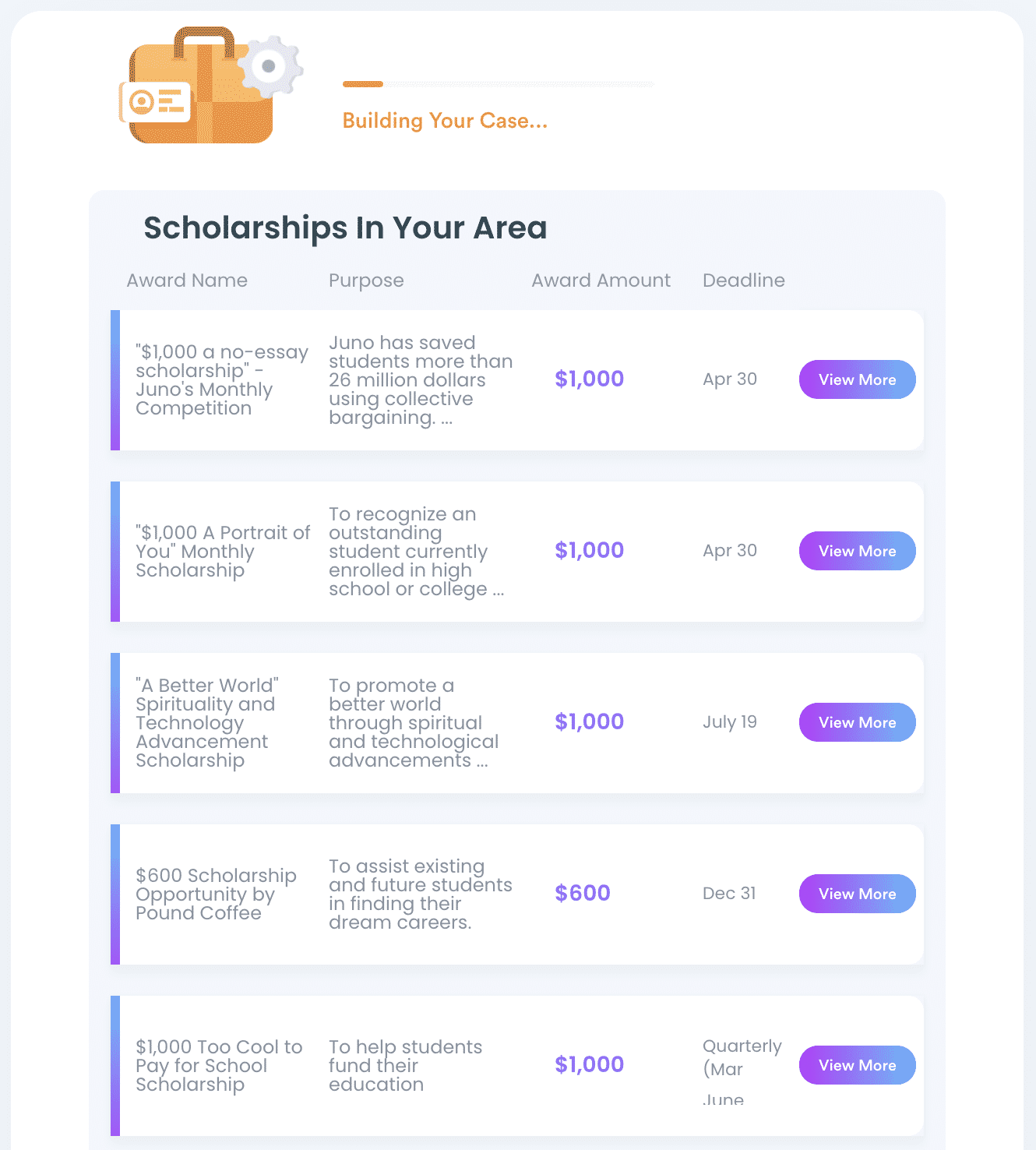 How Do You Apply for College Sports Scholarships?
When applying for a sports scholarship, you need to:
Make sure you're eligible
Respect the deadlines
Prepare the paperwork
Another element to the application process that's unique to college sports scholarships is creating a portfolio of yourself and your play style. The portfolio should consist of:
Sports achievements
Statistics
Videos of best plays
Videos highlighting your strengths
Published articles that feature your name
DoNotPay Helps You Get a College Sports Scholarship the Easy Way
Getting a scholarship is preceded by an extensive research period and preparation for the application process. With DoNotPay, you can avoid both of these and find the perfect scholarship in less than five minutes.
All you have to do is:
Use your browser to
Navigate to the Apply for Scholarships product
Answer a few questions about your academic and athletic performance
Our app will use your answers to create a custom list of all college sports scholarships you're eligible for and show you information about award amounts and requirements. If some programs on the list don't require you to write an essay, you can authorize DoNotPay to complete the entire application process on your behalf without any effort on your part.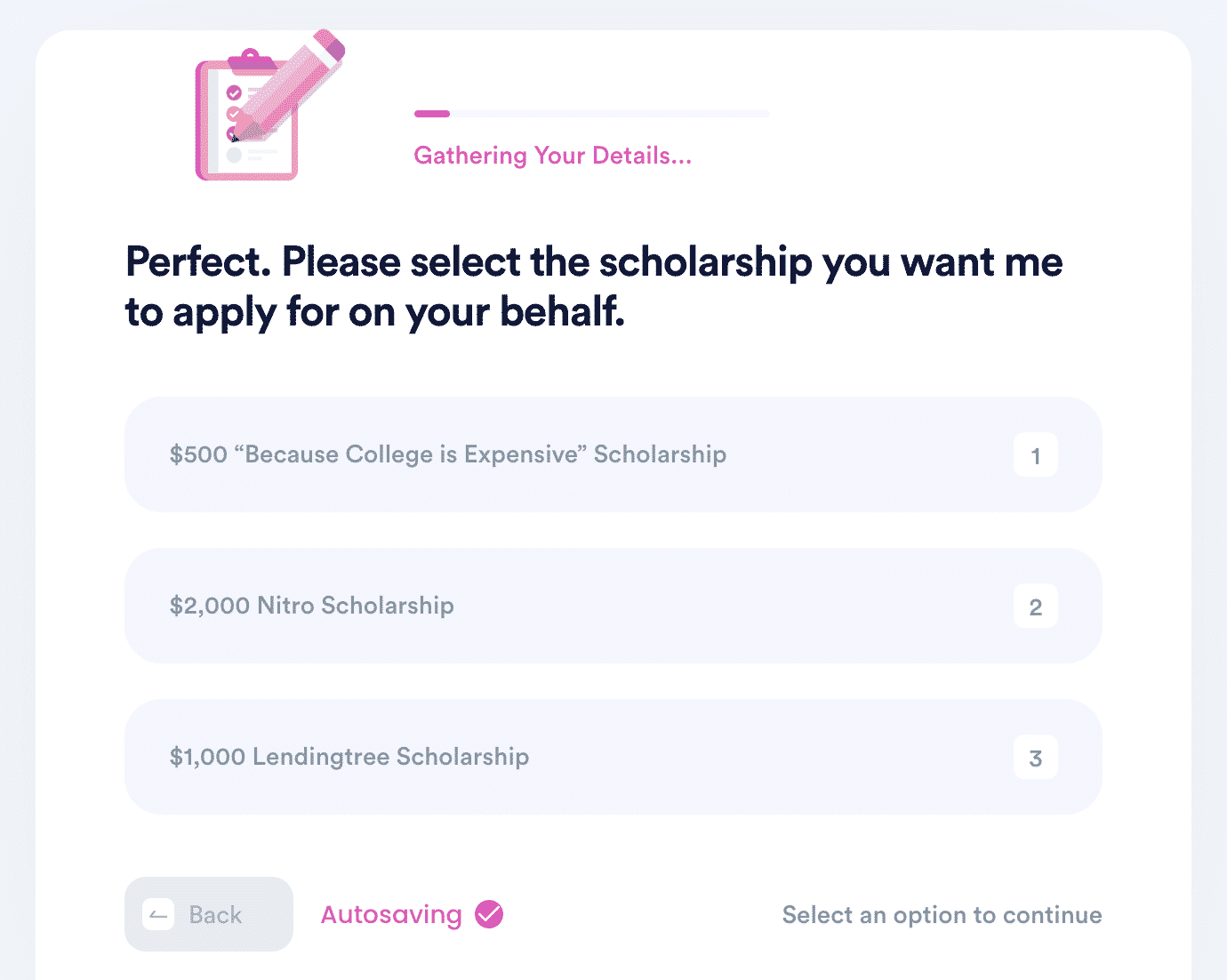 Let DoNotPay Handle Difficult Tasks for You
Are you tired of dealing with bureaucratic or legal matters on your own? You no longer have to—as soon as you subscribe to DoNotPay, we'll take any exhausting task off your plate.
Our app is capable of drawing up legal documents—including marital settlement agreements, child travel consent forms, powers of attorney, defamation demand letters, and affidavits to homeschool—getting them notarized remotely, filing complaints against companies, suing any individual or corporation in small claims court, sending FOIA requests, and so much more.
The World's First Robot Lawyer Offers So Much More
DoNotPay's capabilities don't end there—we can also:
Help you get a tourist visa