A Complete Guide to Finding North Carolina Scholarships
North Carolina is home to some of the world's best universities and colleges, such as the University of Carolina. Whichever school or career path you choose, there are thousands of scholarships and grants you can apply for if you need help paying for your education. Information about the programs is scattered all over the Internet, so finding a scholarship that suits you can be challenging. Fortunately, you can use DoNotPay to get a personalized list of all the North Carolina scholarships you can apply for in a flash.
Types of North Carolina Scholarships and Grants
North Carolina scholarships and grants can be categorized as follows:
Federal and state programs
Major-specific scholarships
Student-specific scholarships
Academic level scholarships
Federal and State Programs
Federal financial aid programs are awarded to eligible undergraduate, post-baccalaureate, or graduate school students in all states. Most of the programs require students to demonstrate financial need by completing the FAFSA. Federal programs include the following grants:
Federal Pell Grants—awarded to undergraduate students who are working towards their first bachelor's degree
Federal Supplemental Educational Opportunity Grants (FSEOG)—available to undergraduate students with exceptional financial need. The funds are managed by the financial aid offices of participating schools
Teacher Education Assistance for College and Higher Education (TEACH) Grants—open to undergraduate, post-baccalaureate, and graduate school students who commit to teaching in low-income regions
Iraq and Afghanistan Service Grants—awarded to children of military personnel who died on duty in Iraq or Afghanistan after 9/11
The state programs are administered by the North Carolina State Education Assistance Authority. The North Carolina state scholarships include:
NC Education Lottery Scholarship—awarded to the state residents attending NC Community Colleges or UNC system campuses
NC Community College Grant—available to NC residents enrolled in the state's community colleges
"People Helping People" Public University Scholarship Program—open to employees in the public sector and their dependents
NC Opportunity Scholarship—designed for students from low-income families enrolling in participating private schools. The award amount is up to $4,200 per academic year
Major-Specific Scholarships
Some scholarships are awarded to students based on their field of study, as shown by the following examples:
| Scholarship | Amount | Who Is It For? |
| --- | --- | --- |
| North Carolina CPA Foundation Scholarships | N/A | North Carolina residents pursuing bachelor's degrees in accounting |
| North Carolina Hospitality Education Foundation Scholarship | $750 annually | Full-time undergraduate students of culinary arts |
| ASHRAE Region IV Benny Bootle Scholarship | $500–$2000 | Students enrolled in bachelor's degree programs in the fields of science or engineering |
| Jim Graham Scholarship | $500 | Students pursuing bachelor's degrees in agricultural-related courses |
| Huguenot Society of South Carolina Graduate Scholarship | $1000 | Graduate school students enrolled in history programs |
| Foundation for the Carolinas Scholarship | Up to $4,000 | Undergraduate students majoring in arts |
| North Carolina Sheriffs Association Scholarships | $2,000 | North Carolina residents pursuing bachelor's degrees in criminal justice |
| Carol Bond Scholarship | $2500 | Students majoring in environmental science |
| Annie S. Alexander Memorial Scholarship | $1,800 | Residents of Forsyth County, North Carolina enrolling in undergraduate degrees in nursing |
Student-Specific Scholarships
Some scholarships target different student groups, for instance:
Student Group
Scholarships
Minorities

International Order of the King's Daughters and Sons North American

Women

Vickie Clark-Flaherty Scholarships
Andersen Nontraditional Scholarship for Women's Education (ANSWER)
SHEro Inc. NC Motherless Daughters Scholarship

Students participating in community service

Carson Scholars Fund Scholarship

International students

Korean-American Scholarship Foundation—Eastern Regional Chapter

Veterans

Veterans Benefit Scholarship
Disabled Veteran Scholarship
Academic Level Scholarships
Some scholarships are tailored to students at different levels of their academic journey, for example:
Scholarship Type
Examples
North Carolina scholarships for high school seniors

North Carolina Association of Educators Minority Affairs Commission (NCAE) Dr. Martin Luther King Jr. Scholarship
National Independent Automobile Dealers Association Foundation (NIADA) Region II Scholarship
North Carolina Home Builders Association Scholarship

North Carolina college scholarships

Oliver Joel & Ellen Pell Denny Healthcare Scholarship
NC Need-Based Scholarship

NC scholarships for graduate school students

North Carolina League for Nursing Academic Scholarship Fund
How To Find Scholarships in North Carolina
Since scholarships are offered by different providers, you may need to use various methods to ensure that you have exhausted all the available opportunities. Here are some useful tips to guide your search:
| What To Do | Example |
| --- | --- |
| Ask if your employer or parent's employer offers any programs | Carolinas Food Industry Council offers $2,500 worth of scholarships to dependents of the employees of their member companies |
| Confirm with your high school guidance counselor if any programs are offered to the school's seniors | Lloyd E. and Rachel S. Collins Scholarship offers a $2,000 award to graduating seniors from North, South, and West Stokes High School |
| Check programs available to students in your county | Sam L. Booke Sr. Scholarship provides a $1,500 award to high school seniors from Winston-Salem or Forsyth County School System who intend to enroll in mathematics programs |
| Search for scholarships offered to ethnic groups, like Africans, Indians, Asians, Filipinos | The F.A. and Charlotte Blount Scholarship is geared towards students of African-American or Hispanic heritage |
| Search for opportunities offered to people with certain conditions, like autism | The Marcus Raper Zimmerman Fund awards handicapped students or other students pursuing programs that will lead to working with handicapped people |
Better yet, skip all that and discover all the North Carolina scholarships that you qualify for in less than five minutes with DoNotPay. All you will need to do is sign up and provide your academic details.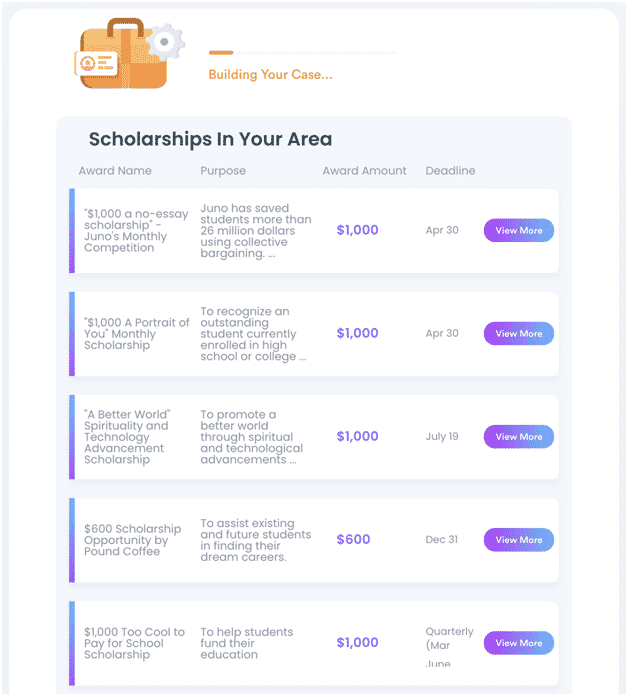 How To Apply for North Carolina Scholarships
The application process will be different depending on the NC scholarship program you wish to apply for. Most providers require the following paperwork:
Find North Carolina Scholarships in a Minute With DoNotPay
The search for scholarships can be overwhelming unless you rely on DoNotPay. Our AI-powered app maintains an updated database of all the scholarships available nationwide. This ensures that you will find all the scholarships you qualify for in one place and never need to worry about a missed opportunity. Discover the North Carolina scholarships you are eligible for by following these steps:
Type Scholarships in the search bar
Locate the Apply for Scholarships feature
Complete the questionnaire
After you hit Submit, we will provide a list of all the scholarships and grants you qualify for. We can also help you apply for the no-essay scholarships automatically.
Resolve Any Other Issue You Have Swiftly With Our Assistance
The world's first robot lawyer is capable of tackling any legal or administrative task in your stead. We can draw up any legal document for you—including a power of attorney, child travel consent form, and divorce settlement agreement, to name just a few—help you sue any company or individual in small claims court, send a letter of warning to your noisy neighbors, help you reduce your property taxes and utility bills, and a lot more.
Sign up now if you want to stop email and text spam, claim any insurance or warranty, appeal parking tickets, schedule a DMV appointment in a flash, mail anything worry-free, find your missing assets, create passport photos, or contact embassies and consulates effortlessly.
Let DoNotPay Guide You Through Any Obstacle
Are you tired of corporations not taking their customers seriously? So are we, and that's why our nifty product will assist you in suing any company or individual in small claims court!
If you don't want to have any online service take advantage of you, you can sign up for any free trial completely risk-free with our virtual credit card's help, cancel any membership on time, and demand a refund or chargeback in a split second. DoNotPay can also draw up an airtight return request and send it to a company of your choice instantly.