How to Find Scholarships For Low-Income Students
Unsuccessful efforts to afford higher education can put a lot of strain on students, especially those with a tricky financial situation. Luckily, many scholarships and grants are designed to help financially disadvantaged students afford higher education. Are the costs and mandatory fees of the school you're enrolled in or plan on attending giving you headaches? This complete guide will help you find and apply for scholarships for low-income students so that you can pursue your diploma or degree worry-free!
Are There Any Scholarships for Low-Income Students?
Low-income students can qualify for a plethora of scholarships based on their demonstrated financial needs. Financial need is the difference between a student's estimated family contribution (EFC) and the total cost of school attendance.
Some scholarships are both need- and merit-based, which means that students need to excel at their education and demonstrate financial need to earn them.
Other Scholarships for Low-Income Students
Aside from need- and merit-based scholarships, low-income students can get awards for:
Pursuing a degree in a specific field of study, for example:
Belonging to an ethnic minority, such as:
Belonging to a religious group, for example:
Participating in extracurricular activities, including:
Being an international student
No-Essay Scholarships for Low-Income Students
Another option for low-income students is to apply for no-essay scholarships—raffle-like awards with small prize pools. Application requirements for no-essay scholarships typically aren't complicated and require the applicant to enter some basic information about themselves—such as their full name, the name of their school, the field of study they're pursuing a degree in, etc.
The application process for most of these scholarships is repetitive and tiring, but our app can help you automate it! Sign up for DoNotPay to apply for all no-essay scholarship opportunities available and maximize your chances of winning!
Where To Look for Scholarships for Low-Income College Students
If you don't know where to start looking for scholarships for low-income college students, here are some ideas:
Your future school's financial aid department
Organizations dedicated to helping financially disadvantaged students, such as:

Equal Opportunity Schools
The Education Trust (EdTrust)
College Possible
MDRC
National College Access Network (NCAN)
OneGoal

Your religious group
Organizations devoted to helping women in college, if applicable—such as:

American Association of University Women
Women Leaders in College Sports
Association of Black Women in Higher Education and Sisters of the Academy (for black women)
American Council on Education—National Leadership Forums

Foundations dedicated to minorities, if applicable
How To Qualify for a Scholarship as a Low-Income Student
Most scholarship requirements for low-income students require the applicants to:
Have an estimated family contribution or total family income under a specific limit
Complete the:

Free Application for Federal Student Aid (FAFSA) or its state equivalent
College Scholarship Service (CSS) Profile
Individual scholarship application

Submit their:
Awards for Low-Income Students You Need To Check Out
Deciding between all available opportunities can be tricky, so here is a breakdown of some of the best awards for low-income students to help you make a choice:
Award
Prize
Requirements
Federal Pell Grant and its supplements

From $650 to over $10,000

The applicant must be pursuing their first bachelor's, graduate, or professional degree
Unmet Need Scholarship Program
The candidate's family must have a combined annual family income of less than $30,000
Horatio Alger National Scholarship
The applicant must:

Be a high school senior planning to attend college
Demonstrate exceptional financial need with a family income of less than $55,000
Be involved in extracurricular and community service activities

Dell Scholars Program

A laptop with a four-year warranty
$20,000
$500 worth of Chegg credits to spend on personal textbooks or rentals—annually

Eligible candidates must:

Be Pell Grant recipients in their first year of college
Participate in a college-readiness program in grades 11 and 12 (the Dell Scholars Program must approve the program)
Maintain a minimum 2.4 GPA
Demonstrate financial need
DoNotPay Helps Low-Income Students Find Scholarships!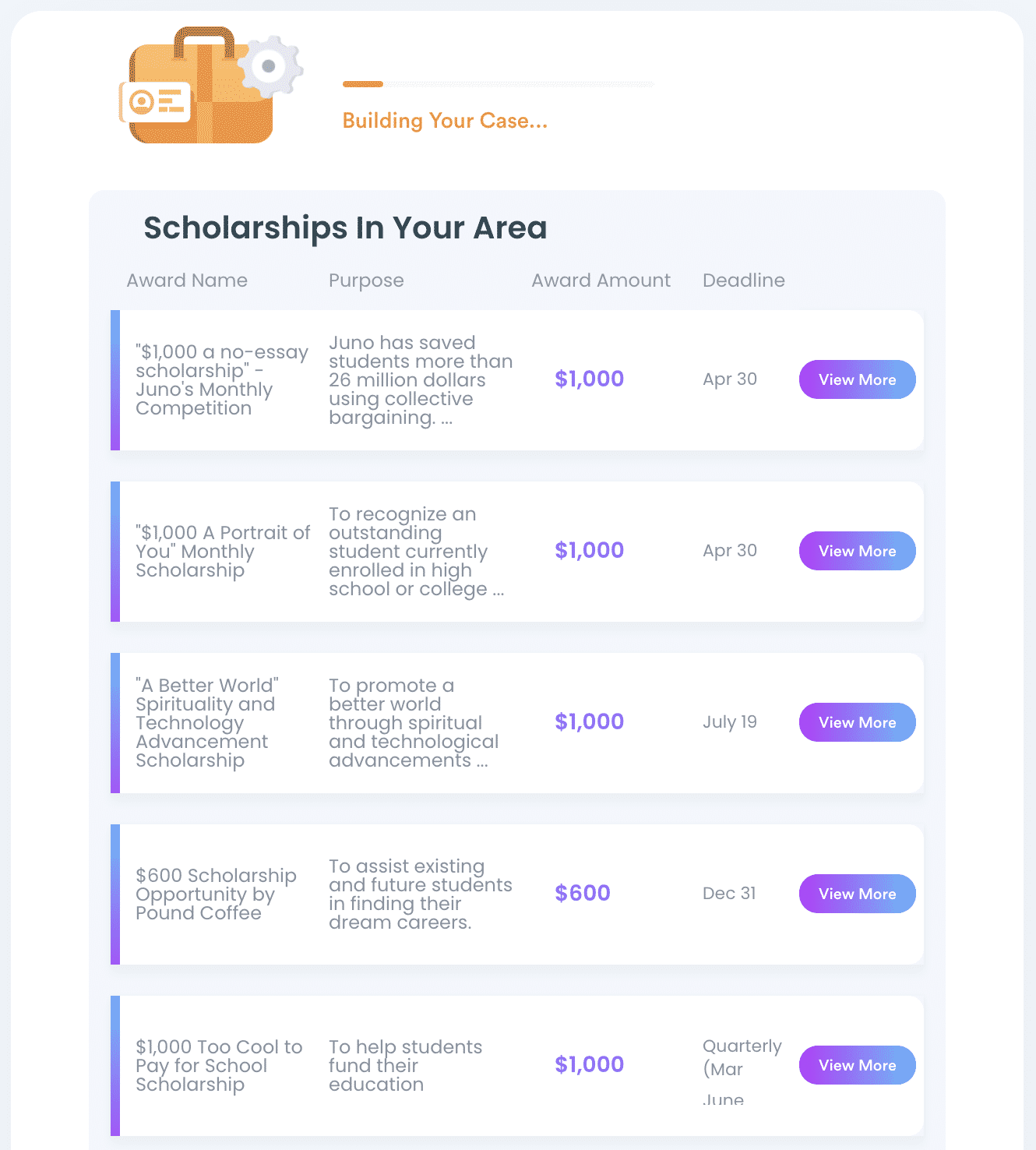 There are plenty more opportunities for low-income students waiting, and you can find them in a matter of minutes by using DoNotPay!
After answering a few short questions, our app will:
List all scholarships you're eligible for, along with their awards
Ask you whether you want to apply for no-essay scholarships automatically
Update the list of scholarships frequently so you don't miss any opportunity
To find awards that will help you overcome your financial hurdles:
Search for the Apply for Scholarships product
Answer our chatbot's questions about your:

Field and level of study
Potential veteran status
Other scholarship qualifications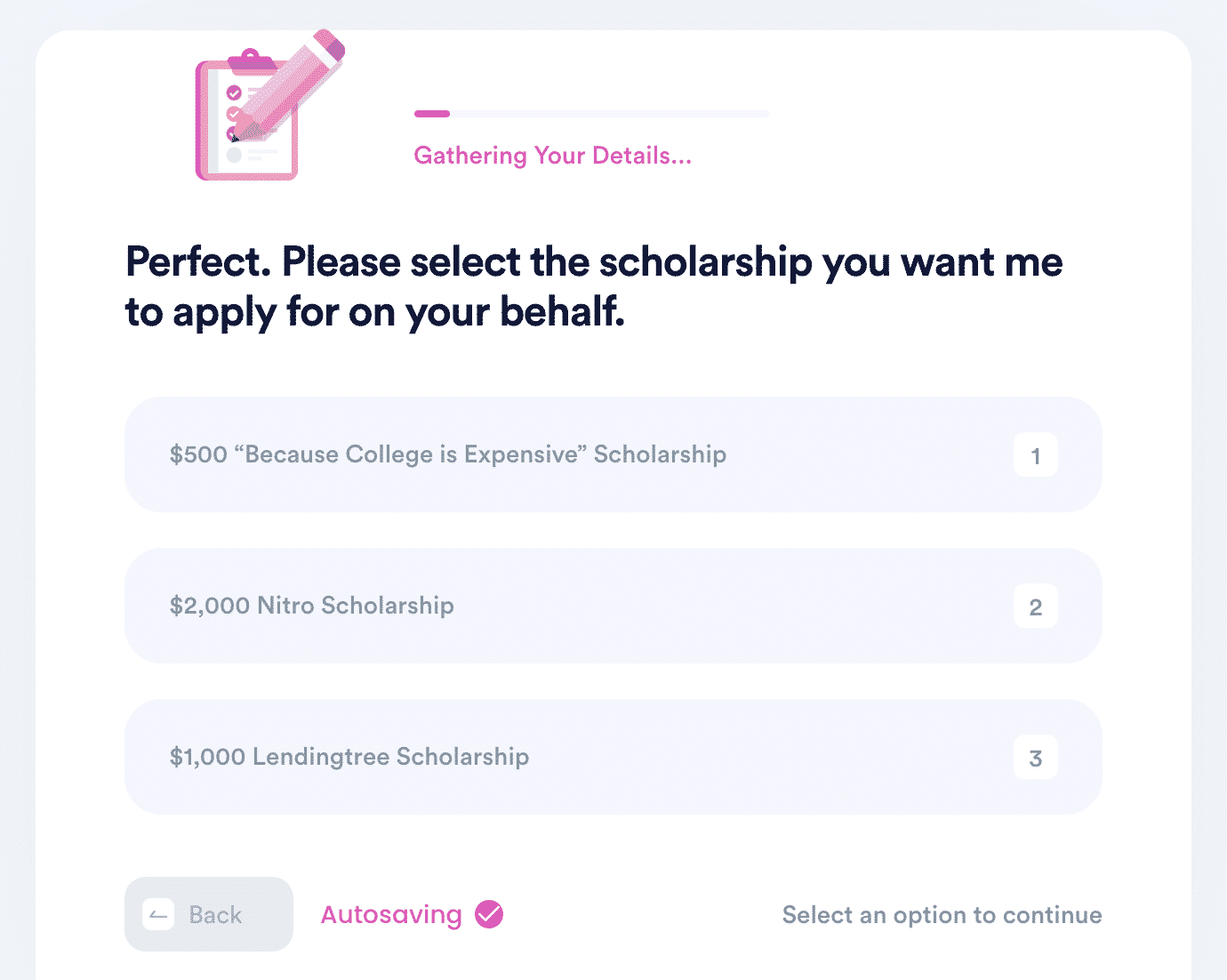 DoNotPay Helps You Run Errands Without Leaving the Comfort of Your Home!
If you're on a tight schedule and you can't afford to spend hours running errands, DoNotPay steps in with a perfect solution! You can skip going to the post office to request an item return or visiting a notary public to get your documents notarized—Our app will help you get it all done without going anywhere!
Visiting your local Walmart to have your passport photo taken is unnecessary since DoNotPay can help you get it at home!
Consult the list below to see what other tasks you can complete using our app:
Unsubscribe From Unwanted Services at Any Time
Companies tend to keep charging their clients monthly subscription fees automatically if they don't end their subscriptions. Stop wasting money on forgotten memberships—DoNotPay will show you how to terminate your subscription in a few clicks!
You can also learn how to sign up for a free trial without getting charged, create a burner phone number or a virtual credit card hassle-free!