Everything You Need To Know About Nursing Scholarships
There will always be a high demand for nursing professionals in the U.S.—but the education fees can be a barrier for many people. Fortunately, there are many nursing scholarships and grants—like, Johnson and Johnson nursing scholarships—that you can take advantage of to finance your education. With a good scholarship, it is possible to graduate debt-free!
Sadly, most people don't apply for the scholarships they are eligible for and end up missing out on their dream career or financing their education with costly student loans.
This guide will explain everything you need to know about scholarships for nursing students, including the easiest way to search and apply.
Types of Nursing Scholarships That You Can Apply for Today
Nursing scholarships come in different forms. While some are inclusive, most are targeting specific candidate profiles—women, veterans, male nurses, minorities, high school seniors, or international students. Understanding your specific situation and the types of nursing scholarships available can help you apply to the ones you are best suited for.
Scholarships for nursing students are commonly classified according to:
Nursing program type and education level
Region
Other demographic factors
Nursing Program Type and Education Level
Most of these scholarships come with their own sets of application requirements. Here are some of the scholarships you can find based on your program type or education level:
Scholarship Type
Scholarship Examples
Nursing scholarships for college students

ACLS Medical Training Scholarship

Scholarship for undergraduate nursing students

American School Health Association School Nursing Scholarship
AORN Scholarship
James G. Pulos Memorial Scholarship

Scholarships for nursing graduate students

FNSNA Scholarship
Dr. Lauranne Sams Scholarship

Masters in Nursing scholarships

Foundation of the National Student Nurses' Association Career Mobility Scholarship
Allegan Slagle Scholarships

Ph.D. nursing scholarships

Aird-Lemone Scholarship
Alexander Graham Bell Foundation College Scholarship Award
Back to School Nursing Scholarship

BSN nursing scholarships

A.T. Anderson Memorial Scholarship
AFSCME Family Scholarship Program
AAHD Frederick J. Krause Scholarship on Health and Disability

Scholarships for accelerated nursing programs

William Randolph Hearst Endowed Scholarship for Accelerated Nursing

Scholarships for RN (Registered Nurse) to BSN (Bachelor of Science in Nursing) programs

$500 RN to BSN/MSN Challenge
AfterCollege/AACN $10,000 Scholarship
NURSE Corps Scholarship Program

Scholarships for LPN students

A Nurse I Am Scholarship
Mayo Foundations Scholarship
Mary Ellen Hatfield School Nursing Scholarship
Nursing Scholarships by Region
Although most scholarships are available nationwide, some are limited to specific regions. For example, the following are scholarships for nursing students in PA:
Nursing Foundation of Pennsylvania's Future Nurse Leader Scholarship
Nursing Foundation of Pennsylvania's Florence (Madden) Grady-Fasick Scholarship Fund
Nursing Scholarships by Other Demographic Factors
These types of scholarships are awarded based on factors such as race, sex, ethnicity, and more. Check out several examples in the table below:
Demographic Scholarship
Scholarship Examples
Nursing scholarships for moms

The Mary Blake Single Parent Nursing Scholarship
AARP Foundation Women's Scholarship
A Place for Mom Senior Wisdom Scholarship

Nursing scholarships for high school seniors

Army ROTC
The McKelvey Foundation Scholarship
Tylenol Future Care Scholarship

Scholarships for women in nursing

Women's Independence Scholarship Program, Inc
Stephen Bufton Memorial Educational Fund Legacy Scholarship
How To Find the Best Nursing Scholarships
You should start looking for nursing scholarships as soon as possible. Here are some tips on how to find the best ones:
Search in the financial aid section of your current or prospective school's website or visit the financial aid office
Ask your guidance counselor
Search online
Use resources of relevant federal agencies
Ask your state grant agency
Ask past scholarship recipients
The online scholarship search process can be time-consuming and overwhelming, as there are hundreds of nursing scholarships available. Although some online sites compile scholarship lists, they are not exhaustive. You also have to check one program after the other to confirm your eligibility. This means that it's possible to spend days browsing the scholarship lists.
Knowing where to find scholarships can save you time and frustration. What if there was a service that automatically matches you with all the nursing scholarships you are eligible for? That's what DoNotPay can do for you in a few minutes.
All you have to do is sign up for DoNotPay and provide some information about your state, educational level, and academic interests. The app will do the search and provide you with a comprehensive list of all the nursing scholarships that you didn't even know about.
How Can You Apply for and Secure a Nursing Scholarship?
There is no standard procedure for applying for scholarships. Every program has its own eligibility requirements and application process. You can find all the details about a specific scholarship on the provider's website—but there are some common requirements that you will come across in different programs, such as:
Here are a few scholarship application tips to help you increase your chances of winning:
Read the scholarship details carefully and confirm your eligibility
Gather all the required documents
Check application deadlines and apply early
Apply to as many scholarships as you can
The Easiest and Fastest Path to Finding and Applying for Nursing Scholarships
Scholarships are competitive. To stand a chance of winning one, you need to apply to as many as you can. With DoNotPay, you will get a list of all the best nursing scholarships you qualify for.
All you have to do is sign up for DoNotPay and follow these steps:
Visit our platform and search for the term Scholarships
Choose the Apply for Scholarships tool
Choose your level of study
Answer a few questions to ensure you get the most relevant results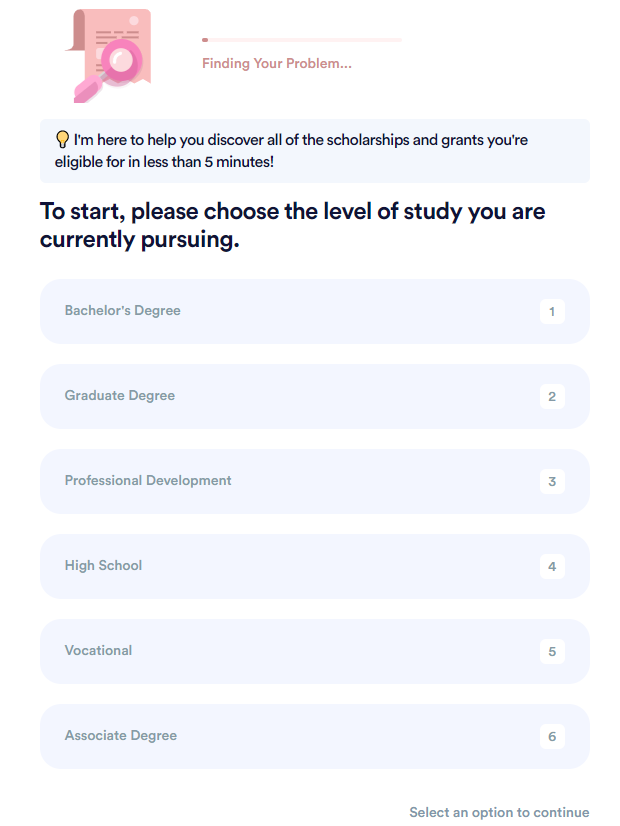 We can also submit your applications for no-essay scholarships. Whether it's a college or graduate school scholarship, you can use DoNotPay to speed up the process and increase your chances of getting the financial aid you need!
Is Bureaucracy Getting on Your Nerves? We Have a Solution!
We all know that dealing with bureaucracy isn't pleasant, and it often leads to overwhelming frustration. The good news is that DoNotPay has found a workaround! You can now do the following by using our app:
Let DoNotPay Make Your Legal Troubles Disappear!
Drafting contracts and other legal documents isn't a task you should handle on your own. Don't want to spend a fortune on lawyers? That is why DoNotPay—the world's first robot lawyer—is here to take the lead and help you out! Check out the list below to see some of the legal documents that our app can draft for you:
We don't stop there! Cut through the red tape and let DoNotPay assist you in taking anyone to small claims court, getting your documents notarized, submitting anonymous HR complaints, or requesting crime victims' compensation.