The Right Approach to Writing Resumes for Scholarships
If you've ever applied or considered applying for scholarships, you must've stumbled across various requirements. For example, to apply for some scholarships, you might need an essay and letter of recommendation. For others, you might need to write a resume. Resumes for scholarships can be the factor that decides whether you will get the aid, so having the best one among all applicants is crucial.
To maximize your chances of winning scholarships and grants, DoNotPay offers the best tips and tricks for writing resumes for scholarships!
What Are Resumes for Scholarships?
Resumes for scholarships are one-page documents highlighting all aspects that make you appear like a great choice for the award you're applying for.
Resumes should only have one page because scholarship committees initially skim through applications before settling for select applicants that reach the interview phase. Students should consider this when applying for no-essay scholarships as there is no scholarship essay or personal statement to use to their advantage. If the scholarship resume is the only document ranking a student for the award in question, it's even more important that it's well written.
Who Should Write a Resume for Scholarships?
Regardless of your level of study, you can and should write a scholarship resume. There is a slight difference in the writing process, though. As scholarship committees reward the most promising candidates, they will look for students who have accomplished a lot recently.
What 'recently' means depends on your level of study:
High school freshmen should include achievements from middle school

High school seniors

should avoid mentioning their accomplishments in middle school and focus on the high school period instead
College students should mention their achievements in high school and college
Graduate students should avoid mentioning high school at all costs. For graduates, work experience and accomplishments in college are of utmost importance
A resume is of little use without a scholarship application to enclose it with. to get recommendations for scholarships based on your field and level of study!
How To Write a Scholarship Resume
A well-written scholarship has five different sections/topics that need to be covered. Those sections are:
Contact information
Objective
Academic experience
Awards
Work experience
What To Include in the Contact Information Section
To start your resume, you need to give the scholarship committee your contact information if they decide to interview you. Every scholarship resume must contain the following contact information about the applicant:
Full name
Address
Phone number
Email address
What Is the Objective for a Scholarship Resume?
The objective for a scholarship resume is the reason you're applying for the award in question. This section should explain:
Your future career plans
Extracurricular activities that inspired your career choice, such as:

Participation in research
Internships

Academic accomplishments that make you stand out from other applicants, including:

Participation in study abroad programs
Awards you received for your academic merit
If your objective or mentioned awards are related to a specific student category, you should mention it. Those categories include:
Veterans

and their

dependents

Ethnic minority students, such as:

Native Americans

Hispanics

Asians

African Americans
An example of a good objective should look like this:
Student in [field] at [University], [Award] recipient for [year] who studied abroad for [number of years] and took part in a [length]-long internship program, seeks additional funding to pursue education at [University]. This award will help me continue my research in the [area].
Including Academic Experience in Your Resume
Take a look at the table below to learn more about mandatory and optional information to include in the academic experience section:
Importance of the Information
Details
Mandatory

The name of your school
Your major
Your minor (if you have one)
(Expected) Graduation date
Your grade point average (GPA)

Optional

Your academic achievements that are relevant to the award you're applying for
Your favorite fields of study
Relevant extracurricular activities you participated in—for example, high school or college sports, clubs, etc.
Mentioning Awards in Your Scholarship Resume
Awards and honors can prove that you're worth the effort and financial support. Other than stating only the award's name, the year you got it, and the place you ranked, you need to include your awards and honors in a way that showcases your qualities. You can and should add scholarships, too. If you wonder how to include scholarships in a resume, approach the issue by answering the following questions:
What award did you get and when?
What did you get it for?
Did you compete against many students? If yes, how many? Competing against thousands of students for one award is not an easy task
What was your prize? Mentioning money may seem like bragging, but the way the committee can see it is that not everyone can get $10,000, for example
Work Experience in a Scholarship Resume
While it's not an essential part of a scholarship resume, the work experience section can be a great way to show your determination and skills to the scholarship committee.
When writing about your work experience, you should include the following details:
The name of the company you've worked at
Your position
Your tasks and responsibilities (described using action words, such as assisted, regulated, performed, etc.)
DoNotPay Helps You Find Opportunities To Utilize Your Resumes for Scholarships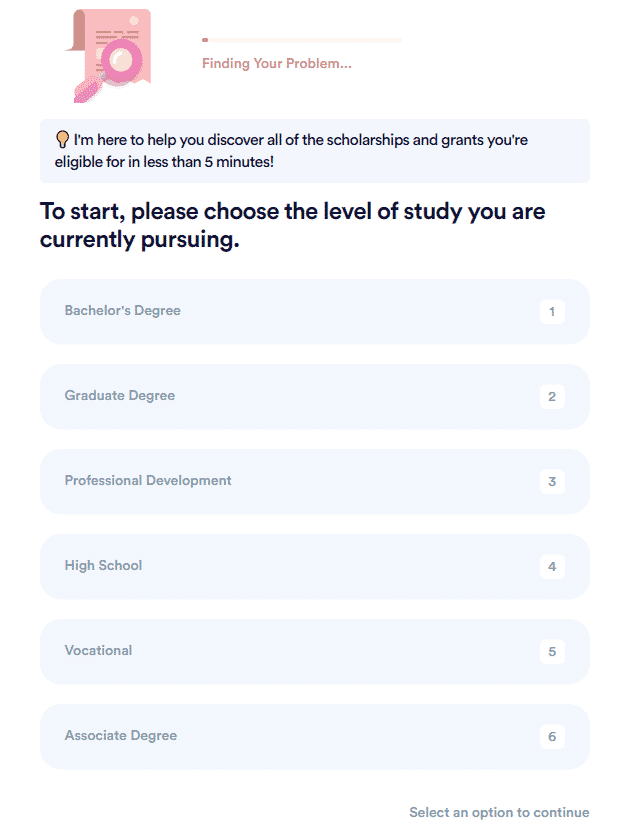 Our app analyzes thousands of scholarships and your qualifications to create a custom list of awards for you. Not only can you find opportunities, but you can also use the app to apply for no-essay scholarships automatically. That way, you save precious time and effort while increasing your chances of getting the financial aid you seek.
You're only three steps away from making the most of our all-in-one tool:
Search for the Apply for Scholarships feature
Answer a few brief questions from our chatbot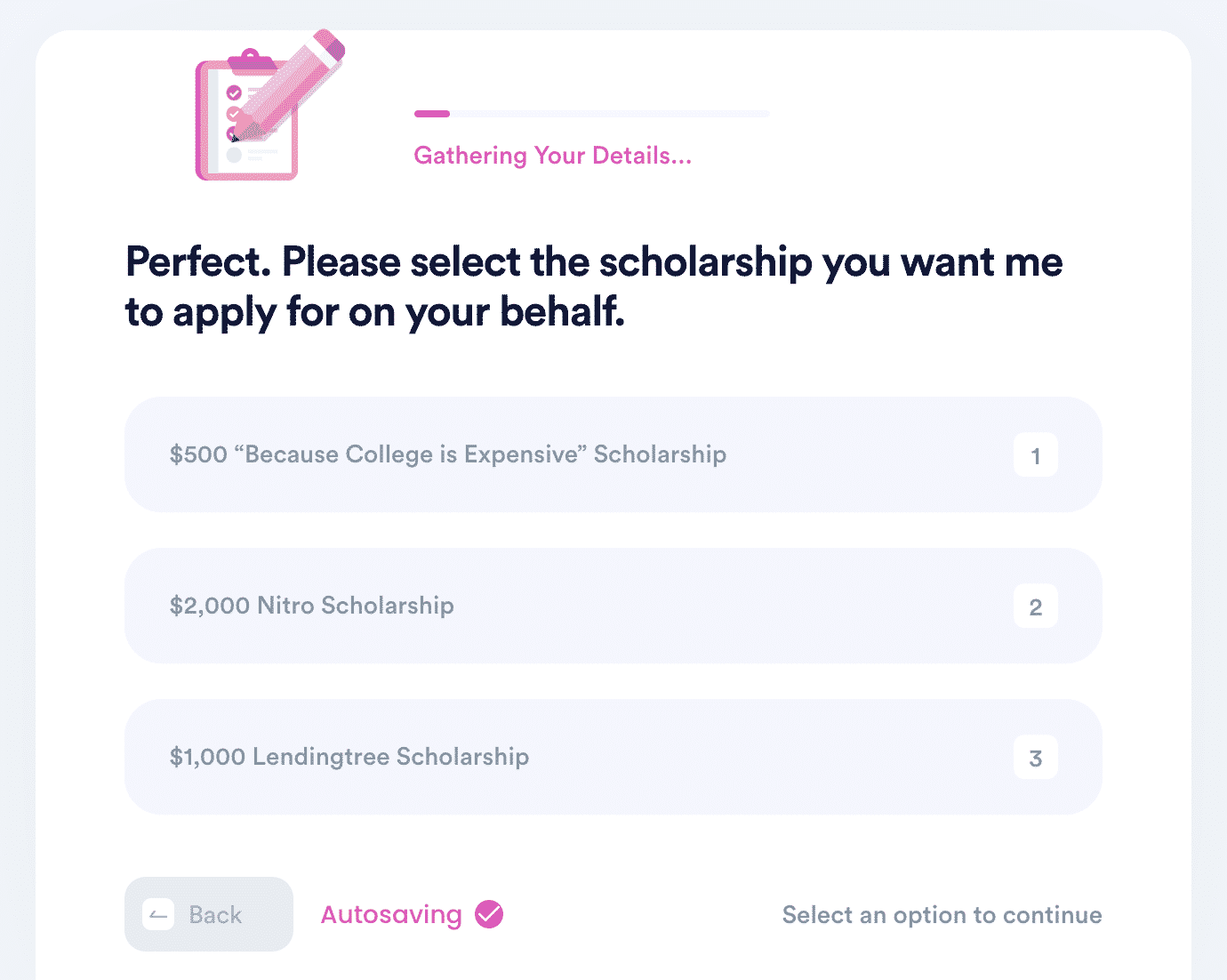 DoNotPay Offers Quick Solutions to Tedious Problems
Are you overwhelmed by your never-ending to-do list? We're happy to jump in with a perfect solution to deal with everyday tasks the easy way!
Once you subscribe to DoNotPay, you'll be able to schedule DMV appointments, lower your monthly bills, and contest parking tickets without breaking a sweat!
If you are looking for further assistance, our app will show you how to deal with the following tasks effortlessly:
Rely on DoNotPay's Legal Assistance Any Time!
If a company refuses to cooperate, use DoNotPay—the world's first robot lawyer—to sue it in small claims court! Getting the justice you deserve is only a few clicks away!
You can also use our app's various features to do the following:
Demand refunds

Reduce your property taxes