The Ultimate Guide to Finding Flight School Scholarships
Flight school is expensive, but that should not be an obstacle to achieving your dreams. There are plenty of scholarships and grants for aviation, but finding those that you qualify for is not an easy task. DoNotPay can create a comprehensive list of flight school scholarships that perfectly match your circumstances in just a few minutes.
The Best Flight School Scholarships You Can Apply For
Check out the scholarships that can help you offset your training costs and graduate debt-free:
Women in Aviation International Scholarships
Aircraft Owners and Pilots Association (AOPA) Scholarships
Aviation Distributors and Manufacturers Association (ADMA) Scholarship
Experimental Aircraft Association (EAA) Flight Training Programs
L3Harris Flight Academy Pilot Pathways Scholarships
National Gay Pilots Association Scholarships
Organization of Black Aerospace Professionals Scholarships
Women in Aviation International Scholarships
This organization offers collegiate and non-collegiate aviation scholarships for women and men. To be eligible, you must be a member of Women in Aviation International (WAI). While most of the scholarships provided by WAI are open to both women and men, some are tailored for women only.
AOPA Scholarships
The Aircraft Owners and Pilots Association (AOPA) Foundation provides four types of aviation scholarships:
High School Flight Training Scholarship
Primary Flight Training Scholarship
Teacher Flight Training Scholarship
Advanced Rating Scholarship
Each scholarship category has its own eligibility requirements. You must be a member of the AOPA and a U.S citizen or permanent resident to apply for any of the four scholarships.
The ADMA Scholarship
The Aviation Distributors and Manufacturers Association (ADMA) Scholarship is meant for international students enrolled at a two-year or four-year post-secondary institution.
EAA Flight Training Programs
The Experimental Aircraft Association (EAA) offers three types of scholarships for aviation students:
Air-Academy Camperships
Flight Training Scholarships
Post-Secondary Scholarships
The program is also open to international students, and you do not need to be an EAA member to apply for any of these programs. You can apply at any point of your training in a non-collegiate program.
The L3Harris Flight Academy Pilot Pathways Scholarships
These are need-based scholarships for pilot training offered by L3Harris Flight Academy to offset pilot training expenses. Below is the summary of the Pilot Pathway scholarships available:
| Pilot Pathway Scholarship | Eligibility Requirements |
| --- | --- |
| Veterans Scholarship | Veterans enrolled in the academy's Professional Pilot Program (PPP) or Airline Pilot Track (APT) as self-sponsored students |
| High School Senior Merit Scholarship | High school seniors enrolling in the institution's pilot training program as self-sponsored students |
| Diversity Scholarship | Members of minority groups, such as black women, Latinos, or members of the LGBTQ community |
National Gay Pilots Association Scholarships
The NGPA offers aviation scholarships to its members regardless of their sexual orientation. Applicants who don't identify as members of the LGBTQIA+ should have evident support for this community.
Organization of Black Aerospace Professionals Scholarships
The OBAP offers aviation scholarships to minorities desiring to pursue aviation courses.
How To Find Aviation Scholarships and Grants
Most flight scholarships are offered by aviation schools. Since there are no centralized search resources to help you find the program that matches your interests, consider the following search tips:
There is an even more effective way of searching for scholarships—use DoNotPay. When you sign up and provide your education details, DoNotPay will give you a list of all the aviation scholarships and grants you can apply for. Cut down the scholarship search time and start applying now!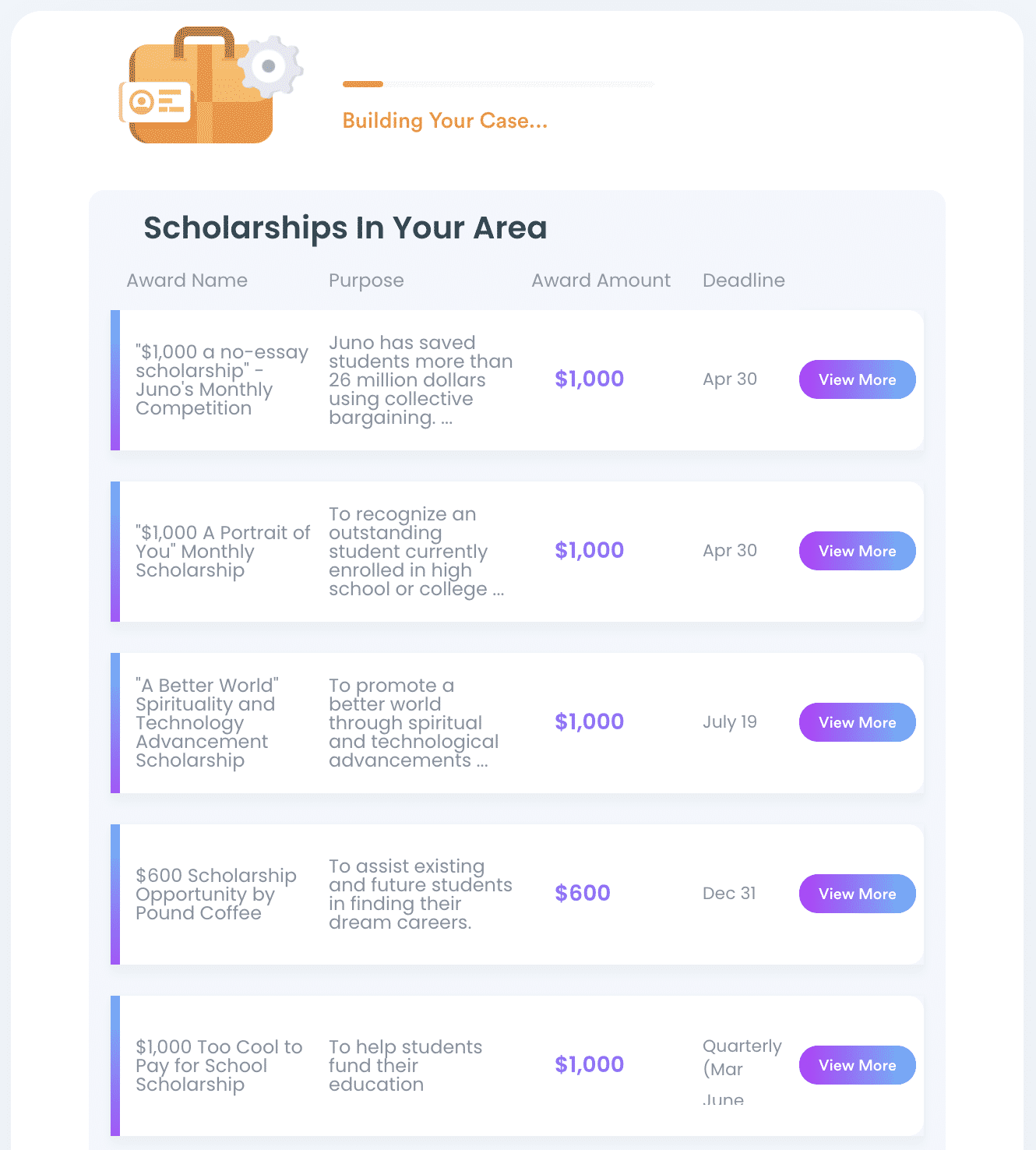 How To Apply for Flight School Scholarships and Grants
Once you find flight school scholarships that match your interests—which should take less than five minutes with DoNotPay—review the application process and requirements.
Every scholarship provider dictates the application guidelines, which you should follow carefully. To apply for a scholarship, you will most likely need to submit the following:
Check the requirements and prepare your paperwork early. Make sure to include any information that can help you stand out, like participation in community service.
Find and Apply for Scholarships for Aviation Students the Easy Way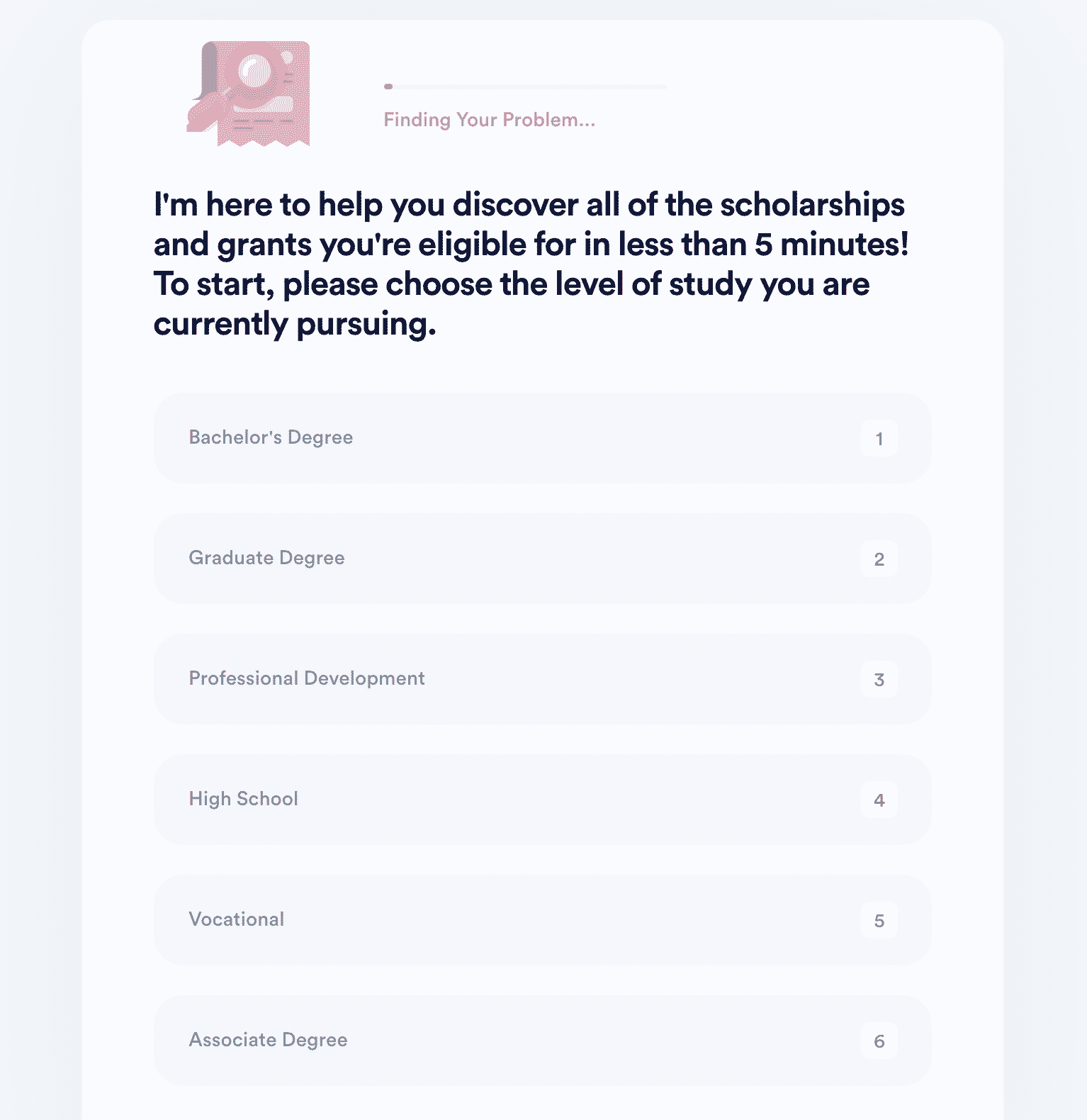 For high school, college, and graduate school scholarships in any field of study, you can rely on DoNotPay. Our app will help you save time and discover even the scholarships that almost nobody talks about. Don't let the tiresome scholarship search process hinder you from getting the free aid you need.
Use our platform by following these steps:
Find the Apply for Scholarships feature
Answer a couple of questions about your education level and interests
DoNotPay will use the information you provide to curate a list of all the scholarships for aviation students that you qualify for. We can even submit applications for no-essay scholarships on your behalf.
Is Bureaucracy Getting on Your Nerves? We Have a Solution!
We all know that dealing with bureaucracy isn't pleasant, and it often leads to overwhelming frustration. The good news is that DoNotPay has found a workaround! You can now do the following by using our app:
Let DoNotPay Make Your Legal Troubles Disappear!
Drafting contracts and other legal documents isn't a task you should handle on your own. Don't want to spend a fortune on lawyers? That is why DoNotPay—the world's first robot lawyer—is here to take the lead and help you out! Check out the list below to see some of the legal documents that our app can draft for you:
We don't stop there! Cut through the red tape and let DoNotPay assist you in taking anyone to small claims court, getting your documents notarized, submitting anonymous HR complaints, or requesting crime victims' compensation.