Godspeed—The Fastest Way To Secure a Scholarship for Catholics
Tuition fees have been on a steady rise for years now, and they've reached a point where it's almost impossible for students to finish their education without ending up in massive debts they will spend a decade to repay.
The best way to avoid any debt and still pay for your education is to get some type of financial aid, such as scholarships and grants. We'll show you how you can secure a scholarship for Catholics by telling you about:
Types of scholarships for Catholic students
How DoNotPay can optimize the entire process
Types of Scholarships for Catholics
Scholarship programs exist to help students of the Catholic faith pay their tuition and attendance costs. They are run by various sources, including:
Federal and state institutions
Companies and private funds
Churches
Generally, these financial aid programs can be divided into three groups:
Type of Scholarship
Description
Examples
Merit-based scholarships
Catholic students who show a high level of academic performance and personal success can receive merit-based rewards to reduce or eliminate tuition fees. Merit is determined based on:

GPA level
SAT and ACT scores
Extracurricular activities

Need-based grants
Catholics whose families can't support them financially can apply for grants based on their financial situation. To prove their need, students need to fill out the Free Application for Federal Student Aid (FAFSA) form or the College Scholarship Service (CSS) profile
Loans
Loans offer immediate help to students who need money but have failed to secure scholarships or grants. They are repayable and usually come with interest—unless awarded by churches
Programs also differ depending on the level of study candidates have to be to apply. The two main educational levels are high school and college. These can be even more specific as some scholarships offer help only to students of a particular year, including:
| Educational Institution | Level of Study |
| --- | --- |
| High school | |
| College | |
Who Can Apply?
To qualify for a scholarship for Catholics, you need more than just a Catholic background. You need to be an active member of a Catholic community, as well as a member and attendee of a church.
It's also important to find out whether you fit the required profile before you apply. Each scholarship can focus on specific groups within the Catholic community. As such, you have programs that offer aid to:
Where To Find a Scholarship for Catholics
The tricky part about getting a scholarship for Catholic students is finding it. If you use traditional research methods, there is no one place you can turn to to get all the necessary information. Details about programs are scattered all over the Internet, and it can take you months to find a program you're eligible for.
If you're not having any luck looking up various searches on the Internet, you should try:
Talking to your school's financial aid office—The majority of schools in the United States have financial aid offices you can visit for help. They will take into account your academic performance and financial status to tell you which scholarships you can apply for
Visiting your school's website—Most high schools and colleges have a dedicated page for financial aid. You will find school-specific programs there, but bear in mind that they will display only a selected number of scholarships
Talking to your church—If you're an active member of a church, you can talk to your priest to see if the parish offers any help to students within the community
Visiting a scholarship's website—Once a certain program catches your eye, you should visit their website to find all necessary information before you start with the application process
Using DoNotPay—With , you have all these steps mashed into one. You need only a few minutes to answer a few questions, and you'll get a personalized list of all available scholarships for which you're eligible
How To Apply for a Scholarship for Catholics
Each program has its own application process, so you need to make sure you get prepared for it before you start applying. Alongside respecting the deadline, you should check if you fulfill all the requirements. Scholarships also require applicants to submit paperwork, which may include:
The FAFSA form
Letter of recommendation from your priest
Proof of participation within the Catholic community
Proof of attendance in a church
DoNotPay Makes It Easy To Secure a Scholarship for Catholics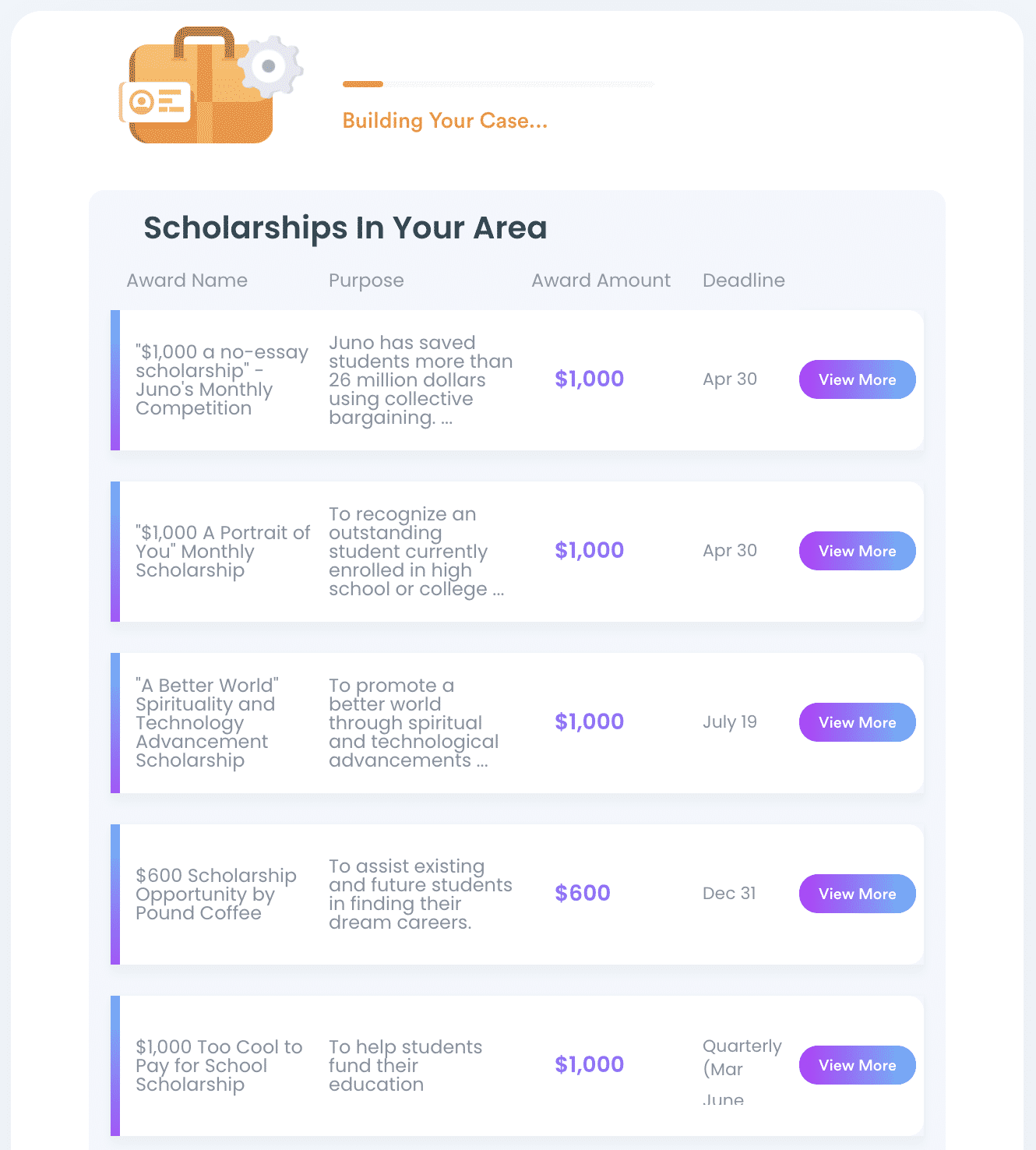 Getting a scholarship is a time- and energy-consuming process during which you need to do research, prepare documentation, and apply. DoNotPay can help you by eliminating the hassle of it all and letting you know about your options within minutes.
You only need to complete the following steps:
Use your browser to
Search for the Apply for Scholarships product
Answer a few questions regarding your academic performance, level of study, financial need, location, etc.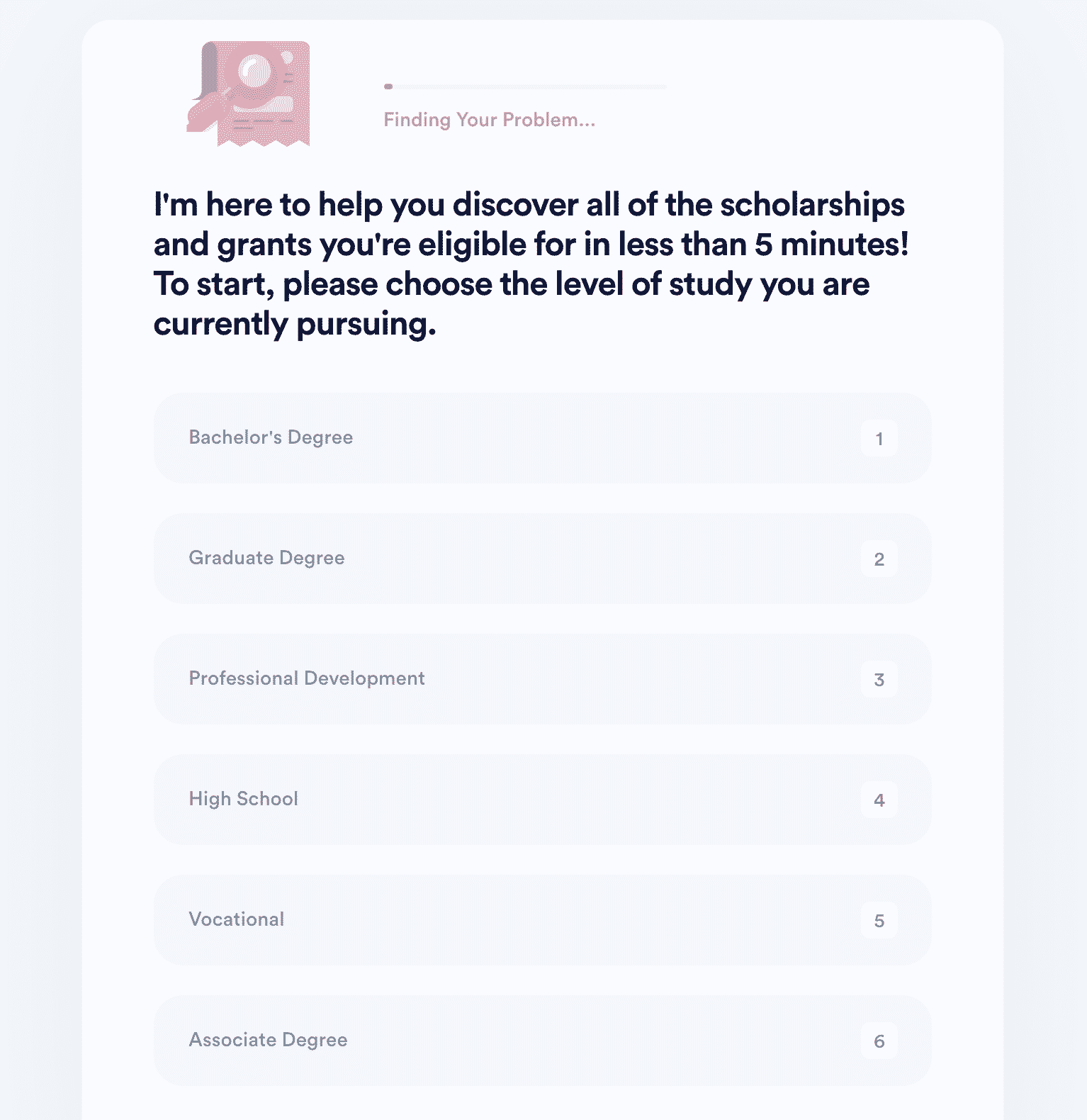 When you answer all questions, we will provide you with a list of all scholarships you can apply for. If there's a no-essay scholarship on that list, you can use our app and apply automatically by letting us do it on your behalf.
Administrative Issues? We Don't Know Them!
Forget about getting frustrated and overwhelmed by the administrative tasks waiting for you to complete them! With DoNotPay's numerous tools, you can easily resolve such tasks in a heartbeat! All you need to do is sign up for our app, and you'll be able to:
Get
Create
File

Divorce settlement agreements

Powers of attorney
Use DoNotPay To Protect Yourself at All Times
Are pesky robocalls and email spammers working your last nerve? Don't despair—we are happy to help you get rid of them! In a few clicks, you can also stop text spam and avoid the incessant phone buzzing!
You can use our app to protect your privacy by creating burner phone numbers and virtual credit cards. That way, you don't have to disclose personal info when subscribing to online services.
In case you're looking for a way to keep yourself safe from stalkers or work discrimination, we'll help you report the case and walk you through the entire process!
Protecting your work from copyright violation and asking for violent crime compensation in your stead is also something DoNotPay can do!