How To Get a Volleyball Scholarship—The Ultimate Guide
Many athletes get gift aid based on their contribution to sports. As a volleyball player, you are on the right path of getting away with debt-free studies.
If you want to keep playing the sport you love and work on attaining your degree, you can have the best of both worlds with the help of sport-specific financial aid.
Learn how to get a volleyball scholarship, where to find the best programs, and how DoNotPay can automate your search.
What You Need To Know About College Volleyball Scholarships
From half a million high school volleyball players, only about 5.8% of them compete in college, and 1% play at the Division I level. To incentivize young athletes, colleges and universities offer specialized scholarships for students who are dedicated to this sport.
The award can cover your full tuition or part of it or provide compensation for your living expenses. How much you'll need to invest in your studies depends on the location of the school as well. Education costs for out-of-state students are much higher, so the award you receive may not be enough.
When it comes to athletic programs, there are three main governing bodies:
The National Collegiate Athletic Association (NCAA)—made up of:

Division I
Division II
Division III

The National Association of Intercollegiate Athletics (NAIA)
The National Junior College Athletic Association (NJCAA)—for two-year community or junior colleges, made up of:

Division I
Division II
NCAA, NAIA, and NJCAA offer scholarships for numerous other sports—including golf, track, soccer, football, basketball, and cheerleading.
The Breakdown of Scholarships for Volleyball Players
Here is the basic info regarding college volleyball programs supported by governing bodies:
Governing Body
Number of Schools
Scholarship Programs
Award
NCAA Division I

Full ride for women
Partial ride for men

NCAA Division II
Partial ride
NCAA Division III

421 for women
107 for men

No athletic scholarships, but players can receive academic aid

Varies
NAIA

8 per team—both men and women

Partial ride
NJCAA Division I

14 for women
18 for men in both divisions—I and II

Full ride
NJCAA Division II
Full tuition coverage
The Best Best Colleges for Volleyball Scholarships
Numerous schools participate in rewarding volleyball players and funding their studies.
Here are a few top-ranked schools with great teams that volleyball scholarships can get you in:
Brigham Young University (BYU)
The University of Texas, Austin
Southern Methodist University
How To Get Volleyball College Scholarships
If you are determined to take advantage of your talent and score an award, get ready for the application procedures. What you need to do to become a candidate depends on the aid type you want to apply for.
Keep the following tips in mind to maximize your opportunities:
Browse schools that offer volleyball scholarships and single out the ones you are interested in
Read each scholarship description with care
Pay attention to academic and other requirements
Contact the coaches of the programs you want and let them know of your interest
Invite college coaches to watch your games
Uphold specific criteria set by the institutions you will enroll in and play for
Register with Eligibility Centers of the corresponding association (NCAA or NAIA)
If you have any questions, get in touch with financial aid representatives at your prospective schools or funders of the program.
For some college scholarships, you will need to write a scholarship essay and provide a letter of recommendation from your high school coach.
Keep in mind that not all volleyball programs will cover your college expenses in full.
Think about the specific groups you belong to based on your beliefs, characteristics, financial situation, and so on if you want your search to be more diversified.
Here are some unique scholarship categories that can get you more aid:
Finding the right scholarships among so many different opportunities is a hassle. If you want to simplify this process, .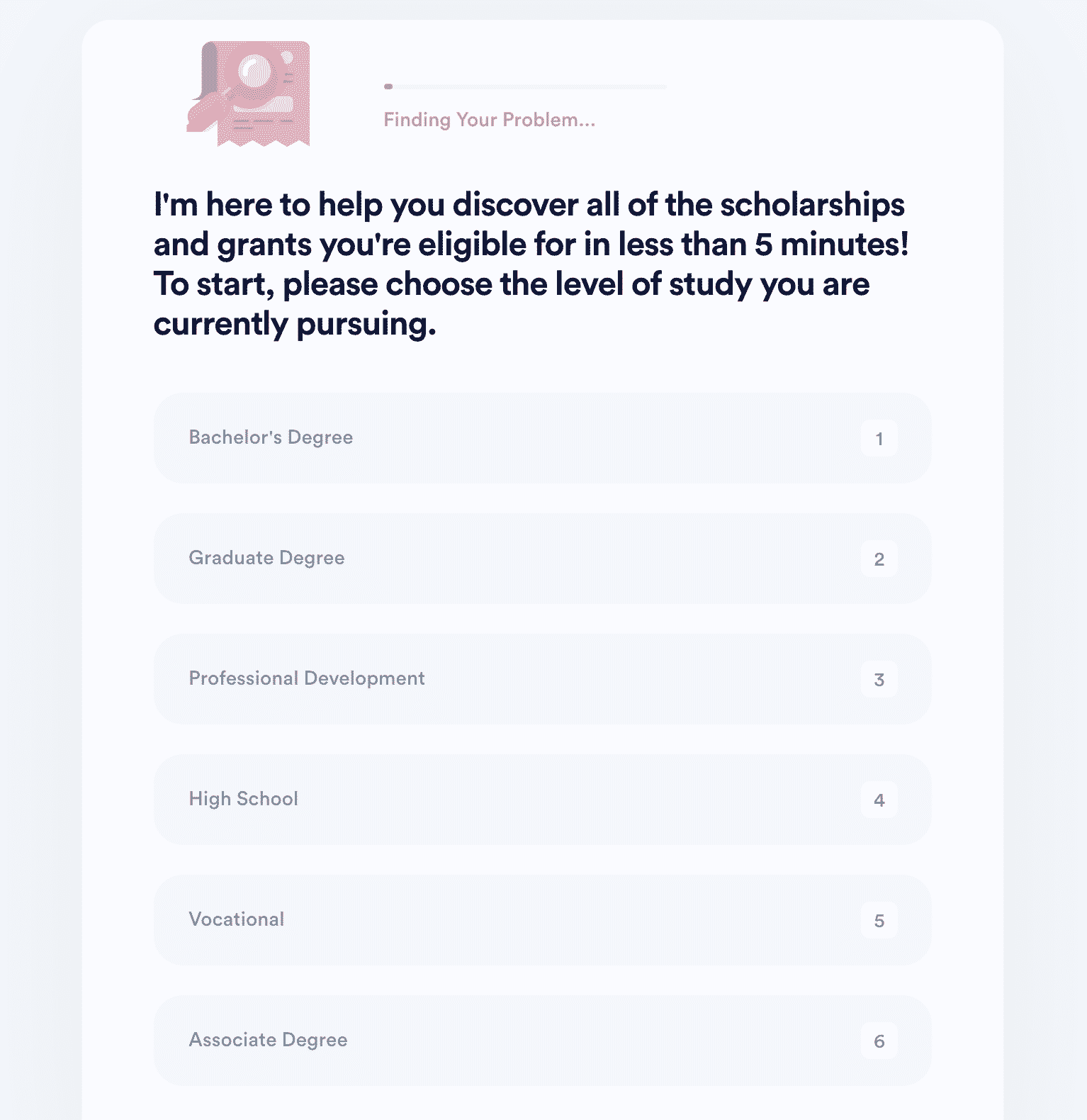 DoNotPay Can Single Out All Eligible Scholarships Within Minutes
Our AI-powered app makes applying for college aid super easy. We will go through all available scholarships and grants and pick out those that you are eligible for.
You only need to and follow these steps:
Open the app in a web browser
Enter Apply for Scholarships in the search bar and select this tool
Answer our chatbot's questions
Based on the information about your level of study, grade, and special qualifications—such as being a veteran, nurse, or Native American—we will generate a customized list in a couple of minutes.
You can rely on our nifty app throughout your studies. It will help you surface scholarships for high school seniors, undergraduates, or graduates.
If you find any no-essay scholarships you like, we can apply in your stead!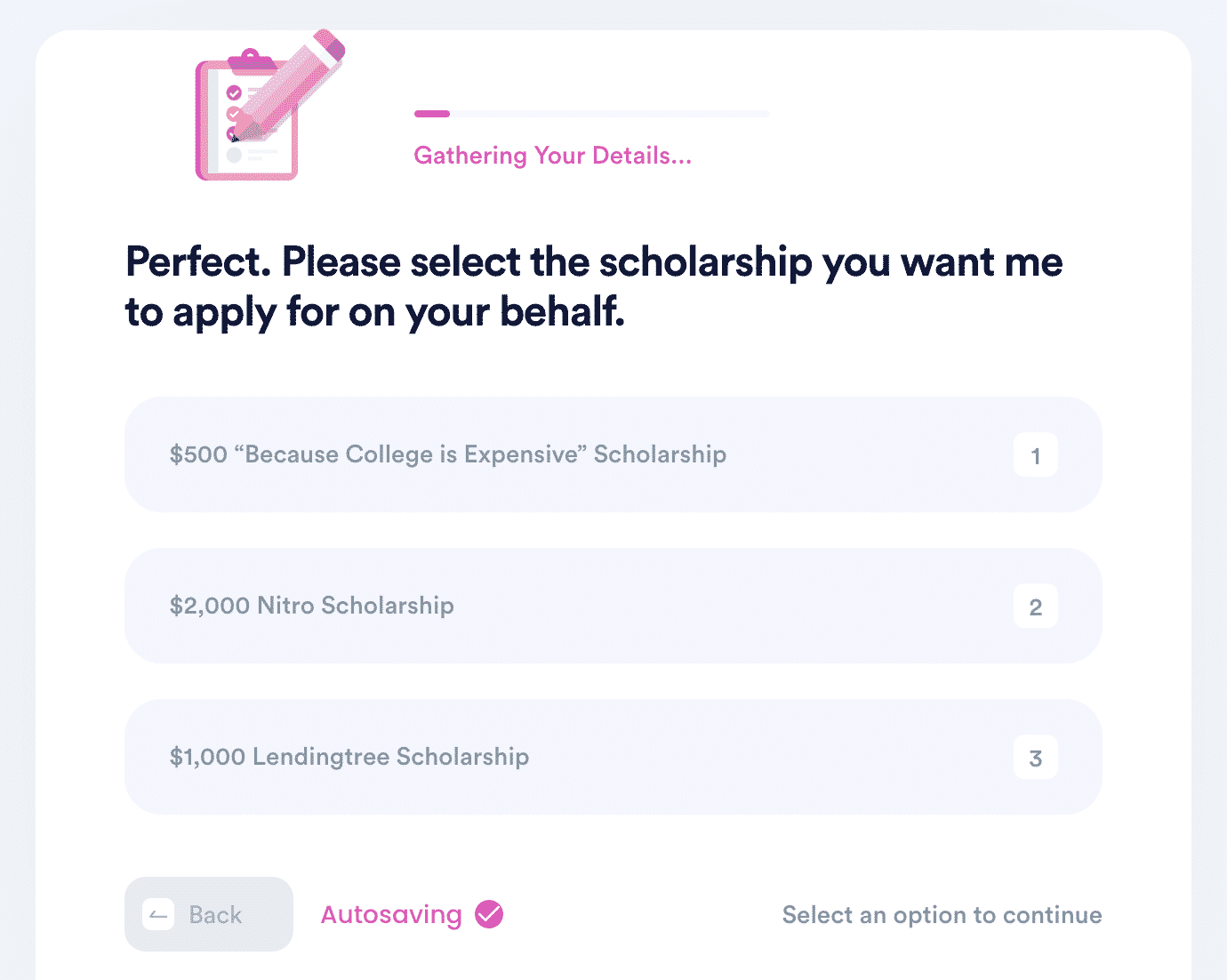 Managing Everyday Tasks With DoNotPay Is a Breeze
Completing mundane tasks doesn't have to be a nightmare! With our help, you can relax and finish them in a few taps! All you need to do is register for DoNotPay and let us help you with:
Have Your Documents Drafted and Notarized With Our Help!
If you need to draft a legal document, such as a divorce settlement agreement, power of attorney, or a child consent form, hiring a lawyer to assist you is probably the first thing that comes to mind. What if we told you that spending hundreds of dollars on services is unnecessary? Not only can DoNotPay draft contracts and agreements in a few minutes, but it is also your most affordable and effortless option!
The benefits our app provides don't stop there! After we generate your document, we'll connect you with a remote notary and show you how to get it notarized online without leaving the comfort of your home! You can even fax the document online and skip dealing with outdated fax machines.