Top Tips on How To Get a Football Scholarship
Around 11,000 students get college scholarships from the 254 D1-level and 170 D2-level football teams that offer them every year. If you want to be one of those students, check out this guide to learn how to get a football scholarship that works for you!
You will also find out:
Where to look for football scholarships
What makes someone eligible for a football scholarship
Where To Look for College Football Scholarships
High school students seeking college football scholarships need to start searching for opportunities as soon as they enter freshman year. If you wait for your senior year to start contacting football teams, the chances are that you're too late.
Unlike regular scholarships, you need to reach out to numerous football teams on your own to find scholarship opportunities, so it's best to start your research early. There's no workaround to that process. If you use a scholarship search tool to search for football scholarships, you will get a list of scholarships for athletes in high school and college and awards for students seeking a degree in coaching.
A good practice is to look for external scholarship opportunities to further reduce your educational costs. Whether you're a woman, a graduate student, an international student, a dependent of a veteran, or fall under any other student category, DoNotPay can help you find external scholarships to support your athletic career! to get a list of available options based on your qualifications!
How To Get College Football Scholarship Offers
To make sure coaches notice and recruit you, you need to meet specific academic and athletic requirements of the National Collegiate Athletic Association (NCAA) and the division you want to play in.
Basic Requirements for College Football Scholarships
To become eligible for recruitment at any college football team, you need to meet the following basic requirements:
Graduate from high school
Earn a minimum grade point average in core courses and minimum test scores

Division 1—2.3 GPA and a 900 SAT or 75 ACT sum score
Division 2—2.2 GPA and an 840 SAT or 70 ACT sum score
Division 3—no GPA and test score requirements

Earn a combined SAT or ACT sum score that matches your core-course grade-point average and sliding scale for each division
Register with the NCAA Eligibility Center
Send test scores to the Eligibility Center
Core Class Requirements for Each Division
If you ever wondered how to get a D1 scholarship for football, check the following table to learn more about the core classes you need to take to play in your desired division:
Division
Core Classes
Division 1

Four years of English
Three years of math
Two years of physical or natural science (and one additional year of lab science if offered by your high school)
Two years of social science
One extra year of math, English, or natural or physical science
Four years of extra core courses (from any category above or philosophy, foreign language, or non-doctrinal religion)

Division 2

Three years of English
Two years of math
Two years natural or physical science (including one year of lab science if offered by your high school)
One additional year of English, math, or natural or physical science
Two years of social science
Three years of extra core courses (from any category above or philosophy, foreign language, or non-doctrinal religion)

Division 3
How To Contact a Football Coach
To make a football coach notice you, you will need to prepare:
Your academic information
A highlights video
Your best athletic statistics and achievements
Your contact information
Contacting football team coaches as early as your freshman or sophomore year is vital to getting a football scholarship. You can use various means to keep in touch with your future mentors, including:
Mail
Social media
Email
Phone
Requirements for External Scholarships
Some football scholarships offer a full ride, while others don't. If you're left with a financial gap after receiving a football scholarship, you can apply for external scholarships and grants to try and cover the remainder of your expenses. In that case, you might need:
Find Scholarships to Kickstart Your Athletic Career With DoNotPay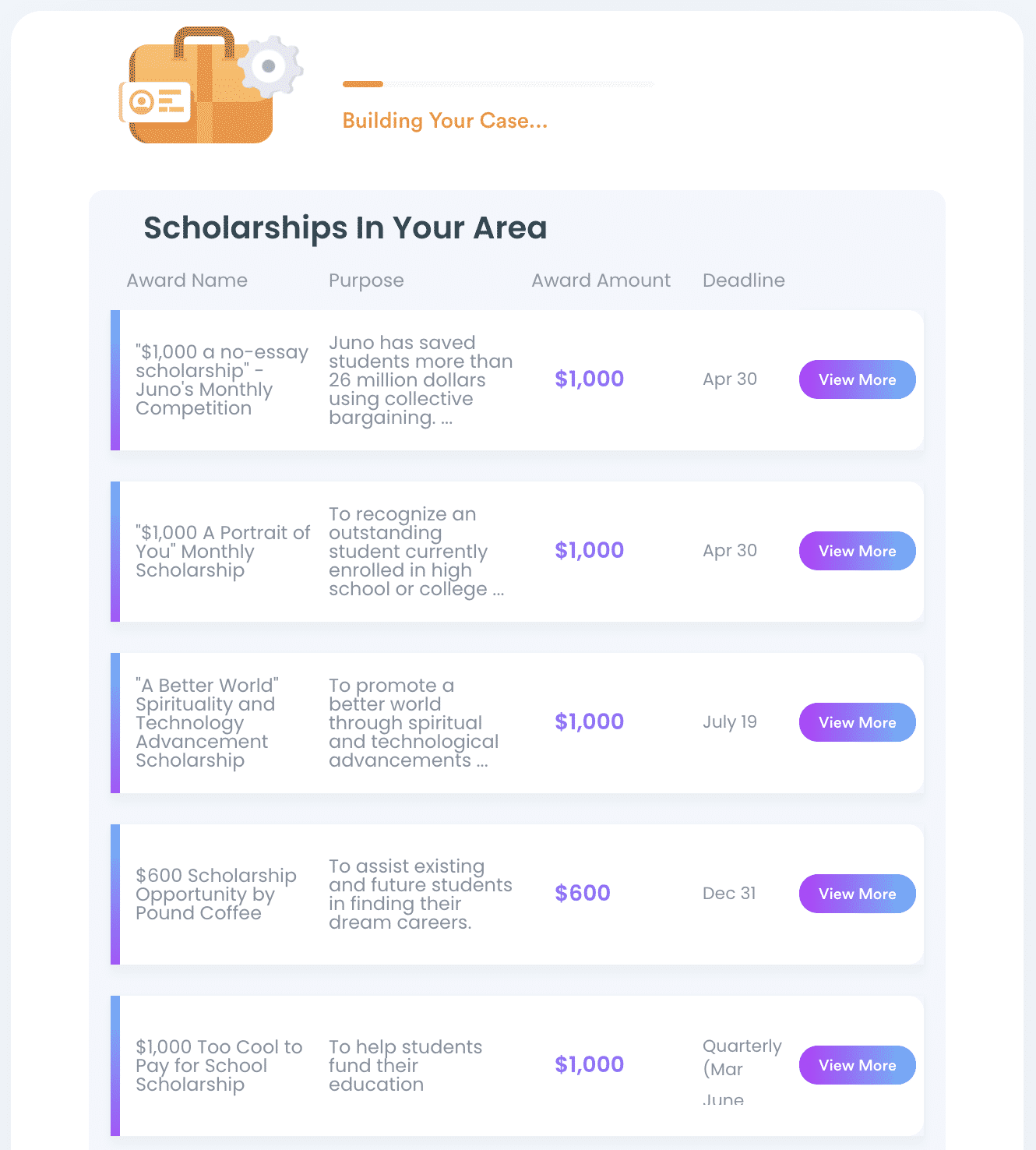 DoNotPay filters all available scholarships using your qualifications to create a unique list of opportunities for you. Our app can help you learn more about scholarship requirements and the awards you can win.
Are you a prospective or current college football player? If so, you can find opportunities to fill the financial gap left in three simple steps:
in any web browser
Enter Apply for Scholarships in the search bar
Tell us more about your qualifications
Are you tired of completing dozens of identical forms for no-essay scholarships? Don't fret—our app can handle them automatically! That way, DoNotPay saves you the precious time you need for football practice.
DoNotPay Offers Quick Solutions to Tedious Problems
Are you overwhelmed by your never-ending to-do list? We're happy to jump in with a perfect solution to deal with everyday tasks the easy way!
Once you subscribe to DoNotPay, you'll be able to schedule DMV appointments, lower your monthly bills, and contest parking tickets without breaking a sweat!
If you are looking for further assistance, our app will show you how to deal with the following tasks effortlessly:
Rely on DoNotPay's Legal Assistance Any Time!
If a company refuses to cooperate, use DoNotPay—the world's first robot lawyer—to sue it in small claims court! Getting the justice you deserve is only a few clicks away!
You can also use our app's various features to do the following:
Demand refunds

Reduce your property taxes