Find and Apply for Scholarships for People With Anxiety With DoNotPay
Mental health issues are becoming ever so present in today's society. The Anxiety and Depression Association of America (ADAA) estimates that around 40 million people in the United States suffer from some type of anxiety.
One of the main causes of anxiety is fearing the future—something high school and college students know all about. With tuition and other fees being as high as they are now, many students either fail to finish education or end up in debts they spend their midlife repaying.
The only way to avoid that is to find some scholarships and grants. In this article, we'll focus on scholarships for people with anxiety and show you:
How financial aid programs work
Scholarships—How Do They Work?
With costs of attendance being so high, many institutions, organizations, and companies choose to offer financial aid to students to assist them in getting a degree. They offer awards to students based on several factors:
| Factors | Specific Requirements |
| --- | --- |
| Level of study | You have to be a: |
| Field of study | This includes a variety of fields, such as engineering, arts, teaching, computer science, foreign languages, etc. |
| Student profile | |
| Financial status | Some scholarships offer need-based aid to students who can't afford tuition. To prove your financial situation, you need to complete the Free Application for Federal Student Aid (FAFSA) form or the College Scholarship Service (CSS) profile and show your family's yearly income |
| Academic excellence | You need to prove your academic merit through a number of metrics: |
Scholarships for People With Anxiety
Another factor programs take into account is whether a student has some sort of physical or mental health problem. When it comes to mental health issues, there are scholarships for people with a myriad of different problems, including:
ADHD
Depression
Bipolar disorder
Panic disorder
OCD
Phobias
Anxiety
To qualify for scholarships for students with anxiety, you need to show an official medical diagnosis. Since they are usually not mutually exclusive, most scholarships will be available for students with other mental issues.
Types of Scholarships for People With Anxiety
Scholarships for people with anxiety have two main types, depending on whether they're based on:
Merit
Need
Merit-based programs require you to have an impressive academic performance and a list of personal achievements. They offer better awards but are often competitive, so it won't be easy to get them. Usually, fulfilling the minimum requirements won't be enough to receive a scholarship.
Need-based scholarships focus on students who don't show academic excellence but can't afford to pay for their education. Need-based programs are either nonrepayable grants or loans that students need to return after getting a degree.
Check out some examples of scholarships for students with anxiety:
| Scholarship Type | Programs |
| --- | --- |
| Merit-based scholarships | |
| Need-based grants | |
Scholarships for People With Anxiety—The Research Process
Regardless of the type of scholarship you're looking for, you'll have a tough time finding programs that suit you best. With traditional research methods, you need to spend months looking up different programs and learning all about the eligibility requirements of each scholarship.
If you want to speed up the process, you can:
Talk to your school's financial aid office—High schools and universities in the United States have financial aid offices you can turn to for help with scholarships. They will look at your academic performance and financial status to come up with programs you're eligible for
Visit your school's website—Most schools have a dedicated financial aid page where you can find information about scholarships dedicated to your specific school
Visit anxiety-related associations—If you're a member of an association for fighting anxiety, you can talk to employees to see what awards they know about (you can also visit their website for more info)
Use DoNotPay—DoNotPay lets you skip the entire research process. You can to get a custom list of all available scholarships you can apply for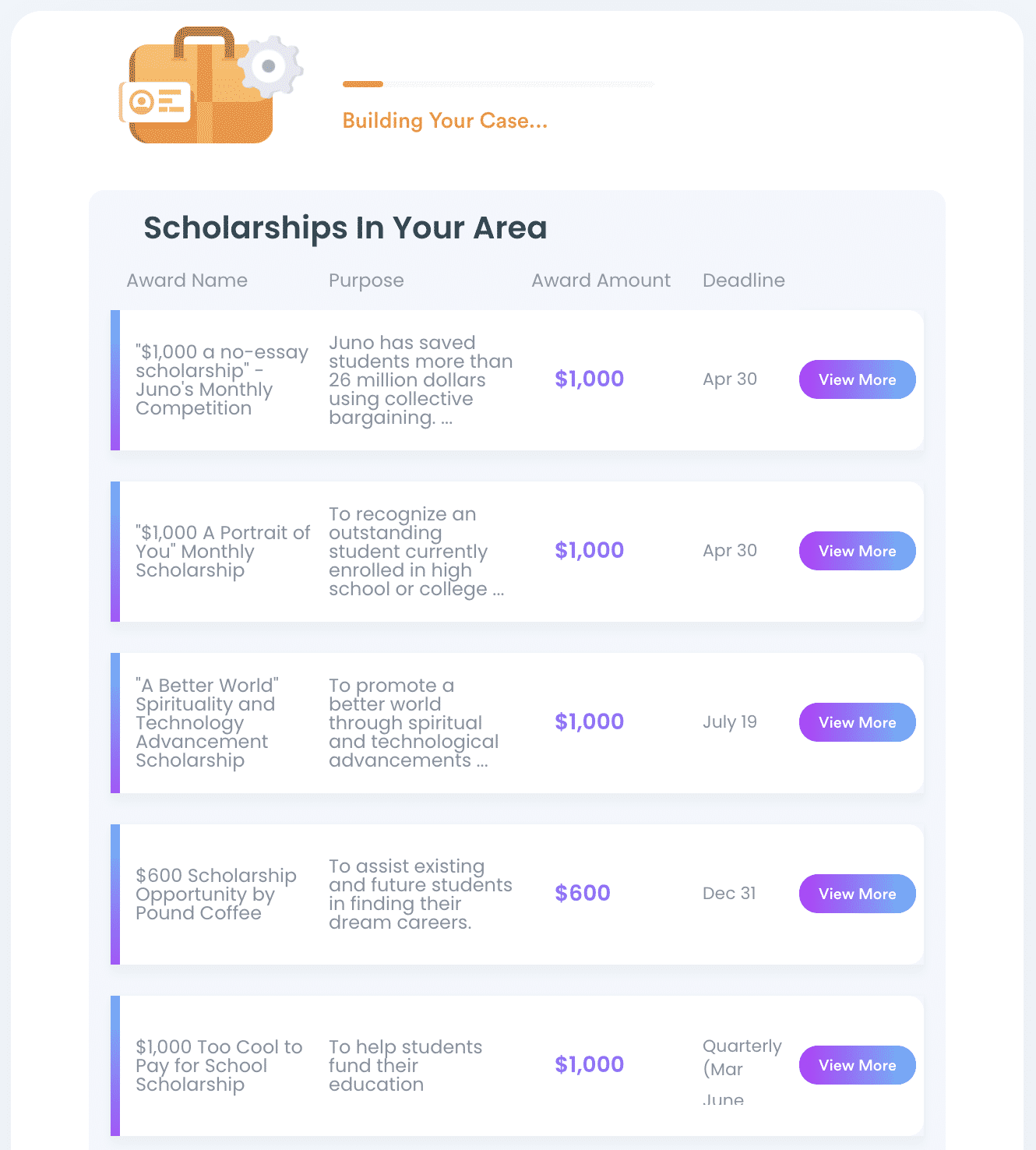 Scholarships for People With Anxiety—The Application Process
The application process will depend on the specific program you're trying to secure. Need-based programs will require the FAFSA form, while merit-based ones will ask for a transcript of your grades. The paperwork you need to prepare usually includes:
Letter of recommendation
Proof of being diagnosed with anxiety
Getting Scholarships for People With Anxiety With DoNotPay
If you want to apply for scholarships for students with anxiety disorders, you don't have to stress about it any longer. DoNotPay lets you complete the whole process in under five minutes by showing you all the available options you're eligible for and helping you complete your application. All you need to do is the following:
using your browser
Navigate to the Apply for Scholarships feature
Answer a few questions about your

Academic performance
Financial status
Level of study
Location

Choose the type of scholarship you're interested in
You'll get the list of programs you can apply for, together with all the necessary information about them. If our app finds no-essay scholarships, you can apply for them automatically by instructing DoNotPay to complete the process on your behalf.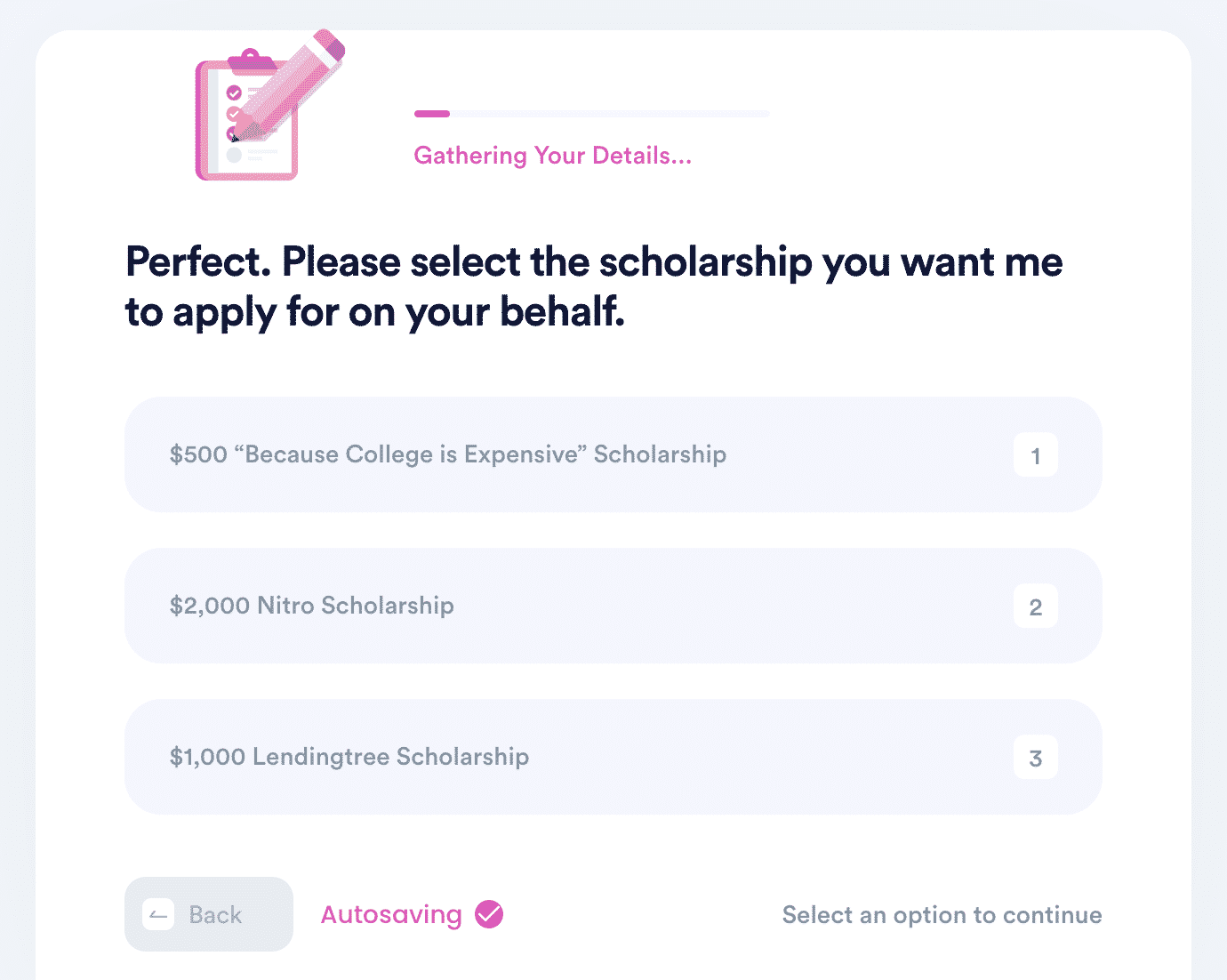 Managing Everyday Tasks With DoNotPay Is a Breeze
Completing mundane tasks doesn't have to be a nightmare! With our help, you can relax and finish them in a few taps! All you need to do is register for DoNotPay and let us help you with:
Have Your Documents Drafted and Notarized With Our Help!
If you need to draft a legal document, such as a divorce settlement agreement, power of attorney, or a child consent form, hiring a lawyer to assist you is probably the first thing that comes to mind. What if we told you that spending hundreds of dollars on services is unnecessary? Not only can DoNotPay draft contracts and agreements in a few minutes, but it is also your most affordable and effortless option!
The benefits our app provides don't stop there! After we generate your document, we'll connect you with a remote notary and show you how to get it notarized online without leaving the comfort of your home! You can even fax the document online and skip dealing with outdated fax machines.