All You Need To Know About Scholarships for Filmmaking Students
While you may earn a lot of money working in the filmmaking industry, the road to that point can be expensive. Many organizations and private donors see that circumstance as an opportunity to help prospective filmmaking students work in the field they love, and they do so with scholarships.
Do you want to pursue a degree in filmmaking, but you struggle to afford it? This guide reveals the best resources to help you find scholarships for filmmaking students so that you can enroll in a film school worry-free!
Scholarships for Filmmaking Students—Are There Any?
Yes. Depending on your field of interest, you can get scholarships for specializing in various areas of filmmaking, such as:
Screenwriting
Directing
Producing
Creating special effects or costumes
Where To Look for Scholarships for Film Students
To find grants and scholarships for film students, you can:
Ask the financial aid consultant at your current or future school about available opportunities
Reach out to various organizations dedicated to helping film students, such as:

Screen Actors Guild Foundation
Women in Film Foundation
James Alan Cox Foundation for Student Photojournalists

Consult state and federal financial aid agencies
Instead of searching for scholarships with the different methods mentioned above, you can use DoNotPay to streamline the process. Sign up and answer our chatbot's questions, and our app will list all available scholarships you qualify for!
Scholarships for Film Majors You Should Check Out
With many available scholarships for film majors, deciding which ones to apply for can be a long and tiresome process. Here are different types of scholarships for filmmaking students to help you with your decision:
Film school scholarships
Scholarships for women in film
Film scholarships for high school students
Scholarships for undergraduates majoring in filmmaking
Film scholarships for graduate school students
Film School Scholarships
Many universities and schools award institutional scholarships to their students, and some examples are:
University of North Carolina Wilmington Scholarships

Frank Capra Jr. Film Studies Scholarships
Sophia Grace David Film Studies Scholarship

Los Angeles Film School Scholarships

Hollywood Dreams Scholarship
Innovation Scholarship
Scholarships for Women in Film
Promising female students pursuing a degree in filmmaking can compete for the following scholarships:
Women in Film Foundation Scholarship
Floyd Mayweather Jr. Foundation: Advancement of Women in Sports & Entertainment Scholarship
Austin Alliance for Women in Media Scholarship
New York Women in Communications Inc. Foundation Scholarship Program
Film Scholarships for High School Students
High school students planning to enroll in a film school are eligible for awards such as:
Scholarships for Undergraduates Majoring in Filmmaking
Some of the scholarships undergraduate students who chose filmmaking as their major can compete for include:
The Charles and Lucille King Family Foundation Film and Television Scholarship
National Academy of Television Arts and Sciences Pacific Southwest (NATAS-PSW) Scholarship
Film Scholarships for Graduate School Students
Students pursuing a graduate degree in film can qualify for the following awards:
Francis D. Lyon Scholarship
Carole Fielding Student Grants
Can You Qualify for Any Other Scholarships as a Filmmaking Student?
Yes. You can accumulate awards from less competitive scholarships to complement those specific to your field of study.
Aside from getting scholarships for being a film major, you can qualify for other awards by being:
You should also consider applying for no-essay scholarships—raffle-like awards designed to help students get money for education fast and hassle-free. The application process for these awards typically requires you to submit some basic information about yourself.
What Do Filmmaking Students Need To Apply for Scholarships?
To meet the requirements for most scholarships, filmmaking students should prepare:
Category
Documentation
Completed applications

College Scholarship Service (CSS) Profile
State scholarship applications
Individual scholarship applications

Other required documentation

College or high school transcripts
SAT and ACT scores

Proof of artistic achievement

Recordings
Film scores
Scripts
Costumes
Makeup
Special effects
Storyboards
Other contributions to a film
DoNotPay Finds Scholarships for Filmmaking Students in a Flash!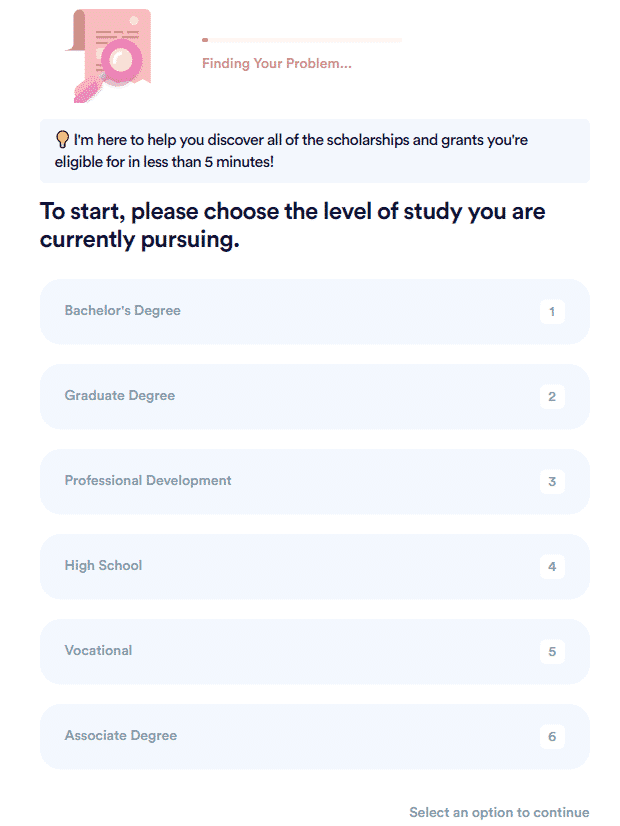 If you're looking for scholarships for filmmaking students, try using our app to shorten the process! To ensure you enroll in film school with the largest amount of financial aid possible, you should apply for scholarships other than those in your field of study. We can find other scholarships you are eligible for by considering your qualifications.
To get a list of scholarships you qualify for, you need to:
Search for the Apply for Scholarships feature
Answer a few brief questions about your field and level of study
In case you're tired of submitting the same information for no-essay scholarship applications, you can let our app handle that as well. You can apply for other awards or sit back and relax while the app applies for all upcoming no-essay scholarships automatically.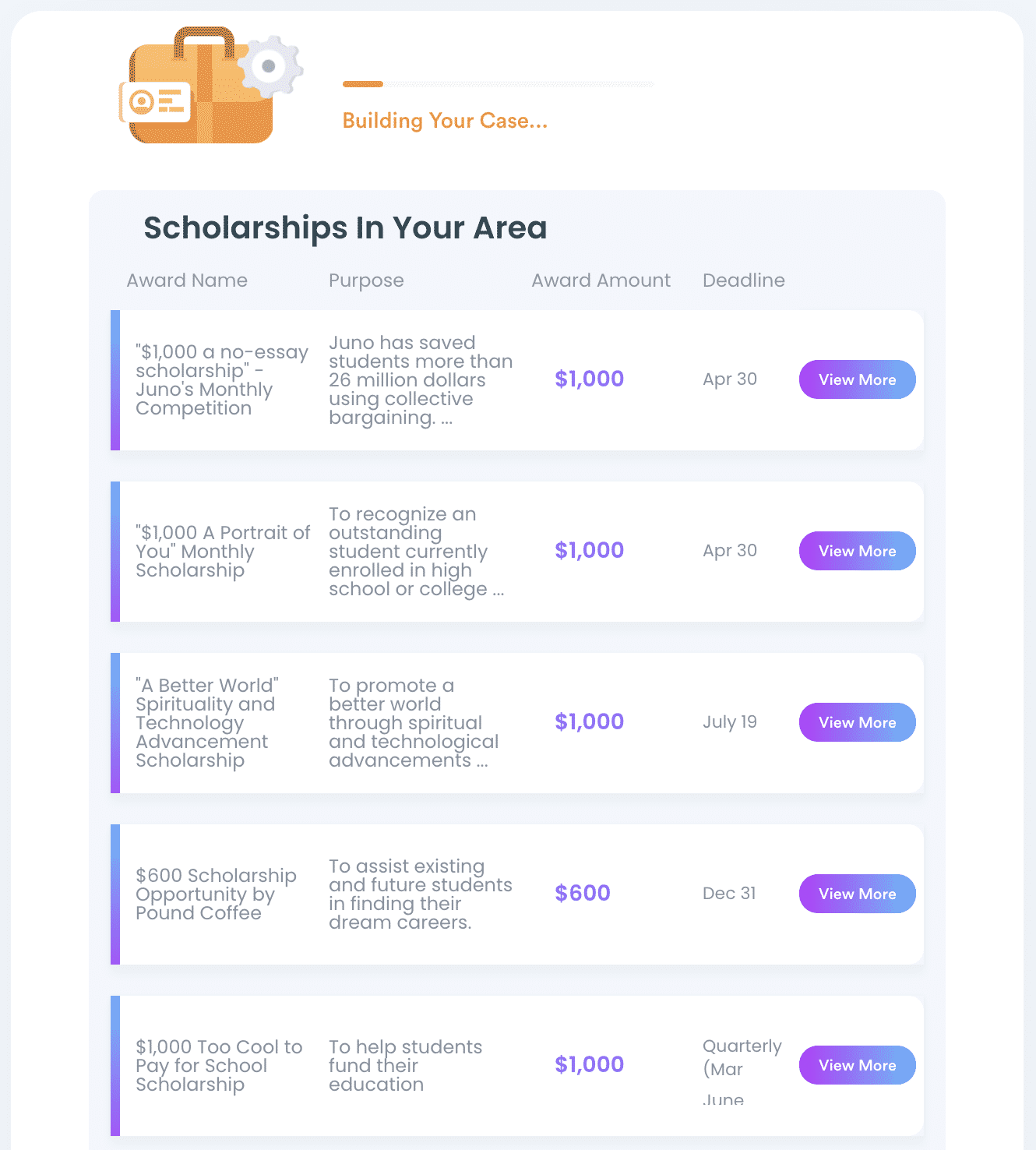 DoNotPay Offers Quick Solutions to Tedious Problems
Are you overwhelmed by your never-ending to-do list? We're happy to jump in with a perfect solution to deal with everyday tasks the easy way!
Once you subscribe to DoNotPay, you'll be able to schedule DMV appointments, lower your monthly bills, and contest parking tickets without breaking a sweat!
If you are looking for further assistance, our app will show you how to deal with the following tasks effortlessly:
Rely on DoNotPay's Legal Assistance Any Time!
If a company refuses to cooperate, use DoNotPay—the world's first robot lawyer—to sue it in small claims court! Getting the justice you deserve is only a few clicks away!
You can also use our app's various features to do the following: