Students With Autism—College Scholarships Programs You Can Apply For
A college education is generally expensive, but it can cost even more for students on the autism spectrum because they have to pay for caregiving outside the classroom. Fortunately, there are numerous scholarships and grants for students with various disabilities, including those with autism or Asperger's.
Have you been diagnosed with autism? College scholarships can be challenging to find, but these programs can make your education less worrisome. This guide will show you how to find the best scholarships for students with autism in less than five minutes.
The Best College Scholarships for Students With Autism
Different government agencies, charity foundations, and advocacy groups provide financial aid to students living with autism. Some also provide scholarships to siblings of someone with autism—such as the Siblings of Autism and the Autism Society—because they know that this disability affects everyone in the family.
To qualify for most autism college scholarships, you need to:
Have a diagnosis from a licensed physician
Enroll in a post-secondary institution
Advocate for rights of students living with disabilities
Here's a list of the best scholarships for autistic students to get you started:
The Matthew Paul Finnigan Memorial Scholarship Fund
Autism Delaware Scholarships
Avonte Oquendo Memorial Scholarship
Kelly Law Team Autism Scholarship
KFM Making a Difference scholarship
The Schwallie Family Scholarship
The Matthew Paul Finnigan Memorial Scholarship Fund
The scholarship was created in memory of Matthew Finnigan—a high-performing autistic person. The eligibility requirements for the program are as follows:
Valid medical autism diagnosis
Acceptance letter for a post-secondary institution or proof of continuing with higher education at a particular institution
Autism Delaware Scholarships
Autism Delaware provides two college scholarships for students living with autism. Consult the table to find out more:
| Autism Delaware Scholarship | Who Is It For? | Scholarship Amount |
| --- | --- | --- |
| Daniel and Lois Gray Memorial Scholarships | Students enrolled at the University of Delaware | $1,000 |
| Adult with Autism Scholarship | Adult students who are pursuing a college degree and are residents of the state of Delaware | $1,000 |
Avonte Oquendo Memorial Scholarship
The Perecman Firm, P.L.L.C awards $5,000 to undergraduate students living with any form of autism, including Asperger syndrome. Close family members of someone with autism can also apply.
Kelly Law Team Autism Scholarship
This $1,000 scholarship program is tailored to students across the entire autism spectrum. Applicants must be U.S. citizens and planning to enroll in a post-secondary institution.
KFM Making a Difference scholarship
The $500 scholarship is meant for American and international students who are joining or are already in college.
The Schwallie Family Scholarship
The scholarship offered by the Organization for Autism Research (AOR) awards students who will be enrolled at an accredited higher learning institution in the United States. Applicants who have previously benefited from AOR programs or those whose family members are in the OAR's Board of Directors or Scientific Council cannot apply for the award.
How To Find Scholarships for Students With Autism
To find all the available scholarships dedicated to students with autism, you can:
File the Free Application for Federal Student Aid (FAFSA) to find the federal aid you can get based on your financial situation
Check with local autism or disability advocacy groups, non-governmental organizations (NGOs), foundations, and other institutions. For instance, if you are in California, you can check the Autism Society of California
Find the programs offered by your state education agencies
Visit the financial aid office of your prospective school
Look for opportunities designed for people of certain religions, such as Muslims or Christians
Find any programs offered by your parent's employer
Search online using scholarship search engines
All these approaches can help you find college scholarships for students with autism that suit your interests, but there is an easier and faster way. In less than five minutes, DoNotPay can help you discover all the scholarships for students with autism for which you are eligible. Just and give us all the relevant information by answering a few questions.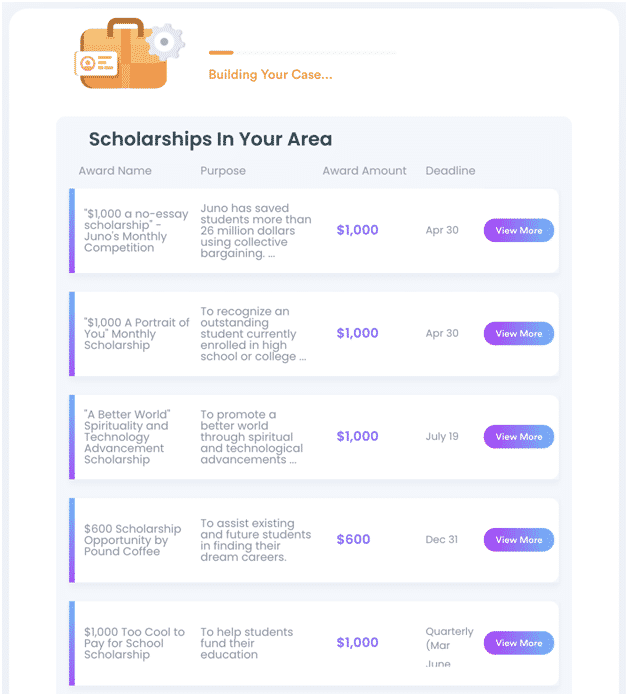 How To Apply for College Scholarships for Autistic Students
Every scholarship program has its own application procedure. Most programs use online scholarship application systems and require applicants to submit the following:
Essays

School transcripts
Medical documentation for autism diagnosis
Documentation of acceptance to a higher learning institution
You should review the application requirements and prepare all the required paperwork on time. Be sure to submit your application before the deadline.
The Easiest Way To Find College Scholarships for People With Autism—Use DoNotPay
Do not let the exhausting scholarship search process keep you from getting the financial aid that you need. With DoNotPay, you will get a list of all the scholarships and grants that you qualify for in one place. You will never waste time or miss a scholarship opportunity with DoNotPay. All you have to do is:
Find the Apply for Scholarships tool
Answer a few questions about your education level and academic interests
That's it! You can start applying for scholarships right away. To speed up the process, you can authorize DoNotPay to automatically send your applications for the no-essay scholarships.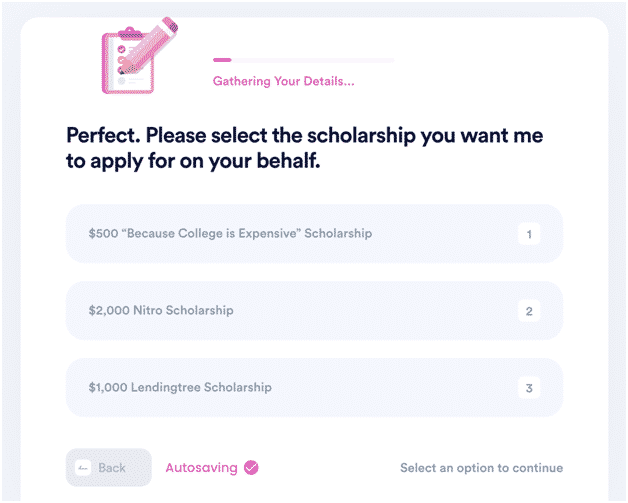 Anyone can use DoNotPay to find scholarships, regardless of the level of study (e.g., high school seniors and graduate school students) and the demographic group they belong to (veterans, women, etc.).
Explore DoNotPay's Product Range
Are you looking for additional assistance from our app? We're happy to inform you that DoNotPay provides you with a number of useful tools that you can use to complete mundane tasks in the blink of an eye! Sign up for our app and let us help you get:
DoNotPay Resolves Your Financial Issues in a Few Taps
You don't have to struggle to figure out how to resolve financial problems yourself when you have our app at your disposal. In only a few clicks, you'll be able to discover any unclaimed money under your name, submit insurance and warranty claims, or request compensation for delayed flights.
But that is not all! Lowering your utility bills, appealing parking tickets, or canceling memberships and subscriptions is also something you can do in no time and with minimum effort if you use DoNotPay! Work smarter, not harder!