The Best Veterinary School Scholarships to Apply For
Veterinary medicine (VM) is a fulfilling career choice for animal lovers, but paying for veterinary school can cost you an arm and a leg. Students are expected to pay anything between $30,000 to $70,000 per year for a VM program and work part-time to cover their travel, boarding, and living expenses.
Veterinary school scholarships and grants help you cover steep tuition costs and cut back on student loans. In this guide, DoNotPay will tell you how to:
Estimate the existing financial aid opportunities available in the U.S.
Adopt a working strategy to win the maximum scholarships for vet students
How To Find the Finest Scholarships for Veterinary School
Vet school scholarships are scattered across the internet, and most students have a hard time streamlining available options. To evaluate which opportunity suits you the best, you should keep tabs on scholarships announced by the following sources:
Federal and state financial aid programs
Universities and public and private colleges offering degrees in veterinary science
Organizations that:

Promote research in animal care, nutrition, reproductive health, etc.
Support animal welfare, awareness, and prevention of abuse

Community organizations that offer local scholarships based on:

Companies that allot their Corporate Social Responsibility (CSR) funds to education or animal-related social work
At any time, you'll find hundreds of scholarships offered by the above sources—but it's a colossal task to check out all of them. If you're using the internet to look for scholarships, you'll waste hours filtering out expired scholarships and student loan advertisements from search results.
If you wish to save time, use DoNotPay to examine all scholarships relevant to you in a single place. Our Apply for Scholarships product takes your student data (grades, location, standard academic test scores, athletic inclinations, and such) into account to generate an informative list of scholarships that match your profile. We can tell you what scholarships you qualify for in under five minutes—all you need to do is sign up!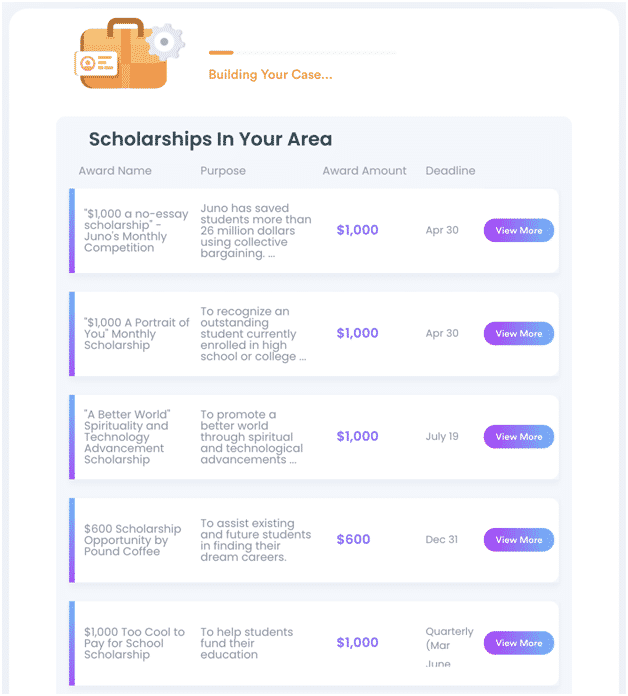 An Insight Into the Types of Scholarships for Vet School Students
Like general medicine, veterinary medicine is also a diverse field branching out to over 20 disciplines. With that in mind, there can be four types of veterinary student scholarships:
Scholarships for pre-veterinary students
College scholarships for vet technicians or nurses
Graduate school veterinary medicine scholarships
Advanced scholarships for veterinarians
Scholarships for Pre-Vet Students
Pre-vet scholarships cater to those who want to prepare for a career in veterinary medicine or nursing. The ones who benefit from these undergraduate scholarships are usually:
High school students (especially those in their junior or senior year)
Two-year or community college students
Four-year college students enrolled in a vet-related major
Bachelor students taking a break before applying to a vet school
To qualify for these scholarships, you may need to:
Scholarships for Vet Technicians or Nurses
Vet technician and nursing scholarships are awarded to students enrolled in programs that cover the following aspects of veterinary science:
Collecting, handling, and analyzing samples
Performing diagnostic tests on animals (for example, blood work and X-rays)
Administering anesthesia and assisting surgery
These scholarships are usually provided by state-specific institutions and may require students to choose a field of specialization. Here are some examples:
The Veterinary Technology Exotic Animal Interest Scholarship is offered to students who want to care for rare species
The Laurie Page-Peck Scholarship is especially for zoo vet techs
The Oregon Farm Bureau Scholarships are awarded to female or male nursing aspirants who aim to enter the livestock, farming, and ranching industry
Veterinary Medicine Scholarships
Veterinary medicine is a doctoral-level study, so you can apply to a vet school only after obtaining your bachelor's degree. Many students prefer to become a vet tech before applying for a full-fledged Doctor of Veterinary Medicine (DVM) degree. DVM scholarships may require you to complete a fellowship, internship, or assistantship.
Refer to this table to check out some robust scholarship opportunities for veterinary students:
Scholarship
Details
Catalyst $100K Healthcare Scholarship
This is a full-ride scholarship (up to $100,000) available to students across multiple healthcare fields:

Veterinary studies
Animal behavioral psychology
Medicine

BHP Scholarships for Disadvantaged Students in Veterinary Studies
Bureau of Health Professions (BHP) offers vet school scholarships to underrepresented minorities or students who have a disadvantage over their peers, for example:
Animal Care PA's Veterinary Student Scholarship

You must be accepted by an accredited vet school to apply for this scholarship
This scholarship is only open to students who:

Have a Pennsylvania past or present residency status (out-of-state students cannot apply for this scholarship)
Are in their sophomore, junior, or senior year of vet school
Advanced Scholarships for Veterinarians
Qualified veterinarians look for advanced scholarships that support advanced studies and specialization of their choice, like:
Bovine medicine
Animal oncology
Emergency and critical care
Diagnostic imaging
Reptile and amphibian medicine
Such scholarships are usually offered by either government or private organizations directly dealing with the field in question. For example, the Sheep Heritage Foundation Memorial Scholarship is offered to veterinary graduates who want to research and specialize in sheep welfare.
It's obvious that veterinary scholarships are not a one-size-fits-all game, and checking your eligibility for each can be tiresome. If you want to save your mental energy, let DoNotPay check your eligibility for all veterinary scholarships in the U.S.—we can do it within seconds!
DoNotPay Can Directly Apply for Certain Scholarships in Your Stead!
Is applying for scholarships way too demanding? DoNotPay can back you up by letting you apply for all no-essay scholarships in an instant!
You can make the most of the opportunities at your disposal with DoNotPay's Apply for Scholarships product. We curate a list of no-essay scholarships befitting your student profile. Tap on the ones that look promising to you, and we will apply for them on your behalf!
Don't forget to check your inbox for confirmation emails—this will help you monitor the status of your applications and related result announcements.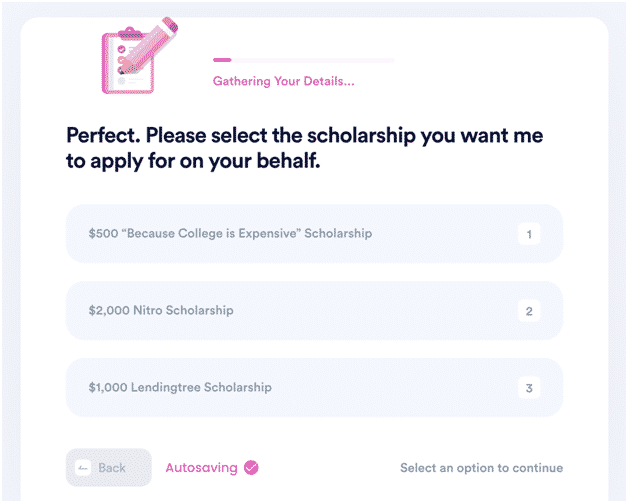 Do this to start using our supreme scholarship search and application tool:
Navigate to our Apply for Scholarships product
Answer a questionnaire to create your student profile
Select between our search and apply options
Use our app every week to apply for the latest no-essay scholarships. This strategy will ensure you have a chance to win the most awards!
What's Next?
Once you complete the task at hand, you don't have to stop there—we offer a myriad of products that can relieve you of the stress that comes with dealing with admin and legal hurdles.
DoNotPay can assist you in drawing up a divorce settlement agreement, child travel consent form, power of attorney, and other legal documents, contacting government representatives, getting tourist visas, fighting workplace discrimination, getting a burner number, appealing banned accounts, getting access to public records, scheduling a DMV appointment, and much more.
Tackle Any Energy-Draining Task With DoNotPay
With DoNotPay by your side, you don't have to worry about how you'll cover your utility bills at the end of the month—we'll provide swift assistance as soon as you sign up!
Wondering what else our app is capable of? Check out how we can: