Scholarships for Women—The Ultimate Guide
As part of empowering women and encouraging them to attain higher education, there are financial aid options targeted at them in particular. If you are considering getting financial aid, you should be aware of all the types of scholarships for women.
Follow this detailed guide to find out more about scholarships offered to ambitious female students and ways you can apply.
Why Do You Get Scholarships for Being a Woman?
Today, 56% of college students are women, but gender equality in education wasn't always our reality. Women's competency was undervalued in the past, and there are still some traces of it.
In certain fields, men are prioritized—STEM, for example—and some women have fewer opportunities for getting quality education because of other responsibilities—like taking care of the family. To minimize the imbalance, states, as well as non-government organizations, philanthropists, and other individuals, offer scholarships and grants for women.
What Types of Scholarships for Women Are There?
Scholarships for women are usually created to support females in certain fields or under specific circumstances. They are established to encourage women to pursue leadership positions, get jobs in education, or get advanced degrees. The aid also focuses on women in specific situations, such as being veterans, moms, or even teenage moms.
You should take your hobbies and circumstances into consideration when searching for the best-suited scholarships. When it comes to the level of education, these are some scholarship options:
Level of Education
Scholarship Examples
High school

Kellogg Scholarships
Best Buy Scholarship
Apple Scholarship

Undergraduate studies

Sharon D. Banks Memorial Undergraduate Scholarship
SR Education Group Women's Scholarship
Distinguished Young Women

Graduate studies

Microsoft Research Graduate Women's Scholarship
Executive Women of New Jersey (EWNJ) Graduate Merit Award Program
Helene M. Overly Memorial Graduate Scholarship

Postgraduate studies

Gertrude M. Cox Scholarship for Women
Lydia I. Pickup Memorial Scholarship
Beinecke Scholarship
In terms of industry and your background, you can look into categories like:
Women in science
Women in business
Working women
Women in education
Minority women
Women over 25
Scholarships for Women in Science, Technology, Engineering, and Math
To place more women in the fields of science, technology, engineering, and math, there are scholarships for women in STEM. Some of them are:
Virginia Heinlein Memorial Scholarship
Scholarship America's Dream Award
Drone Technology College Scholarship
Scholarships for Women in Business
If your goal is to have a career in business, you should look into grants and scholarships designed to aid women with this mission. To help you start the search, here are a few business major scholarship examples:
Jane M. Klausman Women in Business Scholarship
Professional Business Women of California Scholarship for Young Women
Ford Business Scholarship
Scholarships for Working Women
Women who are already employed and want to get a degree to advance in their careers can seek scholarships for working women. Whether you want to get your undergraduate, graduate, or postgraduate degree while working, scholarships such as these can make it happen:
Voice of Working Women Education/Equipment Scholarship
Soroptimist Live Your Dreams Award
The American Association of University Women (AAUW) Career Development Grant
Scholarships for Women in Education
If you see yourself in the education field, you should find out what your options are for decreasing the financial burden. The good news is that you can find financial aid that helps future teachers get their degrees, such as:
Robert Noyce Teacher Scholarship Program
Teacher Education Assistance for College and Higher Education Grant
Illinois Special Education Teacher Tuition Waiver Program
Scholarships for Minority Women
Minorities—such as black women, Native Americans, Hispanics, and similar—can find scholarships for their ethnic groups. Here are some options:
The Herbert Lehman Education Fund Scholarship—for African American women
The Sallie Mae Fund Scholarship—for Hispanic women
The American Indian Graduate Center Scholarship—for Native American women
Scholarships for Women Over 25
Going to school when you are 25, 30, or over 40 can make your educational path somewhat different—for example, you will be considered an independent student because of your age. To motivate these women, some organizations have created scholarships such as:
Business and Professional Women's Foundation's Career Advancement Scholarships
The Elizabeth Pfiffner Debot Memorial Scholarship
Dick Toser Memorial Alumni Scholarships
How To Find the Best Scholarships for Women
The scholarships you can apply for as a woman are numerous as you can fall into different categories. For example, you can be a high school senior who is an international student and wants to get a scholarship for a beauty school.
The key is to pay close attention to the requirements and the type of support that can meet your educational needs. To find scholarships, you need to research the schools you are interested in, federal aid, field-specific aid, and so on.
Do you want a less time-consuming alternative to finding scholarships? Subscribe to DoNotPay, and you'll get a list of all scholarships you are eligible for based on your specific situation. Our app gives you a chance to replace the endless digging for information with a three-minute process that outlines every scholarship that meets your expectations.
How To Apply for College Scholarships for Women
College scholarships for women can be awarded based on many criteria and come from different institutions. There is no universal application process because the type of scholarship dictates it.
How you apply depends on:
Whether the scholarship is federal or not
What type of scholarship you aim for
What university you plan to attend or are attending
Where that university is situated—for local and state grants
What your major is
The general requirements that you will need to meet for most scholarships are:
Filling out the Free Application for Federal Student Aid (FAFSA) form
Submitting letters of recommendation
Writing a scholarship essay
Let DoNotPay Do the Search for You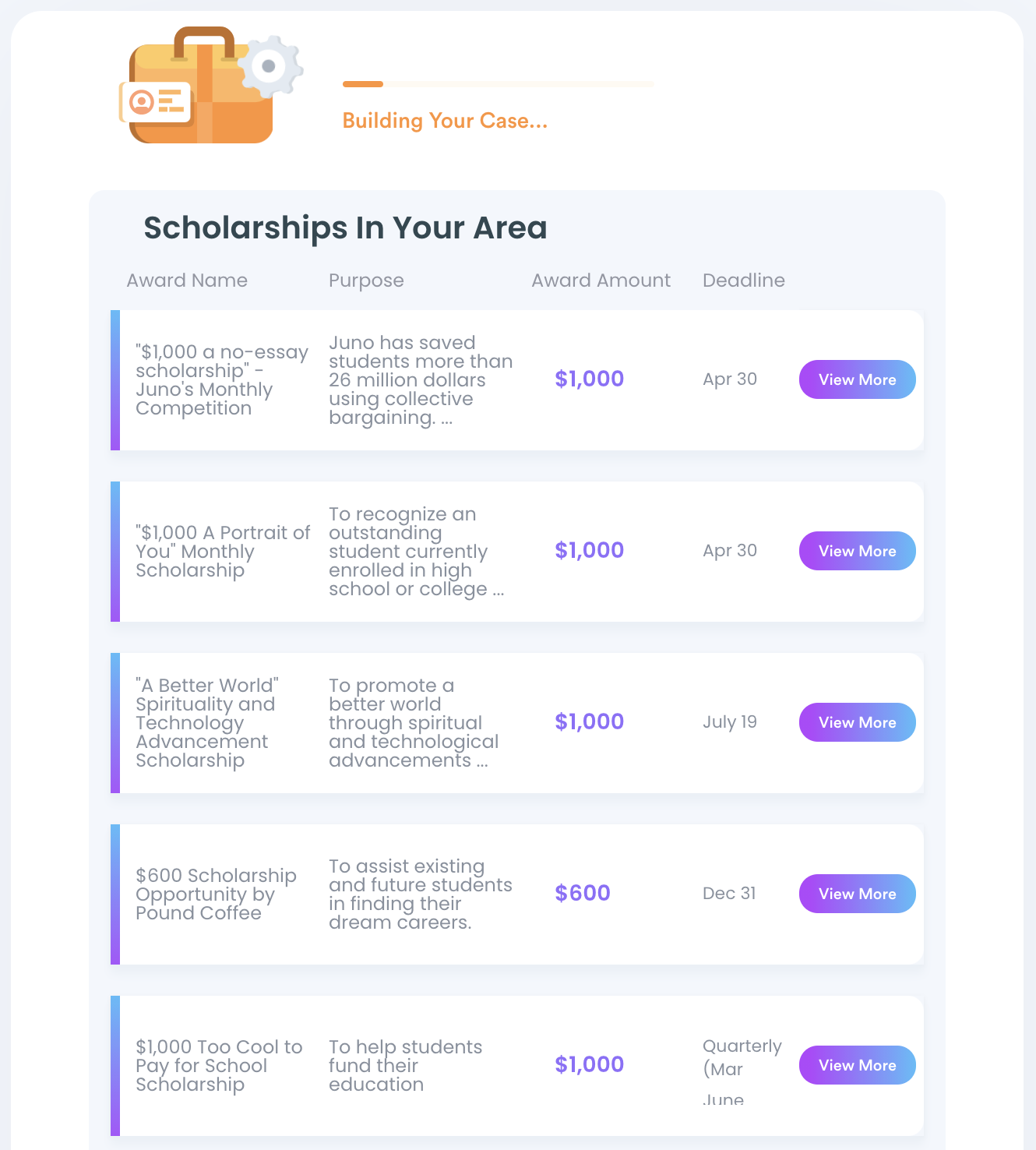 DoNotPay can help you find grants and scholarships that are tailored to you. We use the answers you provide us with—regarding your state, residency, education level, academic interest, and more—to surface every scholarship you are eligible for. It is a faster and easier solution to find and apply for scholarships.
All you need to do is sign up for DoNotPay and follow these simple steps:
Type Scholarships in the search bar
Click on the Apply for Scholarships product
Select the level of study you are currently pursuing
Answer our chatbot's questions to help us personalize the search
Expect to get your list of scholarships, grants, or prizes you are qualified for within a couple of minutes.
You can also use the app to skip the application process for no-essay scholarships—DoNotPay will create and send your application automatically.
Managing Everyday Tasks With DoNotPay Is a Breeze
Completing mundane tasks doesn't have to be a nightmare! With our help, you can relax and finish them in a few taps! All you need to do is register for DoNotPay and let us help you with:
Have Your Documents Drafted and Notarized With Our Help!
If you need to draft a legal document, such as a divorce settlement agreement, power of attorney, or a child consent form, hiring a lawyer to assist you is probably the first thing that comes to mind. What if we told you that spending hundreds of dollars on legal services is unnecessary? Not only can DoNotPay draft contracts and agreements in a few minutes, but it is also your most affordable and effortless option!
The benefits our app provides don't stop there! After we generate your document, we'll connect you with a remote notary and show you how to get it notarized online without leaving the comfort of your home! You can even fax the document online and skip dealing with outdated fax machines.