Get the Latest List of Scholarships for Athletes in High School With DoNotPay
Students of all levels of study can qualify for scholarships and grants for various reasons—including financial need and academic merit. What about athletic achievements, though? If you're a high schooler wondering whether you qualify for scholarships based on your substantial athletic accomplishments, you're in the right place! DoNotPay answers all your questions about scholarships for athletes in high school in this comprehensive guide!
Scholarships for High School Athletes—Let's Talk Numbers
Around 2% of high schoolers receive scholarships for student-athletes. The following table shows the numbers of available Division 1 scholarships for high school students based on sports and gender:
| Sport | Number of Scholarships Available to Men | Number of Scholarships Available to Women |
| --- | --- | --- |
| Basketball | 14,259 | 14,560 |
| Football | 30,423 | N/A |
| Baseball | 15,190 | N/A |
| Volleyball | 294 | 11,136 |
| Tennis | 2,732 | 4,867 |
| Softball | N/A | 14,410 |
| Track and field | 6,690 | 9,336 |
Who Qualifies for Sports Scholarships for High School Students?
Besides being an athlete and a high school freshman, sophomore, junior, or senior, you typically need to meet various other requirements to qualify for athletic scholarships, such as:
Holding a required grade point average (GPA)—usually a minimum of 2.3 for professional scholarships and 3.0 for recreational ones
Displaying leadership skills
Being involved in community service
Where Can You Find Athletic Scholarships for High School Students?
To find available athletic scholarships for high school students, you should:
Contact the financial aid department of your high school and the college or university you plan to attend in the future
Reach out to coaches of the teams you want to join
Do you want to look for financial aid opportunities but don't seem to have the time? The process takes only a few minutes of your time if you ! Provide details of your qualifications and discover numerous scholarship opportunities you are eligible for!
Scholarships for High School Athletes—Which Ones To Aim For
You can choose between two types of scholarships for high school athletes, depending on your athletic skills and dedication:
Scholarships for recreational athletes
Scholarships for striving professionals
Scholarships for Recreational Athletes
Scholarships for recreational athletes are designed for students who demonstrate financial need and participate in sports without competing. The application process for recreational scholarships usually consists of the following steps:
Complete the Free Application for Federal Student Aid (FAFSA) or a state equivalent
Submit the College Scholarship Service (CSS) Profile for schools that participate in the program (you can find the complete list on the CollegeBoard website)
Send individual applications
The above-listed steps might suffice for some scholarships, but for many others, you will have to submit the following supporting documentation:
If writing essays is not your strong suit, you can always apply for no-essay scholarships.
Scholarships for Aspiring Professional Athletes
If you want to go pro, you must dedicate yourself to that goal as soon as you enter high school. To be recruited by professionals and receive scholarship offers, you need to:
Evaluate which of the two divisions offering scholarships you qualify for
Start looking for teams you would want to join as early as a freshman
Prepare other application requirements, such as:

A highlights video
School transcript
Athletic statistics
Standardized test scores, such as SAT and ACT (if you've taken them)

Start contacting coaches and teams consistently in your sophomore year
Maintain suitable academic and athletic progress
Here are some tips for securing professional athletic scholarships:
Have a friend record you so you have enough material for your highlights video
Use social media to keep up with the teams you want to join and learn about important events. Attending events your potential future teammates participate in will allow you to:

Analyze their playstyle
Show your dedication to joining the team

Participate in charity events—you can:

Help a good cause
Showcase your skills to potential recruiters and talent agents
Get your name out there—most events are covered by newspapers, and articles list the names of all participants
DoNotPay Finds the Best Athletic and Other Scholarships for You!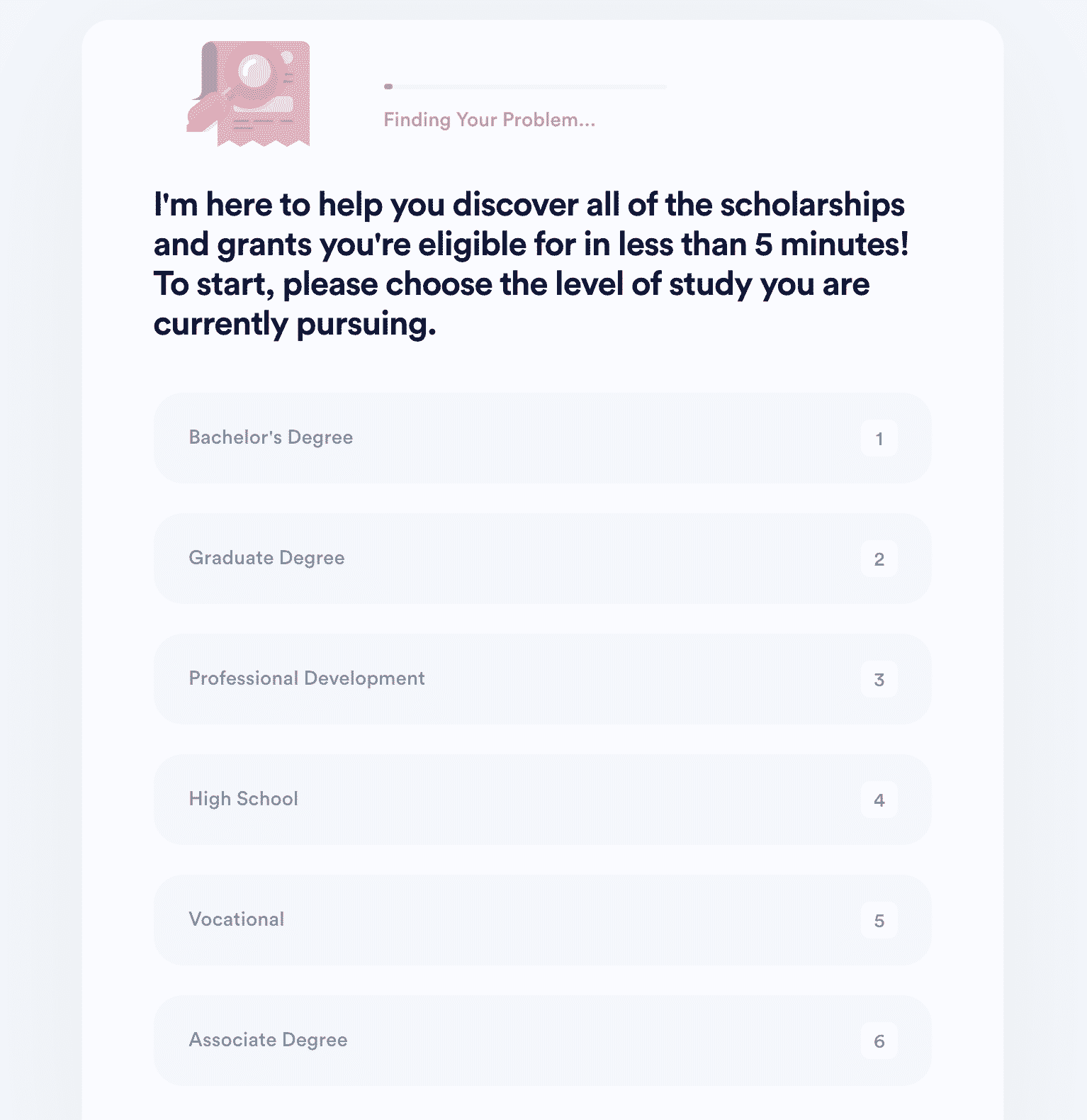 Searching for scholarships can be overwhelming, but there is an easier way to approach the task—by using DoNotPay! If you invest a few minutes of your time, you can get a list of relevant scholarships tailored to your qualifications!
All you need to do is:
Open the Apply for Scholarships feature
Tell us more about your:

Level of study
Future vocation
Special qualifications, such as being a

veteran

or an international student
Use your personalized list to discover available scholarship opportunities, learn about requirements for each, compare awards, and submit individual applications. The best part is that we can help you apply for scholarships at any stage of your education—even in graduate school.
If you want to apply for no-essay scholarships, all you need to do is choose the appropriate option in our questionnaire. We will provide a list of all no-essay scholarships you are qualified for and apply for them on your behalf automatically!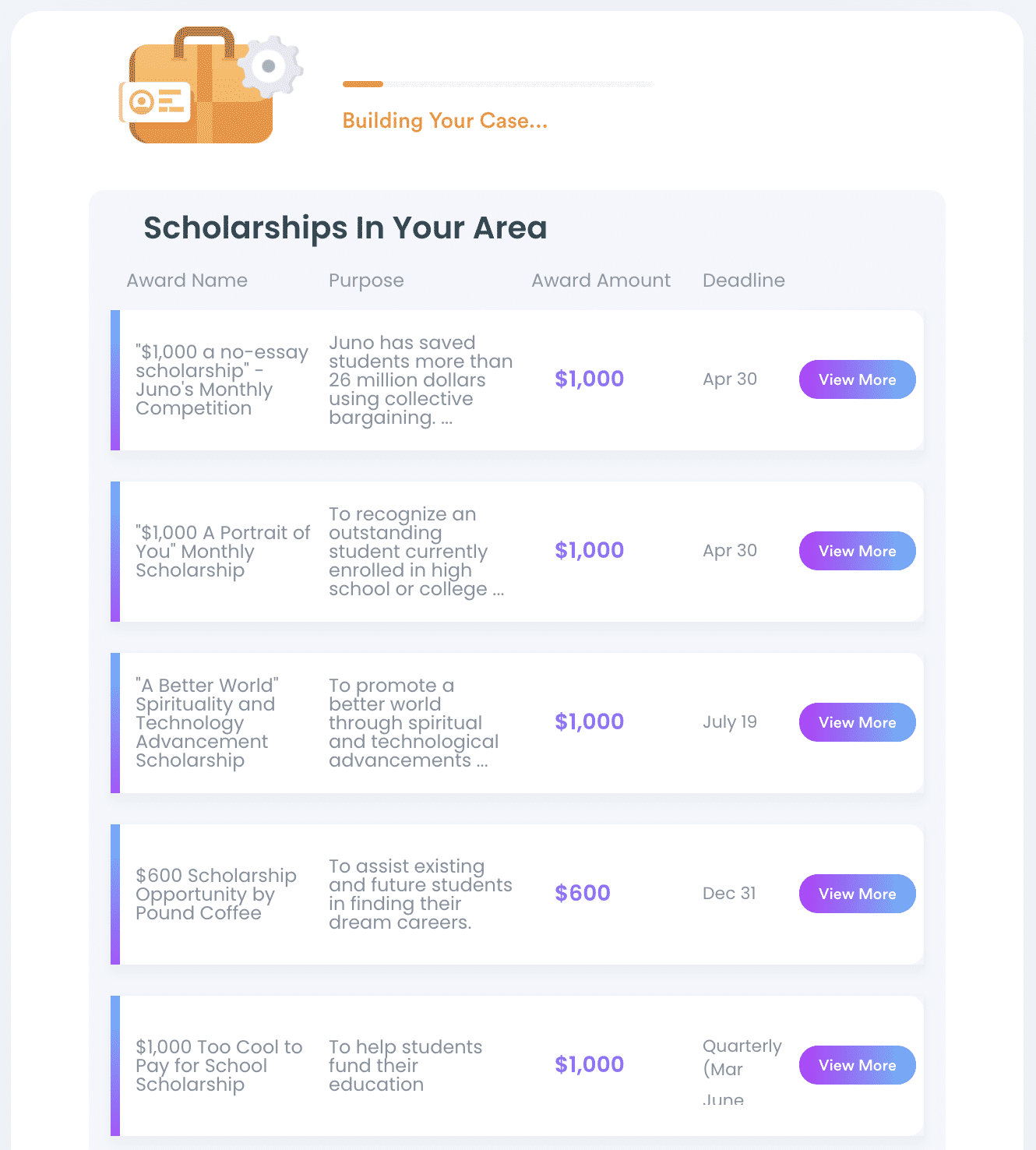 What's Next?
Once you complete the task at hand, you don't have to stop there—we offer a myriad of products that can relieve you of the stress that comes with dealing with admin and legal hurdles.
DoNotPay can assist you in drawing up a divorce settlement agreement, child travel consent form, power of attorney, and other legal documents, contacting government representatives, getting tourist visas, fighting workplace discrimination, getting a burner number, appealing banned accounts, getting access to public records, scheduling a DMV appointment, and much more.
Tackle Any Energy-Draining Task With DoNotPay
With DoNotPay by your side, you don't have to worry about how you'll cover your utility bills at the end of the month—we'll provide swift assistance as soon as you sign up!
Wondering what else our app is capable of? Check out how we can: