Find Culinary School Scholarships You Are Eligible for in an Instant
No matter whether you're a college, graduate, high school, or middle school student, finding grants and scholarships you're eligible for can be straining. Although there's a plethora of financial aid programs available, many students fail to find the most suitable scholarships because they're scattered all over the place. You can comb through various websites, but the information tends to be unreliable and incomplete, which only adds to the difficulty of the research.
Prospective chefs experience the same difficulties as other students when searching for culinary school scholarships. DoNotPay is here to help by explaining the ins and outs of financial aid programs and automating the search process!
Who Offers Culinary School Scholarships?
Many organizations and foundations, such as Careers through Culinary Arts Program and The Culinary Trust, fund future chefs' education. Some factors you have to consider before applying for a scholarship for culinary arts are:
Having a good Grade Point Average (GPA)
Majoring in food science or any related field
Attending specific lessons and curriculums in the future
Being enrolled in a post-secondary college
Depending on your preferences, you can pursue a scholarship for culinary students relating to:
Restaurants
Candy production
Other food services
How To Find a Scholarship for Culinary Arts
You may conduct an extensive search online to find scholarships for culinary arts you qualify for. Websites listing available opportunities with basic info—such as the application deadline, amount of money, and overview—are a good place to start. Depending on the results of your search, you may need to check out individual programs to find out if they:
Getting into so many details requires a lot of time and effort. Fortunately, there is a much simpler solution that yields results in a couple of minutes. It allows you to focus on the application process instead of researching.
Subscribe to DoNotPay to get personalized results based on your qualifications and preferences without wasting any time. Check out how DoNotPay's neat product compares to manual search:
Scholarship Research Method
What You Should Count On
Using DoNotPay

The process lasts several minutes
You receive personalized results based on your interests and background
You can have the app apply in your stead and waste no time

Browsing the web

The search lasts hours or even days
You cannot know if you shortlisted all available opportunities
You need to apply manually
The best part is that DoNotPay offers guides to various types of scholarships, such as those for mothers, minorities, homeschoolers, and students with disabilities. You can also check out what's offered based on your unique interests, such as art, nursing, and music.
How To Apply for Scholarships for Culinary Arts
Every sponsoring organization sets specific rules and requirements students applying for scholarships must meet. Here are some of the most popular financial aid providers for culinary school students and their criteria:
The James Beard Foundation
Women Chefs & Restaurateurs
The Culinary Trust
Feeding Tomorrow
The James Beard Foundation
The James Beard Foundation Scholarship Program grants multiple scholarships to high school seniors who want to attend accredited or licensed culinary schools. The funded amount varies, but it usually doesn't go below a few thousand dollars or over $20,000.
The application deadline is usually in mid-May.
Women Chefs & Restaurateurs
Women Chefs & Restaurateurs have been supporting women getting a culinary education since 1992. The awarded amount varies and is usually between $1,000 and $20,000, while the application deadline usually takes place around mid-July.
The Culinary Trust
The Culinary Trust sponsors existing and future chefs' studies through individual and project grants. Students must be enrolled in any number of well-known culinary programs to qualify for this scholarship. The financial aid amount, as well as the deadline for applications, typically varies.
Feeding Tomorrow
This foundation awards annual grants to candidates obtaining a food science degree. The amount in question varies but is normally between $1,000 and $5,000. The deadline usually takes place at the beginning of February.
Get Personalized Scholarships in No Time With DoNotPay
No matter how much time you spend online, you can never be sure you found all the scholarship opportunities you qualify for. Browsing individual websites listing dozens of scholarships could last forever.
You no longer need to waste your time or patience—with DoNotPay by your side, you'll get a comprehensive list of all scholarships you qualify for in just a few clicks!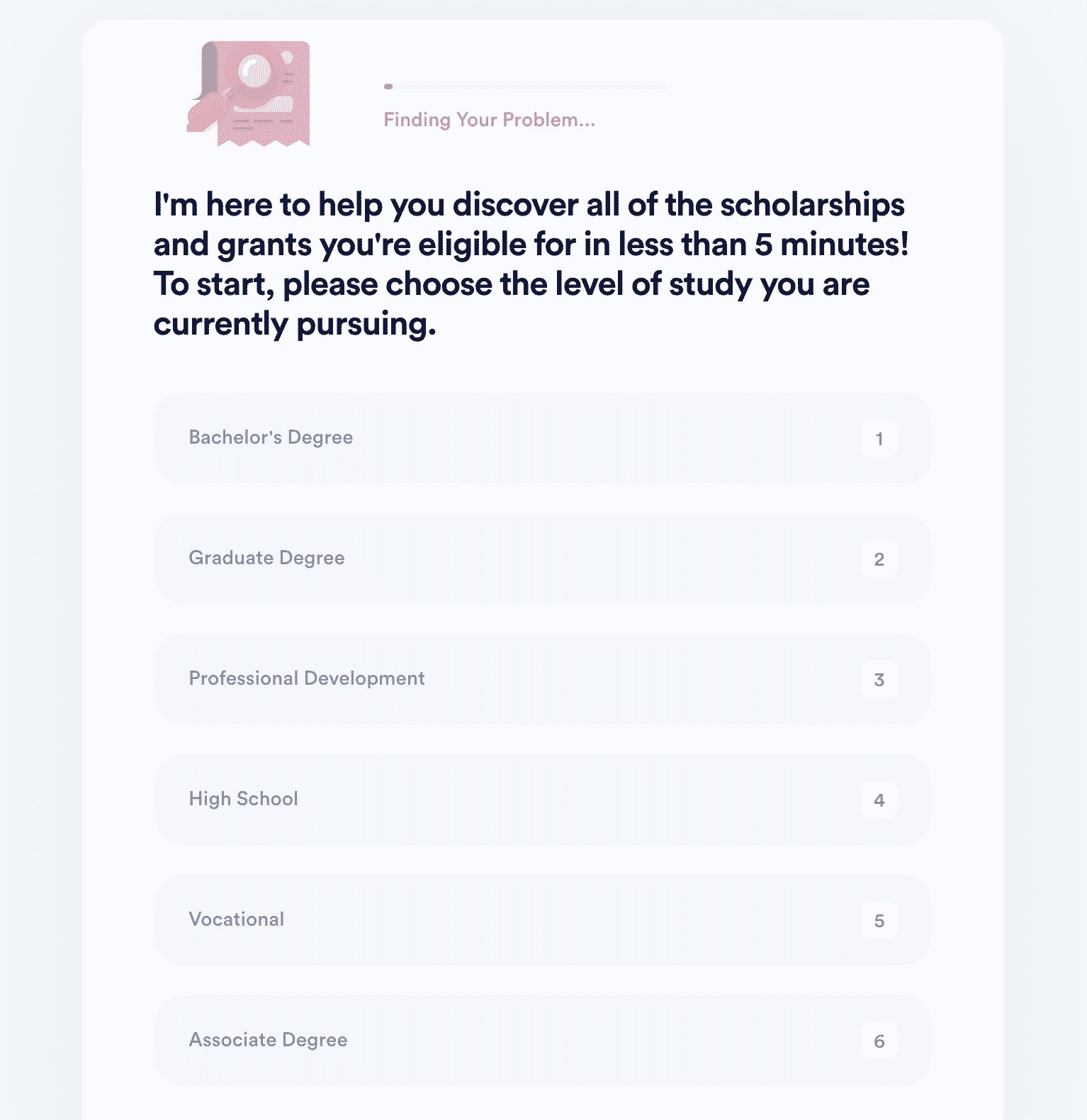 All you need to do is answer simple questions related to your:
Residency
Career goals
Level of education
Academic interests
Special qualifications (if you qualify for veteran scholarships, for example)
Once you submit your answers, DoNotPay searches the available opportunities, delivering grants, prizes, and scholarships you are eligible for in a few minutes. You will also know if they require an essay submission. If not, you can opt to have our app send your application to any no-essay scholarship program.
To get access to our neat product, proceed as follows:
Sign in to DoNotPay and choose Scholarships
Select the Apply for Scholarships option
Pick the level of study
Complete the questionnaire to enable us to conduct a personalized search
DoNotPay can also tell you how to compose a cover letter and prepare for a scholarship interview.
Use DoNotPay To Deal With a Plethora of Bureaucratic Tasks!
Tired of dealing with bureaucracy? We understand the struggle, and that is why our app makes handling administrative tasks a breeze!
Regardless of whether you need to compose a legal document, such as a power of attorney or a child travel consent form, appeal property taxes or your parking tickets, file a financial aid appeal and a FOIA request, or get a document notarized, DoNotPay has got you covered!
In case you also need to submit anonymous HR complaints, our app will provide you with the easiest way to do so!
Go on a Stress-Free Shopping Spree With DoNotPay
Do you like to shop until you drop? With DoNotPay, you won't have to worry about dropping! We'll make sure you can:
If you need more money to continue your shopping spree, let our app help you find any unclaimed funds under your name and enter numerous giveaways and sweepstakes!