Get Top Scholarships for Minorities and Offset Steep Education Costs
The learning experience has always been challenging for students belonging to a minority. From facing subtle discrimination to dealing with prejudiced dehumanization, minority students need to work harder to move up their ranks in society.
Grants and scholarships for minorities are targeted towards groups who:
Can't find adequate representation as students in progressive fields
Struggle to finance their basic living or study expenses
Minority scholarships can help you secure a degree without falling into debt traps, but you need to be super careful while checking your eligibility requirements. This article will help you tune up your application strategy in no time!
Scholarships and Grants for Minorities—Who Can Apply?
The term minority doesn't always refer to a particular race or ethnicity—you can qualify as a minority based on various factors relevant in the current society. Observing the latest financial aid options, you will find four broad sections of minority scholarships or grants:
Scholarships for people of color, race, or ethnicity
LGBTQ community scholarships
Scholarships for other marginalized groups
Scholarships for Students of Color, Race, or Ethnicity Explained
More and more college and graduate school scholarships are being offered to students from different religious, ethnic, or cultural backgrounds—all to improve diversity on campus. At present, you can easily find scholarships benefiting groups like:
If you don't belong to any of these groups, you can look for scholarships that help international students, transfer students, or legal immigrants specifically.
Minority Women Scholarships Are in Plenty
Women have always had a rough time entering male-dominated academic or athletic fields. Even today, they find it challenging to restart their education after motherhood or career breaks. Thankfully, numerous scholarships are available for:
You can also look for special women-centric scholarship options based on your choice of study, sports, or vocation—you can check out some examples in this table:
Scholarships for Minorities in LGBTQ+ Community
LGBTQ+ students are gaining prominence as a minority group, which has boosted the number of scholarships available for queers, transgender people, and children of gay or lesbian parents. Here are some examples:
Scholarships for Other Minority—Marginalized Students
At this point, any group that feels under-represented in a particular field can claim to be a marginalized minority. That's why you can find a myriad of scholarships catering to groups such as veterans, male nurses, senior citizens, foster youth, adopted children, students with deceased or disabled parents, cancer survivors, left-handed people, and students who suffer from autism, anxiety, hearing impairment, or any other learning disability.
Where To Find Merit and Non-Merit Based Scholarships for Minorities
Despite being available to multiple minority groups, scholarships for minorities can be both need-based and merit-based. Unlike other scholarships, minority scholarships are difficult to find as hundreds of organizations issue them for various target groups.
Use this carefully strategized approach to look and apply for the perfect minority scholarships:
Decide what minority section you qualify for
Browse the following sources to look for related scholarships:

Government-sponsored scholarship institutions
News bulletins of state colleges and universities
Websites of relevant charitable or non-charitable organizations
Updates provided by your local community
Company bulletins for scholarships launched as part of corporate social responsibility

Fulfill eligibility requirements by arranging the following:

Resume (outlining your achievements)
Cover letter (to explain why you deserve the scholarship)
Income certificate, if required

Write your scholarship essay or finish the necessary competitive task
Apply before deadline
We understand that the entire search and application process can be incredibly time-consuming. To cut down your browsing time, DoNotPay has devised a unified scholarship search tool that will give you a compiled list of scholarships you can apply for.
Our app conducts a personalized search to deliver you a tailored list of all minority scholarships that fit your circumstances! Sign up to get your personalized list in under five minutes!
DoNotPay Curates a List of Minority Scholarships and Also Helps You Apply!
DoNotPay's scholarship finder works in more ways than one—we can also help you apply for no-essay scholarships automatically!
Our app uses an interactive feature to collect information about your particulars as a student—such as age, race, ethnicity, subject, hobbies, state, and special qualifications. We employ them as search criteria to get all the relevant scholarships that you qualify for. For the no-essay scholarships that you like, we:
Send your application using the information you entered before
Keep you updated with a confirmation email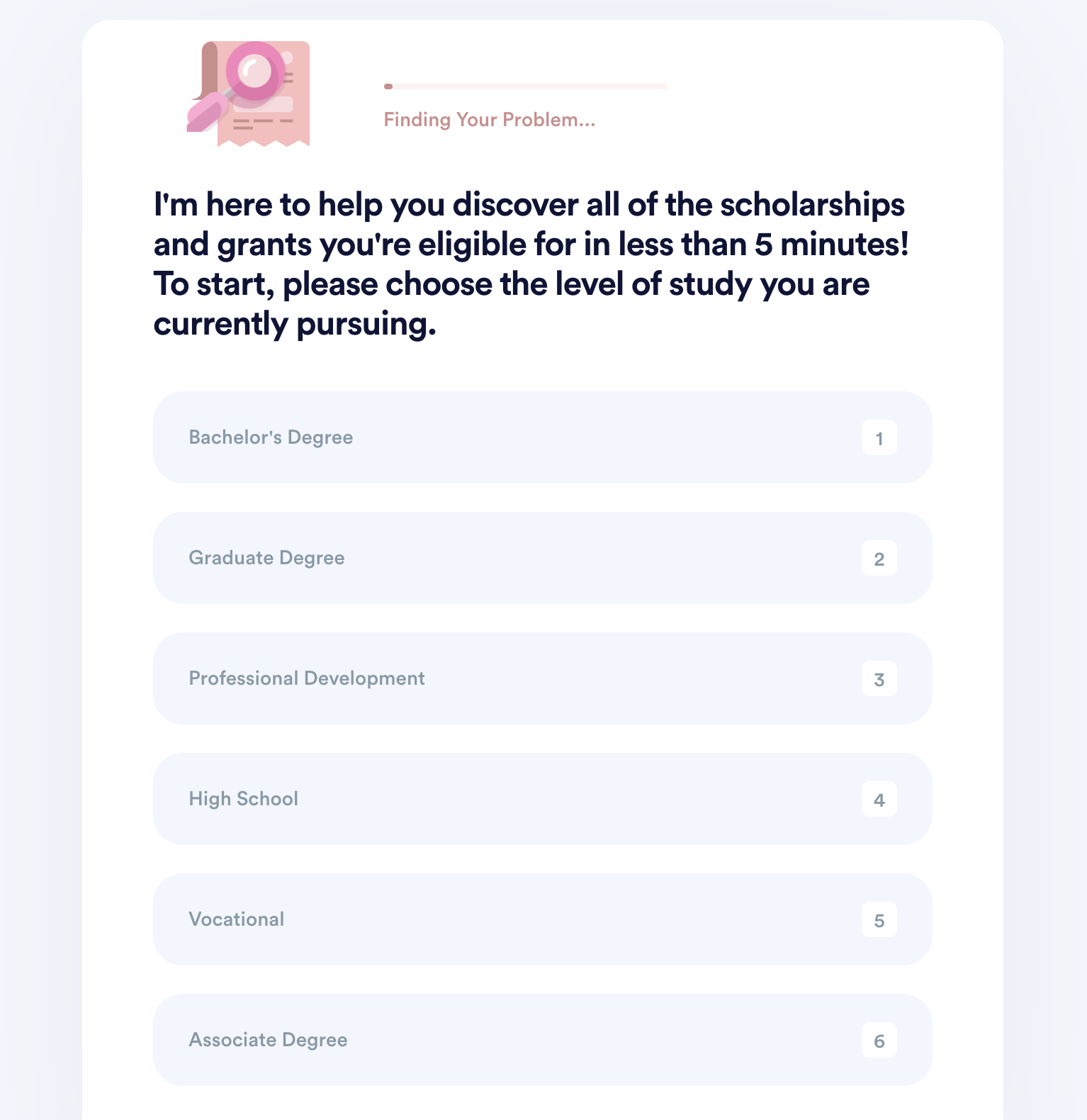 Our search and application streamline the tedious chore of keeping tabs on scholarships. You can use the extra time to focus on perfecting your creative submissions for essay-based scholarships!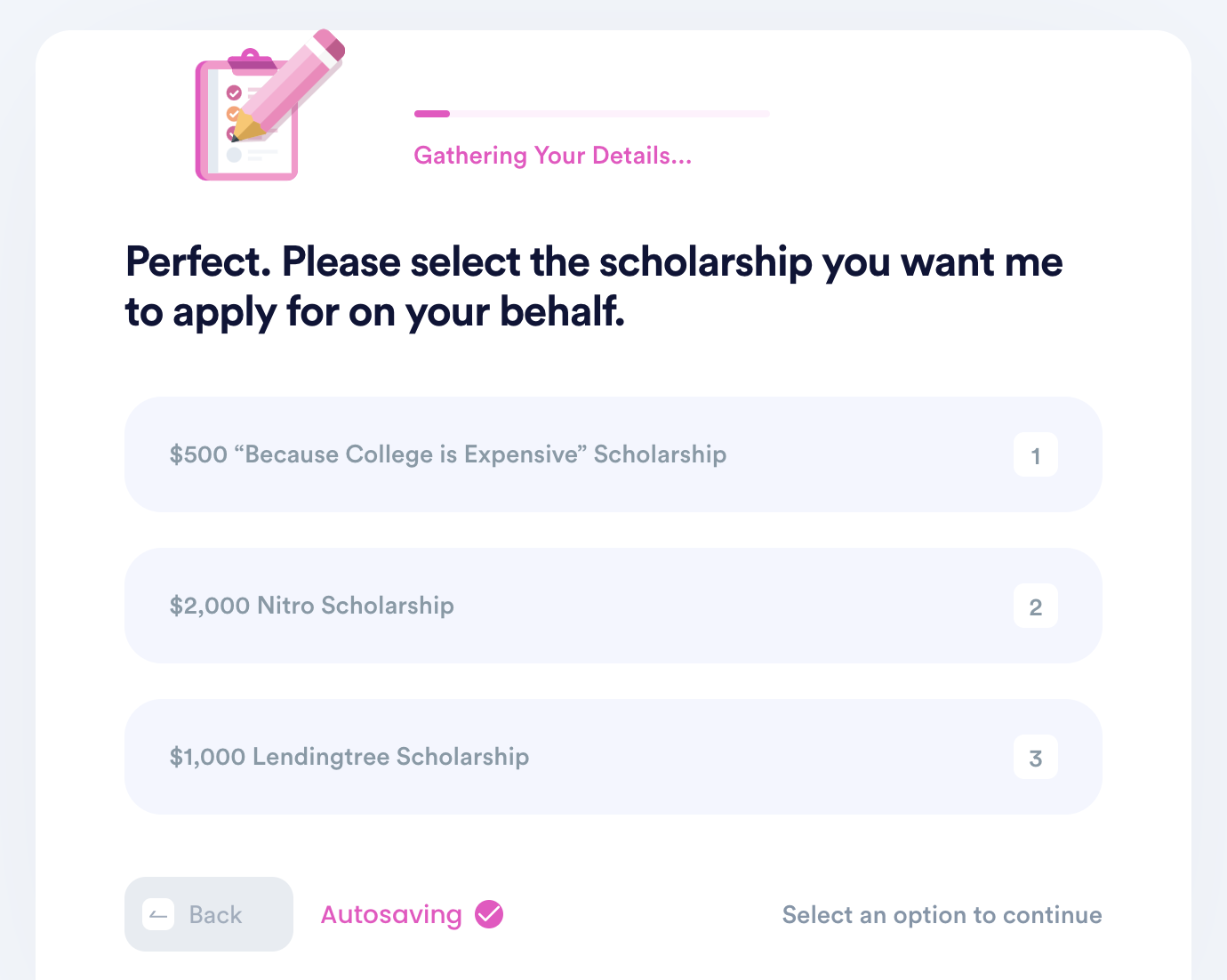 Do this to use our assorted services:
Log in to DoNotPay and search for Scholarships
Enter your details
Choose whether you would like to see the entire list of opportunities you're eligible for or want us to apply you for no-essay scholarships automatically
Minority scholarships are launched frequently but have tight application deadlines, so make sure to use DoNotPay regularly and stay on top of the application game!
Do Minorities Get More Scholarships?
Did you know that even white males can qualify for certain minority scholarships?
People tend to fuss over the vast scholarship opportunities available for minorities, but statistics reinstate the ugly reality. The numbers suggest that Caucasians are more likely to win scholarships that are color-, race-, or gender-blind. Currently, minorities win under one-fourth of the available scholarships in the U.S., even when they represent a larger part of the population.
If you want to increase your chances of getting a scholarship, your best bet is to apply for as many as you can.
Use DoNotPay To Deal With a Plethora of Bureaucratic Tasks!
Tired of dealing with bureaucracy? We understand the struggle, and that is why our app makes handling administrative tasks a breeze!
Regardless of whether you need to compose a legal document, such as a power of attorney or a child travel consent form, appeal property taxes or your parking tickets, file a financial aid appeal and a FOIA request, or get a document notarized, DoNotPay has got you covered!
In case you also need to submit anonymous HR complaints, our app will provide you with the easiest way to do so!
Go on a Stress-Free Shopping Spree With DoNotPay
Do you like to shop until you drop? With DoNotPay, you won't have to worry about dropping! We'll make sure you can:
If you need more money to continue your shopping spree, let our app help you find any unclaimed funds under your name and enter numerous giveaways and sweepstakes!