Scholarships for Women in STEM From A to Z
If you're a female student seeking education in science, technology, engineering, or maths, you already know how underrepresented women in those fields are. Luckily, numerous available scholarships can encourage you to pursue your degree by offering financial relief.
Use this guide to learn where to find scholarships for women in STEM and how to apply for them!
STEM Scholarships for Women—What You Should Know
Many organizations and successful female scientists are making it a priority to include women in the world of STEM. To accomplish that, they support promising candidates with scholarships and grants.
Some STEM scholarships for women require you to become a member of numerous associations of female scientists. Luckily, many of them offer student discounts, so you won't have to break the bank to submit your scholarship application. The process of becoming a member won't take you more than five minutes, and that's a small price to pay for a scholarship. An additional benefit of these memberships is that you'll become a part of a network that might boost your career opportunities in the future.
If you miss a scholarship deadline, don't stress because most of them offer awards annually, and applications might open again in a month or two.
You can get STEM scholarships for women regardless of whether you're:
The Best Ways To Find Scholarships for Women in STEM
To find the financial means to excel in a male-dominated industry, you can look for scholarships by:
Asking the financial aid consultant at your chosen school for available opportunities
Contacting any of the numerous organizations supporting women in STEM, such as:

Girls Who Code
Society of Women Engineers (SWE)
The White House Office of Science and Technology Policy/White House Council on Women and Girls
Finding Ada
Association for Women in Science (AWIS)
Latinas In STEM
National Girls Collaborative Project (NGCP)
Organization for Women In Science for the Developing World (OWSD)
If you're tired of spending hours searching for STEM scholarships and figuring out their requirements, try DoNotPay! After answering a few questions, you will receive a custom-made list of STEM scholarships and other awards you qualify for! Use DoNotPay to secure more financial aid, which you can use towards getting your STEM degree!
How To Apply for STEM Scholarships for Women
Take a look at the table below to learn about the application materials required for STEM Scholarships for Women:
Scholarship Types
Application Requirements
Most STEM scholarships

Some STEM scholarships

A completed scholarship application form
Your resume or college transcript
A letter of recommendation from a mentor
Proof of

Membership in the association/organization that offers the scholarship
Ethnicity
U.S. residency or DACA eligibility

Additional application material
Secure STEM Scholarships for Women and Many Other Awards With DoNotPay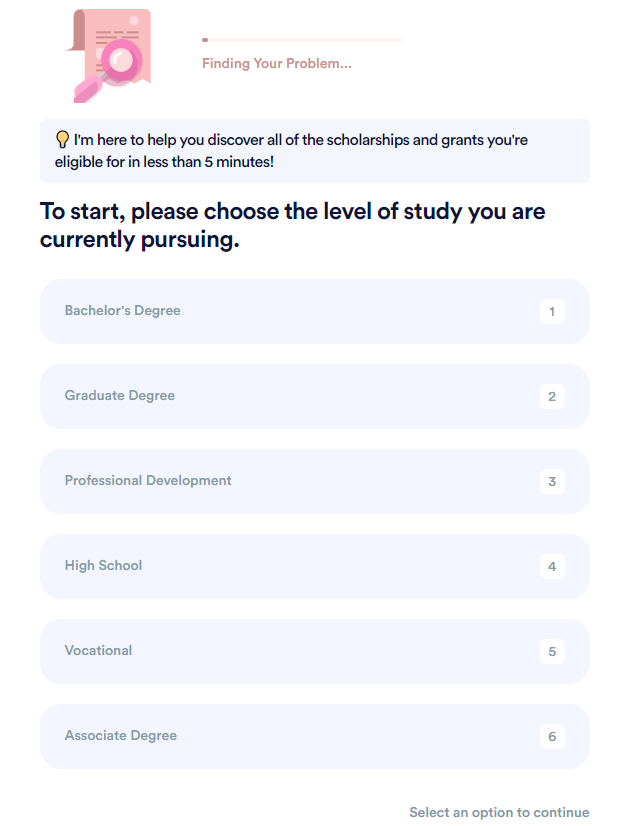 DoNotPay can help you take the right steps towards affording your education and leaving your mark in the fields of STEM as a woman. To ensure that you utilize all opportunities at your disposal, our app analyzes thousands of scholarships daily to find ones that match your field and level of study.
Once you find a STEM scholarship that requires additional application efforts, you can let DoNotPay handle all no-essay scholarship applications while you focus on other awards. That way, you maximize the chances of getting the financial support you need.
This is how it works:
Enter Apply for Scholarships in the search bar
Answer our chatbot's questions
After you complete the final step, a list of available scholarships will show up, and you can:
Compare awards
Learn more about the opportunities, requirements, and deadlines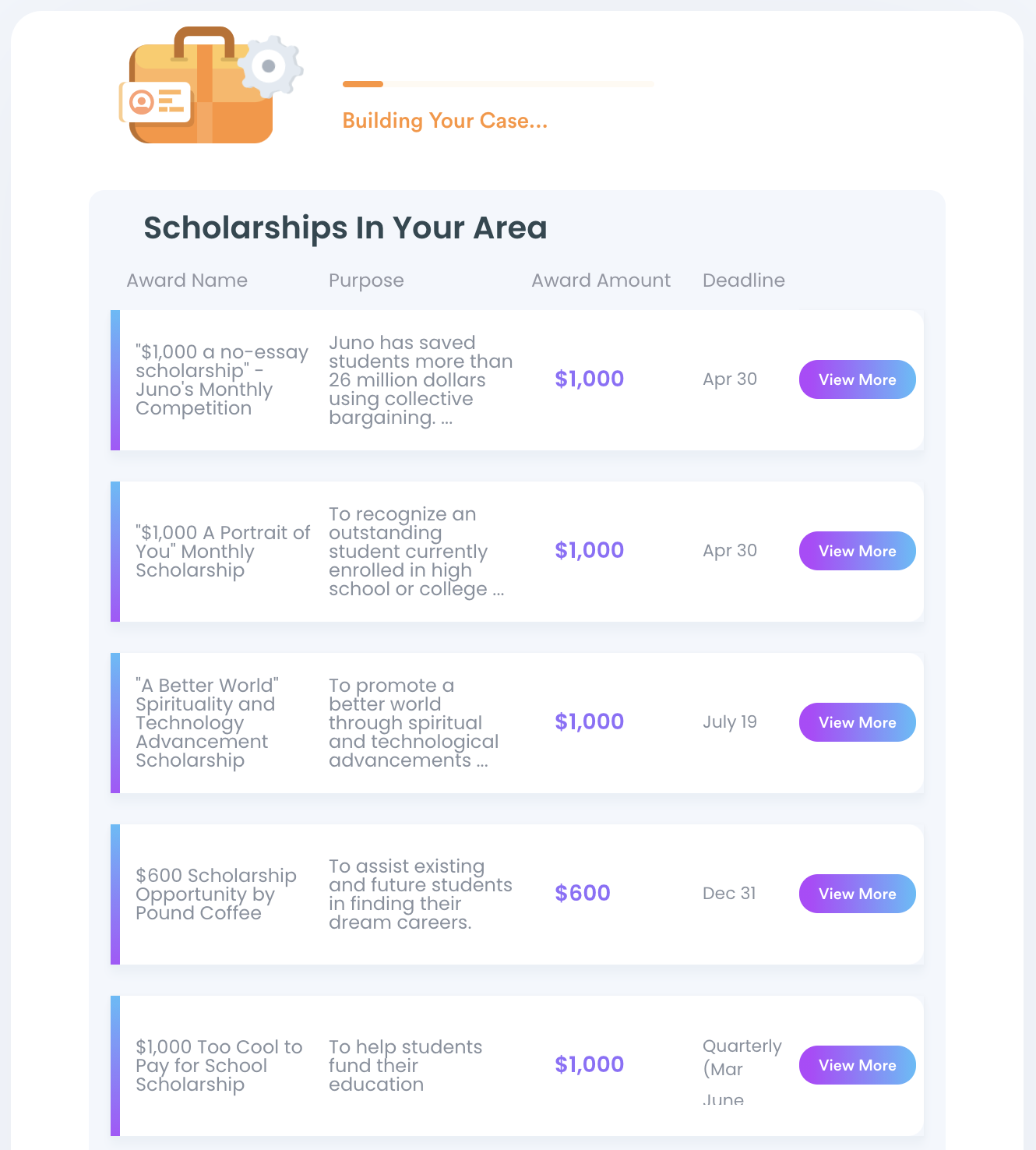 What Are Some of the Best Scholarships for Women in STEM?
Check the table below to learn more about the most popular STEM scholarships for women:
Category
Scholarships
General scholarships for women in STEM

Virginia Heinlein Memorial Scholarship
BHW Scholarship
Aysen Tunca Memorial Scholarship
Scholarship America's Dream Award
Drone Technology College Scholarship
MPOWER Women in STEM Scholarship
SAPA Scholarship and Excellence in Education Program

STEM scholarships for female high school seniors

Girl Scout Scholarships
Lounge Lizard Web Design Scholarships

STEM scholarships for graduate students that are targeted at women

Palantir Women in Technology Scholarship
Society of Women Engineers

Scholarships for women in engineering

UPS Scholarship for Female Students
Palantir Women in Technology Scholarship
Society of Women Engineers
American Airlines/Women In Aviation Engineering Scholarship
Lynn G. Bellenger Scholarship

Science scholarships for females

AWIS Kirsten R. Lorentzen Award
Science Systems and Applications, Inc. (SSAI) Academic Scholarship

Scholarships for women in math
Science, Mathematics, and Research for Transformation (SMART) Scholarship for Service Program
DoNotPay Offers Quick Solutions to Tedious Problems
Are you overwhelmed by your never-ending to-do list? We're happy to jump in with a perfect solution to deal with everyday tasks the easy way!
Once you subscribe to DoNotPay, you'll be able to schedule DMV appointments, lower your monthly bills, and contest parking tickets without breaking a sweat!
If you are looking for further assistance, our app will show you how to deal with the following tasks effortlessly:
Rely on DoNotPay's Legal Assistance Any Time!
If a company refuses to cooperate, use DoNotPay—the world's first robot lawyer—to sue it in small claims court! Getting the justice you deserve is only a few clicks away!
You can also use our app's various features to do the following: