How To Secure a Scholarship for a Hearing Impaired Student
Around 1,3% of all college students in the United States are deaf, and pursuing higher education with a hearing impairment is not an easy task. Fortunately, many organizations recognize the courage and persistence of college students with a hearing impairment disability and offer scholarships to motivate them to stay on their road to a degree.
This guide delivers tips on finding and applying for the right scholarship for the hearing impaired to help deaf students get the financial aid they deserve.
Are There Any Scholarships for Hard-of-Hearing Students?
Yes, many scholarships are designed for and awarded to hard-of-hearing students. If you're deaf, you can even get scholarships based on the nature of your condition. For example, some scholarships differentiate between students who:
Were born deaf and those who developed a hearing impairment after an unfortunate event or illness
Lost their hearing in their childhood and those who were healthy most of their life
Lost hearing in one ear and those who lost hearing in both
Lost their hearing partially and those who did completely
While there are many scholarships dedicated to the condition, you should consider applying for other scholarships and grants aside from those for deaf students to secure more financial aid. Nowadays, you can get scholarships for almost any skill or trait, including:
Being:

A

veteran

or a

spouse

or

dependant

of one
No matter your qualifications, our app can find the right scholarship for you. and answer a few brief questions to receive a custom list of scholarships in a flash!
Where Can You Find Scholarships for the Hearing Impaired?
If you're looking for scholarship opportunities for the hearing impaired, you can find them by:
Using online search tools
Asking your current or prospective school's financial aid consultant
Reaching out to organizations that help and advocate for deaf students such as:

The National Deaf Center on Postsecondary Outcomes (NDC)
Association of College Educators of the Deaf and Hard of Hearing (ACE-DHH)
Council of American Instructors of the Deaf (CAID)
Conference of Educational Administrators of Schools and Programs for the Deaf (CEASD)

Checking websites of federal and state financial aid agencies
Contacting local nonprofit and activist organizations
Asking your or your parents' employers about the possibility of receiving financial aid
How To Apply for College Scholarships for the Hearing Impaired
To compete for a scholarship for the hearing impaired, you might have to submit the following documentation:
Free Application for Federal Student Aid (FAFSA) or your state's equivalent
College Scholarship Service (CSS) Profile
An individual scholarship application
An

essay

or a personal statement
A high school or college transcript
Letters of recommendation from your role models and mentors
SAT or ACT scores
What Are Some of the Best Scholarships for Deaf Students?
Take a look at the following table for information about the most generous scholarships for deaf students, their eligibility criteria, and awards:
Scholarship
Award
Eligibility Criteria
Minnie Pearl Scholarship
$2,500
Applicants must be high school seniors with a minimum GPA of 3.0
AG Bell College Scholarship
$1,000–$10,000
Students must be pursuing a bachelor's, master's, or doctoral degree and must have lost their hearing before the age of four
Sertoma Scholarship for the Deaf or Hard of Hearing
Depends on academic merit, financial need, and level of hearing loss
Applicants must be

high school senior

graduates or college undergraduates pursuing a four-year degree and demonstrate significant bilateral hearing loss
Google Lime Scholarship Program
$10,000
Candidates must have a visible or invisible disability and pursue education in the fields of computer science and engineering
Communicative Disorders Scholarship
$1,000
Applicants must be graduates pursuing an advanced degree in audiology or speech-language pathology
International Alumnae of the Delta Epsilon Sorority (IADES) Fellowship Award
Varies
Candidates must be:

Deaf or hearing impaired
Enrolled in a doctorate program
DoNotPay Finds Scholarships for Hearing Impaired Students in no Time!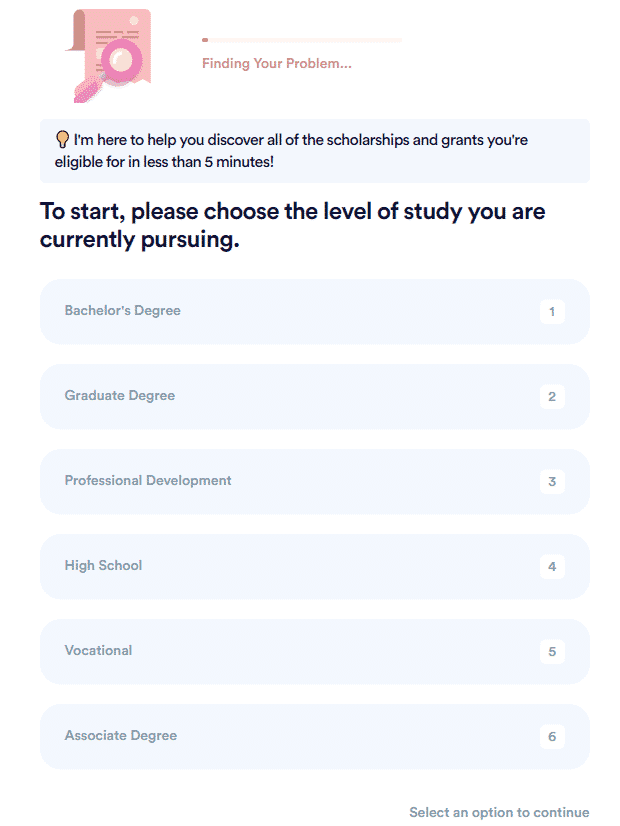 Being a deaf or hard-of-hearing person seeking education in a hearing-focused system is difficult, especially when that system costs a fortune. That's why our app offers a feature that can help you turn your circumstances and qualifications into opportunities for extra college funding.
To check which scholarships and grants you qualify for, you should:
in any web browser
Select our Apply for Scholarships product
Select your level of study and answer a few short questions
After you complete all steps, the app will list all awards you are eligible for, and you can: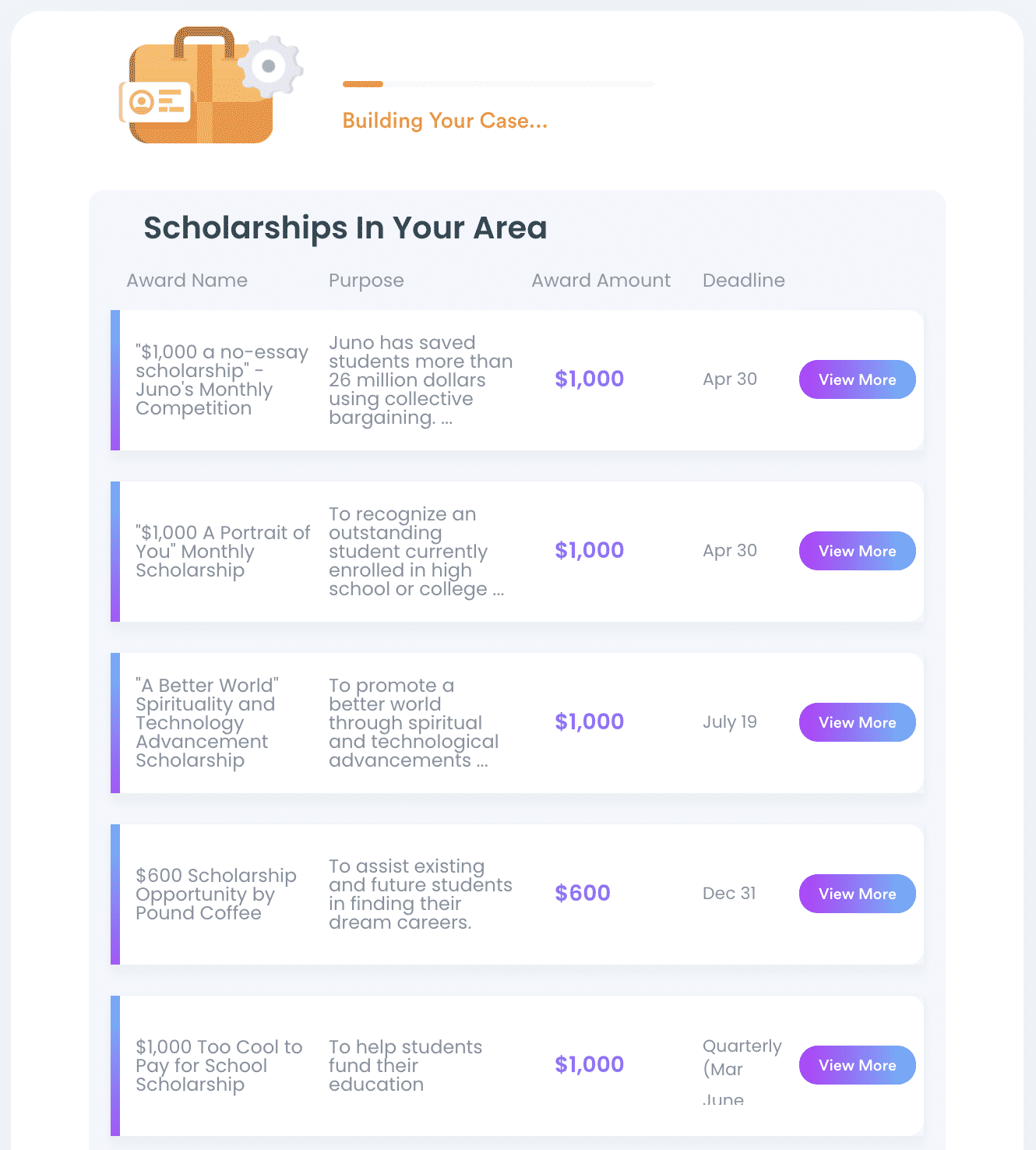 DoNotPay Helps You Run Errands Without Leaving the Comfort of Your Home!
If you're on a tight schedule and you can't afford to spend hours running errands, DoNotPay steps in with a perfect solution! You can skip going to the post office to request an item return or visiting a notary public to get your documents notarized—Our app will help you get it all done without going anywhere!
Visiting your local Walmart to have your passport photo taken is unnecessary since DoNotPay can help you get it at home!
Consult the list below to see what other tasks you can complete using our app:
Unsubscribe From Unwanted Services at Any Time
Companies tend to keep charging their clients monthly subscription fees automatically if they don't end their subscriptions. Stop wasting money on forgotten memberships—DoNotPay will show you how to terminate your subscription in a few clicks!
You can also learn how to sign up for a free trial without getting charged, create a burner phone number or a virtual credit card hassle-free!