A Simple Guide to Finding a San Antonio Scholarship
With all the scholarships and grants available, finances should not stop you from attending your first-choice university. Scholarships have a wide range of eligibility requirements which means you may qualify for a few programs—you just need to know where to look. Discover how you can find a San Antonio scholarship with little to no effort using DoNotPay.
Types of San Antonio Scholarships
Students in San Antonio can apply for scholarships from the following sources:
Federal and state governments
Universities and colleges
The San Antonio Area Foundation
Federal and State Grants
The eligibility criteria vary from one program to another, but most federal and state programs award students who demonstrate financial need. Here is a list of a few scholarships for San Antonio students sponsored by the state and federal government:
Scholarship
Amount
Who Is It For?
Texas Educational Opportunity Grant Program (TEOG)

$1,711 per semester (community college)
$2,143 per semester (state college)
$3,238 per semester (technical institute)

Texas residents enrolled in public two-year higher learning institutions in the state who demonstrate financial need
Toward EXcellence, Access, and Success Grant Program (TEXAS Grant)
Maximum of $5,195 every semester
Students enrolled in baccalaureate programs in state's public schools or health-related institutions
Kenneth H. Ashworth Fellowship Program
Award amount is determined each year by the selection committee
Graduate school students pursuing public affairs, public service, or public administration programs
Education and Training Vouchers for Youths Aging Out of Foster Care in Texas
Up to $5,000 per academic year
Foster youth from ages of 16 up to 23 who are eligible to enroll in a Texas university or college for a bachelor's degree
Texas Public Educational Grant Program (TPEG)
The award amount depends on the applicant's financial need
Texas residents, out-of-state students, and international students who can prove financial need
Fifth Year Accounting Student Scholarship Program
Up to $5,000
Residents of Texas state who have applied for the CPA Examination with the Texas State Board of Public Accountancy
Texas Armed Services Scholarship Program
$10,000
Graduating high school seniors with a minimum GPA of 3.0, and scores of 1070 in SAT or 23 in ACT
To apply for most of these scholarships and grants, you will need to submit the Free Application for Federal Student Aid (FAFSA). If you do not qualify to file the FAFSA, you can complete the Texas Application for State Financial Aid (TASFA). The applications open on October 1 and close by January 15 each year. The awards are administered by schools. You should confirm with your school's financial aid office if they participate in the federal and state programs.
The San Antonio Area Foundation
The San Antonio Area Foundation offers about 100 scholarships for graduating high school seniors and current college students. Each program has its own application guidelines and eligibility requirements. You can confirm the available scholarships and details by visiting the official website.
You can apply for the San Antonio area foundation scholarships by completing:
The Universal Application (this allows you to apply for 25 different scholarships)
The Common Application (you can apply for 57 different scholarships)
The individual application (this option allows you to apply for the programs you qualify for)
Universities and Colleges
Schools in San Antonio offer scholarships to their enrolled students. For instance, Texas A&M University, San Antonio Scholarships include:
Texas A&M San Antonio Scholarship Fund ($500–$1,000 annually) for undergraduate and graduate students
Academic Achievement Scholarship ($2,000–$4,000 annually) for high school seniors who will enroll at A&M-SA immediately after high school graduation
How To Find More San Antonio Scholarships
If you wish to find more scholarship opportunities, you can follow these search tips:
Find the programs offered by your school through the financial aid office
Consult your high school guidance counselor
Refine your internet search in the following ways:

Look for opportunities aimed at your student profile, for instance, women in STEM, first-generation college students, disabled students, veterans, women, legal immigrants, teenage moms, etc.
Search based on your field of study, for example, mathematics, music, science, environmental science, dentistry, arts, mechanical engineering, physical therapy, nursing, creative writing, and speech-language pathology
You can also use a more efficient approach. DoNotPay can help you discover all the programs you can apply for in less than five minutes—your only task is to .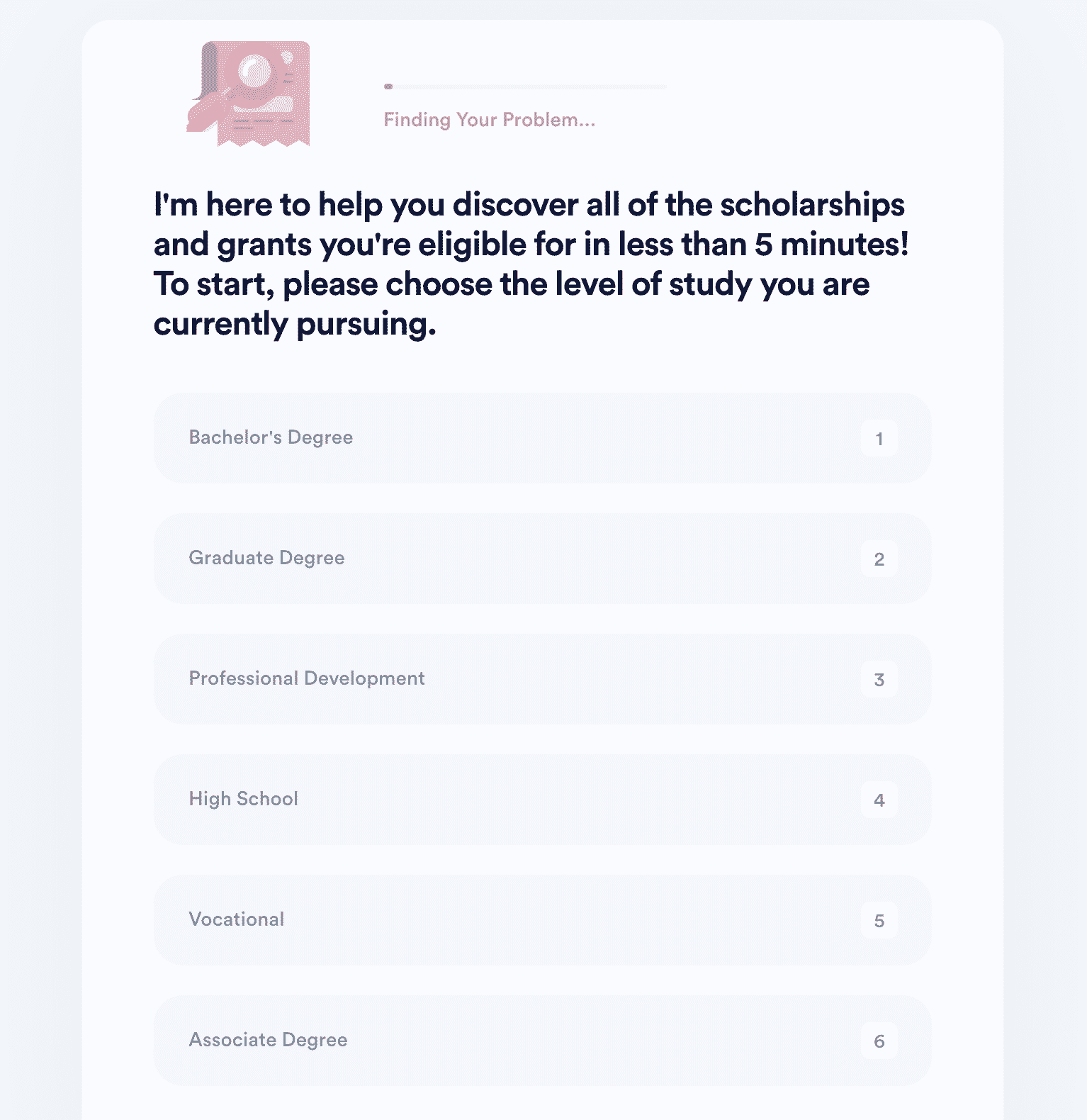 How To Apply for San Antonio Scholarships
While every program has its own application process, most require submitting the following documents:
Discover San Antonio Scholarships With DoNotPay
DoNotPay is the game-changer for finding scholarships. Instead of wasting your time behind a computer trying to find all the scholarships you could apply for, you can use our app and let us perform the search on your behalf. We give you a complete list of all the scholarships you are eligible for based on the information you provide.
Discover your opportunities in a minute by following these steps:
Find the Apply for Scholarships product
Answer a few questions
We can also help you apply for no-essay scholarships automatically in a few taps.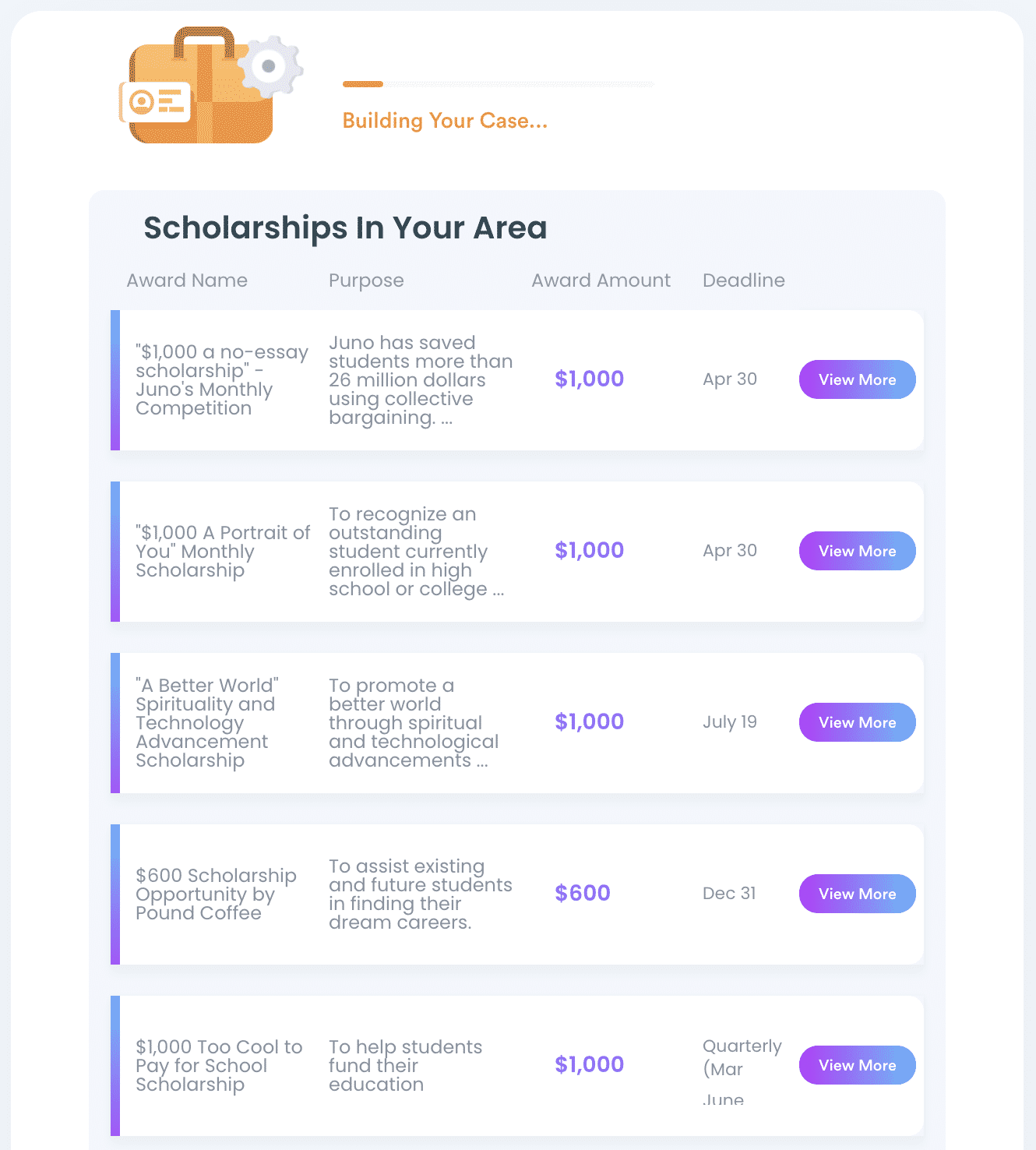 Resolve Any Other Issue You Have Swiftly With Our Assistance
The world's first robot lawyer is capable of tackling any legal or administrative task in your stead. We can draw up any legal document for you—including a power of attorney, child travel consent form, and divorce settlement agreement, to name just a few—help you sue any company or individual in small claims court, send a letter of warning to your noisy neighbors, help you reduce your property taxes and utility bills, and a lot more.
Sign up now if you want to stop email and text spam, claim any insurance or warranty, appeal parking tickets, schedule a DMV appointment in a flash, mail anything worry-free, find your missing assets, create passport photos, or contact embassies and consulates effortlessly.
Let DoNotPay Guide You Through Any Obstacle
Are you tired of corporations not taking their customers seriously? So are we, and that's why our nifty product will assist you in suing any company or individual in small claims court!
If you don't want to have any online service take advantage of you, you can sign up for any free trial completely risk-free with our virtual credit card's help, cancel any membership on time, and demand a refund or chargeback in a split second. DoNotPay can also draw up an airtight return request and send it to a company of your choice quickly.