Washington State Scholarships—How To Find Them
Washington is one of the more expensive states in the U.S. in terms of tuition fees and cost of living. Whether you are a high school senior, an undergraduate, or a graduate student, Washington State scholarships can help offset the cost of attending school without leaving you under a mountain of debt.
The problem with looking for scholarships is that there are many, but they are spread out across multiple websites. You can cut down the hassle and save time by using DoNotPay to get a customized list of scholarships in a few clicks!
Types of Scholarships in Washington State
There are several scholarship opportunities available in Washington. These scholarships are awarded to:
In-state students
Out-of-state students
Scholarships for Washington State Residents
You can apply for one of the following opportunities as a Washington resident:
| Scholarship | Amount | Description |
| --- | --- | --- |
| ARC of Washington Trust Fund Research Grants | Varies | Grants and scholarships are provided to researchers, with preference given to those living in Washington, Oregon, Alaska, Idaho, and British Columbia. Applicants are required to submit a letter of intent and a grant proposal |
| Celebrate the West High School Art Competition | $1,500 | Scholarships are available to winners of the "Celebrate the West" art competition. Applicants must be high school students or homeschooled students of the same age |
| Marsden Scholarships | $36,000 | These scholarships are available to residents of Washington state who want to or are attending community colleges in Washington |
| Washington HECB American Indian Endowed Scholarship | $2,000 | Available to American Indian residents of Washington |
| Tukwila City of Opportunity Scholarship | $5,000 | These scholarships are awarded to Tukwila City residents enrolled in community colleges, trade schools, and colleges |
| The State Association of the Daughters of Pioneers of Washington Scholarship | $1,500 | These scholarships are given to two candidates annually who are the female descendants of people who established residence in Washington before 1870 |
| The Washington Thoroughbred Foundation Scholarship | $5,000 | This scholarship is available to Washington residents who want to pursue a career in pre-veterinary medicine (with an emphasis in equine medicine), racetrack management, equine business, or pasture management |
Scholarships for Out-of-State Students in Washington
Financial aid opportunities are not limited to in-state students of Washington. There are plenty of scholarships that out-of-state students can apply for, including:
Western Undergraduate Exchange (WUE) Distinguished Cougar Award
Cougar Award
Crimson Transfer Award
Lighty Leadership Award
Transfer Wue (Cougar Award For Transfers)
Non-Merit Scholarships in Washington
There are various scholarships available to women, minorities, veterans, military personnel, and international students. Some of these opportunities include:
Education Future International Scholarship 2021
Abernethy Scholars Program
Tain Tompkins Memorial Scholarship
David and Maryla Korn Family Scholarship Fund
Kappa Scholarship Endowment Fund
How To Apply for Scholarships in the State of Washington
Washington scholarship applications vary based on the institution you are applying to. Almost all programs will require the submission of the FAFSA form, while some can ask for additional paperwork, such as:
Proof of residence
Proof of low income or financial need
Most institutions do not return submitted paperwork. You should be sure to make several copies of each document you submit.
Tired of Searching for Scholarships in Washington? Let DoNotPay Take Over!
Finding scholarships can take days, if not weeks. You can skip the hassle entirely and use our app to get a fully customized list of scholarships! Here's what you have to do:
Find the Apply for Scholarships feature
Answer a few questions about your intended level of study, the name of the school, when you expect to graduate, etc.
Once you get the list, you can choose to apply automatically through the DoNotPay app if you select the no-essay scholarships!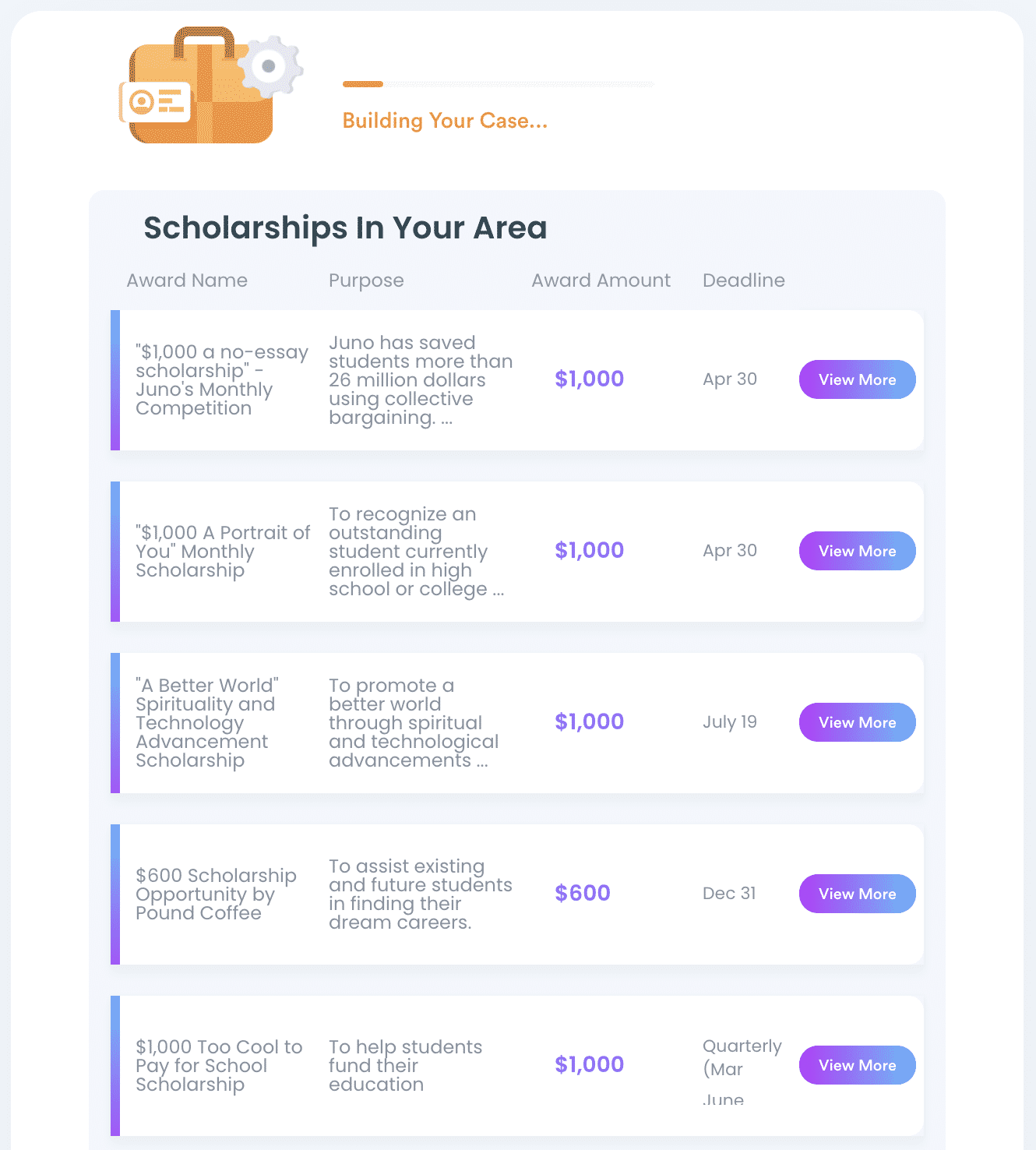 FAQ—Scholarships in Washington State
These are a few questions that are frequently asked by aspiring applicants:
How do I submit transcripts for scholarship applications?
How long are scholarship essays?
What can I spend my scholarship on?
Can I lose my scholarship halfway through my program?
How Do I Submit Transcripts During Scholarship Applications?
Most schools require you to upload electronic transcripts. If your school does not provide electronic transcripts, you can scan the original documents and upload them instead.
How Many Words Do I Need To Write in Scholarship Essays?
Most scholarship providers require you to write short essays that range between 300 and 500 words.
What Can I Spend My Scholarship Money On?
Many scholarships offer indirect payments to cover tuition fees. Some organizations may provide funds for books and room and board.
Can I Lose My Scholarship Before My Program Ends?
Yes, you can. Most schools require you to maintain a certain GPA. If your grades drop, chances are you will lose your scholarships.
Some programs only offer part-time or partial scholarships, so your funding will stop when the stated period ends.
Don't Stop There—Check Out DoNotPay's Product Range
DoNotPay has many tricks up its sleeve—no matter the admin or legal issue at hand, our AI-enabled app can power through it in a split second. Look into our product range to find out how you can:
What Else Do You Need? DoNotPay Will Provide!
If you want to cancel a subscription before your free trial expires so that you don't get charged, you can count on our virtual credit card to do it in your stead! We can also make sure that you get what's rightfully yours—be it a refund, insurance, warranty, unclaimed money, flight refund, raffle ticket, or gift card cash back.
You no longer have to go through legal or administrative hurdles on your own—as soon as you sign up for DoNotPay, you'll get access to our app's assistance and will be able to use it to fight injustice.