The Easiest Way To Apply for Scholarships
Once your search for college scholarships finally bears fruit, it's time to apply for all the ones you found. Unfortunately, the time it takes to file multiple scholarship applications can deter students from doing so at all.
DoNotPay unveils what you need to apply for scholarships and how to speed up the application process!
How To Apply for Scholarships
Because schools have different financial aid requirements, you should always check what the scholarship application of your desired school entails.
The paperwork you need to prepare also depends on your level of study:
High school students

Students pursuing an

undergraduate

, graduate, or vocational degree
What High School Students Need To Prepare To Apply for Scholarships
To apply for scholarships, high school students need to prepare the following documentation:
Required Paperwork
Description
Official high school transcripts
Proof of the student's GPA and all classes they've taken
Identification
A color photo and proof of residency, citizenship, or ethnicity
The student's resume
Achievements, clubs, and extracurricular activities a student was involved in during high school
Standardized test scores
SAT/ACT

A scholarship essay

Reasons why the student should receive the award
College plans
Schools the student considers applying for after graduating from high school
Recommendation letters
From a:

Coach
Teacher
Professor
School principal
Application Requirements for Students Pursuing an Undergraduate, Graduate, or Vocational Degree
College students need to submit the following paperwork to apply for scholarships:
What Scholarships Should I Apply For?
With so many available scholarships to choose from, finding the right ones to apply for can be challenging. Some of the factors you should consider while choosing your opportunities include:
Your gender—Scholarships for women try to motivate them to pursue their degrees since they still don't have equal access to or opportunities for education everywhere; men are also considered for specific scholarships, from those for white males to those for male nurses
Your age—Adults who abandoned their studies, even if they are senior citizens, can seek scholarships that will help them complete their studies in the later years of their life
Your student status—International students can opt for scholarships that will enable them to cover their expenses more easily while they are abroad
Your or your family member's veteran status—

Veterans

and their dependents (including

spouses

and

children

) have special financial aid programs to help them pursue education
Your ethnicity—People of color can seek scholarships in various organizations dedicated to their ethnic group
Your religious views—A plethora of scholarships exist for students of specific religious views, especially if they're enrolling in a religious school, e.g.:
Where To Apply for Scholarships
Some scholarships have their own online application forms, while others require you to apply in person or send a physical application. You can also use a variety of online tools to look and apply for scholarships.
if you want an all-in-one tool that lists all available scholarships based on your location, qualifications, and level of study. Not only can the app show you potential opportunities, but it can also apply you for no-essay scholarships automatically and significantly cut down the time you need to file separate applications!
When To Apply for Scholarships
If you're still in high school, you should start searching and applying for scholarships beginning your junior year.
College students must submit their FAFSA and CSS Profile applications by the deadlines stated by the school they want to enroll in.
How To Earn Scholarships
Students can earn scholarships with academic accomplishments or by accumulating extracurricular merit. Some of the activities that can help students collect achievements and even find scholarships later on include:
Clubs
Athletic competitions and sports participation in and out of school
Internships
Part-time work
Political activism
Leadership opportunities
Other activities that might be closely related to your field of study
DoNotPay Helps You Apply for a Multitude of Scholarships in a Matter of Moments!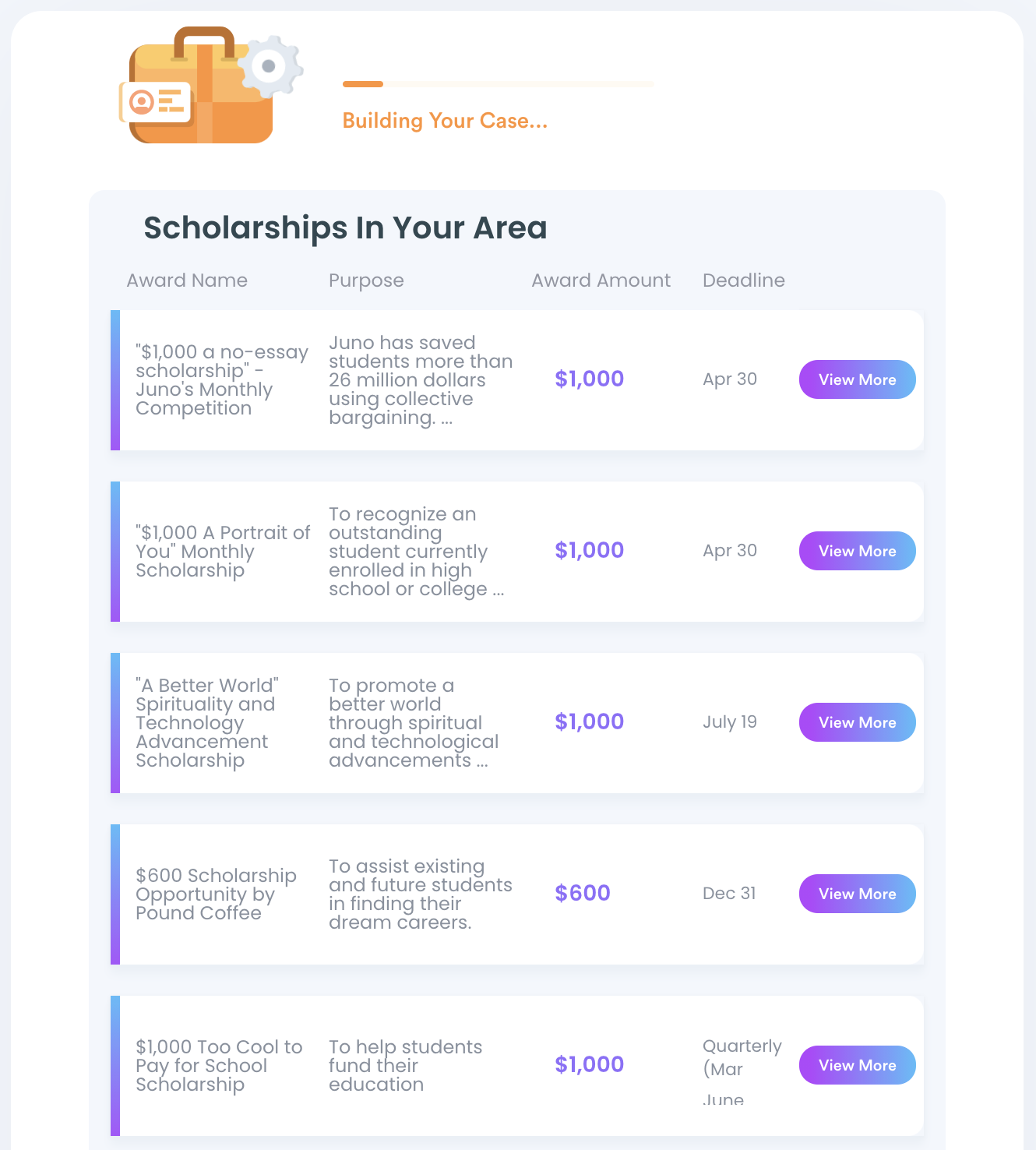 Forget about browsing websites to look for scholarship opportunities and going through the time-consuming process of applying for them one by one. Requesting additional funds that will help you pursue your education should not be difficult, and that's why DoNotPay offers a feature that allows you to:
Find available scholarship opportunities and compare their awards
Apply for scholarships by yourself by answering a few short questions for each
Apply for no-essay scholarships automatically as they show up using the information you provide
Secure enough

financial aid

for your upcoming enrollment
To get started:
Navigate to our Apply for Scholarships product
Answer all of our chatbot's prompts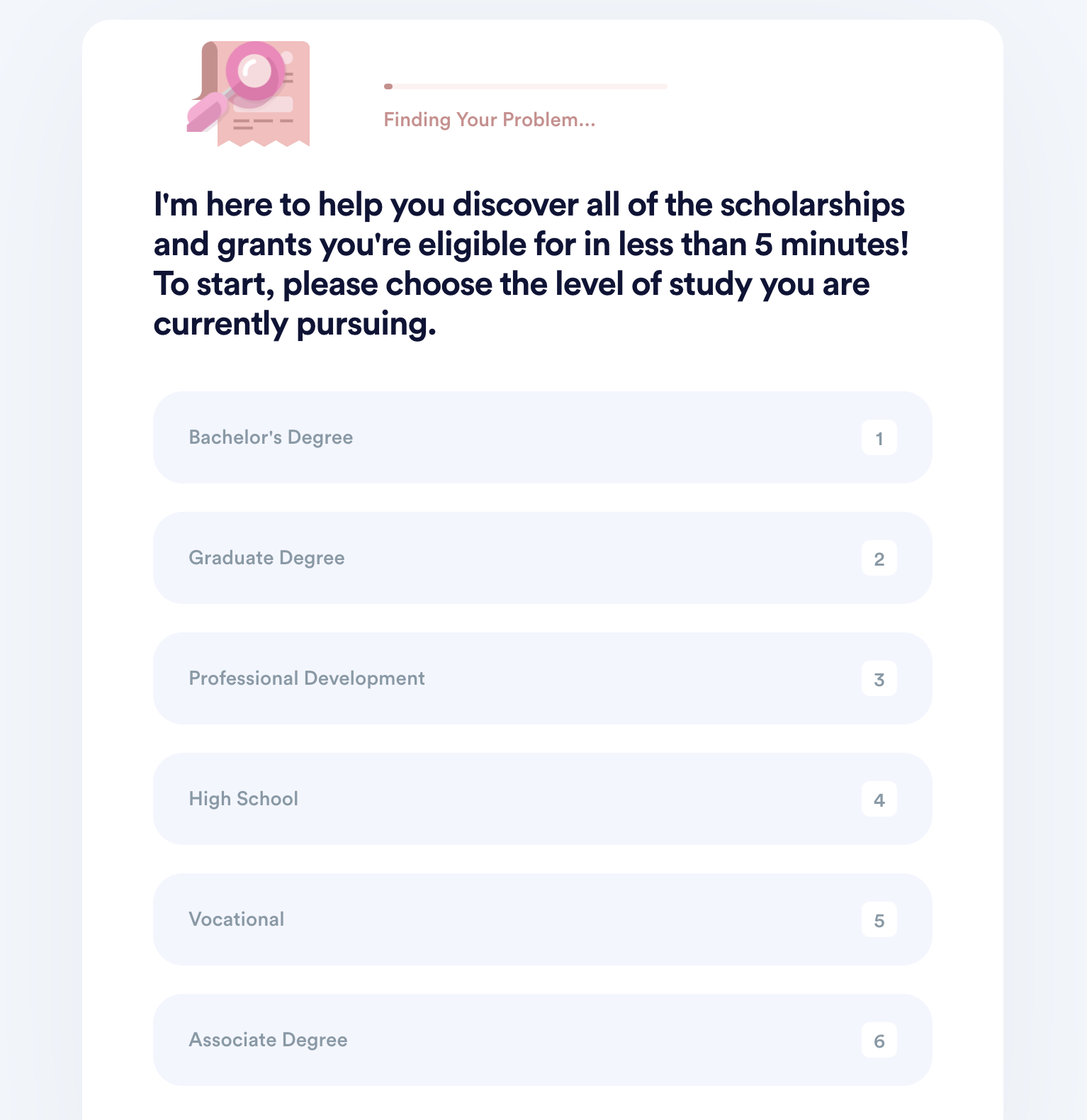 DoNotPay Helps You Run Errands Without Leaving the Comfort of Your Home!
If you're on a tight schedule and you can't afford to spend hours running errands, DoNotPay steps in with a perfect solution! You can skip going to the post office to request an item return or visiting a notary public to get your documents notarized—Our app will help you get it all done without going anywhere!
Visiting your local Walmart to have your passport photo taken is unnecessary since DoNotPay can help you get it at home!
Consult the list below to see what other tasks you can complete using our app:
Unsubscribe From Unwanted Services at Any Time
Companies tend to keep charging their clients monthly subscription fees automatically if they don't end their subscriptions. Stop wasting money on forgotten memberships—DoNotPay will show you how to terminate your subscription in a few clicks!
You can also learn how to sign up for a free trial without getting charged, create a burner phone number or a virtual credit card hassle-free!