Is There an Easy Way To Get a Scholarship for Indian Students?
The U.S. is a popular study destination for international students—especially Indian students. Every year, thousands of undergraduate, graduate, and doctoral students apply to American universities.
The high cost of living coupled with even higher costs of education can leave a big dent in your pocket, which is why most international students look for scholarships before making the big move.
Is it easy to find a scholarship for Indian students? Yes, if you have the patience to spend numerous hours sifting through multiple websites. Fortunately, there is a better way! You can skip the hassle entirely and to simplify your scholarship search!
What Type of Scholarships for Indian Students Can You Get?
Specialized scholarships such as those for Indian and Indian American students might require a little digging to find. Grants and scholarships are awarded based on:
Merit
Extracurricular and social achievements
Financial need
Scholarships for Indian Students in the USA
There are several government and non-government scholarship opportunities available for Indian students. The following table contains information about scholarships that may fit your needs, including Indian government scholarships for studying abroad:
| Scholarship | Awarded Amount | Requirements |
| --- | --- | --- |
| Tata Scholarship for Cornell University | Varies | The applicant must be an Indian resident who has accepted an undergraduate offer at Cornell University |
| Rotary International Ambassadorial Scholarships | $12,000–$25,0000 | The candidate must be a resident of a country where rotary clubs are present and must have completed at least two years of college |
| Inlaks Scholarship | Up to $100,000 | The candidate must be a graduate or doctoral student and must not be over 30 years of age |
| Akhtarali H. Tobaccowala Scholarship | $25,000 | Varies |
| Gunvant and Bharati Parekh College Scholarship Award | $1,000 | The student must be of Indian origin and demonstrate exceptional academic and leadership skills |
| LSEF—UMass Scholarship | $29,500 | The applicant must be a postgraduate student studying Public Policy, Data Analytics, or Applied Economics at the University of Massachusetts Amherst |
| S.N. Bose Scholars Student Exchange Program for Indian Students | Varies | The recipient must be an Indian undergraduate or graduate student studying Chemical Sciences, Engineering Sciences, Atmospheric and Earth Sciences, Physical Sciences, and Mathematical and Computational Sciences |
| Stanford Reliance Dhirubhai Fellowship Program | $150,000 | The applicant must be enrolled in the two-year business management course at Stanford Graduate School of Business |
Fulbright Scholarships for Indian Students
The Fulbright Scholarships program is designed to enable international students from over 155 countries to attend esteemed schools in the USA. With the aim being cultural and academic exchange, Fulbright Scholarships have helped numerous students graduate debt-free.
Here are a few Fulbright opportunities that are available to Indian students:
Fulbright-Nehru Fellowships
Hubert H. Humphrey Fellowship Program
Fulbright Foreign Language Teaching Assistant Program
Fulbright-Kalam Climate Fellowship
Fulbright Scholar-in-Residence Program
Fulbright Distinguished Awards in Teaching Program for International Teachers
Fulbright Teaching Excellence and Achievement Program
Scholarships for Indian American Students
There are several scholarships available for Indian American students. These scholarships include opportunities open to high school seniors, college sophomores or juniors, and women studying in various fields. These include:
Asian Women in Business Scholarship Fund
Chicago Booth School of Business
Matt Fong Asian Americans in Public Finance Scholarship
Upakar Indian Scholarship Foundation
American University Emerging Global Leader Scholarship
AEF Scholarship
AAUW International Fellowships
DMA Scholarship
Endowment for South Asian Students of Indian Descent Scholarship Fund
Global Undergraduate Exchange Program (Global UGRAD)
Gunvant & Bharati Parekh College Scholarship Award
NASRA Foundation
Oregon-Idaho Conference Ethnic Leadership Award
How To Apply for Scholarships for Indian Students
Your scholarship application process will vary based on the kind of opportunity you are applying for. A few documents that might be needed to apply for every type of scholarship are the following:
Essays

Academic certificates and mark sheets
Valid passport or ID
Finding Scholarships Made Easier With DoNotPay
Looking for scholarships especially for a certain group of students can be extremely time-consuming. If you factor in the time you need for research and the number of websites you have to visit and read through, you may feel overwhelmed.
What if you are an Indian American who is a college student and a veteran? Are you looking for an easy scholarship? You can use the DoNotPay app to save a lot of time and energy!
All you have to do is:
in any web browser
Look for the Apply for Scholarships product
Tell us about your current level of education and the kind of degree you want to pursue
Our app will show you a customized list of scholarships that you can apply for! We can also apply for the no-essay scholarships on your behalf—all you have to do is select the ones you like!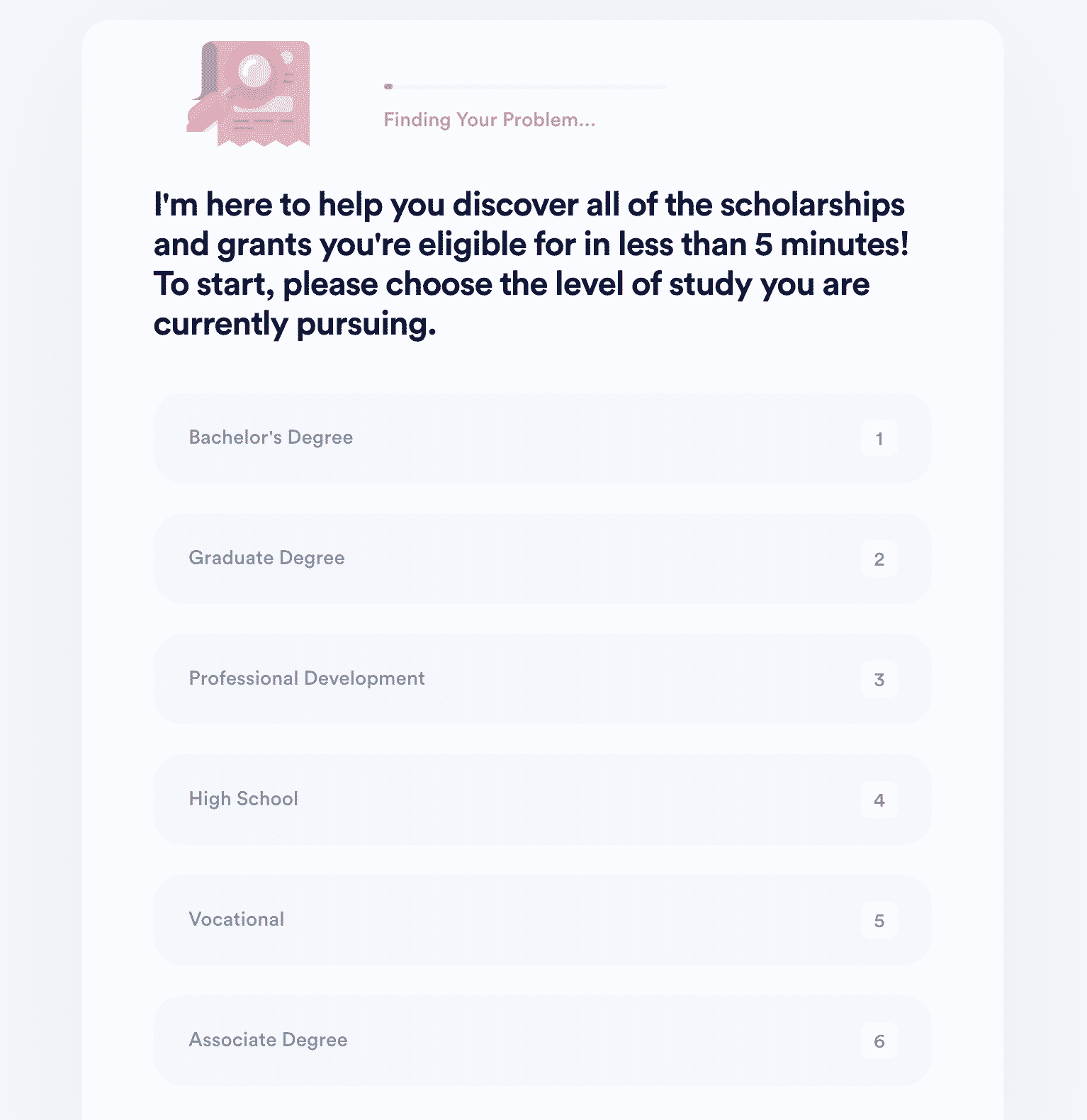 Don't Stop There—Check Out DoNotPay's Product Range
DoNotPay has many tricks up its sleeve—no matter the admin or legal issue at hand, our AI-enabled app can power through it in a split second. Look into our product range to find out how you can:
What Else Do You Need? DoNotPay Will Provide!
If you want to cancel a subscription before your free trial expires so that you don't get charged, you can count on our virtual credit card to do it in your stead! We can also make sure that you get what's rightfully yours—be it a refund, insurance, warranty, unclaimed money, flight refund, raffle ticket, or gift card cash back.
You no longer have to go through legal or administrative hurdles on your own—as soon as you sign up for DoNotPay, you'll get access to our app's assistance and will be able to use it to fight injustice.