All Questions About Scholarships for Transgender Students Answered
If you are looking for a way to reduce high-sky education costs, you should look into specialized aid for students with diverse gender identities.
The funds can come from LGBTQ+ organizations, private foundations, and professional associations. You can get free money in varying amounts, so applying for all scholarships you are eligible for is the best strategy.
Where to find scholarships for transgender students that you are eligible for? DoNotPay will let you know! Use our simple guide to collect information on:
What types of LGBT programs exist
How to diversify your options
Where to look for gift aid
How to apply
What the easiest way of finding and applying for scholarships and grants is
Available Scholarships for Transgender and LGBTQ+ Students
There is a growing number of gift aid programs for LGBTQ+ students. If you want to get an advanced academic degree, there are some specific scholarships you can apply for.
While transgender students can qualify for LGBTQ+ scholarships, certain aid types target only the students who identify as transexual.
Review the available financial assistance for transgender and LGBTQ+ youth:
National LGBTQ+ scholarships
Regional LGBTQ+ scholarships
State LGBTQ+ scholarships
Graduate LGBTQ+ scholarships
Transgender-specific scholarships
National LGBTQ+ College Scholarships
Private organizations, companies, and foundations aren't the only sources of scholarships. As an LGBTQ+ student, you can also receive national aid—including:
Point Foundation Scholarships
National Lesbian and Gay Journalists Association's (NLGJA) Leroy F. Aarons Scholarship Award
The Transgender Scholarship and Education Legacy Fund
PFLAG Scholarship Program
Fund for Education Abroad Rainbow Scholarship
Regional LGBTQ+ College Scholarships
You can inquire about aid options in your area. Some region-specific aid opportunities are:
Just Out Scholarships for Oregon and Washington residents
The Lax Scholarship Fund for Gay Men for the Philadelphia region
George Choy Memorial Scholarship/Gay Asian Pacific Alliance Award for students living in the Bay Area
The Harvey Milk/Tom Homann Gay and Lesbian Student Scholarship for the San Diego area
The Matthew Shephard Scholarship Foundation for Iowa students
College-Specific LGBTQ+ Scholarships
Every college or university has scholarships dedicated to supporting certain groups. For LGBTQ+ students, the most notable school aid programs are:
The University of California, Los Angeles—The Lambda Alumni (UCLA Lesbian and Gay Alumni Association) Scholarship Program
City College of San Francisco—The Allen (Dan) Memorial Scholarship
The University of Kansas LGBTQIA+ Scholarships
Iowa State University—The Scott Rohlf Presidential Leadership Initiative Award
Penn State University—The Barry H. Marshal Scholarship
LGBTQ+ Graduate Scholarships
Do you want to pursue a graduate or even post-graduate degree? Here's what can help you cut a portion of the costs:
Maylon-Smith Scholarship Award
The Lesbian Caucus of the National Women's Studies Association
The Society of Lesbian and Gay Anthropologists of the American Anthropological Association–the Kenneth W. Payne Student Prize
Scholarships for Transgender Students
If you openly identify as transgender, gender diverse, or nonbinary, you can apply for the following gift aid:
Asian Pacific Islander Queer Women and Transgender Community Scholarship
Grand Rapids Trans Foundation Academic Scholarship
TransgenderFirst College Scholarship
Trans Student Educational Resources Scholarship
Additional Scholarship Options
If you meet other specific qualifications and pursue scholarships that award students in those groups, you'll have more opportunities. The more applications you send out, the better your chances of getting enough aid will be.
Here are some examples of additional categories and corresponding college scholarships you can look into:
Where To Look for Scholarships for LGBTQ+ Students
Compiling a list of suitable scholarships means that you need to collect information from several sources. The most common ones are:
LGBTQ+ Resource Centers at colleges and universities you are interested in
Local LGBTQ+ organizations
Websites of LGBTQ+ regional and state organizations
You can cut this process short if you sign up for DoNotPay. Based on your unique qualifications, we'll surface every match so you don't miss a great program. You can receive a full list of scholarships available to you in less than three minutes!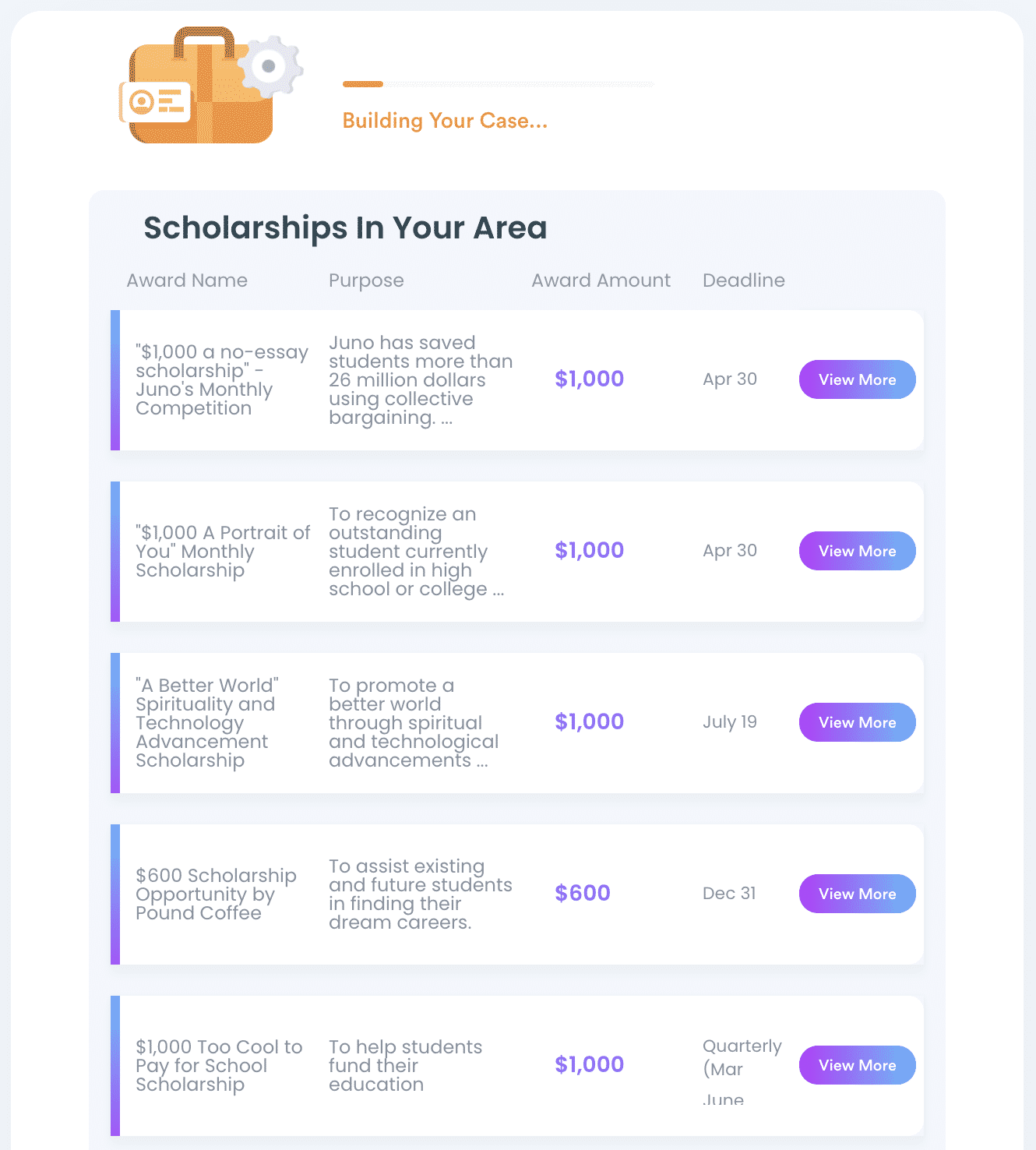 How To Apply for LGBT College Scholarships
Applying for scholarships is a challenging experience. There are several key tasks you need to handle:
Check eligibility requirements for every aid type
Single out programs you qualify for
Prepare paperwork for each scholarship
Write several scholarship essays
Certain funders can request proof of your involvement in the LGBTQ+ community or the way you support it. You might also need to supply letters of recommendation.
Apply for LGBT Grants and Scholarships in a Flash With DoNotPay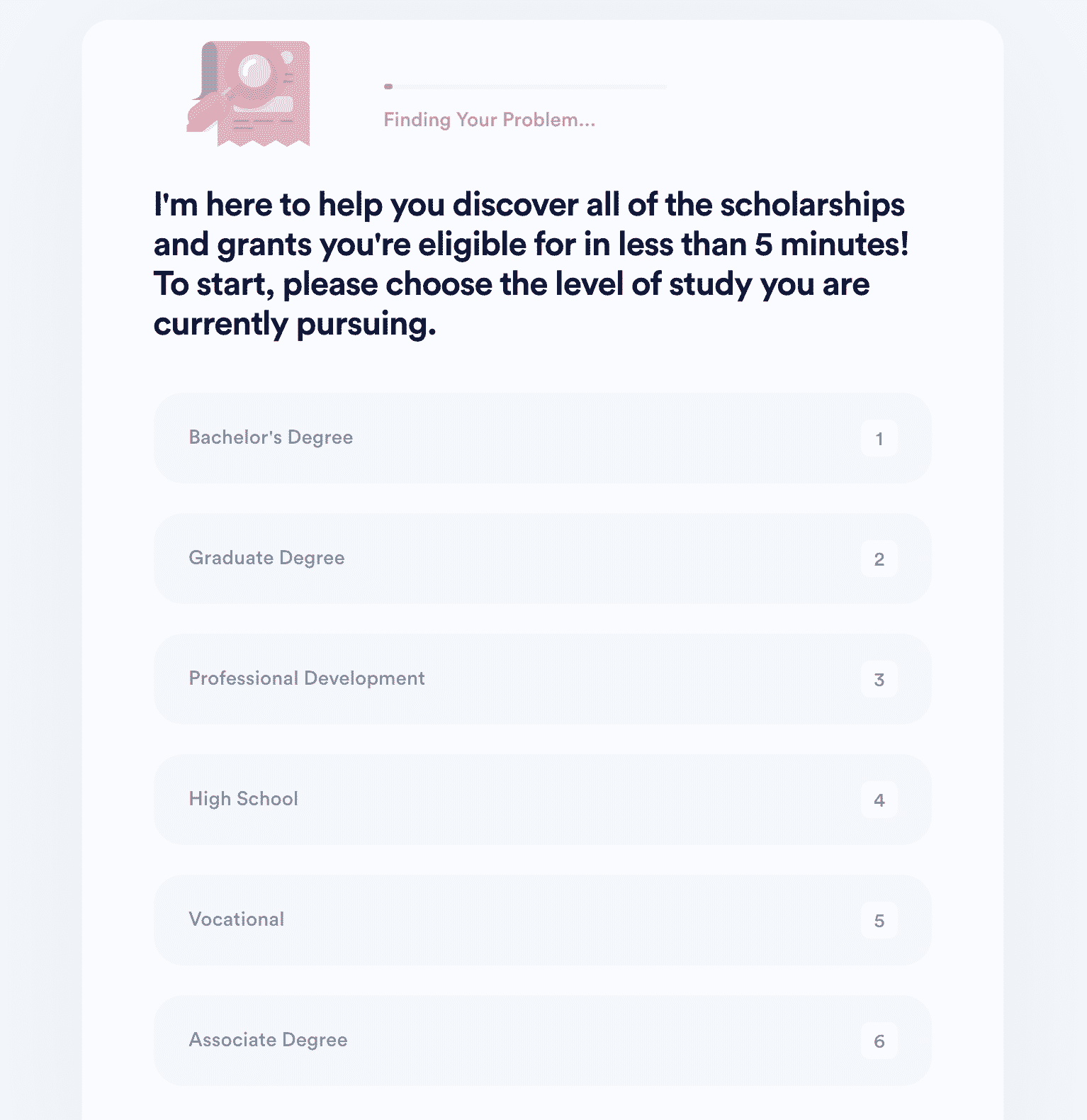 Scholarships and grants are a few clicks away—yours is only to:
Choose our Apply for Scholarships product
Answer a few questions about your:

Level of study—for example, high school senior, undergraduate, or graduate student
Field of study—such as art, engineering, psychology, or any other
Special qualifications—such as being a veteran, woman, or international student
A few minutes later, you'll receive a custom-made list. You can revise the amount, requirements, and deadlines in the app. If you wish, we can even apply in your stead for any no-essay scholarship on the list.
Managing Everyday Tasks With DoNotPay Is a Breeze
Completing mundane tasks doesn't have to be a nightmare! With our help, you can relax and finish them in a few taps! All you need to do is register for DoNotPay and let us help you with:
Have Your Documents Drafted and Notarized With Our Help!
If you need to draft a legal document, such as a divorce settlement agreement, power of attorney, or a child consent form, hiring a lawyer to assist you is probably the first thing that comes to mind. What if we told you that spending hundreds of dollars on legal services is unnecessary? Not only can DoNotPay draft contracts and agreements in a few minutes, but it is also your most affordable and effortless option!
The benefits our app provides don't stop there! After we generate your document, we'll connect you with a remote notary and show you how to get it notarized online without leaving the comfort of your home! You can even fax the document online and skip dealing with outdated fax machines.