How To Find Private School Scholarships With Ease
The increasing cost of education has made it difficult for students and parents to afford quality education. While public schools are the more affordable option, many students aspire to attend private schools. Thankfully, there are numerous private school scholarships and grants available to students from kindergarten through high school to college to help reduce the costs.
Finding and applying for scholarships can take a lot of time and effort. If you want to expedite the process, use DoNotPay to get a customized list of scholarships that fit your needs!
What Kind of Private School Scholarships Can You Get?
Private schools and other organizations in the U.S. offer an assortment of scholarships to future and current students. Scholarships can be divided into the following categories:
Scholarships by private schools—Offered by the schools themselves to students already attending or applying for attendance
State scholarships—Offered by the state to resident and non-resident students
Academic scholarships—Awarded based on the GPA and academic achievements
Non-academic scholarships—Offered based on community involvement, artistic excellence, athletic achievements, etc.
Scholarships awarded through private competition—Awarded to winners of writing or art competitions
Voucher programs—Funds given to families or students to subsidize a portion of the school fees
Scholarships provided by religious schools—Offered to students of specific religions who want to study in private schools of the same faith
Private School Scholarships for Students at Different Education Stages
You can find scholarships open to students of all levels. These may include scholarships for:
Elementary and middle school students
High school students
College students
Scholarships for Elementary and Middle School Students in a Private School
Scholarships available to private school students at the elementary or middle school levels include:
Patriot's Pen Essay Scholarship
Rubincam Youth Award
Paradigm Challenge Scholarship
The Paradigm Challenge Scholarship is also available to high school students.
Scholarships for Private High School Students
Here are a few scholarships that you may want to apply for as a high school student:
Prudential Spirit of Community Awards
Student Loan Hero Smart Money Giveaway
$2,000 CollegeXpress Rule the School Scholarship
Private Scholarships for College Students
Scholarships for students at the college level include:
Bay Area Gardeners Scholarship Foundation (BAGSF) Scholarship
CIA Undergraduate Scholarship Program
GRCF Dr. William E. and Norma Sprague Scholarship
Southeastern Community College Foundation Scholarships
Private School Scholarships for Students in Special Circumstances
There are numerous scholarships designed to help the less fortunate and underprivileged groups. Some of these groups include:
Check out some opportunities in the table below:
Scholarship Offered To
Scholarships
Students with special needs

Empowerment Scholarship Account (ESA)
Delaware KIDS Fund
Mississippi Dyslexia Therapy Scholarship for Students with Dyslexia Program
Carson Smith Special Needs Scholarship
Lexie's Law
School Choice Program for Certain Students with Exceptionalities
North Carolina Special Education Scholarship Grants for Children with Disabilities
Autism Scholarship Program
Lindsey Nicole Henry Scholarship

Minority students

Black Student Fund
Latino Student Fund
LINK Unlimited
Abell Foundation
Baltimore Educational Scholarship Trust
Oliver Scholars Program

Students from low-income families

Business Leadership Organized for Catholic Schools (BLOCS)
Extra Mile Education Foundation (Pittsburgh)
Rhode Island Scholarship Alliance
Fulcrum Foundation
Daniel Murphy Scholarship Fund
The Wight Foundation
Empower Illinois
HFS Chicago Scholars
Partners in Excellence (Archdiocese of Baltimore)
Futures in Education
Teak Fellowship
Tomorrow's Hope Foundation
Private School Scholarships for International Students
To promote cultural diversity and provide quality education to students all over the world, many private schools and institutions offer scholarships to international students.
To be eligible for these scholarships, students are often asked to provide the following:
Proof of English proficiency
Health certificates
Proof of finances
Student visas
Academic records
International students are usually required to have extraordinary academic achievements—such as high GPAs and competition awards—to qualify for private school scholarships.
How Can You Get Scholarships for Private Schools?
Application procedures for scholarships for private schools depend on the specific program. For instance, government or state-funded scholarships are likely to require the submission of the Free Application for Federal Student Aid (FAFSA) form, while private organizations may ask for essays or letters of recommendation, along with academic and income documents.
Make Finding Scholarships Easier With DoNotPay
To avoid spending hours or days combing through different scholarship websites until you find one financial aid opportunity that suits your profile, use our app. Here is what you have to do:
Navigate to the Apply for Scholarships product
Type in your current and intended levels of education
Specify the kind of scholarships you are looking for
You can even look for special scholarships, such as those for women or veterans.
Apart from finding scholarships, DoNotPay offers a few other benefits. Thanks to our AI-powered app:
You can apply for no-essay scholarships automatically
You will not miss any opportunities since the list of scholarships will be customized and constantly updated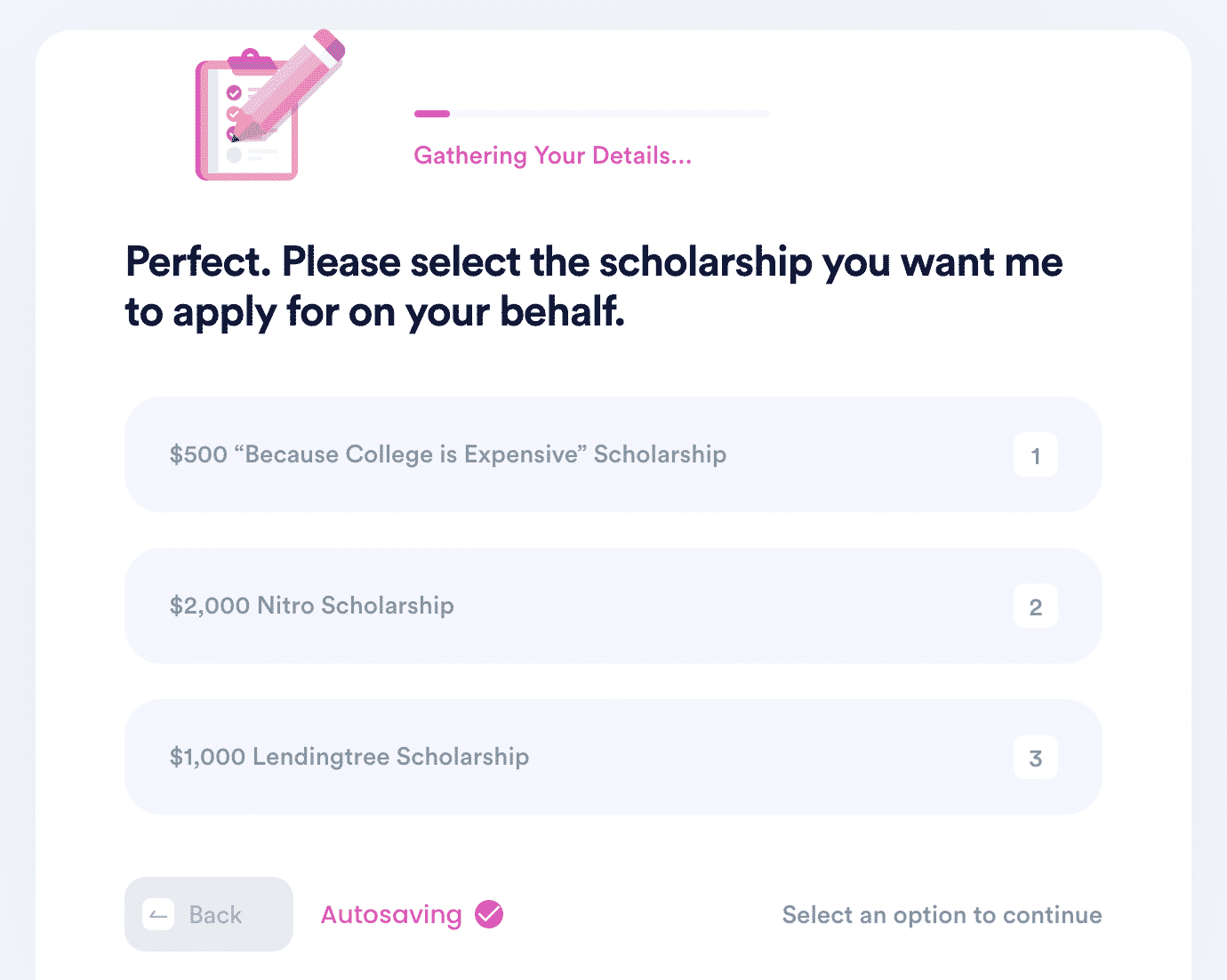 Find Hidden Money and Beat Bureaucracy at the Click of a Button
Are you tired of losing money on useless memberships and forgotten subscriptions? Our app can help you cancel subscriptions or memberships in a snap. Have some questions for the customer service? Use DoNotPay to jump the phone queue.
If you want to sign up for a free trial but don't want to risk being charged, get our virtual credit card. Thanks to this card, you'll enjoy any free trial stress-free. It will also save you from receiving spam emails.
In case you're also struggling to claim a warranty or insurance, we can assist you with this too. Rely on DoNotPay to solve any issue regarding purchased products—whether you need to return an item, file a chargeback request, or get a late delivery refund.
If you're dealing with a serious problem, don't bother wasting your money on lawyers—our AI-powered app can help you file a complaint, appeal a banned account, sue anyone in small claims court, and draw up various legal documents!
Our app is an expert at saving money, but we can also assist you in earning some. You can use DoNotPay to find unclaimed funds under your name, sign up for paid clinical trials, and get victims' compensation. If you want to redeem your gift cards for cash, enter numerous sweepstakes, and get compensated for a delayed flight, count on our help!