DoNotPay's Guide to Scholarships for Black Women
If you want to pay for your education without getting into a lifetime-long debt, you need to look into unique aid opportunities—such as scholarships for Black women. As a woman of color, you can get college scholarships designed to support students in your situation.
There are numerous sources of scholarships, so finding the ones you can apply for isn't easy. DoNotPay will simplify your research with this comprehensive guide. What you'll learn is:
Why you can get scholarships for being a woman of color
What types of scholarships for Black women exist
Where to look for this kind of aid
What the application process is
What the easiest way to find and apply for scholarships is
The Purpose Behind Scholarships for Women of Color
The number of women of color who enroll in and graduate from college is almost twice as low compared to white females. American Association of University Women reported that 39% of white women and 21% of Black women get a university degree by the age of 29. To repair the imbalance and motivate more women of color to go to college, there are scholarships designed specifically for them.
The funds can be provided by different local and national organizations and foundations. Besides being a woman of color, you need to meet other requirements, such as having a certain Grade Point Average (GPA), being enrolled in a specific major, and similar.
What Kind of Scholarships Can Black Women Get?
Scholarships for Black women can be awarded based on many criteria, in addition to gender and ethnicity. It's important that you get information on as many scholarships and grants as you can find to boost your chances of getting enough aid.
To diversify your options, you should look for scholarships related to your situation. You might also fall into one of these categories and get a scholarship on that basis:
Any specific situation can allow you to apply for more scholarships. Finding unique scholarships will allow you to apply for aid with less competency. For example, as a Black woman, you can also send your application for a scholarship for veterans, students who lost a parent, low-income students, or any other program you are eligible for.
You should also look for field or major-specific scholarships, such as:
The Best Scholarships for Black Women
With numerous categories and types of scholarships, it can be hard to single out the best ones. In the table below, you can review some of the scholarships for women of color you shouldn't miss out on:
Scholarship
Amount
Basic Requirements
National Coalition of 100 Black Women Inc., Queen City Metropolitan Chapter Scholarship
$1,000

Be a high-school senior
Be a resident of one of the following counties:

Mecklenburg (NC)
Cabarrus (NC)
Iredell (NC)
Lincoln (NC)
Gaston (NC)
Union (NC)
Lancaster (SC)
York (SC)

Have a cumulative 2.75 GPA at the time of application.
Provide proof of acceptance to an accredited two-year or four-year college, university, or technical school

The Agnes Jones Jackson Scholarship
$2,000

Be a member of The National Association for the Advancement of Colored People (NAACP)
Be less than 25 years old
Demonstrate financial need
Attend an accredited, eligible college or university full time as an undergraduate
Earn a minimum GPA of 2.5 as an undergraduate
Earn a minimum GPA of 3.0 as a graduate—part-time students are welcome to apply as well

Ricoh Scholarship Program
Up to $2,500

Be a full-time college sophomore or junior
Enroll at a qualifying historically Black college or university (HBCU)
Have an academic focus in finance, marketing, accounting, computer science, computer engineering, mechanical engineering, information technology, or business operations
Earn a minimum GPA of 2.5

ESPN and the Alliance for Women in Media Foundation (AWMF) Scholarship
$3,750

Be a Black female junior or senior undergraduate or graduate student
Enroll in sports media major

Target Scholars Program
$5,000

Be a first-year Black student
Demonstrate financial need
Enroll at a qualifying historically Black college or university (HBCU)
Pursue a career in leadership, technology, or design
Where Can You Find Scholarships for Black Female Students?
Scholarships and information about them are scattered all over the place. You need to resort to different methods of collecting this type of information—such as:
Contacting financial aid offices at your current or prospective school
Reviewing a list of scholarships on the schools' websites
Going to your guidance counselor for help
Asking organizations you are a member of
Searching online
Asking federal and state agencies
When looking for scholarships, you should focus on eligibility requirements. For example, some scholarships are awarded to high school seniors only and others to international students or graduates. You can base your search on the education level as well.
Not knowing where to find scholarships can result in roaming around the web for hours. If only there was a way to get a list of scholarships specifically designed for you—and there is. Sign up for DoNotPay and automate the exhausting research process. Our app will curate all scholarships you can apply for in less than three minutes.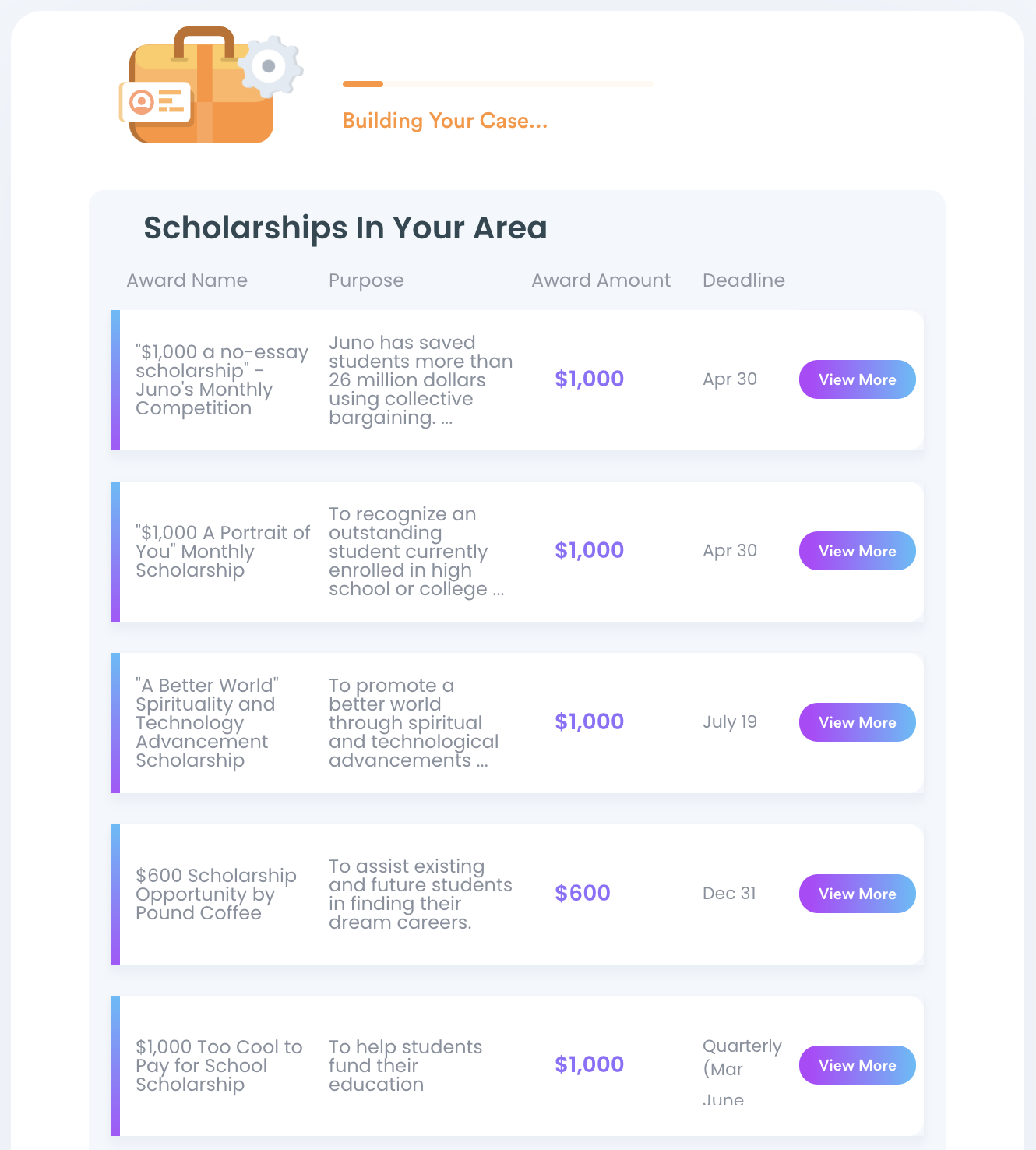 How To Apply for Desired Scholarships for Black Women
Each organization, foundation, or other institution has its unique scholarship application process. First, you need to meet specific eligibility and application criteria—the most common requirements for requesting a scholarship are:
Free Application for Federal Student Aid (FAFSA) form
Minimum GPA
SAT or GED test score
List of extracurricular activities
Discover and Apply for Scholarships Hassle-Free With DoNotPay
Get a list of scholarships and grants tailored to your needs by using the DoNotPay app. We will give you information on who the scholarship providers are, why they give out the aid, and what the deadline for the application is.
Save yourself some time—open a DoNotPay account and follow these steps:
Search for the term Scholarships
Select the Apply for Scholarships tool
Answer a few questions that will help us customize the list
Do you want to simplify the scholarship application process further? Use our app to automatically send requests for no-essay scholarships you are eligible for.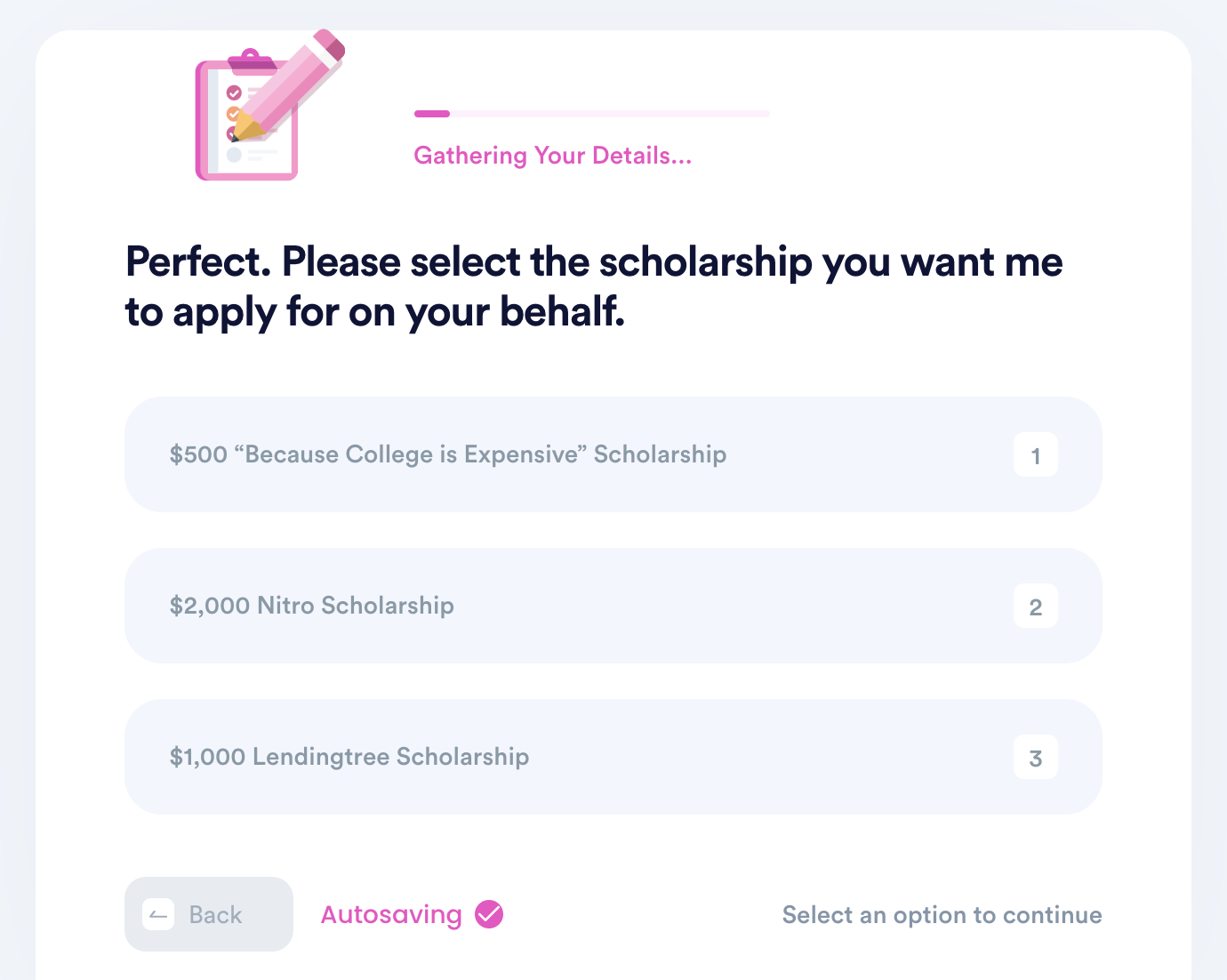 Managing Everyday Tasks With DoNotPay Is a Breeze
Completing mundane tasks doesn't have to be a nightmare! With our help, you can relax and finish them in a few taps! All you need to do is register for DoNotPay and let us help you with:
Have Your Documents Drafted and Notarized With Our Help!
If you need to draft a legal document, such as a divorce settlement agreement, power of attorney, or a child consent form, hiring a lawyer to assist you is probably the first thing that comes to mind. What if we told you that spending hundreds of dollars on legal services is unnecessary? Not only can DoNotPay draft contracts and agreements in a few minutes, but it is also your most affordable and effortless option!
The benefits our app provides don't stop there! After we generate your document, we'll connect you with a remote notary and show you how to get it notarized online without leaving the comfort of your home! You can even fax the document online and skip dealing with outdated fax machines.