DoNotPay's Guide to Physical Therapy School Scholarships
Students face cash flow issues regardless of what they are studying in college—getting a degree in physical therapy can be particularly costly. Luckily, there are many scholarships and grants prospective PT students can apply for.
Check out this easy-to-read guide DoNotPay has prepared for you and find out everything about applying for physical therapy school scholarships.
What You Should Know About Scholarships for Physical Therapy School
The tuition cost for the Physical Therapy program varies from school to school, and many factors affect tuition prices. Such factors may be:
Being an in-state or out-of-state student
Attending a high- or low-ranked school
Studying at the

undergraduate

, graduate, or doctorate level
PT scholarships can help you pay:
You don't have to pay them back as long as you meet the prescribed requirements, such as good academic standing (GPA), full-time enrollment, financial need, or community involvement.
Keep in mind that scholarships for Doctors of Physical Therapy (DPT) are not as easy to come across as those for undergraduate students. If you are looking for a doctoral study scholarship, consider exploring the following options:
HIE Help Center—Scholarship for Physical and Occupational Therapy Students
AMBUCS—Scholarship Program for Therapists
John Randolph Foundation—Franklin D. Boyce Scholarship
What Are Some of the Best Scholarships for PT Students?
You can check out some of the best national, university, and non-profit scholarships for Physical Therapy students in the table below:
Scholarship
Award
Who Can Apply?
American Academy of Physical Therapy Scholarships
Up to $2,500
Outstanding students enrolled full-time in an entry-level degree PT or PTA (Physical Therapy Assistant) program in the U.S. that has a CAPTE accreditation
APTA Outstanding Physical Therapy Student Awards
up to $5,000
PT or PTA students who are members of the American Physical Therapy Association (APTA) with good academic standing and are enrolled in an accredited physical therapy program in the U.S.
National AMBUCS Scholarship Program for Therapists
Up to $1,500
Undergraduate and graduate students in their junior or senior year, pursuing a physical therapy degree from an accredited U.S. institution. They must be U.S. citizens, have a good GPA, demonstrate financial need, and declare a desire to enter clinical practice
Janet L. Hemzacek Memorial Scholarship
$2,500
Students enrolled in the first year of the DPT program who demonstrate financial need. They must have a record of community service
Joseph Ray and Lorna S. Broadbent Scholarship
$600
University of Utah graduate PT students classified as a minority based on their race, gender, or disability status. They must have a cumulative GPA of at least 3.0, demonstrate financial need, and be involved in professional organizations
Katherine H. Dilley Scholarship Fund
$1,000
Undergraduate or graduate students pursuing a career in physical or occupational therapy at accredited institutions in

Arizona

Southpaw Enterprises Inc. Scholarship Program
up to $3,000
Graduate PT students enrolled in a CAPTE-accredited program at an

Ohio

institution
Where To Find Scholarships for PT School
Scholarships for physical therapy students are scattered all over the place. You'll need to use a variety of approaches to find all the information you need, such as:
Contact the financial aid office of the school you wish to attend
Do an extensive online research
Get in touch with federal and state agencies
Contact

local

service clubs, organizations, and foundations
A great way of improving your chances of winning a scholarship is to join the American Physical Therapy Association (APTA). Members are eligible to apply for a number of physical therapy scholarships they offer.
The easiest way to find all the scholarships you qualify for is to and let us match you with the best scholarships in your area within minutes!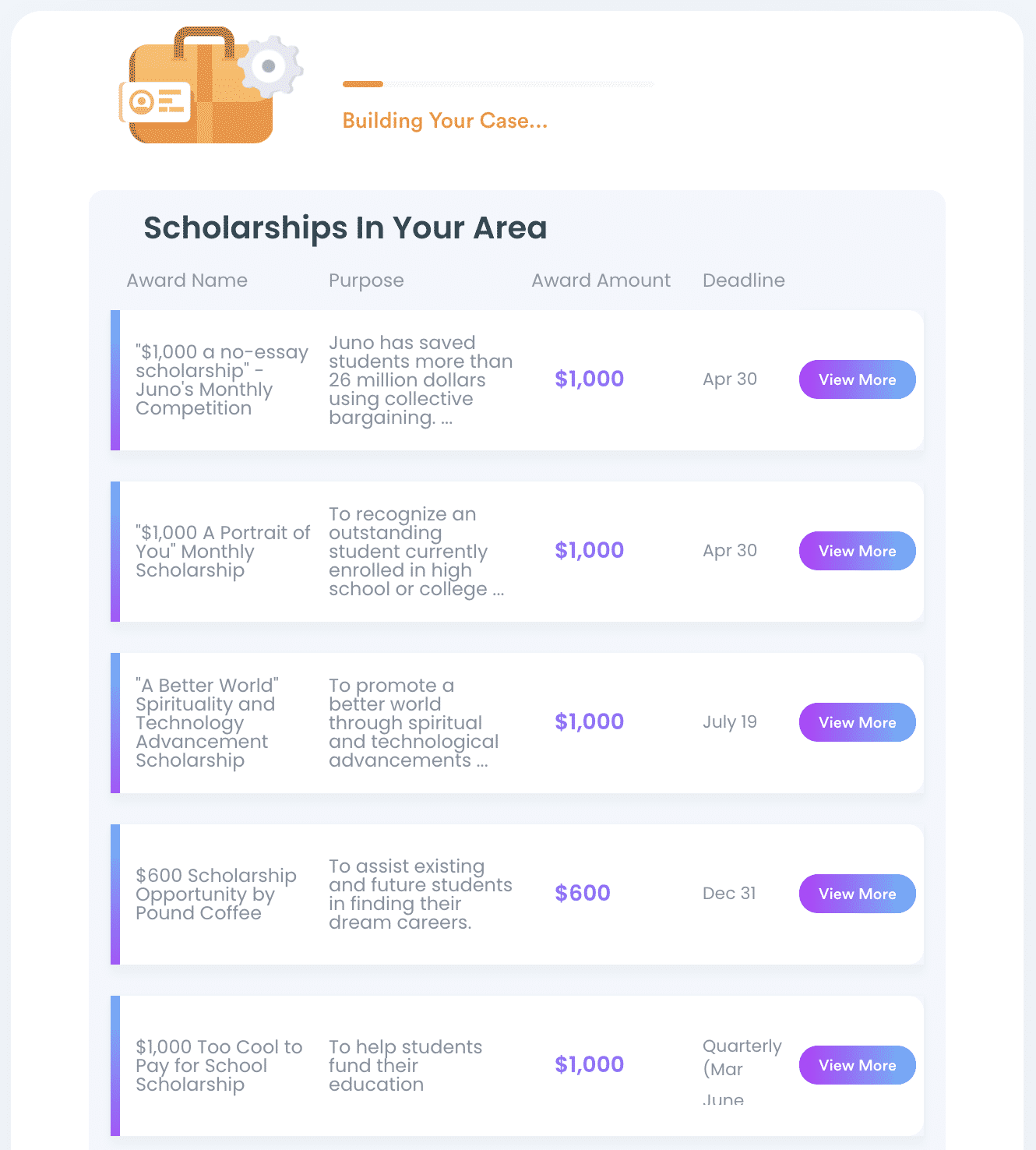 How To Apply for Physical Therapy School Scholarships
Before applying for a scholarship for PT, you have to check if you're eligible. If so, you'll need to submit several documents to the financial aid office of your university as part of your application. The documents required by most universities are:
GPA and GRE scores (the majority of schools require a minimum of 3.0 GPA)

Scholarship essay

Official transcript of your grades
Evidence of community service
Proof of financial need (for need-based scholarships) and merit (for merit-based scholarships)
Get a List of PT School Scholarships in Minutes With DoNotPay
To get a list of the best college scholarships you qualify for without breaking a sweat, all you have to do is:
from any browser
Select the Apply for Scholarships product
Answer a few questions related to your level of study, grade, academic interest, and residency
Tell us if you belong to a particular group of students, such as

veterans

,

military

, women,

high school seniors

, international, transgender,

disabled students

, etc.
We will process all this information in a couple of minutes and send you a list of the best scholarships you qualify for! That's not all our app is capable of. If you want to apply for a no-essay scholarship, DoNotPay can take care of it for you.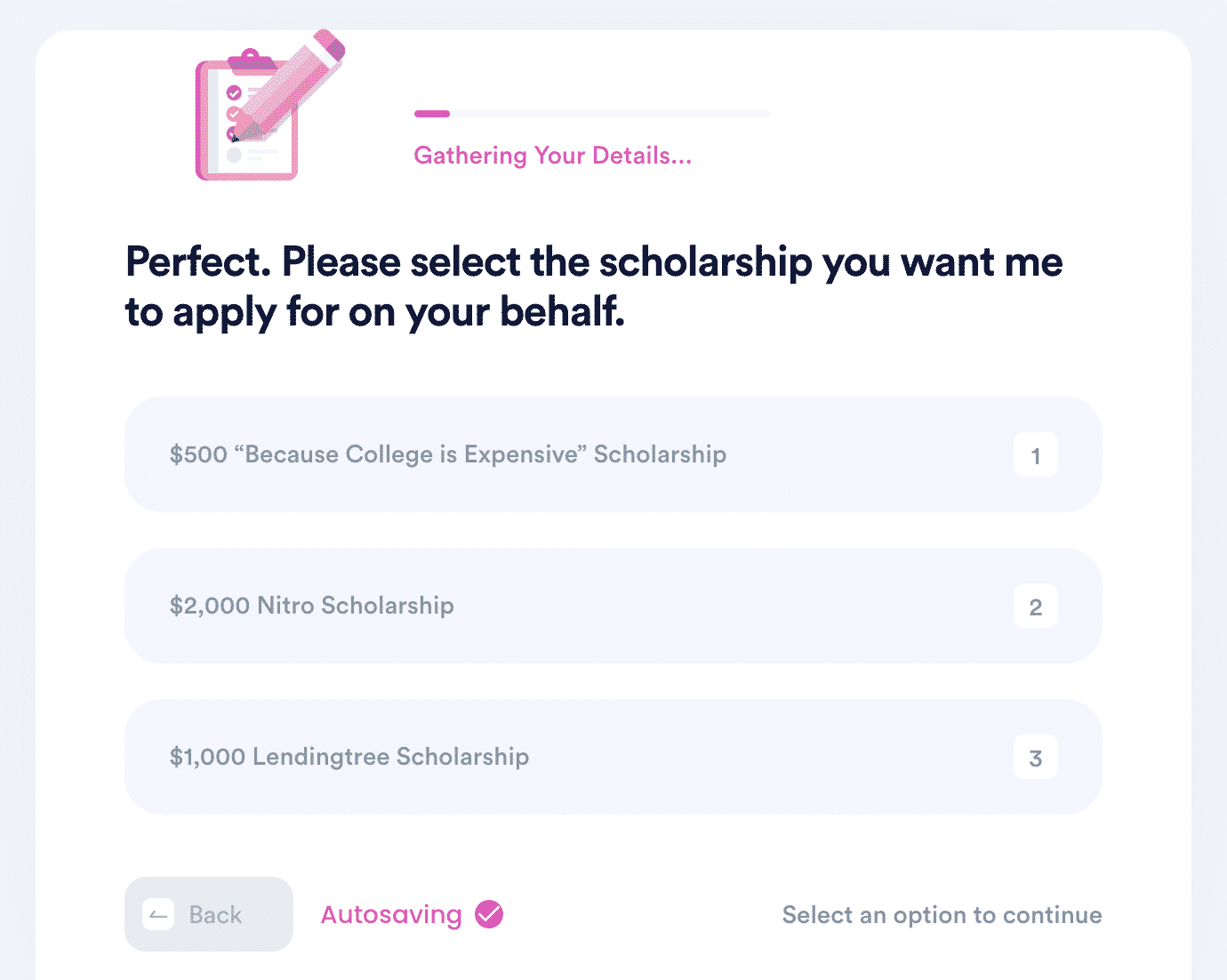 Use DoNotPay To Deal With a Plethora of Bureaucratic Tasks!
Tired of dealing with bureaucracy? We understand the struggle, and that is why our app makes handling administrative tasks a breeze!
Regardless of whether you need to compose a legal document, such as a power of attorney or a child travel consent form, appeal property taxes or your parking tickets, file a financial aid appeal and a FOIA request, or get a document notarized, DoNotPay has got you covered!
In case you also need to submit anonymous HR complaints, our app will provide you with the easiest way to do so!
Go on a Stress-Free Shopping Spree With DoNotPay
Do you like to shop until you drop? With DoNotPay, you won't have to worry about dropping! We'll make sure you can:
If you need more money to continue your shopping spree, let our app help you find any unclaimed funds under your name and enter numerous giveaways and sweepstakes!