The Ultimate Guide to Scholarships for African Students
The idea of overseas education can be exciting until the reality of the high tuition fees kicks in. The good news is that you can still graduate from some of the world's most prestigious universities debt-free. This is made possible by scholarships for African students.
As a minority student, you can benefit from scholarships to study abroad for African students if you know where to look for them. This article will show you how you can find all the scholarships and grants available to you in a few minutes.
Scholarships for African Students—Who Can Apply?
Besides the ethnicity criteria, you will need to meet other eligibility requirements, such as financial need or a certain minimum GPA. These can vary from one scholarship program to another.
The following are the major eligibility requirements that can help you narrow down the search results and only apply for scholarships that match your circumstances:
Country of residence
Education level
Field of study
Country of Residence
Some programs are open to students from any African country, but the program guidelines usually specify the eligible countries where need be. For example, the MSFS Full-Tuition Scholarship offered by Georgetown University is open to Sub-Saharan countries only.
If the scholarship description doesn't include a list of eligible countries, it usually means students from any African country can apply.
Education Level
The scholarships to study abroad for African students cater to different academic levels. There are scholarships for high school, college, graduate school, and research students.
Here are some of the scholarships for African students based on education levels:
Student's Education Level
Scholarships
College

Coca-Cola Africa Scholarship
Zawadi Africa Undergraduate Scholarships for Women

Graduate school

AAUW International Fellowships
Aga Khan Foundation International Scholarships
Harambe Fletcher Scholarships
Field of Study
Some opportunities are meant for students pursuing specific majors. Such programs include:
Imomoh Scholarship—masters degree programs in petroleum engineering
AWS International Scholarships—science programs
Stanford GSB Need-Based Fellowships at Stanford University—MBA programs
Microsoft Research Graduate Women's Scholarships—Ph.D. programs in computer science, electrical engineering, or mathematics
African Palliative Care Nursing Scholarship—nursing majors
What Are Full Scholarships for African Students?
Scholarships for African students can either be partial or fully funded. If the program is partial, it helps you cut down some educational expenses, but you will need to cover the rest. Full scholarships take care of all your academic expenses, such as:
Tuition fees
Flight tickets
A student visa
Accommodation
Living allowances
Books and other course materials
You can check out the following full scholarships for African students:
Fulbright Foreign Student Program
The Mastercard Foundation Scholars Program
How To Find Scholarships To Study Abroad for African Students
Scholarships for African students in the USA are offered by different organizations, universities, and government agencies. Finding the opportunities can be time-consuming because you need to browse different websites and confirm your eligibility for each program.
To make your process easier, follow these tips:
Check the scholarships offered by the university you plan to attend
Enquire if there are any student exchange programs at your current school
Check out the programs offered by the U.S. government for international students
Search for scholarships that are awarded only to students for your field of study, education level, or country first
Try using different or overlapping search criteria—There are many scholarships targeting international students, women, veterans, legal immigrants, low-income students, black women, etc.
Don't Get Stressed—Get DoNotPay
Browsing one website after another is not the only way to find scholarships. DoNotPay offers a simplified approach because we have a database of all the scholarships for African students.
When you sign up and provide a few details about your academic qualifications and interests, the app will compile a list of all the scholarships you are eligible for in a few minutes.
Stop wasting time googling, automate the search process with DoNotPay, and start applying for the ones you are qualified for.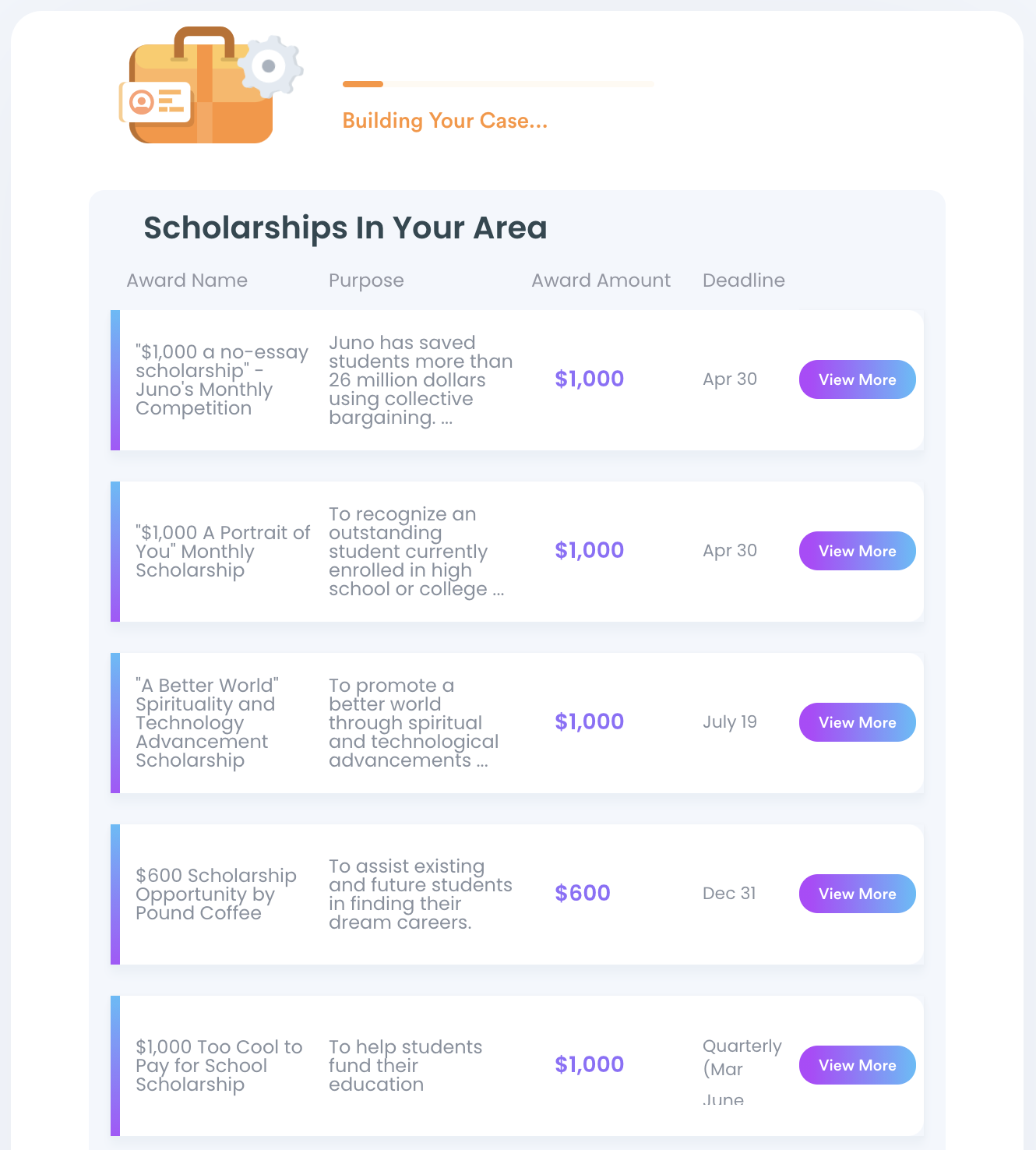 How To Apply for Scholarships for International Students From Africa
When you find suitable scholarships, you will need to confirm the application process for each program. Visit the scholarship's information page on the provider's website for all the details.
Pay special attention to the documents you need to submit with your application, such as recommendation letters, cover letters, and essays. Prepare everything as soon as possible and send your application. Submitting your application on time may improve your odds of landing a scholarship.
Find and Apply for Scholarships in a Few Clicks With DoNotPay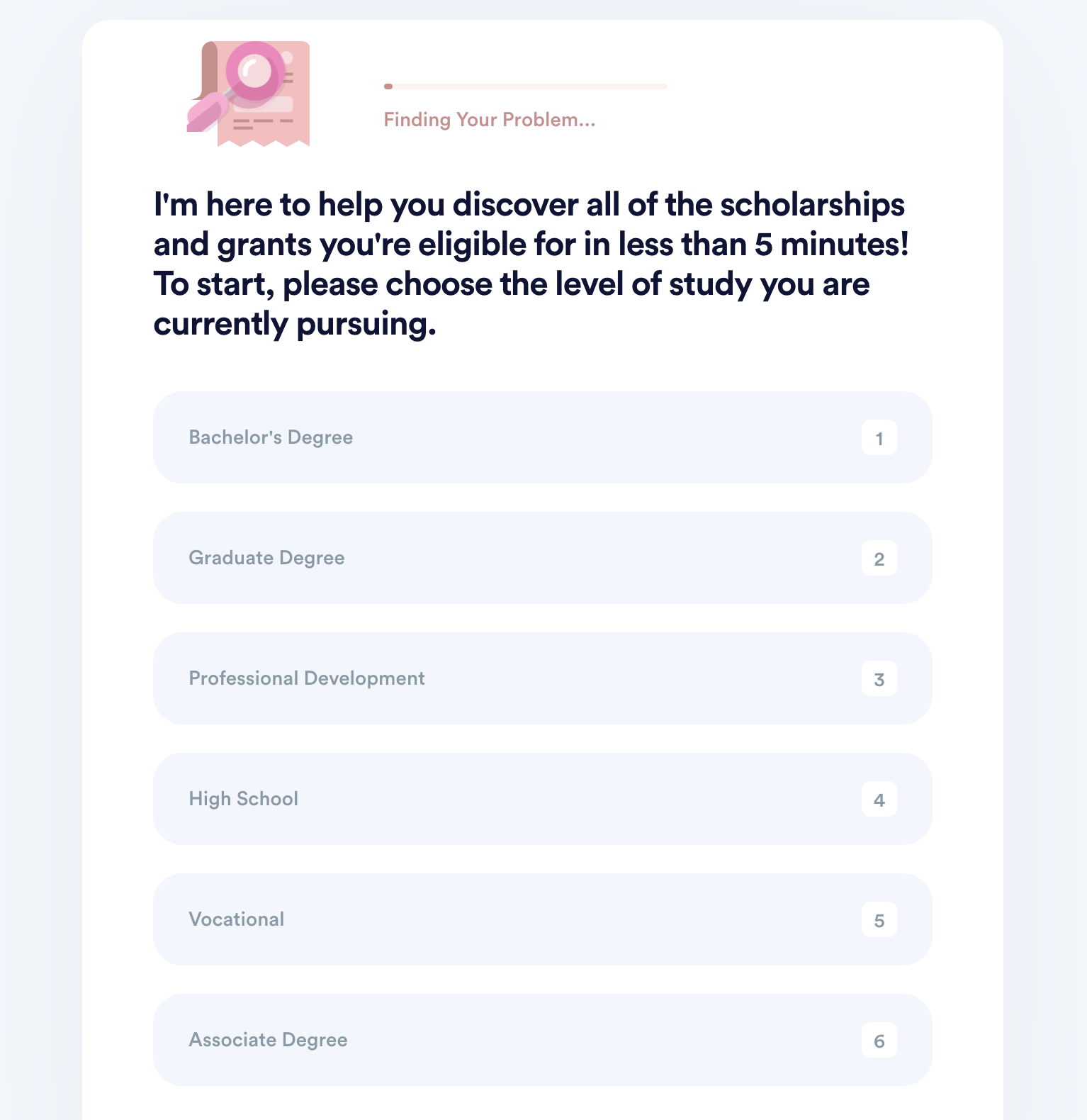 Don't let the exhausting search process kill your ambitions. There are many scholarships in the USA for African students that you may never discover on your own. Knowing where to find opportunities puts you one step closer to securing the right program for you.
DoNotPay is here to help you save time and maximize your chances of studying at American universities debt-free. All you have to do is:
Locate the Apply for Scholarships product
Answer a few questions to get the most relevant results
You can also authorize DoNotPay to send your applications for no-essay scholarships automatically and speed up the process even more!
Explore DoNotPay's Product Range
Are you looking for additional assistance from our app? We're happy to inform you that DoNotPay provides you with a number of useful tools that you can use to complete mundane tasks in the blink of an eye! Sign up for our app and let us help you get:
DoNotPay Resolves Your Financial Issues in a Few Taps
You don't have to struggle to figure out how to resolve financial problems yourself when you have our app at your disposal. In only a few clicks, you'll be able to discover any unclaimed money under your name, submit insurance and warranty claims, or request compensation for delayed flights.
But that is not all! Lowering your utility bills, appealing parking tickets, or canceling memberships and subscriptions is also something you can do in no time and with minimum effort if you use DoNotPay! Work smarter, not harder!