How To Secure Zero-Interest Scholarships for Muslim Students
The cost of studying in the United States has reached massive heights, and it continues to be on a steady rise. It's becoming impossible for students to cover tuition fees by themselves, leaving many of them in debt long after they finish their education.
Scholarships and grants are a way to avoid getting into financial trouble. In this article, we'll talk about specific scholarships for Muslim students and tell you whether you qualify for them. We'll also show you where you can find this type of financial aid and how DoNotPay can help you in that process.
What Kinds of Scholarships Are There?
There are many financial aid programs out there, and they all have a specific group of students they cater to. Some offer scholarships based on your level of study—you can be a college student (grad or undergraduate) or even a high school senior or junior.
Others focus on different aspects and provide financial aid to:
What Is Unique About Scholarships for Muslim Students?
Although Muslims are the fastest-growing religious group in the United States, there are still only 3,45 million of them. This makes them a minority group, and many members of the Muslim community feel underrepresented and undervalued.
That's why organizations close to Islam (and mosques) offer scholarships for Muslims who show potential or are in financial need. Some colleges and institutions also run scholarship programs for Muslim students to offer opportunities to a more diverse pool of people.
The unique element of all these programs is that they don't offer interest-based loans as that would go against Muslim practices against "riba" (interest). All the awards are non-repayable.
You can find three types of scholarships for Muslims:
Merit-based
Need-based
Scholarships for international students
Merit-Based Scholarship for Muslim Students
Programs with the most awards and the best value are based on merit. They are also the toughest to get. Unlike with Christian scholarships, you don't have to be a prominent member of a community or a mosque-goer to be eligible—you only need to be a Muslim.
Depending on the program, you still need to fulfill certain academic requirements to qualify. Check out this table to find out more about various scholarships for Muslims:
Scholarship Name
Requirements
Deadline
Award
Islamic Scholarship Fund General Scholarship

Minimum GPA of 3.0
Major at one of the supported fields of study
Level of study:

Undergraduate

juniors

or seniors
Graduate students

March 21
$3,000–$10,000
Jack G. Shaheen Mass Communications Scholarship

Arab-American
Field of study:

Journalism
Television
Radio

Level of study:

Undergraduate juniors or seniors
Graduate students

April 12
$2,500
Account SPARK Scholarship Fund

First or second-generation Arab-American
Enrolled in data science
Minimum GPA of 3.5

June 16
$2,500–$10,000
Dr. Abdulmunim A. Shakir Scholarship

College freshmen

Minimum GPA of 3.0

April 30
$1,000
Dr. Abdus Saleem Family Scholarship

U.S. resident
Field of study:

Journalism
Oil and energy
Medical technology

Minimum GPA of 3.5
College freshmen

February 28
$10,000
Need-Based Financial Aid
You can get financial aid even if you don't have a high GPA. You need to show financial need to prove that you're struggling to keep up with your tuition fees. This can be done by filling out the Free Application for Federal Student Aid (FAFSA) form, which is a government-issued form.
Scholarships for International Students Coming to the United States
Some institutions offer scholarships to international Muslim students who study in the United States (or would like to). The goal behind these programs is to popularize educational migration within the Muslim world that's outside the U.S. Here are some examples:
The Bakarat International Studentship offers a $30,000 scholarship to students from the Islamic world who are enrolled in a Masters program in the States
The Islamic Development Bank Scholarship offers various awards to students from Saudi Arabia, Egypt, and Iran
How To Get the Perfect Scholarship for Muslim Students
One of the main reasons students miss out on scholarships is the research process. You need to spend months looking up different programs, and it's not that easy to come across useful information.
If you're looking for a scholarship for a Muslim, you can try talking to your local community, as you'll probably be able to find a company willing to help out its fellow member.
You can also try . We can help you create personalized searches and receive a list of all available scholarships for Muslim students that you are eligible for.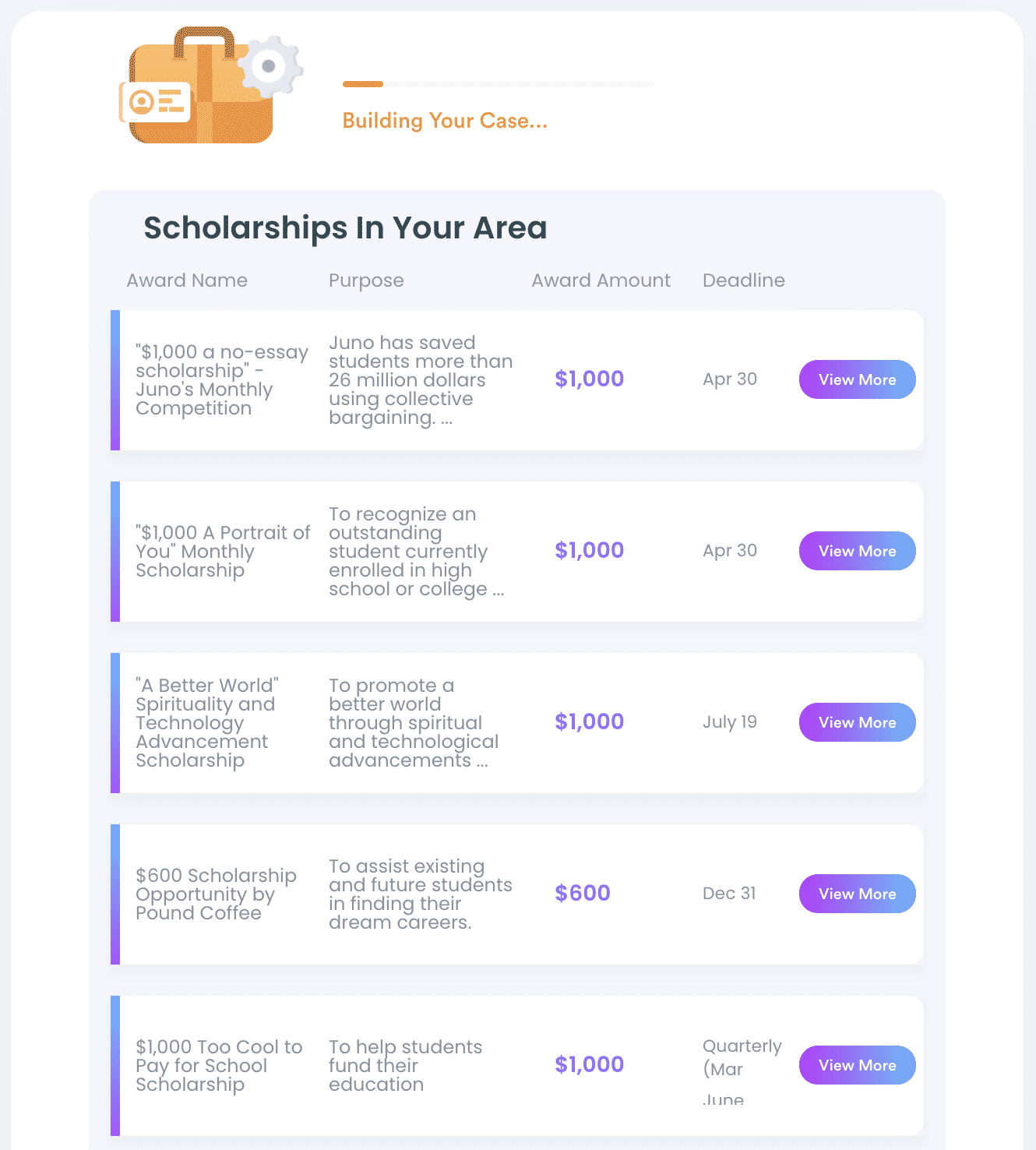 Once you find what you're looking for, it's time to apply. Before you begin with the application process, make sure you do your research and gather all the necessary paperwork before the deadline passes. Depending on the program, they may ask you for various documentation, including:
The FAFSA form

Essay

Piece of creative writing

A

music piece

you've composed
Transcripts
Optimize Your Scholarship Hunt With DoNotPay
You no longer have to visit hundreds of websites and read thousands of lines of text to learn about scholarships available to you. DoNotPay offers you an automated way to get all the necessary information in under five minutes! You only need to:
Choose the Apply for Scholarships feature
Answer a few questions about your academic achievements and level of study
In a few moments, you'll receive a list of all the available scholarships that would be a good choice for you. If one of the entries on the list is a no-essay scholarship, you can apply for it directly within our app. Select which ones interest you, and we will apply on your behalf.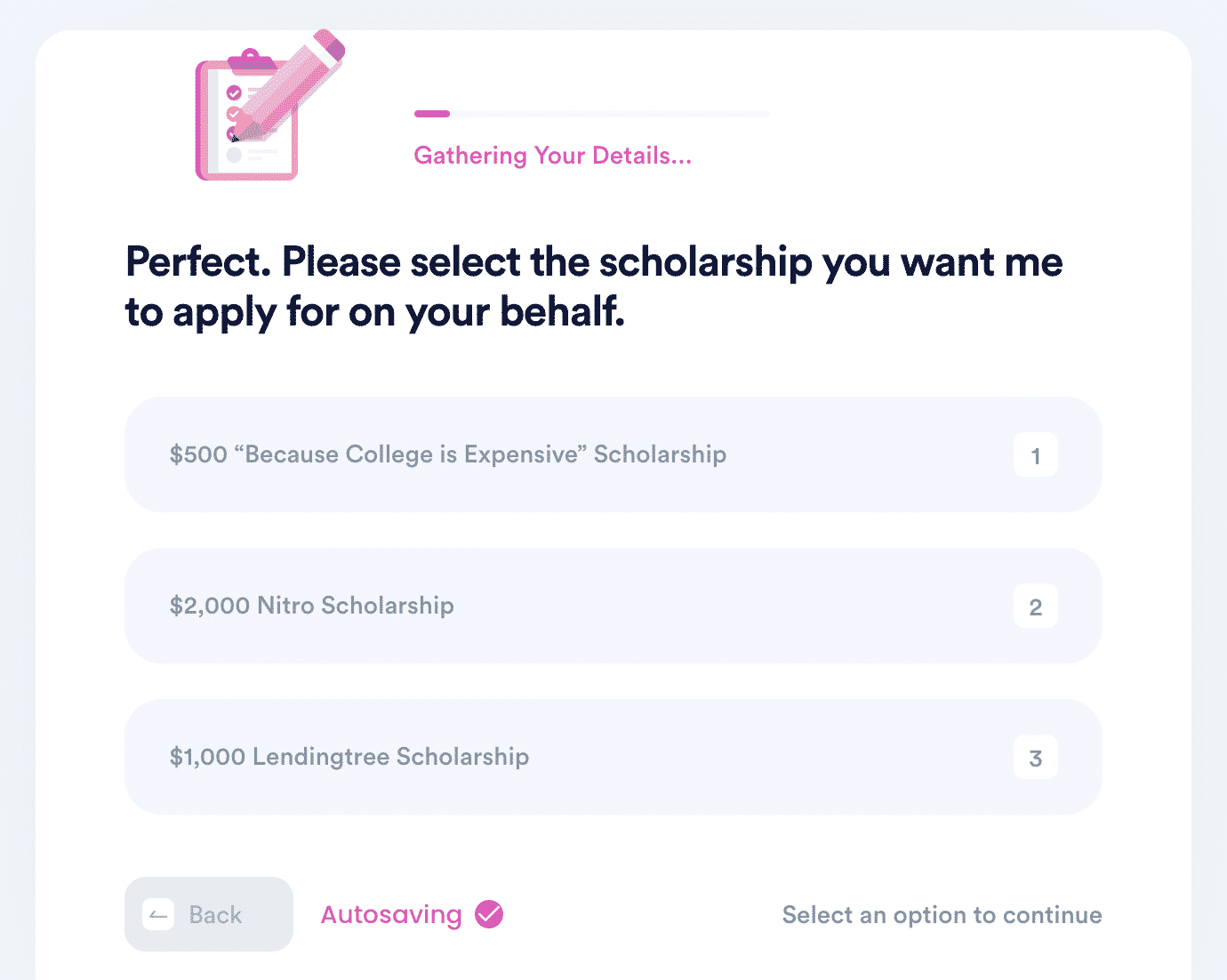 Managing Everyday Tasks With DoNotPay Is a Breeze
Completing mundane tasks doesn't have to be a nightmare! With our help, you can relax and finish them in a few taps! All you need to do is register for DoNotPay and let us help you with:
Have Your Documents Drafted and Notarized With Our Help!
If you need to draft a legal document, such as a divorce settlement agreement, power of attorney, or a child consent form, hiring a lawyer to assist you is probably the first thing that comes to mind. What if we told you that spending hundreds of dollars on services is unnecessary? Not only can DoNotPay draft contracts and agreements in a few minutes, but it is also your most affordable and effortless option!
The benefits our app provides don't stop there! After we generate your document, we'll connect you with a remote notary and show you how to get it notarized online without leaving the comfort of your home! You can even fax the document online and skip dealing with outdated fax machines.