Claim First-Rate Scholarships for Adults
Are you on the hunt for scholarships for adults? Finding a scholarship that corresponds with your needs is quite difficult. It takes hours of internet browsing to discover some available options. Adding the fact that you may be looking for scholarships for nontraditional students only aggravates your situation further.
This is why learning where to find scholarships appropriate for you in one place will cut your research time significantly. Read our guide to get quick search tips and apply for scholarships smoothly.
Scholarships for Adult Students—What Are Your Options?
If you are an adult looking for a college scholarship, don't give in to the popular belief that you should pay all expenses yourself. Teenagers and fresh-out-of-school students do have more options for getting some financial aid, but not all hope is lost for you!
Numerous scholarships are created specifically for adults who have never started their college education, as well as for those who took a long break from it.
Here are several scholarship examples created to help people like you get higher education:
Ford ReStart Program
James & Patrica Sood Scholarship
Adult Students in Scholastic Transition Scholarship
The Jeannette Rankin Foundation Scholarship
The Custody X Change Giving Fund: Single Parent Scholarships
Ford ReStart Program
Ford ReStart Program is a local aid intended for any student, 25 or over, who is an Oregon or Siskiyou County, CA, resident.
The scholarship is awarded to students with a strong work ethic, who are pursuing at least an associate bachelor's degree and are willing to dedicate time to campus activities. The students must have a cumulative GPA of at least 3.00 or a GED of 660 or submit a recommendation letter from a teacher.
James & Patrica Sood Scholarship
James & Patrica Sood Scholarship is awarded to cancer survivors or the students whose sibling or a parent had this illness. There is an age limit, i.e., the applicants are eligible for scholarship if they were between the ages of 15 and 39 during their own diagnosis/treatment or during the diagnosis/treatment of their family members.
Adult Students in Scholastic Transition Scholarship (ASIST)
ASIST was created for all adults trying to overcome their economic, social, or physical challenges through education.
This scholarship has a large network. Each local section works with social services to confirm the right applicant gets the financial aid.
The Jeannette Rankin Foundation Scholarship
The JRF Scholarship was created for women over 35 who are on a low income. The applicants must be either permanent residents or citizens of the U.S. Covered studies include technical, vocational, associate's, or bachelor's degrees.
The Custody X Change Giving Fund: Single Parent Scholarships
Custody X Change is aimed at helping single parents, so only people with primary custody of a minor child are eligible. You also must be enrolled as an undergraduate at an accredited educational institution and have a GPA of 3.0 or above. Your application should contain a scholarship essay where you explain how you'll use your newly acquired education to improve your family.
How You Can Find Scholarships for Nontraditional Students
You can take several approaches to scholarship search, but they all come down to your prior experience and current interests.
Here's a potential outline of your research:
Search Approach
Sources To Look At
Adult scholarship search

Different scholarship websites and dedicated engines (always check the accuracy of the info you get there)
Additional sources on Google
Updates on your first-choice school website

Search with a specific focus (depending on your situation, identity, personality)
Use case-specific parameters to conduct your search both online and offline. This approach works if you are a/an:
This kind of research can be a bit exhausting. You can apply all relevant search parameters, go through tens of scholarship-related pages, and still not find what you need.
Want to save loads of time? Subscribe to DoNotPay, answer a few questions, and our system will come up with a full list of scholarships for which you could apply!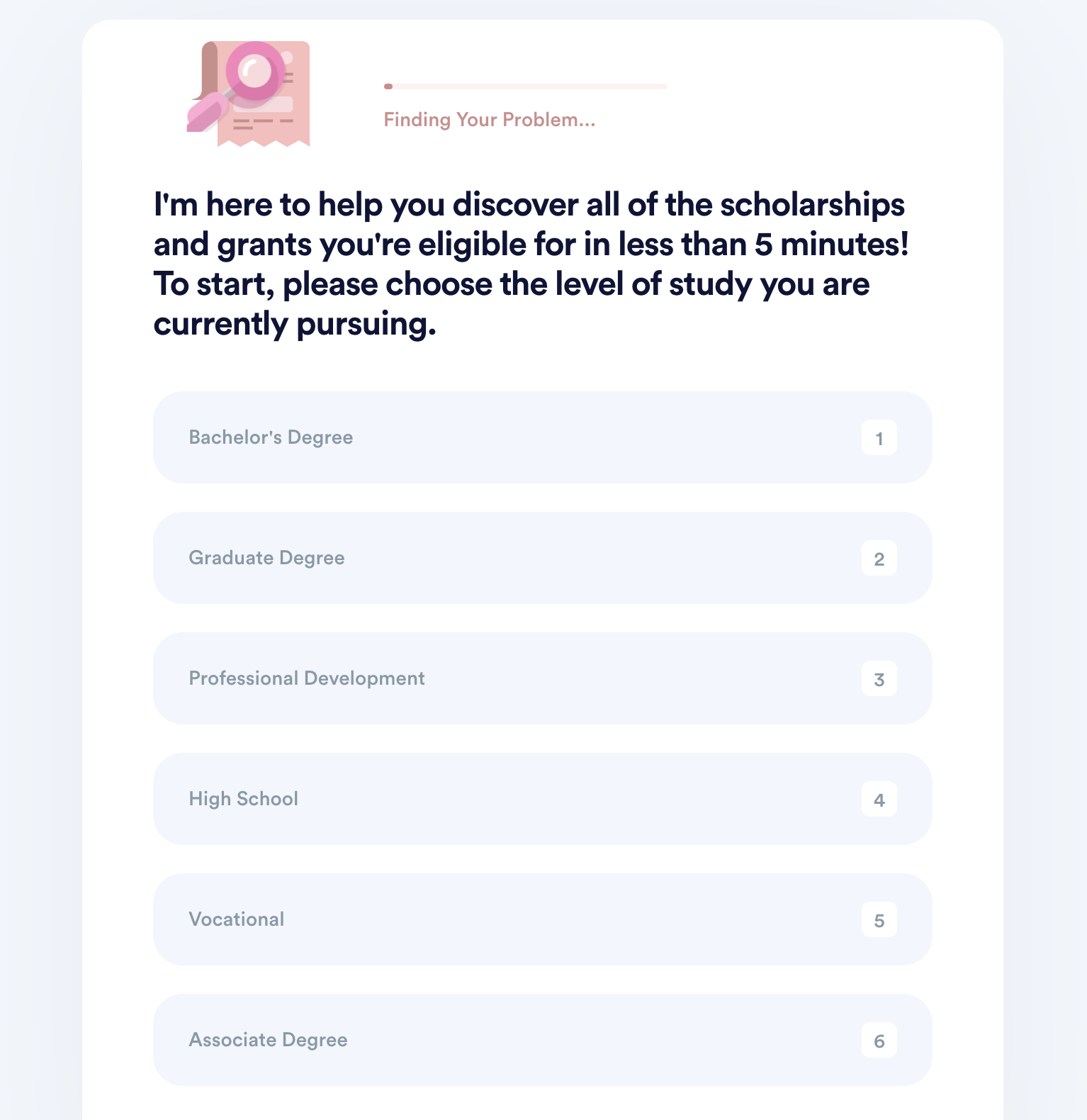 Apply for Adult Student Scholarships in a Few Clicks via DoNotPay!
DoNotPay gives you an instant insight into all scholarships that match your profile. All it takes is answering a few questions about your educational history and plans, and we'll have a full list of active scholarships and grants that may interest you.
Our app also enables you to apply for any no-essay scholarships from your list in one click.
Take a brief look at some of the main upsides:
Significantly shorter research time
Browsing and applying in one go
Easily keeping up with all new scholarships that correspond to your interests
Here is what the search and application process via DoNotPay looks like:
Sign into DoNotPay and tap the Apply for Scholarships feature
Select the study level you are pursuing
Answer several more questions about your education and desires
After you submit your answers, our system will list out all active scholarships for which you are eligible and give you an option to apply automatically to them.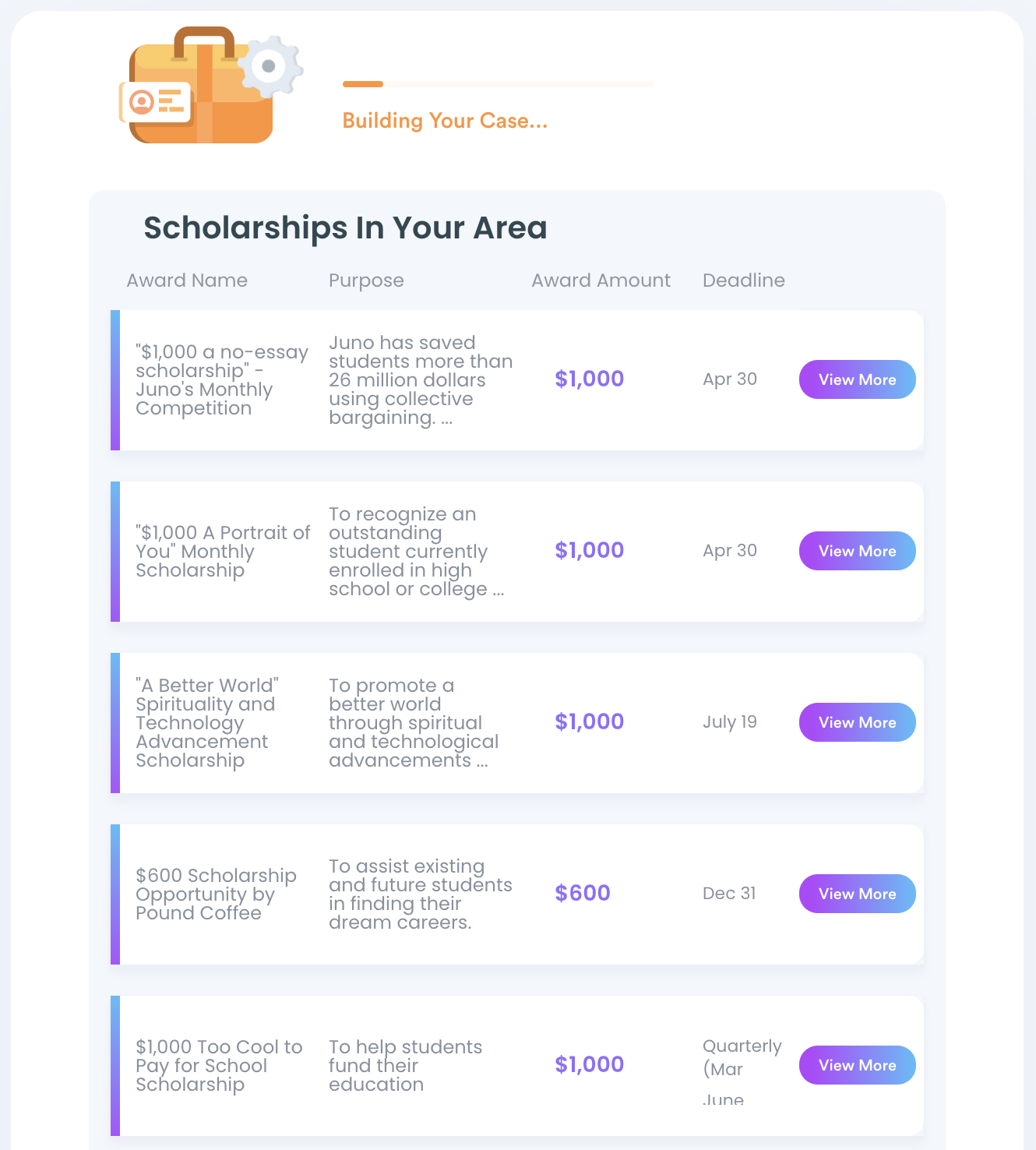 Besides standard scholarships, we will also include:
Public grants
Grants
Prizes
Keep in mind that DoNotPay is handy for searches for financial aid for many levels of education and all age groups—whether they are high school seniors, senior citizens, or graduate school applicants.
Administrative Issues? We Don't Know Them!
Forget about getting frustrated and overwhelmed by the administrative tasks waiting for you to complete them! With DoNotPay's numerous tools, you can easily resolve such tasks in a heartbeat! All you need to do is sign up for our app, and you'll be able to:
Use DoNotPay To Protect Yourself at All Times
Are pesky robocalls and email spammers working your last nerve? Don't despair—we are happy to help you get rid of them! In a few clicks, you can also stop text spam and avoid the incessant phone buzzing!
You can use our app to protect your privacy by creating burner phone numbers and virtual credit cards. That way, you don't have to disclose personal info when subscribing to online services.
In case you're looking for a way to keep yourself safe from stalkers or work discrimination, we'll help you report the case and walk you through the entire process!
Protecting your work from copyright violation and asking for violent crime compensation in your stead is also something DoNotPay can do!