Grant vs. Scholarship—Learn the Key Differences and Similarities
When you start looking for ways to finance your education, you will come across both grants and scholarships, which are often used interchangeably. Both of them are types of financial aid that don't need to be paid back, but what's the difference?
To help you understand your financial aid options and make the best choice, we'll help you get familiar with the grant vs. scholarship distinction. Find out how scholarships and grants differ and what they have in common in this simple but detailed guide.
What Grants and Scholarships Have in Common
Both grants and scholarships are gift aid. Unlike loans, these two don't need to be paid back and are usually not taxable.
You need to meet specific criteria to apply for either of the two aid options. The requirements depend on the type of grant or scholarship you are interested in.
You can receive a partial or full grant or scholarship. What this means is that some grants and scholarships cover a fraction of your education expenses, while others can pay off your tuition in full.
What Is the Difference Between Grants and Scholarships?
The main differences between grants and scholarships are:
The basis for getting the aid
Sources of funds
The Difference in the Basis for Getting the Aid
Grants are mostly need-based, while scholarships are often merit-based.
To be eligible for a grant, you have to demonstrate financial need. If you come from a low-income family, you have an opportunity to get this financial aid. This type of need is determined by the difference between the college's cost of attendance (COA) and the expected family contribution (EFC). The lower the amount you get is, the higher your chances of getting a grant will be.
Scholarships are usually awarded to students with excellent academic, sport, or extracurricular achievements. Certain college scholarships are also given to students with a specific ethnic background, religion, interest, or similar.
Some of the reasons that make you eligible for a scholarship are:
The Difference in the Sources of Funds
Grant money usually comes from federal or state governments. When you complete the Free Application for Federal Student Aid (FAFSA) form, these entities will get insight into your financial situation and match you with grants you are eligible for.
Scholarships come from more diversified sources. Besides governments and schools, individuals and private organizations also give out scholarships—including:
Foundations
Philanthropists
Companies
For-profit organizations
Non-profit organizations
Types of Scholarships and Grants
The most common types of grants and scholarships are:
Federal and state grants—such as:

Federal Pell Grants
Federal Supplemental Educational Opportunity Grants (FSEOG)
Teacher Education Assistance for College and Higher Education (TEACH) Grants

Federal and state scholarships—such as:

Agnes M. Lindsay Scholarship
AlaskAdvantage Education Grant
Boren Scholarships

University- and college-specific scholarships—such as:
Other scholarships
Since there are many scholarships related to students' unique situations, use the table below to get a quick overview of different scholarship categories:
Where To Look for Grants and Scholarships
Where can you find the scholarships and grants you qualify for? The list of grants and scholarships is endless since many factors determine your eligibility.
The financial aid offices at schools of your choice can be a good starting point for the research. Explain your situation to the staff, and they will let you know what your options are.
You can also contact organizations or groups that collide with your interests or that you are a member of.
Do you wish there was a single source of information? Subscribe to DoNotPay, and our app will give you a tailored list of grants and scholarships in two minutes. You can forget about calling, emailing, and going through different websites as we will automate your research and application process.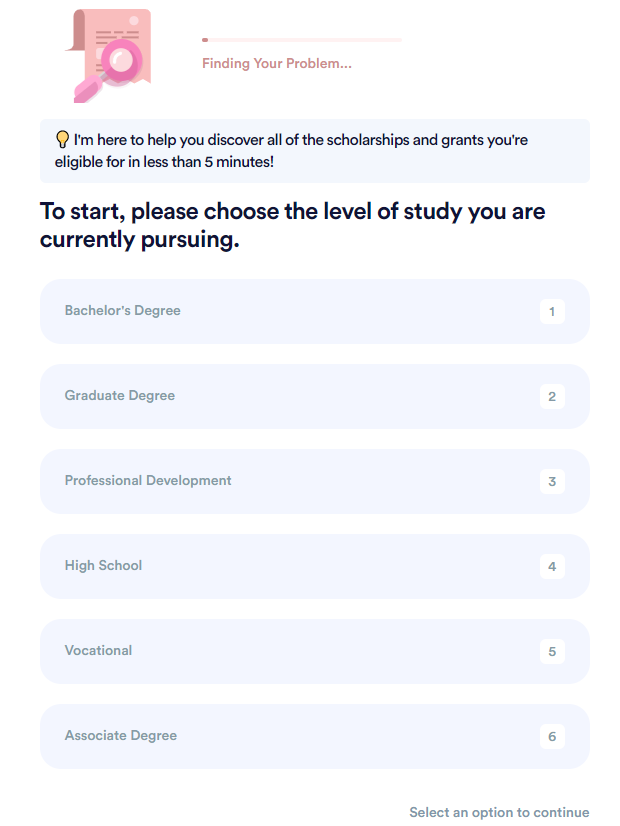 How To Apply for Grants and Scholarships
For grants and the majority of scholarships, you usually need to complete the following:
FAFSA form
College Scholarship Service (CSS) Profile
University or college-specific form
When you find all the grants and scholarships you want to apply for, look into their specific application requirements. Many scholarships also ask for the following:
Proof of your achievements or involvement in a specific organization
Discover and Apply for Both Grants and Scholarships in a Jiffy With DoNotPay
Finding grants and scholarships can be too much work. The good news is that DoNotPay can solve this issue in no time.
To get your personalized list of scholarships and grants, do this:
Choose the Apply for Scholarships tool
Complete the questionnaire
That's all the work you need to do when you use our nifty app. We can send applications for all no-essay scholarships in your stead!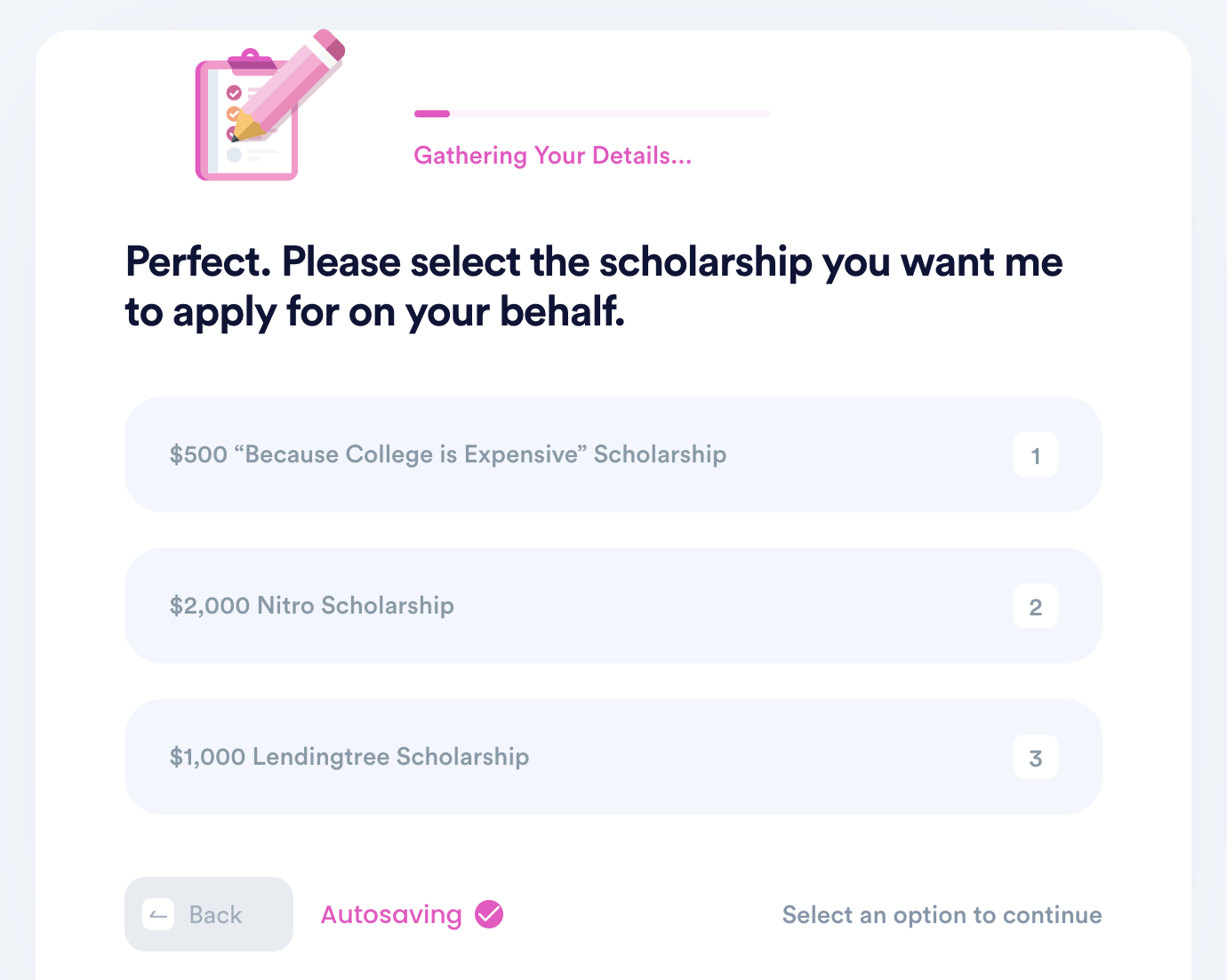 Administrative Issues? We Don't Know Them!
Forget about getting frustrated and overwhelmed by the administrative tasks waiting for you to complete them! With DoNotPay's numerous tools, you can easily resolve such tasks in a heartbeat! All you need to do is sign up for our app, and you'll be able to:
Use DoNotPay To Protect Yourself at All Times
Are pesky robocalls and email spammers working your last nerve? Don't despair—we are happy to help you get rid of them! In a few clicks, you can also stop text spam and avoid the incessant phone buzzing!
You can use our app to protect your privacy by creating burner phone numbers and virtual credit cards. That way, you don't have to disclose personal info when subscribing to online services.
In case you're looking for a way to keep yourself safe from stalkers or work discrimination, we'll help you report the case and walk you through the entire process!
Protecting your work from copyright violation and asking for violent crime compensation in your stead is also something DoNotPay can do!