The Best Scholarships for International Students—Apply Now
You are not a citizen of the U.S., but you have the ambition to study at some of the world-renowned schools. Good news—you don't need thousands of dollars to fulfill this ambition! There are numerous scholarships for international students available in the U.S.
The problem is the lack of a single systemized database with all scholarships listed—you need to waste a lot of time and effort browsing. Searching the websites of different institutions and organizations to learn about individual scholarships isn't the only way. Learn what your alternatives are with our help.
A Closer Look at Scholarships for International Students in the USA
Many students who live outside the U.S. have an ambitious plans for their studies, but not all of them have the finances to follow up on those ambitions.
Luckily, numerous scholarships encourage and enable international students to come, stay, and learn in the country.
The sources can be:
Governmental— Note that these scholarships aren't too frequent
Corporate—This type of student aid is quite common. It is also need-based and with a narrow focus on specific target groups. These scholarships aim to improve certain populations' chances of getting the education they want and increase campus diversity. Underrepresented students in the U.S. education system include:
School-based—Differently from the previous group, these scholarships are frequently merit-based. This means that only the foreign students who show some form of academic excellence can apply
The Best Places To Find Scholarships for International Students
Whether you are an international student looking for a high school senior, college, or graduate school scholarship, your search will go smoothly only if you know where to look.
Check out a few of the suggestions to start your search:
School websites like:

Your ideal school—If you have been planning your education-based move to the U.S. for a long time, you must know of some schools that look like a perfect fit for you. You can start your search with them
Other schools you know about—Some other similar schools must have popped up in your impromptu browsing. Check if they have anything interesting to offer scholarship-wise
Your current school—Your school may happen to offer some student exchange program, so make sure you are informed about it

International scholarship information sites—Several websites offer information on different international scholarships, such as eduPASS, NAFSA, Iefa. The downside is that even if they focus on U.S.-based scholarships, the info on these websites is never super-detailed, so don't rely solely on them for your research
Websites and social media pages of big corporations—Large companies offer scholarships as a show of social responsibility and involvement. They will likely promote that offer on every media outlet they have
U.S. government websites—Fulbright Foreign Student Program and Hubert Humphrey Fellowship Program are a couple of scholarships funded by the government. You can follow the posts from different branches of the Department of Education on their respective sites
Another easy, fast, and efficient way to find scholarships that suit you is relying on DoNotPay. Our app cuts lengthy browsing from the scholarship search process. Sign up, give us the basic info on your education and interest, and in a few minutes, you'll have a detailed list of all fitting scholarships.
How To Prepare for International Students Scholarships Applications
Here are a few tricks to remember that should help you apply for scholarships without too much stress:
| Step | Explanation |
| --- | --- |
| Check all requirements | Make sure you know the details about every document you should provide |
| Ask for your letter of recommendation on time | The person you want to write your letter of recommendation needs some time to do it properly, so start thinking about that now |
| Leave enough room for essay edits | You will need to go through your scholarship essay a few times to get it right, so start on time |
| Know your deadlines | Scholarship application due dates are often earlier than applications for college. Get detailed info on this so as not to miss the date |
International Student Scholarships Are a Click Away With DoNotPay
Making the personalized list of scholarships available to you is just the first step. DoNotPay also enables you to apply to no-essay scholarships of your choice in a couple of clicks. Our major advantages are:
Fast and handy scholarship search
Optional automatic application for no-essay scholarships that correspond to your interests
Easy tracking of all scholarships relevant for your education goals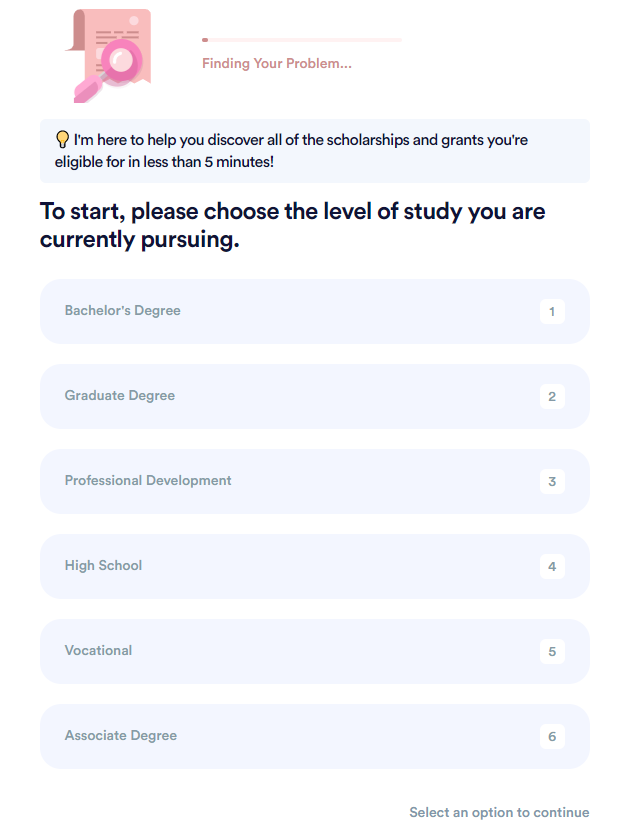 Here is what the process looks like:
Log in to DoNotPay and pick the Apply for Scholarships feature
Let us know what level of study you are pursuing at the moment
Respond to a few questions regarding:

Your academic interests
Location
Career plans
Any special social status (for example, veteran or female students)

Your current school's name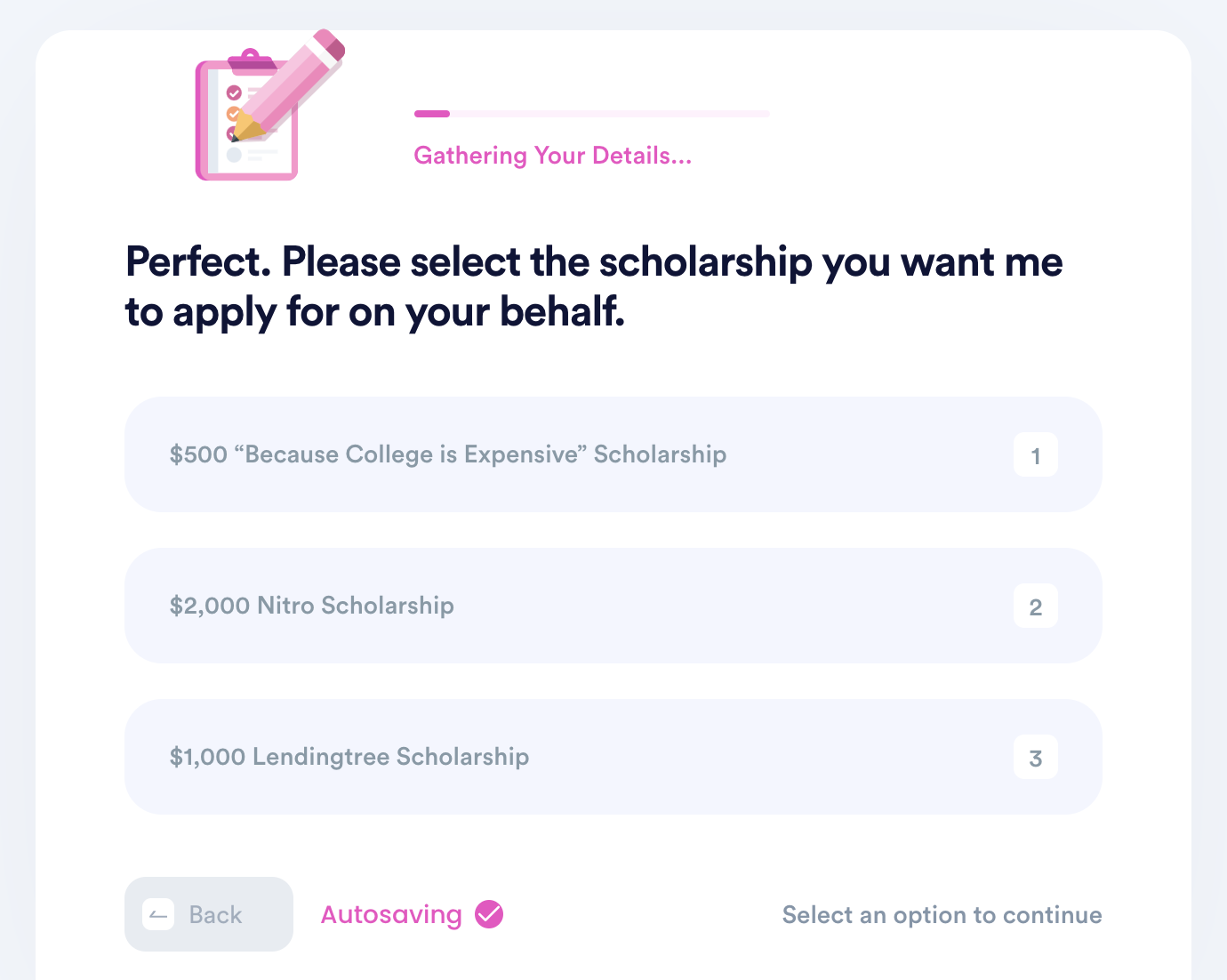 Once you submit all answers, our system will generate a list of scholarships that are the closest matches with your desires and needs. This list will include:
Standard scholarships
Prizes
Pick your favorites and apply right away through our app.
Managing Everyday Tasks With DoNotPay Is a Breeze
Completing mundane tasks doesn't have to be a nightmare! With our help, you can relax and finish them in a few taps! All you need to do is register for DoNotPay and let us help you with:
Have Your Documents Drafted and Notarized With Our Help!
If you need to draft a legal document, such as a divorce settlement agreement, power of attorney, or a child consent form, hiring a lawyer to assist you is probably the first thing that comes to mind. What if we told you that spending hundreds of dollars on legal services is unnecessary? Not only can DoNotPay draft contracts and agreements in a few minutes, but it is also your most affordable and effortless option!
The benefits our app provides don't stop there! After we generate your document, we'll connect you with a remote notary and show you how to get it notarized online without leaving the comfort of your home! You can even fax the document online and skip dealing with outdated fax machines.