Are Scholarships for Foster Youth Available, and How Can They Help?
Everyone could use college scholarships, but students coming from foster care are usually in dire need of assistance. Most of them don't have the support that regular students do, so getting scholarships and grants could easily make or break their higher education opportunities.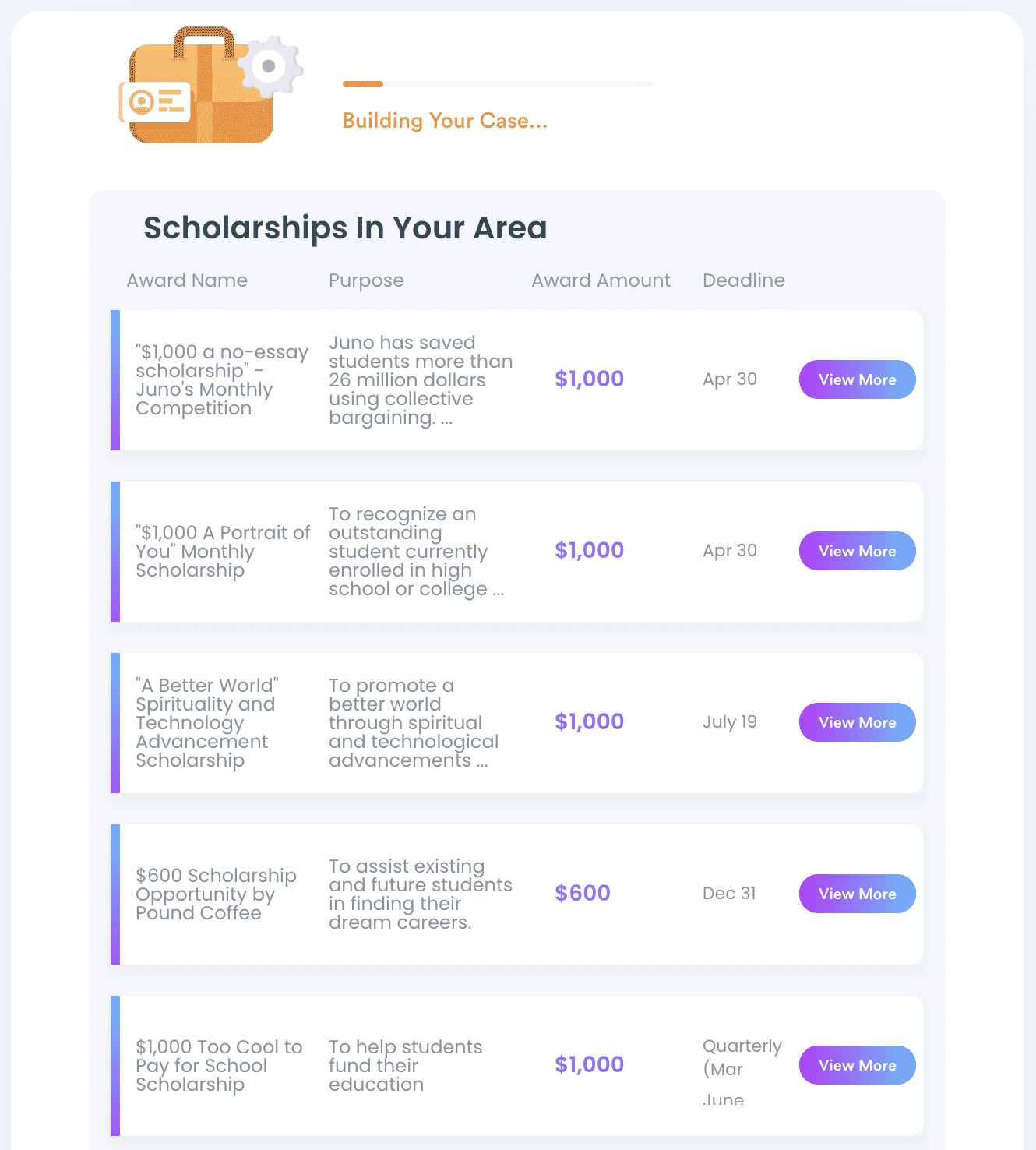 Tuition fees are high and unattainable for most students from foster care in the U.S. To assist these generally underprivileged students, many state-owned and privately-sponsored organizations offer scholarships for foster youth. Because application requirements and procedures vary, DoNotPay jumps in to help with the research and application.
Where To Find Scholarships for Foster Youth
Many organizations throughout the U.S. raise money to fund foster and former foster youth higher education. Where to look for a scholarship depends on whether you:
Are currently in a foster system
Have grown up out of foster care
Have spent some time in the foster system
Have been adopted before or after your 16th birthday
Spent at least one consecutive year in foster care
Have been in a foster family in the U.S. and nowhere else
You should also check all scholarships available in your state.
How Specific States Assist Foster Kids in Getting Higher Education—Good Examples
All U.S. states assist children from foster care to some extent. Refer to the following info for some good examples.
Scholarships for Foster Youth in California
You may be eligible for Continuing Education and Job Training (CEJT) funding in California for graduates and undergraduates if you:
Attend a technical school, college, or university
Have a Bachelor's degree
Maryland
Maryland Waiver is a program enabling foster children to attend college. Eligible candidates must be in foster care at the time of their high school graduation and adopted after their 14th birthday. Note that you must also enroll in a state college or university.
Florida
Florida has benefits for foster youths adopted after 1997. They don't have to cover the expenses of preparatory courses of study.
Massachusetts
Massachusetts has a Foster Child Tuition Waiver Program allowing current and former foster candidates to enroll in a state college if they:
Are between 17 and 24
Have been in foster care guided by the state's Department of Children and Families
How To Find a Scholarship for Foster Kids
Finding and applying for a scholarship or grant is a time-consuming process that could take days or weeks. Many websites list foster care college scholarships by the state and organization, but the information is incomplete, requiring you to do some additional digging.
Even when you shortlist scholarships available to foster youth, you still have to filter them to learn if you qualify, which could last forever. To simplify the research and focus your energy on applying, you need a different approach.
This is where we step in. Sign up for DoNotPay to complete a short questionnaire and let us take care of the rest. We will deliver a list of scholarships you qualify for in a few minutes.
What Are the Application Rules for Scholarships for Foster Children?
Application requirements depend on the foundation offering tuition to adopted children.
Orphan Foundation of America
The Orphan Foundation of America grants scholarships to undergraduates younger than 25 if they have:
Been adopted after they turned 16
Spent one consecutive year in foster care before their 18th birthday
Lost both parents before turning 18 years
California College Pathways
California College Pathways is an initiative aiming to assist adopted children who aspire to get a college degree. They instruct the candidates and their guardians how to:
Access financial aid for a higher education
Find adequate support programs
Make sustainable plans for their future education
To apply, submit the Free Application for Federal Student Aid (FAFSA). The deadline is usually in early March.
Emy's Promise
Emy's Promise delivers educational grants for women who have spent some time in foster care in Florida. For application details, send an email to info@emyspromise.org.
United Friends of the Children
To apply for this organization's scholarship, you must complete a Next Step Tool Assessment at an Access Center and be:
Between 18 and 24
Former foster youth
Homeless or at risk of becoming homeless
Governor's Scholarship for Foster Youth (Washington State)
To be considered for this scholarship, a candidate must:
Be a high school senior
Have a GPA of at least 2.0
Enroll full-time in a state-owned university or college
Be a resident at least three academic years before graduation
Have been placed in foster care, Guardianship or Dependency Guardianship, or federally recognized care
DoNotPay Can Help You Find a Scholarship in No Time
To make the process easier, subscribe to DoNotPay to find scholarships you are eligible for in the blink of an eye. You should answer a few questions regarding your residency, academic interests, grades, and special qualifications (veteran, for instance). We will use the info to narrow down and list scholarships, grants, and prizes you qualify for.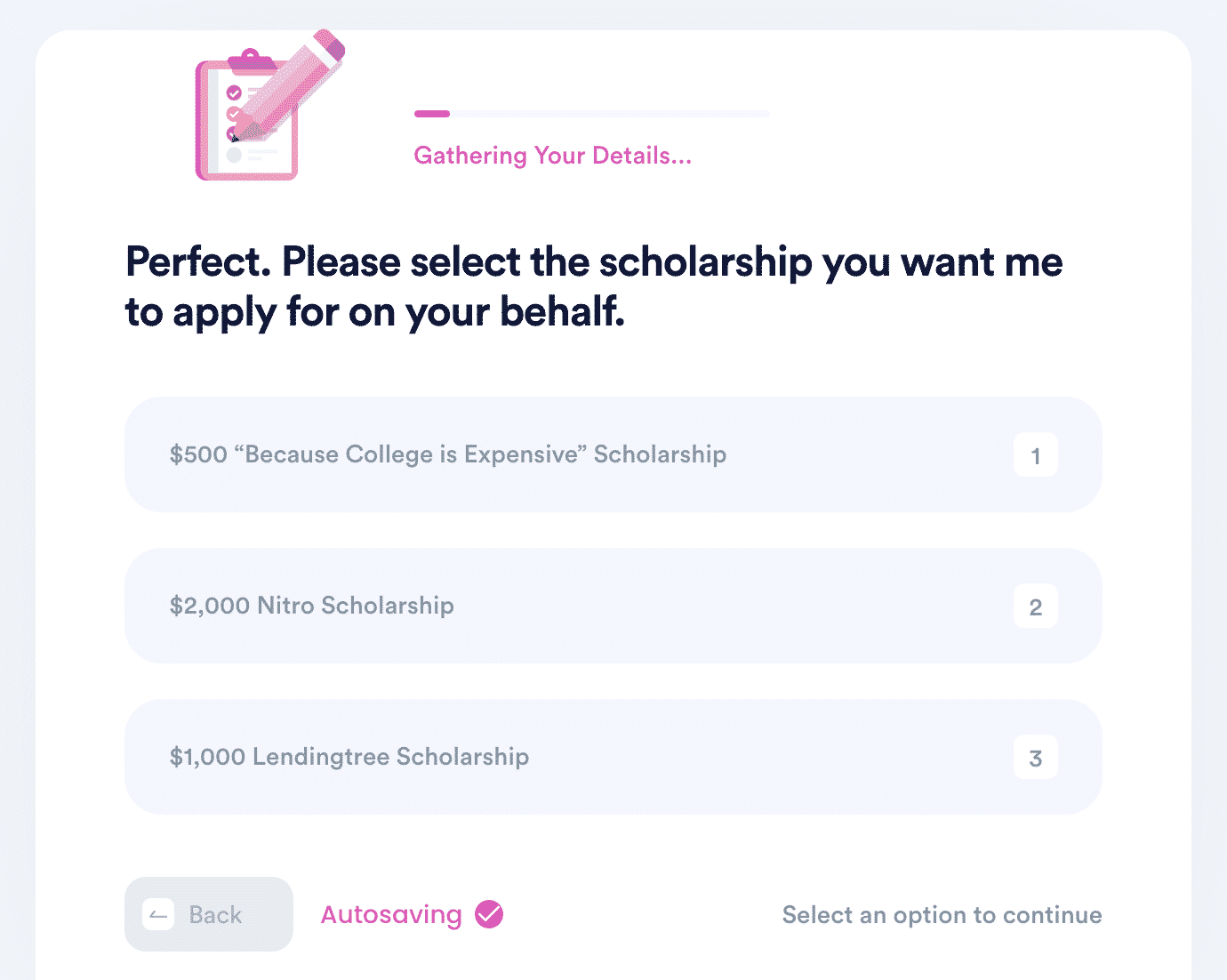 You can even authorize us to automatically apply for no-essay scholarships since their rules are different from essay-based grants. We can also help you find scholarships for international students and learn how to get a letter of recommendation.
For a brief overview of the benefits we offer compared to online search, refer to the table below:
Search Method
What You Can Expect
DoNotPay

Personalized search
Results are available in a few minutes

Online research

Scattered information
The research process is demanding and lengthy
To benefit from our convenient and quick service, complete the following steps:
Access DoNotPay
Select the Apply for Scholarships feature
Choose the level of study
Complete the questionnaire
Save Time With DoNotPay
DoNotPay is not done helping you! We offer you assistance in completing a variety of tasks quickly and efficiently, such as:
Canceling Subscriptions Has Never Been Easier!
If you keep getting charged a monthly subscription fee even though you no longer want to use a certain service, don't let your money go to waste! Some companies tend to renew your subscription automatically, but that doesn't mean you have to put up with it—use our app to terminate your membership or subscription in a few clicks!
Do you want to sign up for free trials and create a virtual credit card or a burner phone number to protect your sensitive info? Once you subscribe to DoNotPay, we will walk you through the process of doing all of the above in no time!
You can also count on our assistance if you need to get rid of spam or robocalls.