All You Need To Know About No-Essay Scholarships
If you have been looking for ways to afford college, you must have heard of no-essay scholarships, also known as essay-free scholarships. As the price of attending college is on the rise, no-essay scholarships are an easy way to pay your educational expenses.
To help you get the financial aid you need, DoNotPay offers this guide explaining what no-essay scholarships are and how to apply for tens of them at once!
What Is a No-Essay Scholarship?
A no-essay scholarship is a type of financial aid that you don't have to repay and does not require you to write a scholarship essay or submit a letter of recommendation as some others do.
Most no-essay scholarships work either like a raffle or on a first-come, first-served basis.
Keep in mind that no-essay scholarships usually offer less money, so you should, by no means, rely on them to acquire funds that will cover all your educational expenses.
A good practice would be to apply for both essay scholarships and no-essay ones. This way, you can give yourself a break from writing while simultaneously doing your best to get as much financial aid as possible.
Regardless of your ethnicity, level of study, and other circumstances, there is a no-essay scholarship for everyone, including:
| Different Levels of Study | Ethnic Minorities | Special Student Groups |
| --- | --- | --- |
| | | |
What Are the Benefits of No-Essay Scholarships?
Not having to write an individual essay for each award you apply for cuts down the application time significantly, so this type of scholarship is popular among students whose schedules are already super-packed.
Writing a tailor-made essay for each scholarship requires you to do in-depth research and start (at least partially) from scratch each time. You cannot spin the same information—you should write them slightly differently for each scholarship.
Award donors recognize generic applications right away—they will disqualify you, and you'll ruin your chances of getting the financial aid you need.
How To Apply for No-Essay Scholarships
To apply for no-essay scholarships, you have to enter some basic personal information, such as your full name and the school you're attending, in an application form.
Some scholarships may require a different approach to the application process, such as:
Where Can You Find No-Essay Scholarships?
Some of the places where you can look for scholarships, including no-essay ones, are:
Your school's financial aid office
Non-profit organizations

Religious organizations for:
Civic organizations for:
Political
Ethnic

For-profit organizations
Students often use various sources to search and apply for scholarships, but you don't have to do that!
Our app can curate a list of available scholarships according to your qualifications and apply you for no-essay ones automatically! Sign up for DoNotPay to compete for no-essay scholarships, and maximize your chances of getting the award!
DoNotPay Applies You for Multiple No-Essay Scholarships at Once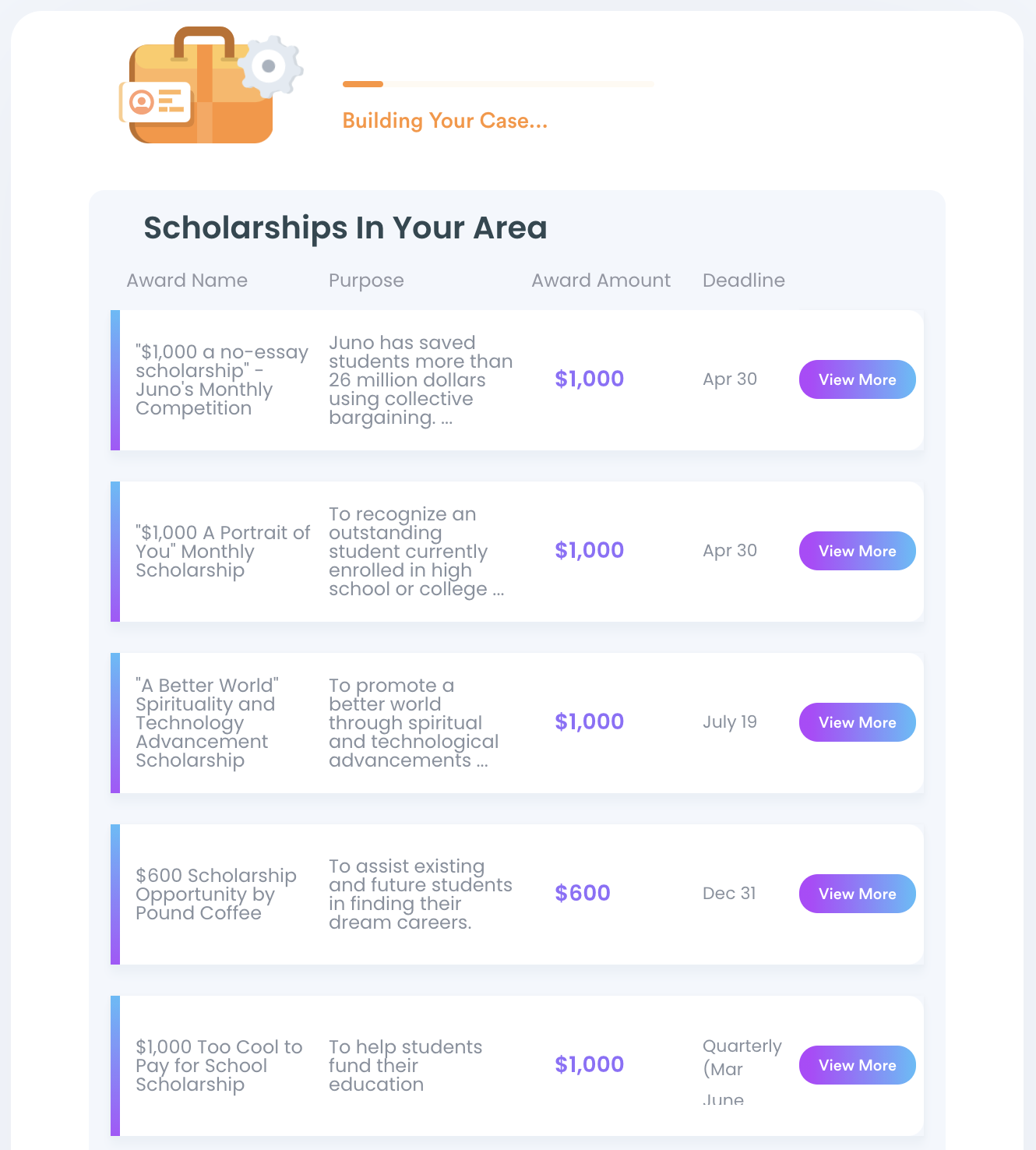 DoNotPay offers a safe way to save time and automate the process of applying for no-essay scholarships.
Once you provide some basic information about yourself, DoNotPay checks for new scholarships and submits an application on your behalf.
You can also use our app to:
Browse through all available scholarship opportunities
Submit individual applications by answering a few short questions for each
You will never miss a scholarship opportunity again if you:
Search for our Apply for Scholarships product
Answer some questions about your level of study and the type of awards you want the app to display
If you want to learn more about scholarships and grants in general, check our knowledge base for more guides!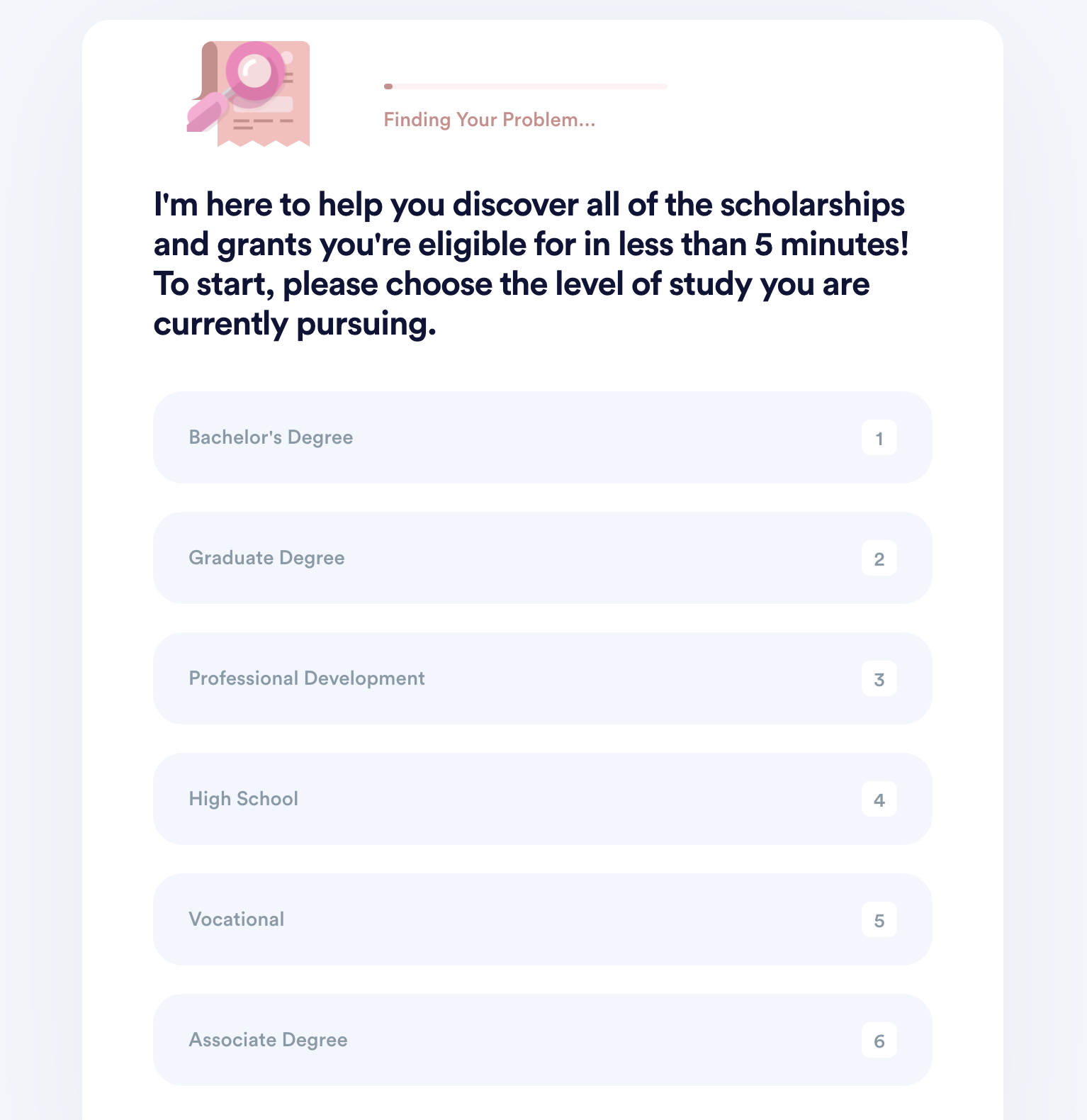 Can High School Students Apply for No-Essay College Scholarships?
Yes, high school students can start looking and applying for no-essay college scholarships at the end of their junior year. Getting a scholarship approved is more likely for students who apply as early as possible.
What To Keep in Mind Before Applying for No-Essay Scholarships
If it sounds too good to be true, it might be. It's not rare for scammers to post fake scholarship offers and then sell the information from applicants to random companies. If you applied for a no-essay scholarship and soon after started receiving spam emails and robocalls, that might be the reason.
You should also beware of scholarship offers stating that you need to pay an entry fee. No real scholarship will ever require you to pay any application fees.
The scariest part of fake no-essay scholarships might be that they appear on reputable websites, so you're never truly safe unless you take precautions.
What Can You Do To Avoid Scholarship Scams?
To prevent your information from being misused or losing your money, you should take the following steps before you start applying for no-essay scholarships:
Create a separate, legit-sounding email address that you will use only to apply for scholarships
Never apply for scholarship offers that require you to pay a fee to participate
Never provide sensitive information, such as:

Your Social Security number
Your credit/debit card number
Your driver's license number
DoNotPay Offers Quick Solutions to Tedious Problems
Are you overwhelmed by your never-ending to-do list? We're happy to jump in with a perfect solution to deal with everyday tasks the easy way!
Once you subscribe to DoNotPay, you'll be able to schedule DMV appointments, lower your monthly bills, and contest parking tickets without breaking a sweat!
If you are looking for further assistance, our app will show you how to deal with the following tasks effortlessly:
Rely on DoNotPay's Legal Assistance Any Time!
If a company refuses to cooperate, use DoNotPay—the world's first robot lawyer—to sue it in small claims court! Getting the justice you deserve is only a few clicks away!
You can also use our app's various features to do the following: