How You Can Find a Scholarship for Christian Students Using DoNotPay
With tuition fees being as high as they are, students across the United States have a hard time working on their education without coming up against financial problems. Many people with higher education who couldn't secure financial aid struggle to repay debts decades after they finish college.
That's why there are thousands of organizations, companies, and institutions that offer high school, college, and graduate school scholarships. In this article, we'll explain how you can get a scholarship for Christian students and what makes you eligible for it.
We'll also go over various ways you can apply for scholarships and tell you where you can find them.
What Types of Scholarships Exist?
As there are so many scholarships and grants on offer, companies and organizations who provide them choose a group of students they want to focus on. You can be eligible for a certain scholarship if you're a:
Member of a certain religion:
The idea behind these groups is not to segregate students based on their race, gender, or ethnicity. Instead, it provides institutions and organizations an opportunity to provide financial aid to members of their community.
A Scholarship for Christian Students—What's That?
When it comes to scholarships for Christian students, it's mostly churches and church-related organizations that offer them. They provide financial aid for members of their Christian community to allow fellow Christians to cover the cost of their education. In essence, it's a way for the church to give back to its attendees.
These scholarships are not tied to a specific college or high school but to a specific church of which you have to be a member.
How Can You Find Scholarships for Christian Students?
If you want to get a scholarship, the most daunting task is always the first step—finding the proper one. With thousands of scholarships for Christians out there, it's no surprise you might feel overwhelmed by the information. An even bigger problem is that the relevant details are scattered all over the Internet.
Before you start Googling aimlessly, you should take other actions that might be more fruitful. You can try:
Talking to a financial aid officer in your school—If you're going to a Christian school, you'll be able to get information on Christian school scholarships that are available to you in your region
Getting advice from your pastor—Many churches run award programs for their ambitious members. You can talk to your pastor to see if there are any local-level scholarships in your church before you move on to other ones
Visiting scholarship websites—This step comes into play when you already have a specific scholarship you're interested in. You can then visit their website to find out about all the necessary details
Using DoNotPay—With our app, you can skip the lengthy searches and get a list of all available scholarships for Christian college students—as well as high school ones—in a few clicks. You only need to sign up, and we'll give you the list in a couple of minutes
Scholarships for Christian Students—What Will You Find?
To qualify for a Christian student scholarship, it's not enough to have a Christian name and a religious grandparent. You have to prove that you're worthy of receiving a scholarship for your education. Several factors go into the decision of whether you'll receive the scholarship or not. These include:
Academic excellence (a high GPA level)
Level of study
Financial need
Religious requirement
The last one means that you should show that you're an active member of the Christian community, that you're a seminarian of a certain church, or that you volunteer with your Christian brothers.
To give you a taste of what most faith-based organizations are looking for, here's a table with some scholarships you may be able to apply for:
Scholarship Name
Religious Requirement
Application Deadline
Maximum Award Amount
E. Craig Brandenburg
Member of United Methodist Church
March 7
$2,000
Wischer Scholarship
Proven regular church attendee
February 10
$11,000
Young Christian Leaders
Active member of your local church
15th of every month
$1,000
Samuel Robinson Award
Attending Presbyterian-related colleges
June 1, September 1, and December 1
$4,000
American Baptist Home Mission Societies Scholarship
Letter of recommendation from your pastor
April 30
$3,000
Cannon Endowment Scholarship
Seminarian of one of the following:

United Methodist Church
Presbyterian USA Church
Christian Church Disciples of Christ
United Church of Christ

April 1
$2,500
Faith & Education Scholarship
Member of the Church of Christ
April 12
$25,000
How To Apply for a Scholarship for Christian Students
As financial aid comes from various organizations, application processes are usually different for each scholarship. Still, there are some steps you need to complete for any scholarship application:
Make sure you fulfill all the requirements
Check the deadline for applications
Prepare all the necessary documentation—transcripts, letters of recommendation, essays, financial aid data, and similar
DoNotPay Can Help You Out With Your Christian Scholarship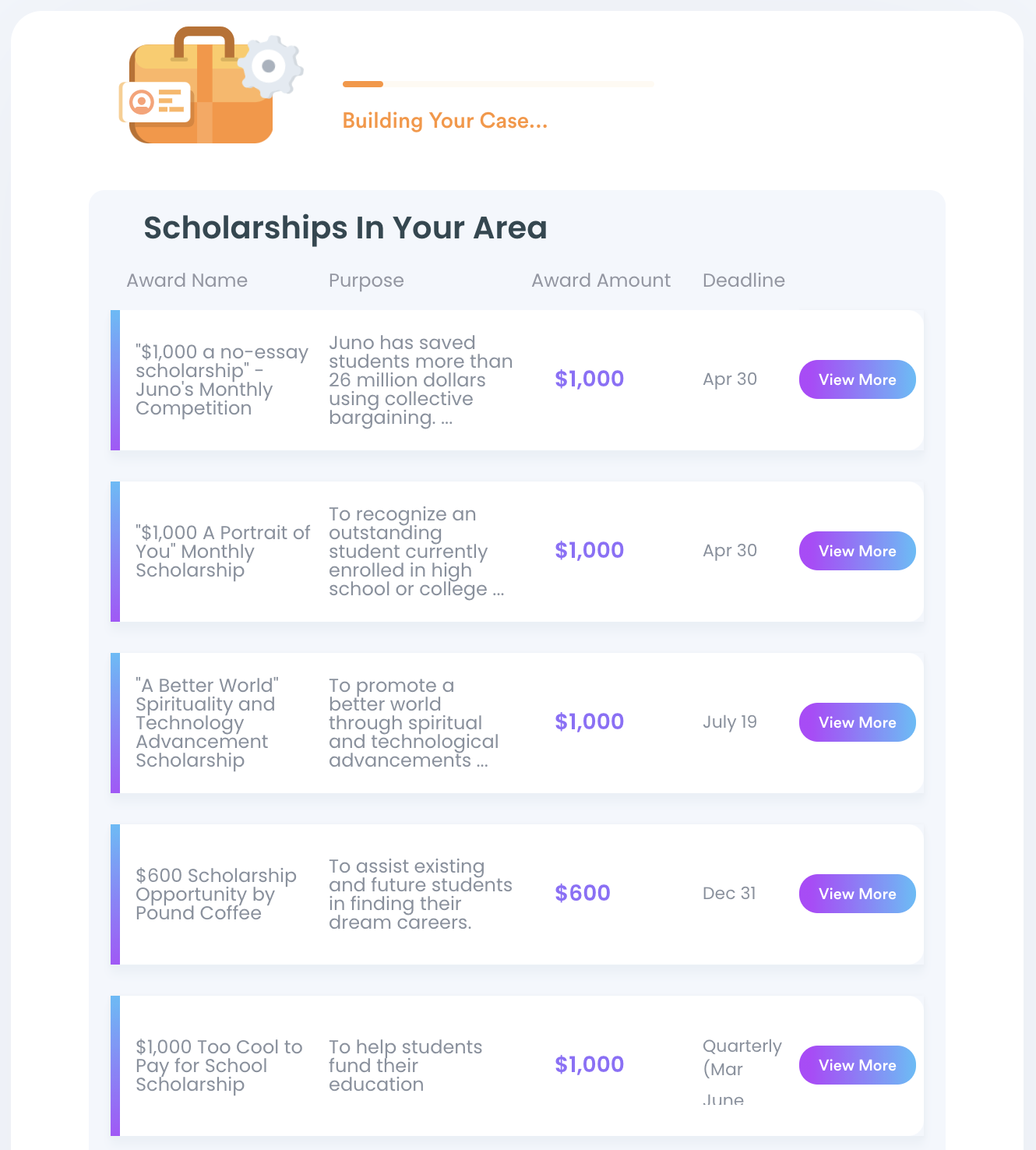 The most time-consuming part of applying for a scholarship is finding the right ones. DoNotPay is here to help with that! Our app allows you to do personalized searches that will show you only the list of Christian scholarships you're eligible for.
All you need to do is:
Sign up for DoNotPay via your browser
Find our Apply for Scholarships product
Answer a few questions regarding your education
Our app will let you know what scholarships you can apply for, and we will give you all the necessary information.
If a no-essay scholarship catches your eye, you can instruct our app to send your application automatically without any hassle on your part.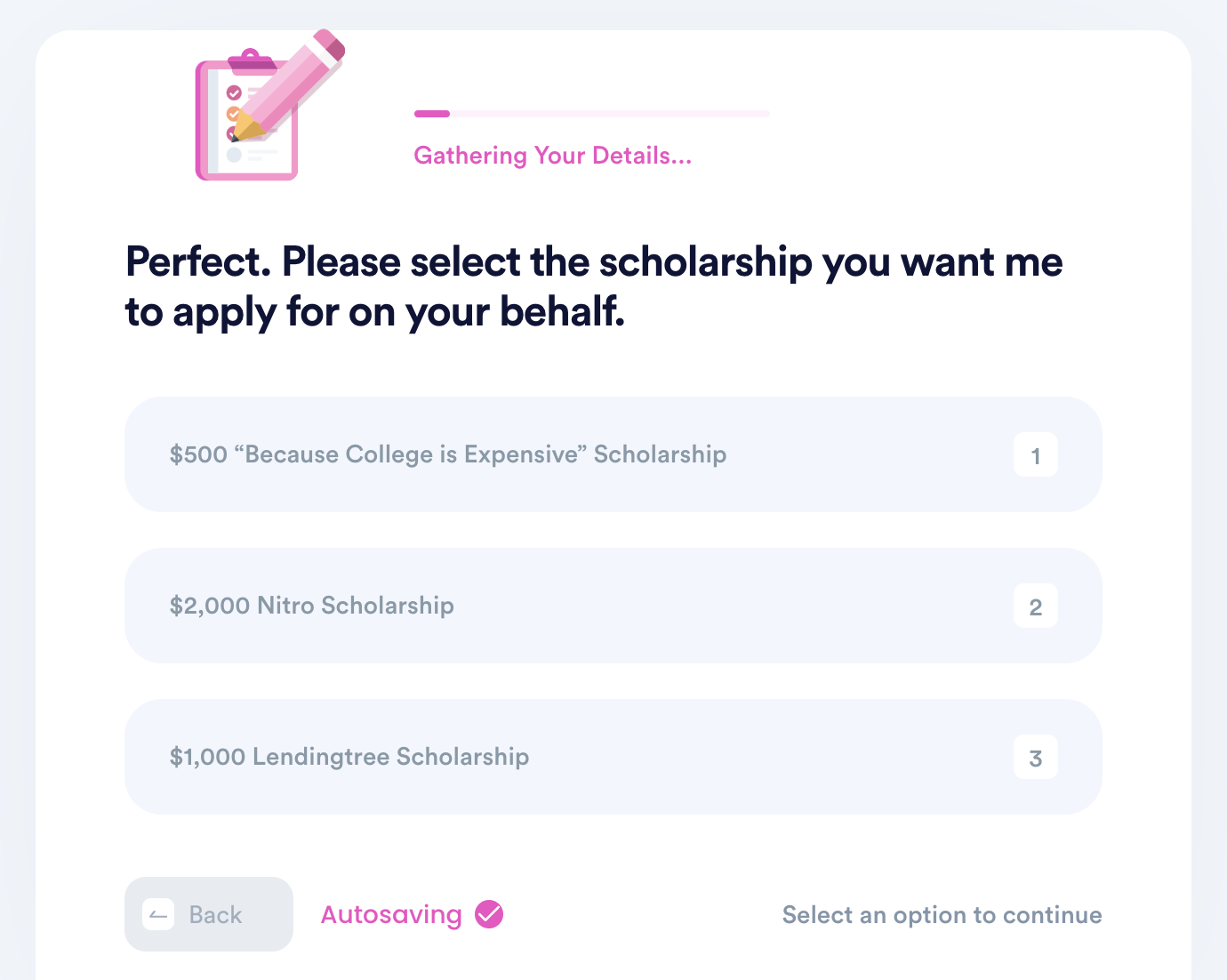 Is Bureaucracy Getting on Your Nerves? We Have a Solution!
We all know that dealing with bureaucracy isn't pleasant, and it often leads to overwhelming frustration. The good news is that DoNotPay has found a workaround! You can now do the following by using our app:
Let DoNotPay Make Your Legal Troubles Disappear!
Drafting contracts and other legal documents isn't a task you should handle on your own. Don't want to spend a fortune on lawyers? That is why DoNotPay—the world's first robot lawyer—is here to take the lead and help you out! Check out the list below to see some of the legal documents that our app can draft for you:
We don't stop there! Cut through the red tape and let DoNotPay assist you in taking anyone to small claims court, getting your documents notarized, submitting anonymous HR complaints, or requesting crime victims' compensation.