How To Get a Track Scholarship—A Complete Guide
Sports scholarships are highly coveted and difficult to obtain. Getting a track and field scholarship is more difficult than obtaining a football or basketball scholarship, where coaches and scouts routinely keep an eye on high school athletes to offer scholarships to.
Running athletic scholarships are usually divided between track and cross country athletes. With cross country runners being preferred over track and field runners, it can be difficult to find the perfect scholarship.
This guide will show you how to get a track scholarship and find all other scholarship programs you qualify for within minutes. , and start applying today!
What Scholarships Are Available to Track Athletes?
Track athletes who want to pursue university education often get to pick from a wide range of schools and colleges, including Ivy League schools. Typically, there is a selection of track and field scholarships for high school students and current college students.
Although most colleges with track programs have their own scholarships to give out, there are a few external options that potential students can look into.
Here are a few of the more popular ones:
Alliance Pipeline Scholarship
Augustana College Athletic Grant
CCU Athletics Scholarship
Mike Lozano Scholarship
Sean Patrick French Memorial Scholarship
Key Things To Know About College Track and Field Scholarships
Given how expensive attending college or university can be in the United States of America, obtaining a scholarship or a grant can be a game-changer for any student who wants to graduate debt-free.
Colleges offer scholarships to track athletes that cover anything from 1% of tuition and other fees to the total cost of tuition, books, living, and other expenses. If you want to attend college on a track scholarship, you can start by finding the schools with the best track and field programs.
Here is a list of top track and field programs for women:
For men, the following programs have consistently ranked high:
How To Get a Track and Field Scholarship
Being a good athlete is not enough when it comes to getting track scholarships. While coaching staff for other sports can spend hours at high school games watching and scouting talent, track runners become interesting to scouts if they beat or match the best times. Individual colleges and coaches will usually have specific times that you need to beat, so it's imperative that you look into these criteria when selecting a school.
Here are a few other important tips to keep in mind if you want to obtain a track and field scholarship:
Select your college only after you fully understand your division level and make sure they have scholarships that fit your needs
Make sure you have the required GPA to get into your dream school—your grades can matter almost as much as your athletic skills
Stay updated about general track scholarship requirements to make sure you're eligible
Start communicating with college coaches as early as possible, especially those who work at your first–choice colleges
Write excellent

scholarship essays

and obtain the necessary letters of recommendation
Don't limit yourself to a handful of schools—look into all the schools that offer track and field scholarships
A lot of schools have special opportunities for veterans, so be sure to look for them if you fall in that category.
Track and Field Divisions and Times To Beat
Here are a few of the times you need to beat in your division to have a shot at getting a college scholarship.
Refer to the table below for men's results:
| | NCAA DI | NCAA DII | NCAA DIII | NAIA |
| --- | --- | --- | --- | --- |
| 55m IN | 6.32–6.70 | 6.35–7.20 | 6.78–7.20 | 6.52–7.20 |
| 60m IN | 6.61–7.10 | 6.65–7.40 | 6.92–7.40 | 6.81–7.50 |
| 55m hurdles | 7.4–7.9 | 7.65–8.1 | 8.00–8.2 | 8.00–8.2 |
| 60m HH IN | 7.75–8.00 | 7.89–8.50 | 8.29–8.50 | 8.21–8.50 |
| 300m IN | 33.94–35.80 | 34.99–37.90 | 36.78–39.00 | 34.99–39.00 |
| 500m IN | 1.05.58–1.08.98 | 1.07.45–1.10.33 | 1.10.01–1.13.56 | 1.09.56–1.12.45 |
| 600m IN | 1.21.08–1.24.67 | 1.22.34–1.28.45 | 1.27.55–1.30.55 | 1.23.44–1.25.65 |
You can get a better understanding of the expectations for women based on the data below:
| | NCAA DI | NCAA DII | NCAA DIII | NAIA |
| --- | --- | --- | --- | --- |
| 55m IN | 6.95–7.35 | 7.25–7.75 | 7.90–8.25 | 7.40–8.00 |
| 60m IN | 7.31–7.85 | 7.30–8.50 | 7.80–8.50 | 7.68–8.50 |
| 60m HH IN | 8.16–8.80 | 8.36–10.00 | 8.95–10.20 | 8.93–10.00 |
| 300m IN | 39.20–41.05 | 40.00–42.32 | 42.03–45.00 | 40.07–44.00 |
| 500m IN | 1.15.94–1.18.45 | 1.17.44–1.20.45 | 1.22.56–1.25.44 | 1.19.67–1.22.93 |
| 600m IN | 1.34.31–1.36.54 | 1.35.23–1.39.34 | 1.38.67–1.44.33 | 1.39.23–1.42.34 |
| 3000m IN | 9.18.54–9.23.45 | 9.19.56–9.29.44 | 9.28.60–10.00 | 10.26.69–10.37.00 |
There are a lot of other categories as well, so be sure to check out the ever-changing times of your category on a regular basis.
Make Sure You Don't Miss Out on Any Opportunity—Use DoNotPay!
Even though there is a limited number of scholarships available to track and field athletes, going through each program one by one and then applying for these scholarships can be difficult and time-consuming. You can simplify the process and get all the track scholarships you are eligible for—including the opportunities for graduate and international students—at your fingertips by using DoNotPay.
Here's how easy it is:
and look for the Apply for Scholarships product
Input the level of studies you are currently pursuing
Answer a few questions about the kind of degree you would like to pursue and input details about your achievements so far
DoNotPay will then provide you with a list of scholarships that are best suited to you based on your answers. You can also choose to have DoNotPay automatically apply for scholarships that do not require essays on your behalf!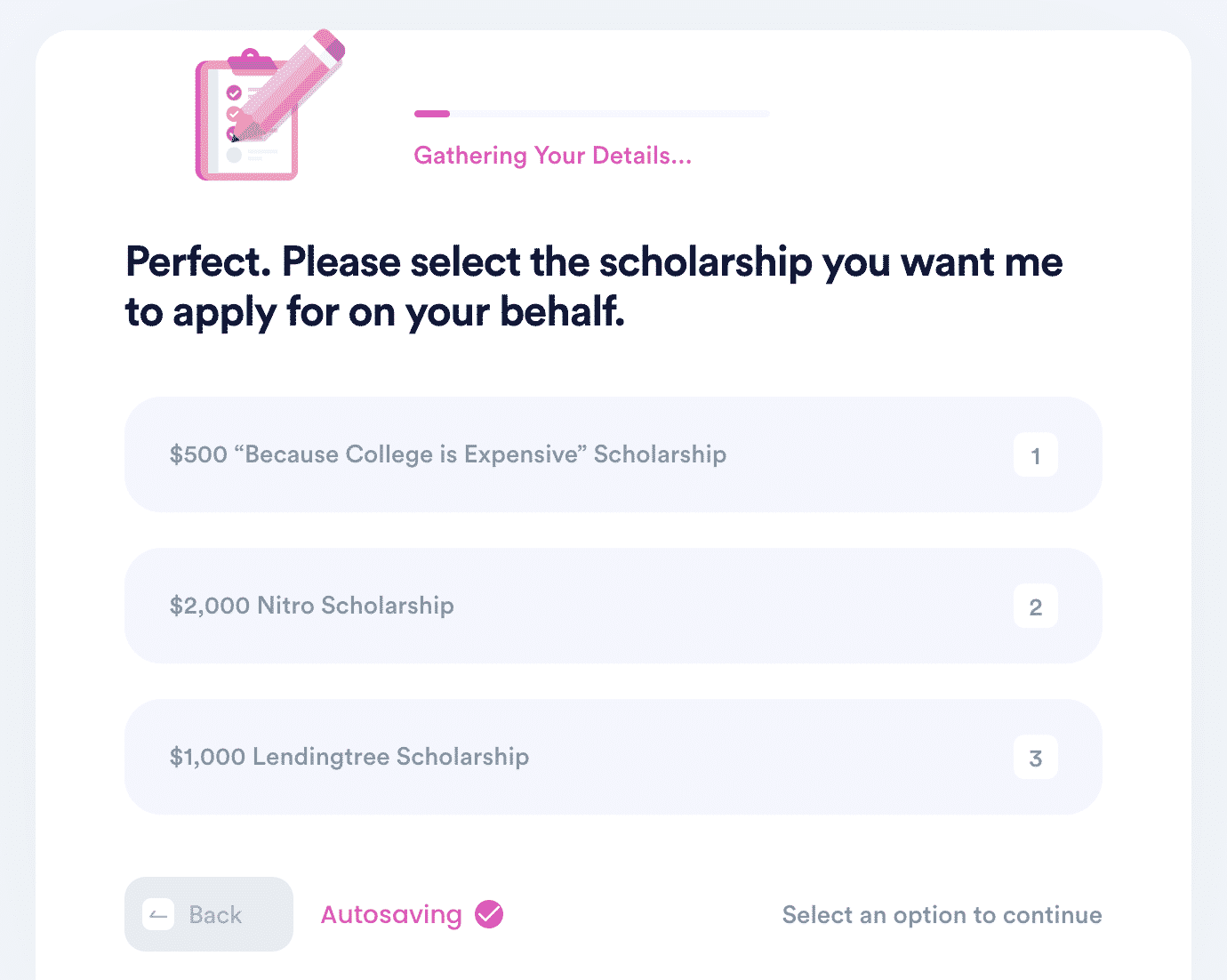 Is Bureaucracy Getting on Your Nerves? We Have a Solution!
We all know that dealing with bureaucracy isn't pleasant, and it often leads to overwhelming frustration. The good news is that DoNotPay has found a workaround! You can now do the following by using our app:
Let DoNotPay Make Your Legal Troubles Disappear!
Drafting contracts and other legal documents isn't a task you should handle on your own. Don't want to spend a fortune on lawyers? That is why DoNotPay—the world's first robot lawyer—is here to take the lead and help you out! Check out the list below to see some of the legal documents that our app can draft for you:
We don't stop there! Cut through the red tape and let DoNotPay assist you in taking anyone to small claims court, getting your documents notarized, submitting anonymous HR complaints, or requesting crime victims' compensation.