How To Find Scholarships for Children of Single Parents
You can find scholarships and grants for almost every demographic group in the United States—including children of single parents. Students from such backgrounds can access these scholarships whether they lost one parent to divorce, death, or any other way. Scholarships for children of single parents can be some of the most difficult ones to find.
This guide will show you how to find and apply for scholarships you qualify for in under five minutes.
Sources of Scholarships for Students With Single Parents
You can find different sources of scholarships for students with single parents. The most common options are:
Federal and state governments
Non-profit and private organizations
Federal and State Governments
Federal scholarships and grants are open to eligible students in all states. Students are awarded based on different criteria, such as financial need, merit, major, etc.
Nearly every state in the U.S. offers financial aid to low-income and underserved demographic groups. Children whose parents died while on public service duty—such as firefighters, military, and police officers—are particularly catered for by specific federal and state scholarships.
Take a look at the table below to discover some federal and state scholarship programs:
Scholarship Source
Examples
Federal government

Pell Grant
Federal Supplemental Educational Opportunity Grant
Iraq and Afghanistan Service Grant
Department of Veterans Affairs scholarships

State governments

HOPE Scholarship, for Georgia residents
California Law Enforcement Personnel Dependents Grant Program (LEPD)
Non-Profit and Private Organizations
Some non-profit organizations are dedicated to helping single parents minimize the burden of raising children alone. One way organizations do this is by offering scholarships for children of single parents. Such programs include:
Life Lessons Scholarship Program is designed for U.S. citizens aged between 17 and 24 years who are enrolled in an accredited post-secondary institution
The Family Scholarship Fund awards students enrolled in post-secondary institutions and those whose parents died in a workplace accident
Vincent Bennett, Jr. Memorial Scholarship (NLEAFCF) is offered to children of police officers or firefighters who died or were fatally injured in the line of duty
The Pinnacol Foundation Scholarship Program
The Family Scholarship Fund
Post Secondary Education Program awards students who lost a parent to violence
Anne Marinucci Buscaglia Scholarship
Naomi Scholarship is created for college students with a GPA of at least 3.0 who lost a parent through death or divorce
David J. Ewing Scholarship is offered to students who meet eligibility requirements for a post-secondary institution and whose parents died during their working years
The Quell Foundation Survivor Scholarship is designed for students who have a GPA of at least 3.4 and who lost a parent to suicide
How To Find Scholarships for Children of Single Parents
Most scholarships are available every academic year for a specified period of time. You need to start your search early to ensure you don't miss deadlines. Here are some of our top tips to help you find scholarships:
Complete the FAFSA to find out which federal financial aid options are available to you
Check whether religious institutions in your area offer financial aid for students of faith
Search at local organizations that cater to underserved groups
Contact your high school counselor if you are a high school senior
Visit the financial aid office to discuss available options
Check programs available based on your demographic group, such as international students, women, veterans, graduate school students, doctoral degree students, etc.
Perform a search using scholarship search engines—you can start with your major to get general merit-based programs, for instance:
Following this approach can yield good results, but it is time-consuming and exhausting. DoNotPay can get you a complete list of all the scholarships you are eligible for in under five minutes. All you need to do is sign up for DoNotPay and provide some information about your education level and academic interests.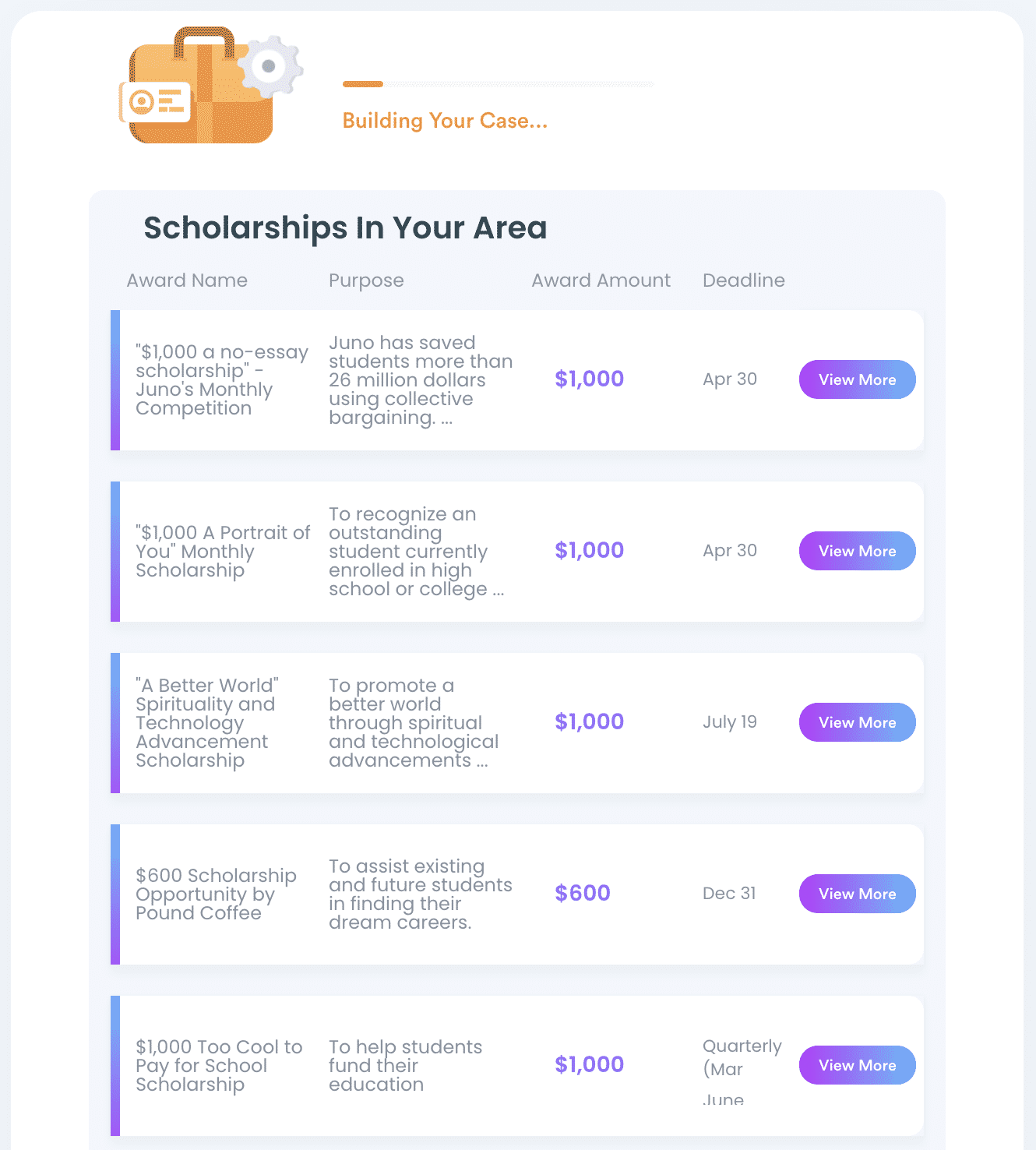 How To Apply for Scholarships for Students With Single Parents
Every scholarship program has its own application guidelines. Always check the scholarship details—deadlines, ideal candidate description, requirements, and application procedure—and prepare all the paperwork in advance. You can find the necessary details on the scholarship or grant provider's website.
Most scholarships require completing an online application form and attaching the following:
The FAFSA
Completed CSS Profile
Academic transcripts
Find and Apply for Scholarships for Children of Single Parents With DoNotPay
If you want to find scholarships and grants tailored to your specific situation in less than five minutes, use DoNotPay. Our AI-powered app maintains an updated database of all the scholarships and grants available countrywide. You will never need to search different sites or miss out on any scholarship opportunity again. Follow these steps to discover all the scholarships for kids of single parents now:
Find the Apply for Scholarships tool
Answer a few questions regarding your education
Besides providing a list of all the scholarships you're a good match for, DoNotPay can also help you apply for no-essay scholarships in a few clicks.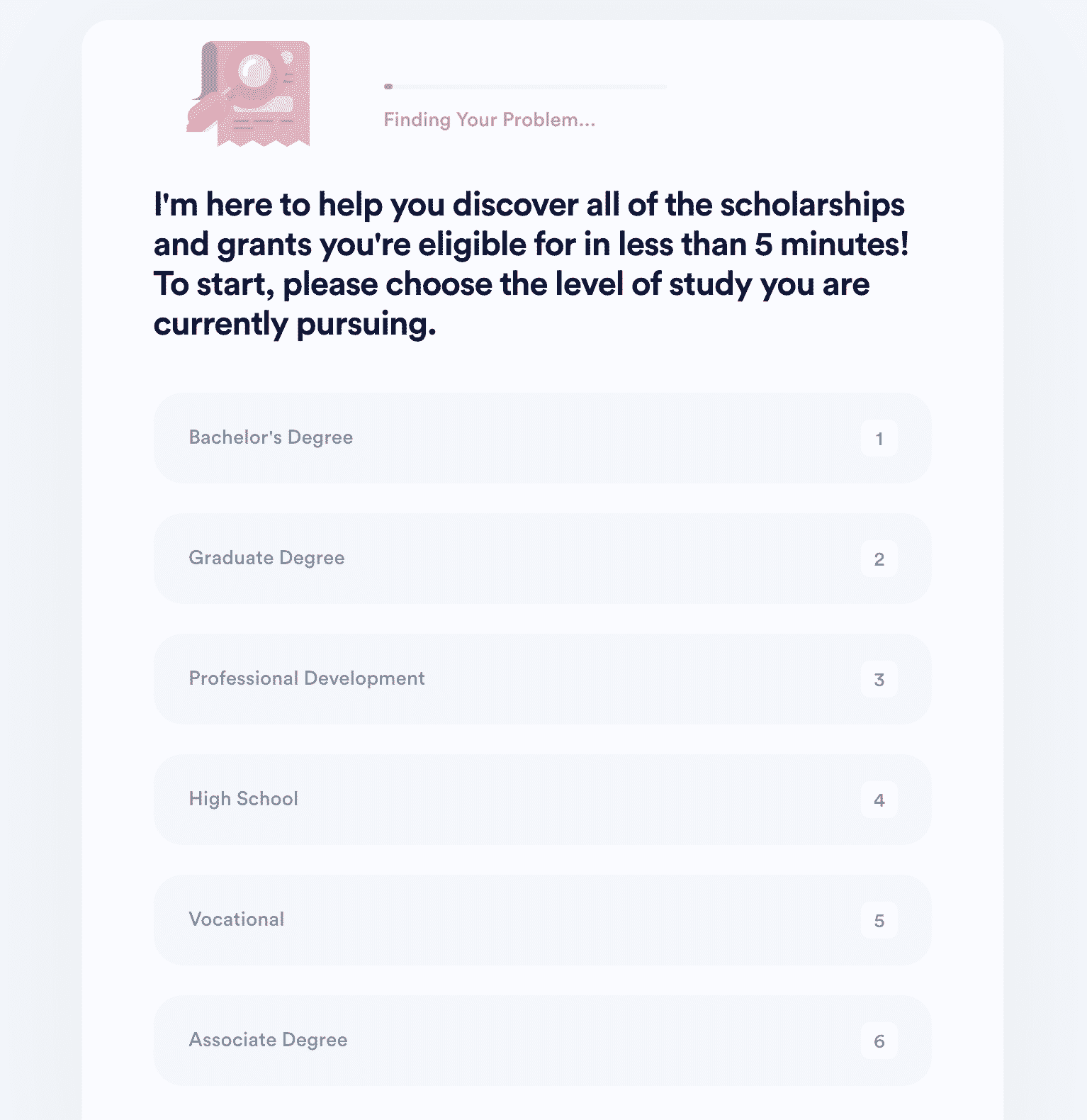 Is Bureaucracy Getting on Your Nerves? We Have a Solution!
We all know that dealing with bureaucracy isn't pleasant, and it often leads to overwhelming frustration. The good news is that DoNotPay has found a workaround! You can now do the following by using our app:
Let DoNotPay Make Your Legal Troubles Disappear!
Drafting contracts and other legal documents isn't a task you should handle on your own. Don't want to spend a fortune on lawyers? That is why DoNotPay—the world's first robot lawyer—is here to take the lead and help you out! Check out the list below to see some of the legal documents that our app can draft for you:
We don't stop there! Cut through the red tape and let DoNotPay assist you in taking anyone to small claims court, getting your documents notarized, submitting anonymous HR complaints, or requesting crime victims' compensation.