Find Out How To Write a Scholarship Essay About Why You Deserve It
A scholarship essay is supposed to back up the rest of the application documentation—such as school transcripts, letters of recommendation, and resumes.
The recurring topic for scholarship essays is Why do you deserve this scholarship? One of the biggest challenges in addressing this subject is presenting yourself in the best light while still sounding humble and appreciative. An additional obstacle is figuring out what the scholarship committee is looking for and how to deliver it. If you don't know how to approach the issue, don't fret!
With this guide, you will learn how to write a scholarship essay about why you deserve it in no time! Whether you're a high school senior or graduate student, you will find out how to submit a flawless essay with your scholarship application!
Why Should You Be Selected for a Scholarship?
Before you start writing, you need to discover your selling points—traits and achievements that make you unique and deserving of the award. Depending on your field of study, your selling points can be:
Being a recipient of highly competitive scholarships
Making a contribution to your high school, college, or community by demonstrating leadership skills and being involved in community service
Overcoming personal struggles, such as:
Once you discover what your selling point is, the rest of the essay will revolve around it. You can also use your selling point to discover scholarships you qualify for with DoNotPay! Whether you are Hispanic, a spouse or child of a veteran, or a woman in a man-dominated field, such as STEM, sign up to find scholarships you qualify for!
How To Answer the "Why Do You Deserve This Scholarship?" Question
Your answer needs to assure the committee that rewarding you is an investment. You should do this by:
Providing the reason you applied for the award ("I wish to research X to help Y, and this award would assist me in achieving that goal," "I want to give back to my family and community by researching X and working on improving Y")
Mentioning other awards you received ("Receiving the X, Y, Z awards enabled me to pursue X degree and participate in Y research projects," "X and Y awards enabled me to study abroad, which was a humbling and insightful experience because of Z" )
Offering insight into your future academic and career plans ("This scholarship will enable me to graduate from X so I can enroll at Y and pursue my dream career as a Z")
Writing about past work experiences, if you have any—employed students are considered more organized and diligent ("My job at Z helped me develop critical thinking and problem-solving skills," "Having to work while pursuing a degree made me a personal project manager in a way because I had to plan my time and stick to the schedule")
Why You Deserve This Scholarship Essay—The Do's and Don'ts
The table below provides tips on what to do and what to avoid when writing a "why you deserve this scholarship" essay:
Do's
Don'ts

Be concise—storytelling is encouraged, but you should avoid going full Shakespeare
Be specific—using general terms when describing your accomplishments won't make you stand out amongst other applicants
Use positive language—even if the circumstances were difficult, focus on how you overcame them
Take a break before you edit your essay—approaching it after some time will give you a fresh perspective and enable you to spot errors and inconsistencies faster
Ask someone else to proofread the essay—mistakes happen, and two pairs of eyes work better than one

Use fluff—focus on the subject and keep the sentences straightforward
Use words like "very" or "really good"—the English language has many alternatives you could use to show off your vocabulary and sound more professional
Victimize yourself—you shouldn't mention your hardships to provoke sympathy but emphasize your problem-solving skills instead
Why Do You Deserve This Scholarship—Essay Example
Here's an essay example you may find useful:
My name is [Name]. I'm a sophomore at [School], with a [grade point average] GPA, studying medicine. My dream is to pursue a career as a military doctor. My specific interest started when I was in kindergarten because of my father who served in the military and got KIA because of the lack of medical personnel. I vowed to serve the army as a military doctor to pay homage to him and to prevent any other child from losing a parent.
My passion was recognized by [Schools] and [Organizations] with [Awards], which helped me enroll at [School]. I've participated in numerous events and seminars, including [Events]. This scholarship would help me achieve [academic and career goals].
DoNotPay Finds Opportunities for Your Essay-Writing Skills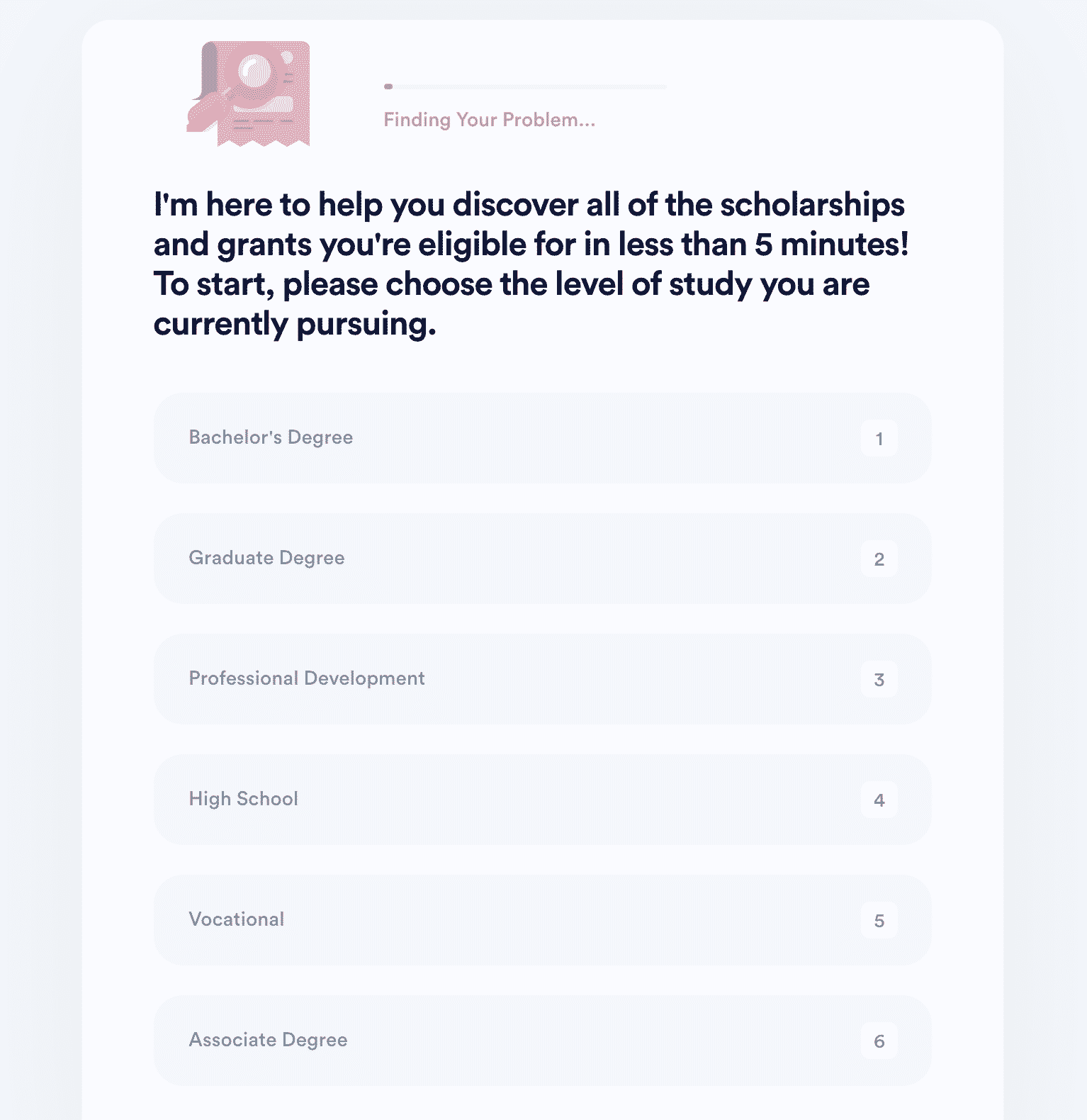 Now that you've mastered the most common scholarship essay topic, you're ready to find scholarships to apply for. If you're not fond of writing, we can also help you find and apply for no-essay scholarships!
With DoNotPay, finding scholarships and grants is a straightforward process that requires only a few minutes of your time. All you need to do is:
Select the Apply for Scholarships product
Tell us about your qualifications
After you complete all steps, you will receive an updated list of scholarships you're an eligible candidate for so you don't miss out on any opportunity! Use your list to compare scholarship requirements and awards and find those that suit you best!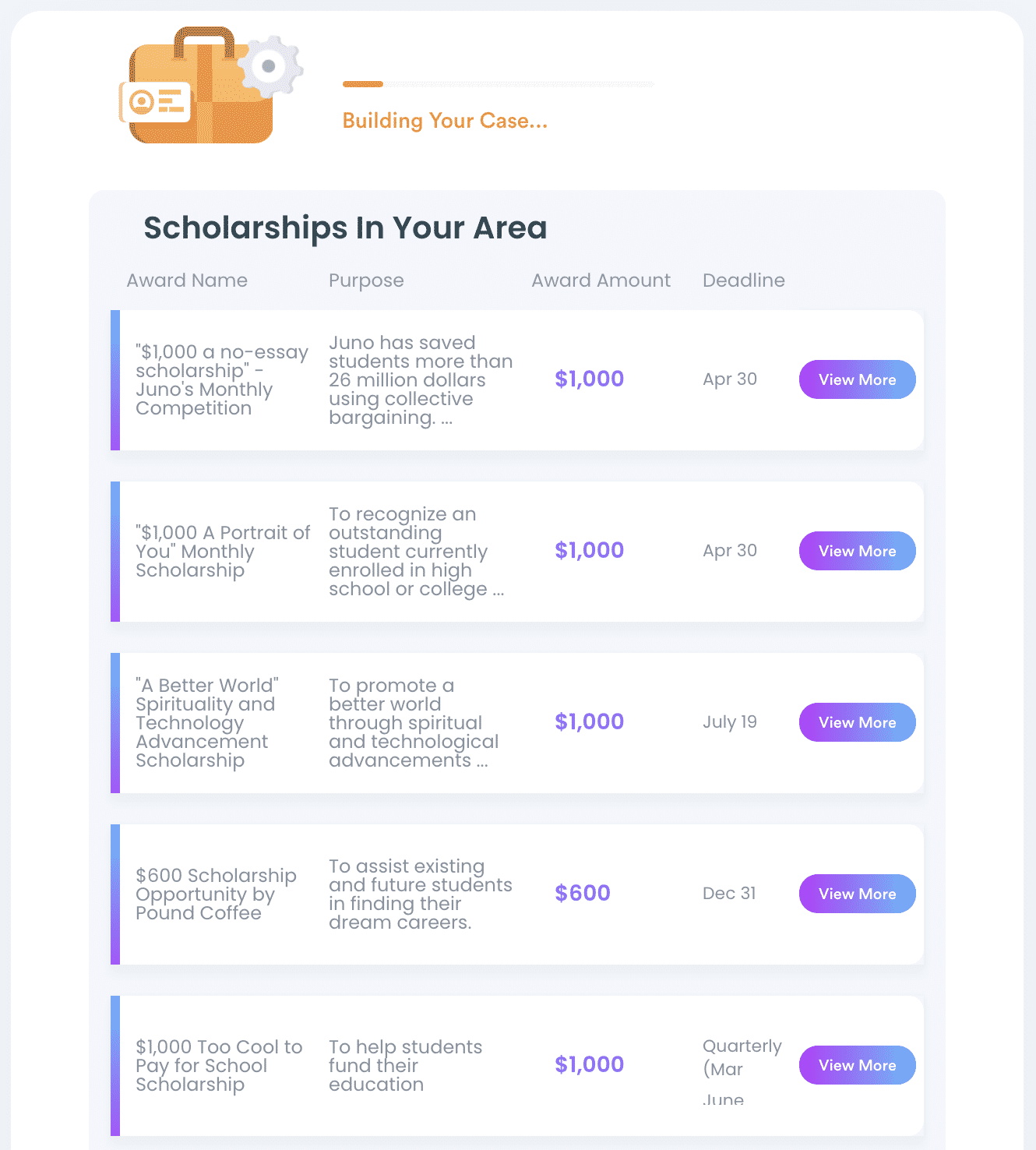 What's Next?
Once you complete the task at hand, you don't have to stop there—we offer a myriad of products that can relieve you of the stress that comes with dealing with admin and legal hurdles.
DoNotPay can assist you in drawing up a divorce settlement agreement, child travel consent form, power of attorney, and other legal documents, contacting government representatives, getting tourist visas, fighting workplace discrimination, getting a burner number, appealing banned accounts, getting access to public records, scheduling a DMV appointment, and much more.
Tackle Any Energy-Draining Task With DoNotPay
With DoNotPay by your side, you don't have to worry about how you'll cover your utility bills at the end of the month—we'll provide swift assistance as soon as you sign up!
Wondering what else our app is capable of? Check out how we can: