Affording Education Made Easy With Scholarships for Moms
If you have children, then you know how parenting can put your life and education on hold. Affording college is a challenging task on its own, but the situation becomes even trickier when you are a mother.
Returning to school as a mom is difficult but not impossible. Fortunately, a plethora of scholarships exists to help women who have children afford college.
To help you resolve your financial hardships, DoNotPay delivers a guide explaining the process of finding and applying for scholarships for moms!
What You Should Know About Scholarships for Mothers
While scholarships created explicitly for mothers exist, they usually fall under either awards for adults returning to school or financial aid for female students. If you're a teenage mom or over 40 years old, don't be discouraged, as there is a scholarship for every student category imaginable.
Here are some ideas to help you understand how you can qualify for more scholarships:
Yours, your spouse's, or your parent's

veteran status

could help you secure more aid
Scholarships for your field of study can provide significant financial relief. Many associations, especially in STEM fields, offer generous financial support to women as they are underrepresented
Every school offers institutional awards, often dedicating a part of available funding to scholarships for moms going back to school
Various scholarships and grants are available for students of different ethnicities
Religious groups, such as Christian, Muslim, or Jewish ones, for example, often offer financial aid for their supporters
Your company might offer support for working moms as well as single parents in the form of scholarships
Where To Find Scholarships for Moms
Before looking for awards elsewhere, call the financial aid consultant at your school to ask about institutional scholarships for moms returning to college.
Other resources that lead moms to scholarships include:
Women's advocacy groups
Federal agencies
Employers

Local communities
How To Apply for a Scholarship for Mothers
Application requirements are different for every award, but most entail that you need to submit a:
For both applications, it's crucial to include your school's federal code. That way, your school receives your request and creates a financial aid package for you.
Some scholarships might require you to put in extra effort and submit additional documentation, such as:
If you don't have the time to bother applying for scholarships that require more work, no-essay ones are an easy way to get additional financial support. Because so many of them are available, keeping track and applying for each can be time-consuming.
That's why you should ! Our app offers a feature that allows you to apply for no-essay scholarships automatically when they appear, saving you precious time and energy!
What Are Some of the Best Scholarships for Moms?
Take a look at the following table to learn about some of the best scholarships for moms:
Scholarship
Who Is This Scholarship For?
The Jeannette Rankin Foundation Scholarship Program
Low-income women over the age of 35 looking to return to college
Society of Women Engineers
Moms attending an ABET or CSAB baccalaureate or accredited graduate program to pursue a career in STEM
The R.O.S.E. Scholarship
Women seeking empowerment and support after surviving abuse or other hardships
The Health Corps Scholarship
Moms interested in earning an undergraduate degree in the following fields:
The AARP Foundation
Mothers who are having family-related issues and financial difficulties that deter them from returning to school
Patsy Takemoto Mink Memorial Scholarship for Low Income Women and Children
Moms with low-income jobs
The Denny's Single Parent Student Scholarship
Mothers with

Hispanic backgrounds

Brookhaven Women in Science
Single moms looking to complete a degree in:

Geology
Chemistry
Physics
DoNotPay Helps Find Scholarships for Moms Going Back to School
From high school seniors to international students and even moms—our app helps students look for extra funding for their education, regardless of age or background.
You receive a list of scholarships created according to your qualifications and preferences. The list updates frequently, so you don't miss out on any opportunities that show up!
The best part is, if you go for a no-essay scholarship, you can apply through our app.
To secure funding that will enable you to complete your degree:
Enter Apply for Scholarships in the search bar
Answer a few brief questions about your field and level of study and any other special circumstances that would make you qualify for scholarships
After completing all steps, your list will be waiting for you to:
Compare scholarship awards
Learn about the requirements of different scholarships
Submit individual applications at your own pace by answering another set of questions for each scholarship you apply for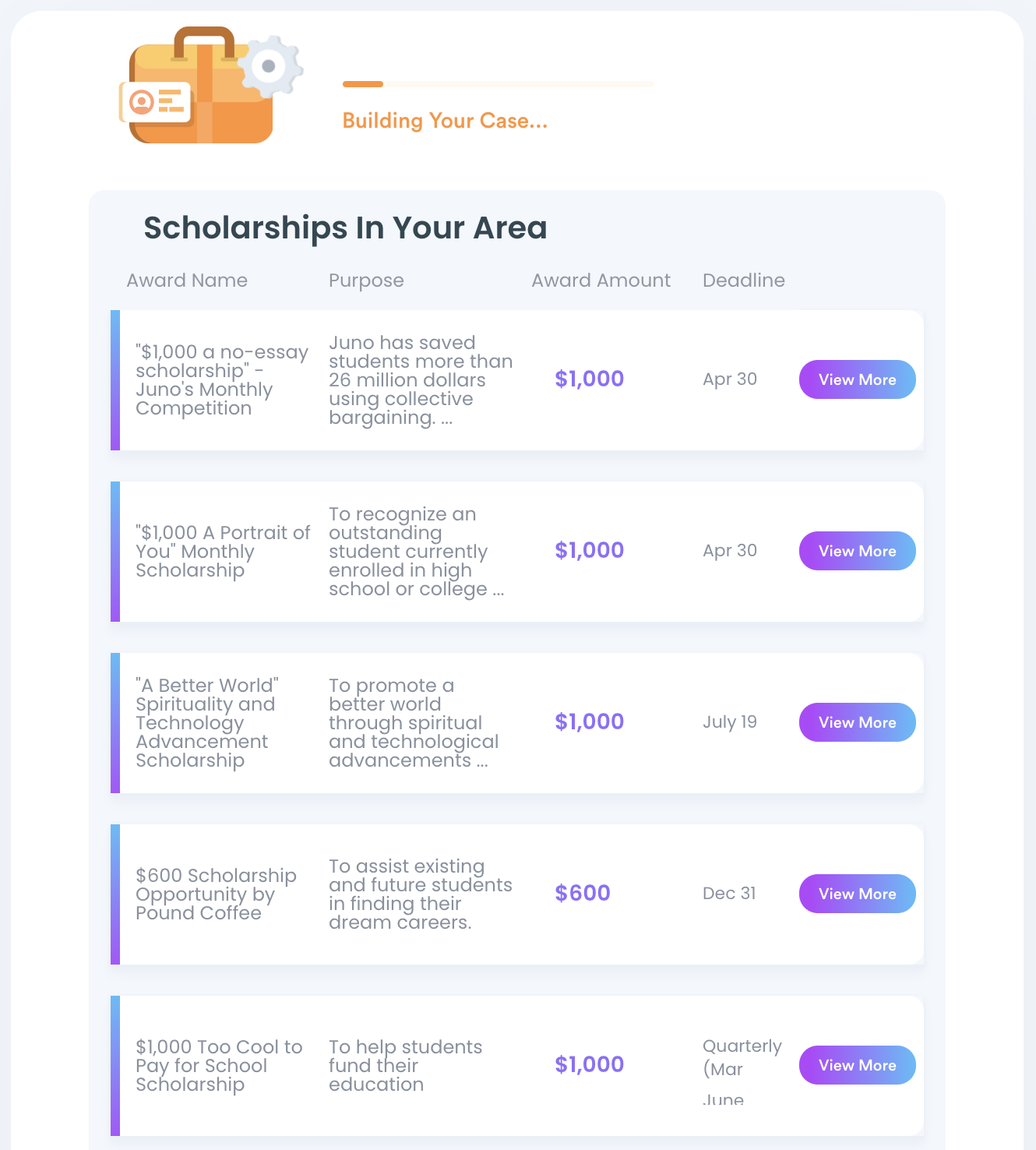 DoNotPay Helps You Run Errands Without Leaving the Comfort of Your Home!
If you're on a tight schedule and you can't afford to spend hours running errands, DoNotPay steps in with a perfect solution! You can skip going to the post office to request an item return or visiting a notary public to get your documents notarized—Our app will help you get it all done without going anywhere!
Visiting your local Walmart to have your passport photo taken is unnecessary since DoNotPay can help you get it at home!
Consult the list below to see what other tasks you can complete using our app:
Unsubscribe From Unwanted Services at Any Time
Companies tend to keep charging their clients monthly subscription fees automatically if they don't end their subscriptions. Stop wasting money on forgotten memberships—DoNotPay will show you how to terminate your subscription in a few clicks!
You can also learn how to sign up for a free trial without getting charged, create a burner phone number or a virtual credit card hassle-free!