A Complete Guide to NC Seatbelt Ticket Insurance Points
Being ejected out of your seat during a car crash is usually fatal. That is why wearing a seatbelt or properly securing a child passenger is important. The government in North Carolina maintains seatbelt laws that you must comply with when using the state's roads. If you violate the laws, you will be issued a seatbelt ticket, which may affect your driving record and insurance points.
This guide will help you understand what the law on NC seatbelt ticket insurance points is and show you how to get a ticket dismissed.
NC Seatbelt Ticket—Insurance Points and Driving License Points
Is a seatbelt ticket a moving violation in NC? No, it is not considered a moving violation, and you cannot get driver's license points for violating the seatbelt laws. If you violate the NC child seatbelt laws, you will get two driver's license points.
Seatbelt tickets also shouldn't affect insurance in North Carolina. According to NC seatbelt laws, you cannot get demerit points or have a raise in your insurance premiums for such violations.
Since insurance providers use a different point system to work out their rates, contact your agent to learn more about your provider's insurance points system before you hit the road.
What Is the NC Seatbelt Law?
The NC seatbelt law is a primary enforcement law. This means that law enforcement officers can stop the vehicle to confirm if the occupants are wearing seatbelts without any other traffic violation.
Here is a summary of the NC adult and children seatbelt laws:
NC Seatbelt Law
NC Child Seatbelt laws

Law enforcement officers can stop a vehicle if the driver and front-seat passengers are not wearing their seatbelts properly
The failure of backseat passengers to wear seatbelts cannot be grounds for stopping a vehicle by law enforcement officers

Children under eight years of age weighing less than 80 pounds must be properly restrained in the appropriate child passenger restraint systems
Children below the age of five and weighing less than 40 pounds should be secured in the back seat if the car has a passenger-side front airbag
A properly adjusted lap belt can suffice for children under eight years weighing between 40 and 80 pounds
What Is the Cost of an NC Seatbelt Ticket?
In NC, the drivers are responsible for themselves and child passengers under sixteen. Any passenger who is sixteen or older can be issued a seatbelt ticket. Below are the costs of a seatbelt ticket in NC:
Drivers and front-seat passengers pay a penalty of $25.50 and court costs of $135.50
Rear seat passengers pay a penalty of $10 without any court costs
For children below sixteen, the driver pays a penalty of up to $25 and court costs of $263
How To Deal With a Seatbelt Ticket
All traffic tickets in NC require a court appearance, but there are different ways you can skip going to court:
Waiving
Disputing the ticket
Requesting online reduction or dismissal
Whichever method you opt to use, make sure to handle this issue by the stated deadline to avoid further consequences.
Waiving
Waiving means paying the penalty and court costs instead of appearing in court to contest the ticket. This means that you are indeed guilty of the offense and accept any consequences—for instance, two DMV points for a child seatbelt law violation.
Here is how you can pay to waive your seatbelt ticket:
Online—You must use a debit or credit card
In person—You can pay in cash or use a debit/credit card, check, or money order to a clerk or magistrate
Mail—You can pay by a certified/cashier's check or money order to the Clerk of Superior Court. Date and sign the waiver part of your ticket and mail it together with the payment to the Clerk of Superior Court as per the instructions on your ticket
Disputing the Ticket
You can dispute the ticket if you want to plead not guilty or you have valid reasons for not wearing a seatbelt. If the officer did not stop the vehicle to confirm if you were wearing a seatbelt or whether a child was properly restrained, you can plead not guilty. If the officer confirmed the offense, you may use valid arguments such as:
Attending to a child's personal needs
Reversing the vehicle
Experiencing an emergency
Your case may also be dismissed if the child is less than four years old and you provide evidence of purchasing a child restraint system after the violation.
What if you don't know how to make a strong argument? DoNotPay—the world's first robot lawyer—can appeal the ticket on your behalf. All you have to do is , and you will be one step closer to getting that seatbelt ticket dismissed.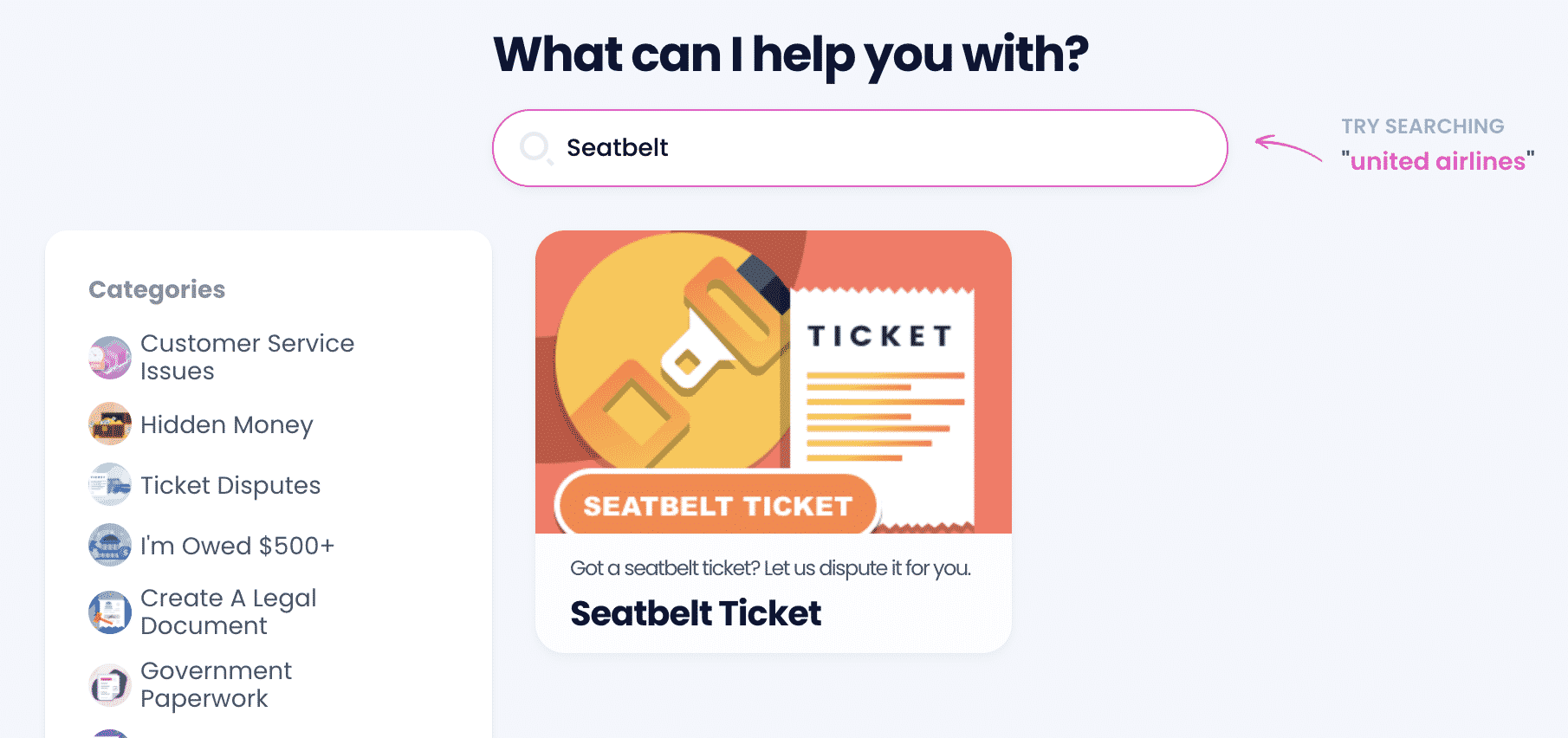 Requesting Online Reduction or Dismissal
Wondering how to get a seatbelt ticket reduced in NC? You will need to request a reduction or dismissal of your ticket from the office of the District Attorney. This is done online, and in certain cases, the office may agree to reduce your offense to a less serious one or dismiss the charges if you provide evidence of correcting the problem since the violation.
Appeal Your Seatbelt Ticket With DoNotPay
How do you know if you have a strong argument to fight a seatbelt ticket? Take the guesswork out of the process by using DoNotPay. We only need a few details to appeal the ticket on your behalf.
To proceed, follow these steps:
and search for Seatbelt Ticket
Tell us who got the ticket—the driver, passenger, or a child
Upload a photo of the ticket
Tell us which argument you'd like us to use
After you hit Submit, DoNotPay will quickly draft a personalized appeal letter and send it to the NC authorities in your stead.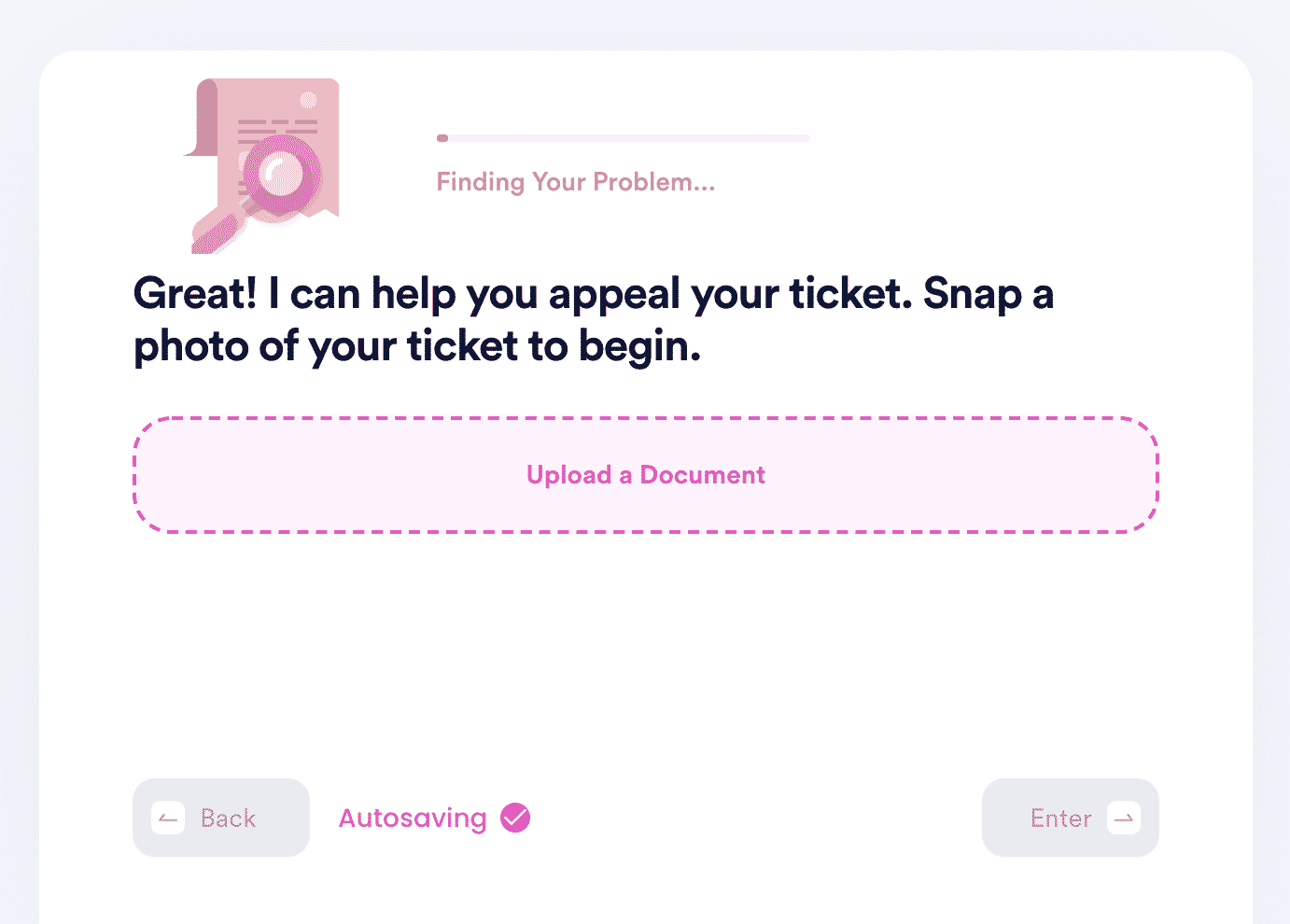 You can also check seatbelt laws applicable in other states below:
Our App Offers Assistance in More Ways Than One
As a multifaceted app, DoNotPay creates solutions to numerous problems. Check out the table below and get to know a fragment of what our app can do:
Use DoNotPay To Streamline Different Tasks
Tick the items off your to-do list faster by signing up for DoNotPay. In record time, you'll be able to request a refund, cancel a subscription, and get a free trial.
If talking on the phone is your worst nightmare, don't worry—you can use our app to schedule a meeting with an online notary, reach customer service with ease, and make a DMV appointment.
Feel free to also rely on our app when you want to prep for government tests, file FOIA requests, or connect with loved ones in prison.