Scholarships for Teachers Put You in the Driver's Seat of Your Career
The initial pandemic months brought the education system to a standstill, but teachers rose up to this challenge like true superheroes! From learning the ropes of online teaching to modifying lesson plans as per current student needs—teachers have delivered against all odds.
Scholarships for teachers and aspiring educators have gained prominence in the post-pandemic world as it helps them develop relevant skills and attract or discover brighter career opportunities.
If you are looking for one, we can help you find all the current and upcoming options for teacher-centric scholarships and grants based on your eligibility!
Scholarships for Current and Aspiring Teachers Explained
The lists of available scholarships can be confusing to navigate if you don't know whether they are meant for you. At present, you can find teaching financial aid under the following four categories:
Grants and scholarships for teachers continuing education
Scholarships for aspiring teachers
Professional development scholarships
Diversity scholarships
Grants and Scholarships for Teachers Continuing Education
If you are a teacher who wants to go back to school to pursue a master's degree or a Ph.D., you should look for grants and scholarships that can cover related expenses. Based on your academic focus, you can receive high-end grad school scholarships to get further education in courses related to:
Science

Political Science

Medicine

Psychology

Engineering
You can also find financial aid options that support vocational educators—like music and art teachers—although they are not as abundant as the mainstream teaching scholarships.
Scholarships for Education Majors and Future Educators
Hundreds of scholarships are launched every year to support students who aspire to be teachers. They can be college scholarships focusing on education as a major, which you can apply for as a high school senior. If you are a teacher undergoing training, you can look for future faculty fellowship schemes or hybrid teaching internships.
If you are an undergraduate or graduate student who needs help paying for college, you should apply for the Teacher Education Assistance for College and Higher Education Grant (TEACH). Under the TEACH program—which is backed by the Free Application for Federal Student Aid (FAFSA)—you can be awarded up to $4,000 annually if you commit to teaching low-income group students.
Teaching Grants and Scholarships for Professional Development
Not all scholarships ask existing teachers to go back to school. You will find many short-term, non-recurring scholarships that focus on the professional development of teachers by helping them:
Stay up to date with changes in teaching and learning tools
Understand innovative modes of classroom transaction
Gain in-depth knowledge of their subject with respect to new developments
Learn how to navigate the latest challenges in the curriculum
Diversity Teacher Scholarships and Grants
It's common for communities to offer scholarships to teachers based on their ethnicities or religious background. There are programs targeting Hispanics, Filipinos, Asians, Muslims, Catholics, and other minorities.
Some scholarships are meant for specific demographic groups, such as:
Transfer students

Disabled students

Veterans
Teachers Grants and Scholarships—Where To Find Them
Cannot find a suitable scholarship on the internet? We can help you out!
We have compiled the four major sources of scholarships and grants for teaching:
Source
Details
U.S. Government
The U.S. government offers several long-term and short-term scholarships for teachers—for example:

Fulbright Distinguished Awards in Teaching Semester Research Program
Fulbright Distinguished Awards in Teaching Short-Term Program
STARTALK

U.S. schools and universities
You can find a variety of scholarships offered by schools and universities in every state in the U.S. To get updates on the programs offered, you need to check the websites and bulletin boards of these educational institutions individually
Immediate employers
Many teachers are sponsored by their employer school or university to pursue post-graduate and higher programs—you can ask your work supervisors to check if you qualify for an educational sponsorship
International organizations
International organizations, like World Bank and International Education Financial Aid (IEFA), also offer a bunch of scholarships and grants meant for teachers
If you feel overwhelmed at the thought of scouring multiple sources for scholarships, DoNotPay can be a lifesaver. Our AI-powered scholarship finder gives you a complete list of all the scholarships you're eligible for in under five minutes.
to start applying today!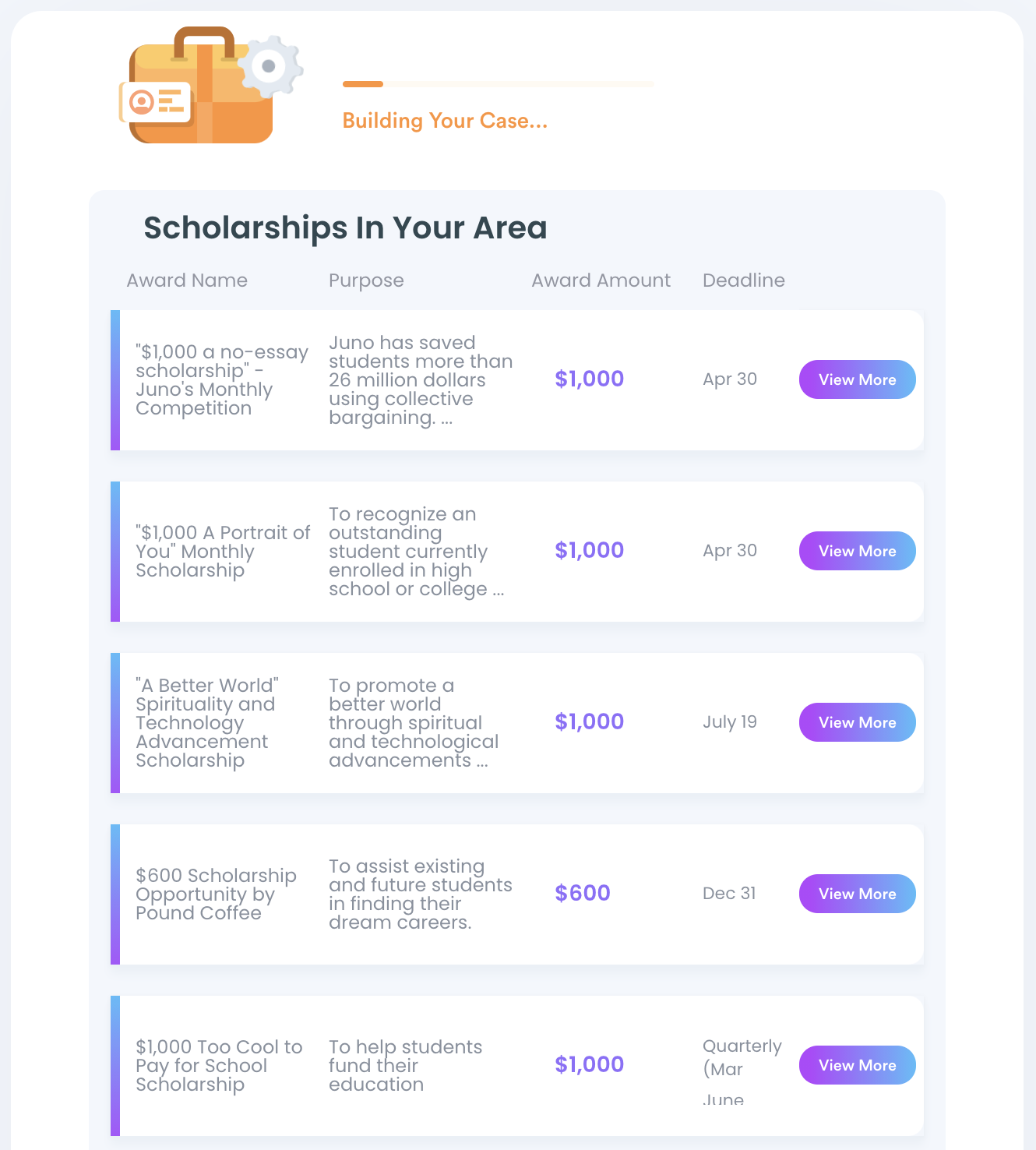 Scholarships for Teaching—Credential Requirements You Should Know Before Applying
Most teaching scholarships carry considerably large sums, but you need to fulfill certain criteria to apply. Here are some common credentials that you may need to gather:
Not Sure How To Apply? DoNotPay Makes the Process Easier for You
Finding and applying for scholarships is a cumbersome task for busy students and professionals. If it's not feasible for you to spend hours keeping track of scholarships, let DoNotPay handle it for you.
We can tell you what financial aid options fit your criteria and also automate the application process for scholarships that don't require essay submissions!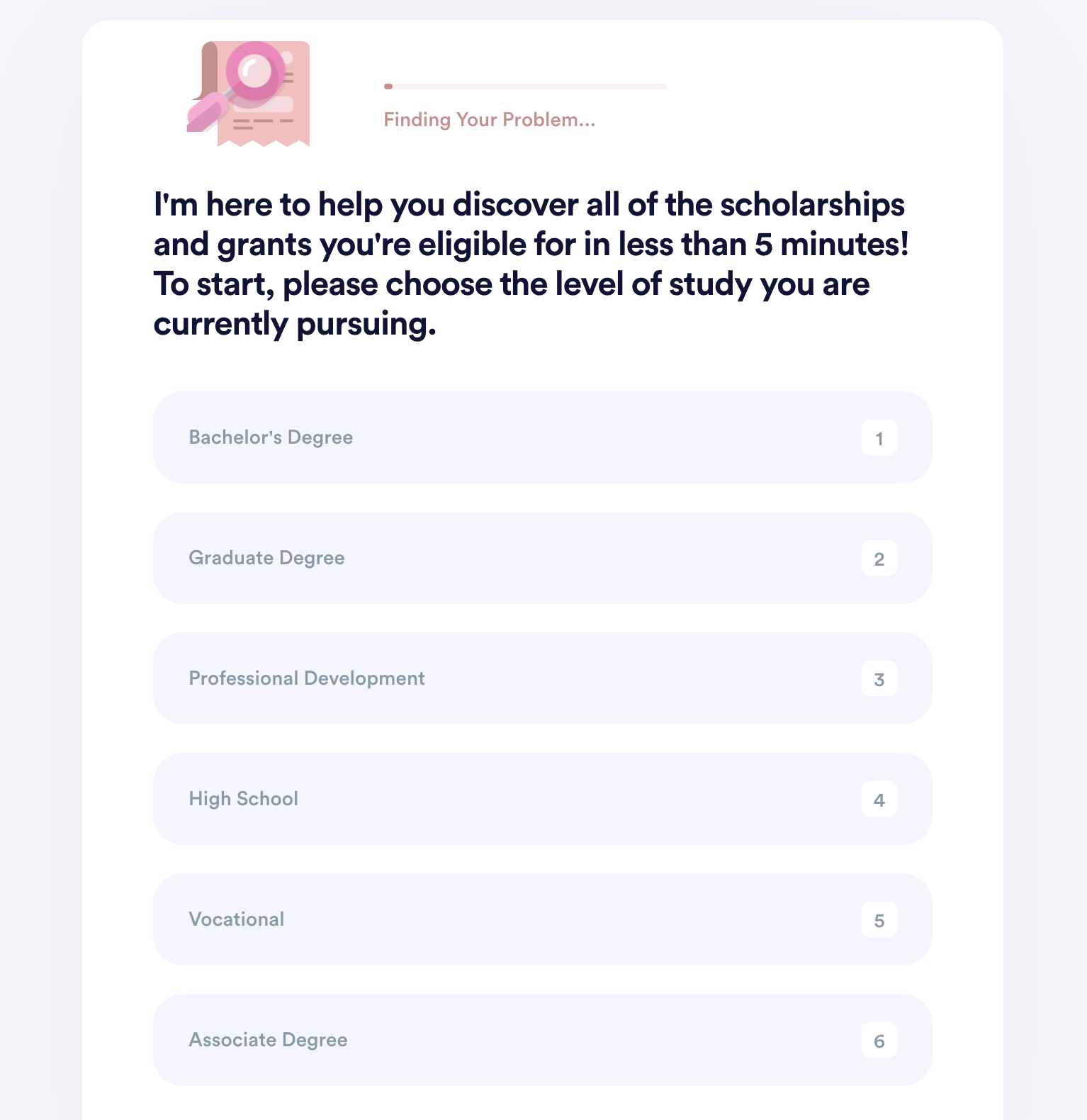 To use our convenient services, you need to and do this:
Search for Apply for Scholarships
Fill out the questionnaire with your interests, grades, profession, location, or other
Choose between View and Automatic Application
If you select View, we will display every active scholarship for you to explore. Upon selecting Automatic Application, we will curate a list of all no-essay scholarships that you qualify for. You can select the ones you like, and we will use your details to send a direct application!
You will get a confirmation email from us with the list of all the scholarships we have applied for on your behalf.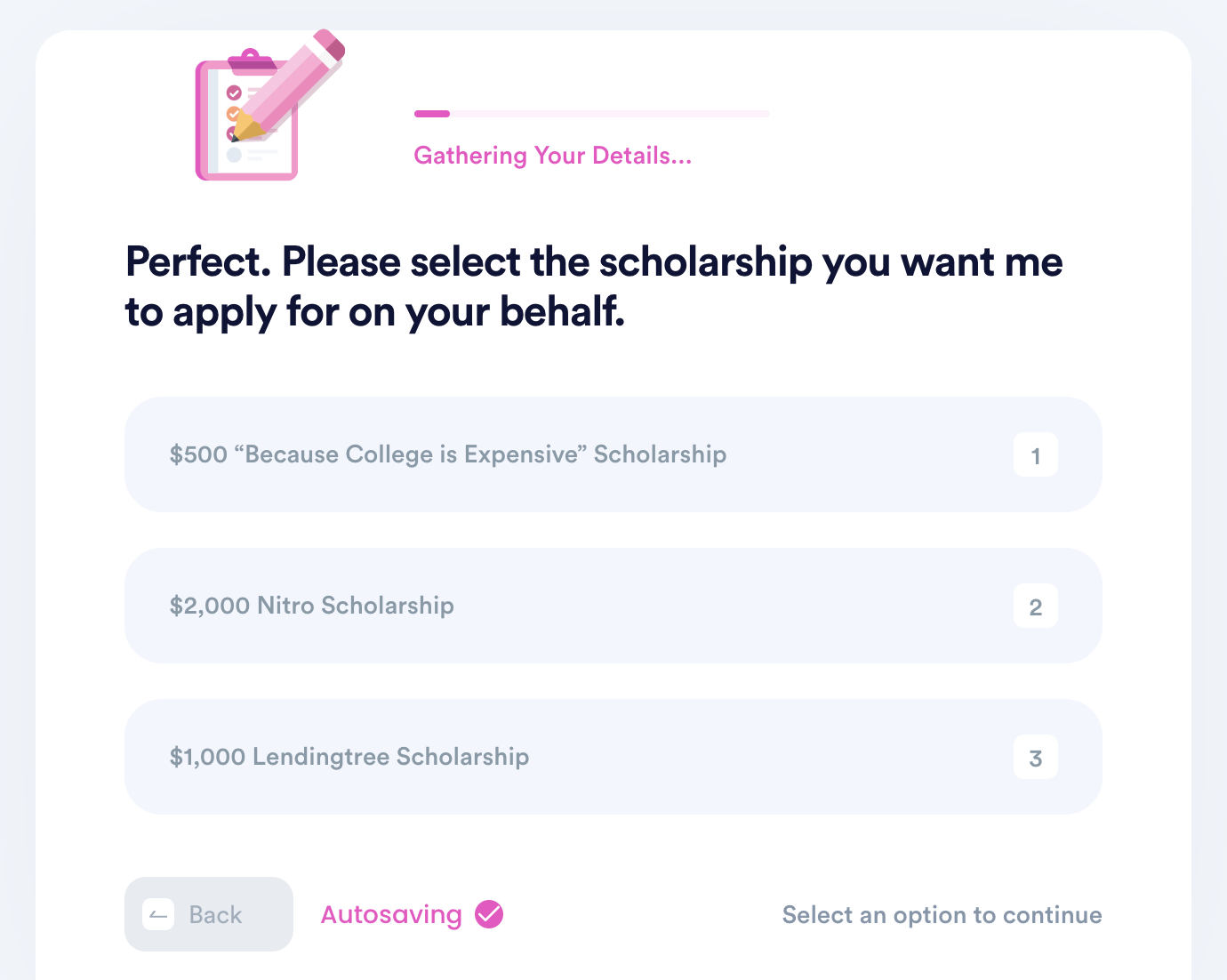 Since new scholarships are launched every few days, use our search tool regularly to ensure you don't miss out on opportunities tailor-made for you!
Save Time With DoNotPay
DoNotPay is not done helping you! We offer you assistance in completing a variety of tasks quickly and efficiently, such as:
Canceling Subscriptions Has Never Been Easier!
If you keep getting charged a monthly subscription fee even though you no longer want to use a certain service, don't let your money go to waste! Some companies tend to renew your subscription automatically, but that doesn't mean you have to put up with it—use our app to terminate your membership or subscription in a few clicks!
Do you want to sign up for free trials and create a virtual credit card or a burner phone number to protect your sensitive info? Once you subscribe to DoNotPay, we will walk you through the process of doing all of the above in no time!
You can also count on our assistance if you need to get rid of spam or robocalls.