Discover and Get the Best Scholarships for Police Officers
The employment of law enforcement officers is projected to grow by 5% between 2019 and 2029, which is higher than the average for other occupations. To fulfill this demand, the country needs educated people to join the force.
If you want to take up this noble profession, you should look into the best ways to finance it. DoNotPay will help you find and apply for scholarships for police officers!
Do Police Officers Need a College Degree?
While some police departments ask only for a high school diploma or a GED certificate, a degree can help you get an advantage. You can also receive a bonus if you pursue higher education.
Around 30% of police officers in the United States have a four-year college degree, and that number is expected to go up. For that reason, there are more opportunities for men and women interested in this position to get college or graduate scholarships. Whether you are an employed individual wanting to boost your resume with a degree or a high school student, you can finance your education with gift aid.
What Types of Scholarships for Police Officers Are There?
Various organizations, foundations, and government institutions provide funds for current or future police officers pursuing a degree. You should direct your attention to scholarships that match your situation.
The main categories you can look into are:
Prospective police officers
Children of police officers
Active police officers
Police officers' daughters
Police officers returning to school
You can also look for financial aid that is more specific. If you focus on the characteristics that separate you from others—such as being a minority or a homeschooled student—you can apply for specialized scholarships.
Scholarships for Prospective Police Officers
If you are a high school student who wants to pursue a career in law enforcement, check out these funding options:
The Sheryl A. Horak Law Enforcement Explorer Memorial Scholarship
The National Organization of Black Law Enforcement Executives
The O'Grady-Brown Memorial Scholarship Fund
Scholarships for Children of Police Officers
As a child of a former or current police officer, you get to apply for special scholarships designed to support people like you. Here are a few examples of such scholarships:
Electronic Security Association's Youth Scholarship Program—For children of active-duty police officers
The Federal Law Enforcement Officers Association (FLEOA) Foundation Scholarship—For children of current, retired, or deceased members of the FLEOA
Wives Behind the Badge Law Enforcement Children's Scholarship Program—For children of law enforcement officers
Scholarships for Active Police Officers
Are you a sworn police officer seeking an educational upgrade? You can consider the following:
John H. Stamler Memorial Scholarship
Relgalf Scholarship for Current Police Officers
Scholarships for Police Officers Returning to School
To support returning students to complete their educational journey, some foundations give awards through programs such as:
Return2College Scholarship
The American Association of University Women (AAUW) Return to Learning Scholarships
Other Scholarships
To expand your options, think about what other categories you fall into.
The table below can give you some ideas on the different types of scholarships that may be available to you:
How To Find the Best Law Enforcement College Scholarships
Many prospective students struggle with finding scholarships. The sources and requirements that make you an eligible candidate are many. The best way to start your research is to turn to these sources:
Local police departments
Police fraternities
State and city agencies
Internet
Is the mere thought of spending hours on research giving you a headache? Try the DoNotPay app. Open your account and answer a few questions, and you'll get a custom-made list of scholarships and grants within minutes. Speed up the application some more by sending requests for no-essay scholarships within the app.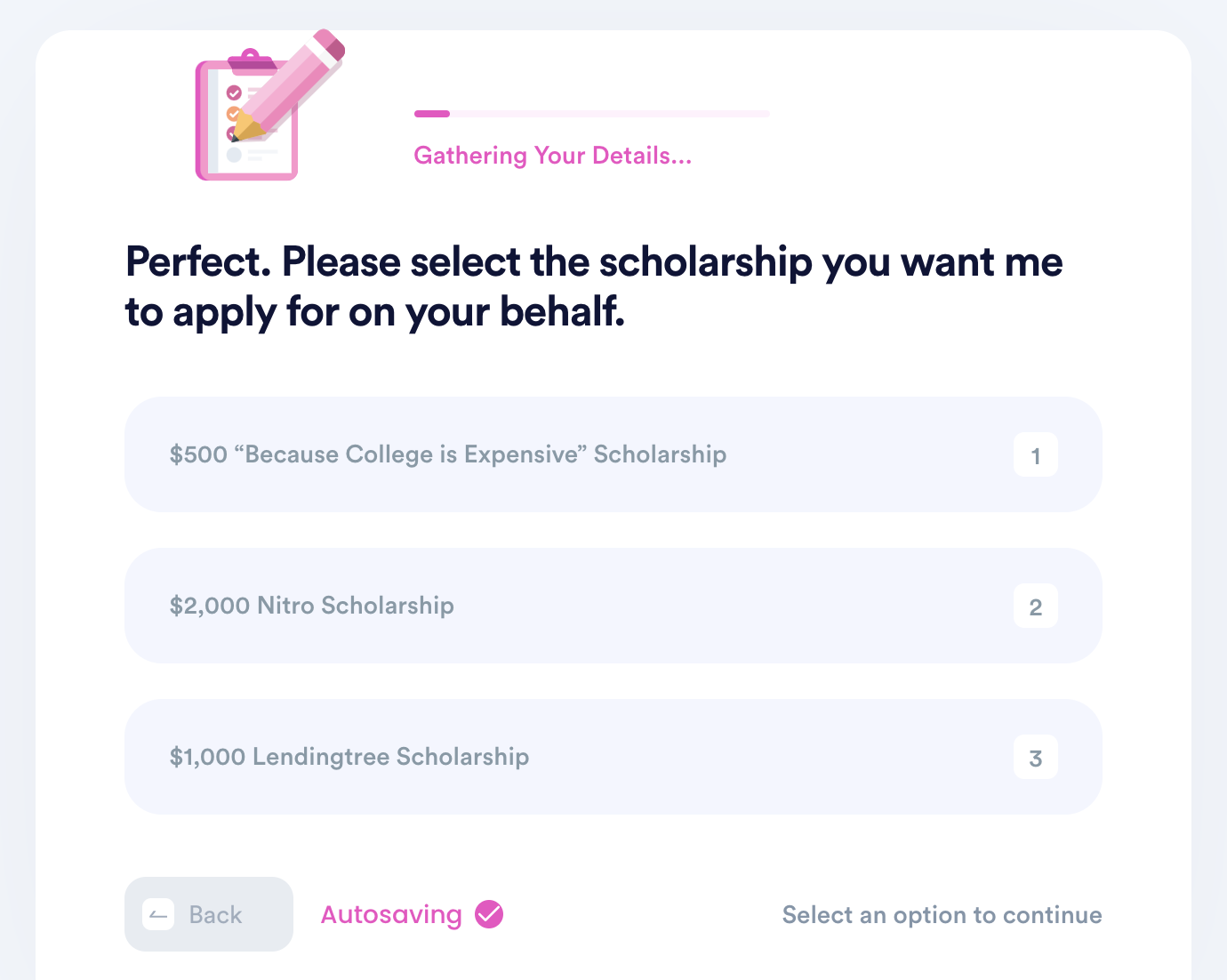 How To Apply for Scholarships for Police Officers
To secure yourself enough funds to cover your education expenses, you need to apply for every scholarship you're eligible for. Check what each foundation or organization demands and follow those steps.
The process can differ depending on the issuer, but you usually have to:
DoNotPay—The Easiest Path to Scholarships for Police Officers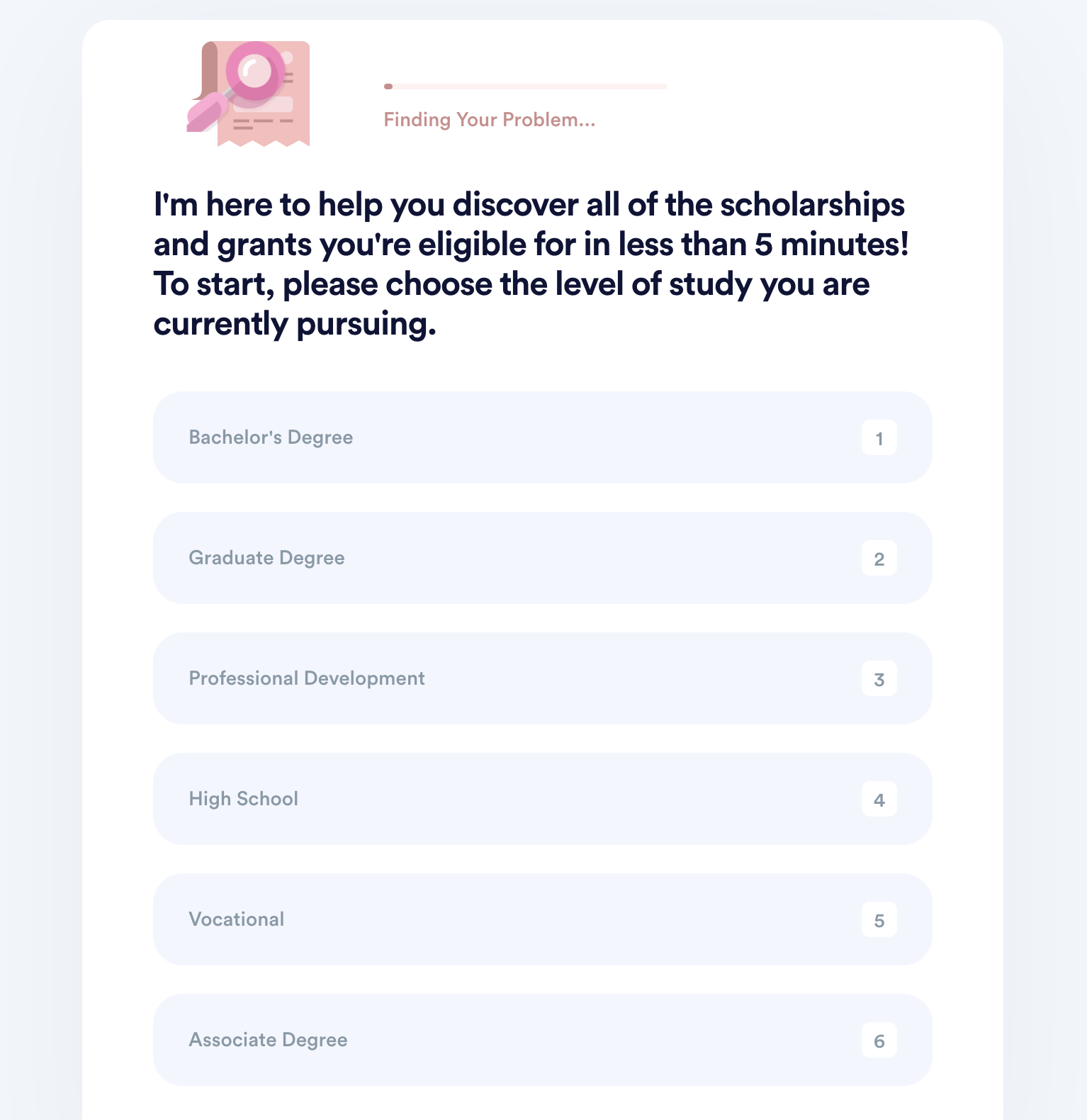 Do you wish to discover and apply for scholarships in a couple of minutes? DoNotPay is your best bet for not missing any available aid.
We will tailor the list based on your level of education, academic interests, types of scholarships you want, and more. All you need to do is create a DoNotPay account and:
Select the Apply for Scholarships product
Fill in a simple questionnaire
Apply for scholarships
Administrative Issues? We Don't Know Them!
Forget about getting frustrated and overwhelmed by the administrative tasks waiting for you to complete them! With DoNotPay's numerous tools, you can easily resolve such tasks in a heartbeat! All you need to do is sign up for our app, and you'll be able to:
Use DoNotPay To Protect Yourself at All Times
Are pesky robocalls and email spammers working your last nerve? Don't despair—we are happy to help you get rid of them! In a few clicks, you can also stop text spam and avoid the incessant phone buzzing!
You can use our app to protect your privacy by creating burner phone numbers and virtual credit cards. That way, you don't have to disclose personal info when subscribing to online services.
In case you're looking for a way to keep yourself safe from stalkers or work discrimination, we'll help you report the case and walk you through the entire process!
Protecting your work from copyright violation and asking for violent crime compensation in your stead is also something DoNotPay can do!