Learn All About Scholarships for Homeschoolers
Going to college is a big transition for every homeschooler. Besides getting used to a more hectic learning environment, students and parents need to prepare for sky-high education expenses.
The cost of tuition, accommodation, food, allowance, and similar can amount to a head-spinning number. What can help you handle that financial burden is applying for scholarships for homeschoolers.
This type of aid doesn't need to be repaid, so you won't have to stress about getting into debt. The key to relieving the financial stress is finding the right scholarships—and DoNotPay will help you with that!
Get the scoop on financial assistance for homeschooled students and learn how you can discover and receive gift aid.
Can Homeschooled Students Get Scholarships?
With up to 4% of the school-going population being homeschooled, the government made sure that they get the same opportunities as other students. If they follow the required steps for national, federal, state, or college-specific scholarships, they will be eligible for funds provided by these institutions.
As a homeschooled student, you can also look into private aid programs offered by:
Companies
Organizations
Foundations
Philanthropists
These issuers may have additional aid criteria that you need to meet.
Your non-traditional education can work in your favor because you have a chance to get scholarships designed for students in your situation. The competition for general government aid programs is high, so applying for specialized scholarships for homeschoolers can help you collect enough funds for your studies.
Top College Scholarships for Homeschoolers
When you complete the Free Application for Federal Student Aid (FAFSA) form and send your application to certain colleges, you become a candidate for some federal and university-specific scholarships automatically. This is only the first step to securing financial aid.
Review some of the most notable college scholarships for homeschoolers in the table below:
The Name of the Scholarship
Maximum Amount
Requirements
HOPE Scholarship Program for Homeschooled Students
$3,000 plus a $150 book allowance per semester

Be homeschooled
Show academic excellence
Enroll or attend a school in:

The University System of Georgia
The Technical College System of Georgia
HOPE eligible college or university system

Get at least a 3.0 GPA in the freshman year

Mason Lighthouse Scholarship
$1,000

Be homeschooled for all four years of high school
Plan to enroll in a college or university in the fall
Exhibit involvement in your community, church, and/or homeschooling organizations

Homeschooler's Support Association Scholarship
$1,000

Be a Washington State resident
Be a member of the Washington Homeschool Organization
Plan on enrolling in a four-year educational program

Craig Dickinson Memorial Scholarship
$1,000

Be homeschooled for at least two years of high school
Show academic excellence
Plan to enroll in a college or university in the fall

The Sandra Hancock Scholarship by the Home Education Recognition Organization (HERO)
$500

Be homeschooled for all four years of high school
Plan to enroll in a college or university in the fall
Provide an autobiography that exemplifies the advantages of home education
Other Scholarship Opportunities
Diversify your options by looking beyond your homeschooling situation. There are other characteristics that define you, and you can get more funds based on them. The following examples of different scholarship categories may inspire you to think outside the box:
How To Find Suitable Scholarships for Homeschoolers
Without a high school guidance department to direct your search, finding scholarships can be a challenging task. For your research to be effective, you should turn to as many sources as you can. To get started, you should:
Contact financial aid offices at colleges of your choice
Get in touch with your local community organizations
Ask about aid opportunities at your church—There are special scholarships for Muslims, Christians, Catholics, and similar
Check if your parents' employers provide any aid opportunities
Search online for homeschool scholarships
Want a faster and simpler solution? Open a DoNotPay account. Spare a few minutes to answer some basic questions about your education status, and you'll get a custom-made list of all scholarships and grants that you qualify for.
Do you want to apply for some no-essay scholarships? No problem—with the DoNotPay app, you can send your request in a jiffy.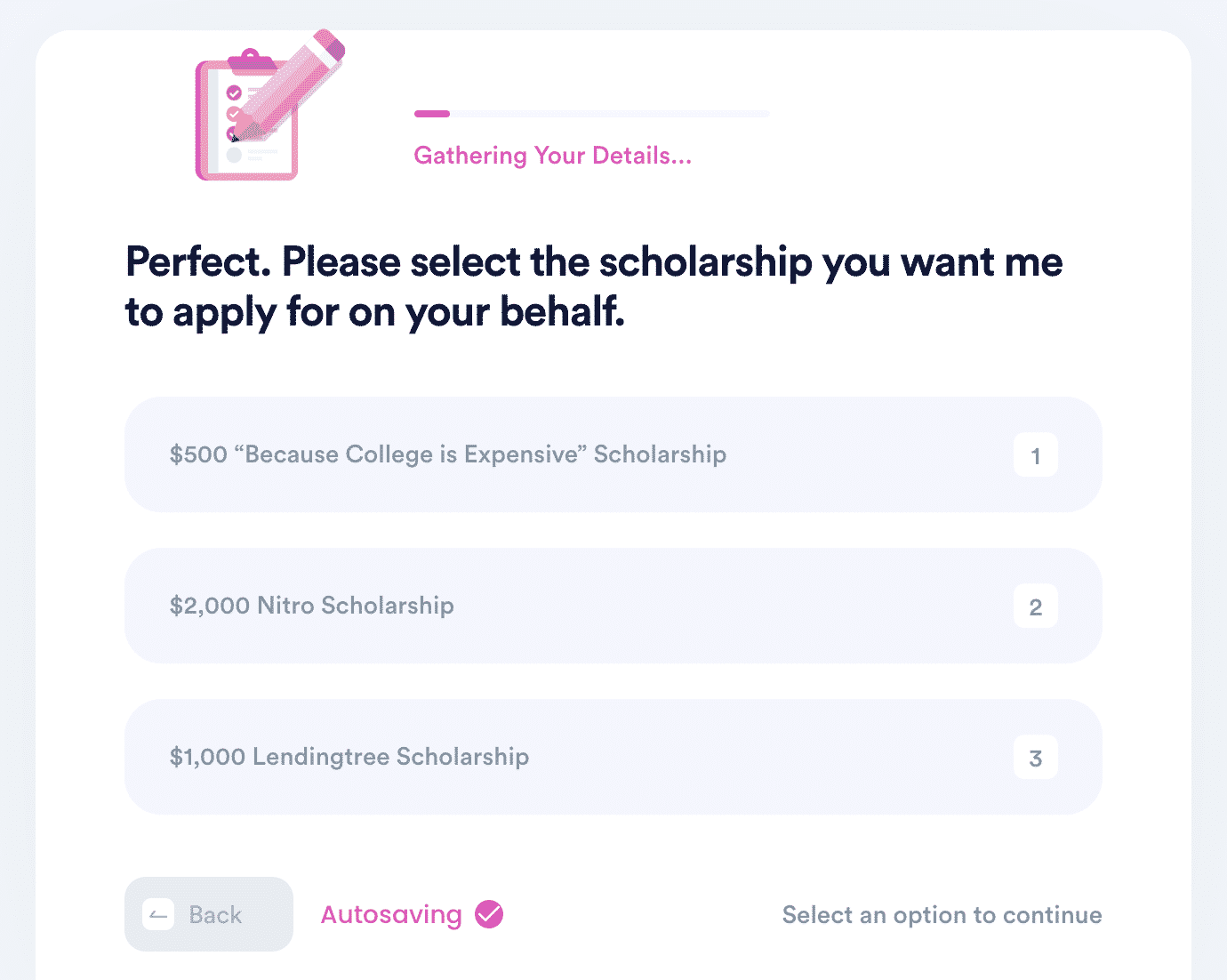 Applying for a Scholarship for Homeschoolers—What You Need To Know
The scholarship application process for homeschoolers is no different from the one for other students. You need to revise the requirements for every aid program you want to apply for and follow the directions.
The general steps for the majority of scholarships are as follows:
Fill out the FAFSA
Complete the College Scholarship Service (CSS) Profile
Submit the necessary paperwork to the Institutional Documentation Service (IDOC)
Write a scholarship essay
Ask your parent to write you a letter of recommendation
Make sure to check if the programs you are after demand all of this. For example, some states or colleges don't use the IDOC College Board.
DoNotPay Is a Quick Solution to a Long Scholarship Application Procedure
High school seniors or undergraduates looking for college scholarships don't need to struggle with research anymore—DoNotPay is here to help. We will have the best financial aid options ready for you to revise in an instant. All you need to do is:
Search and click on the Apply for Scholarships feature
Fill out the questionnaire
If you plan to pursue a graduate degree as well, you can rely on DoNotPay to discover scholarships programs that will cover parts of the tuition.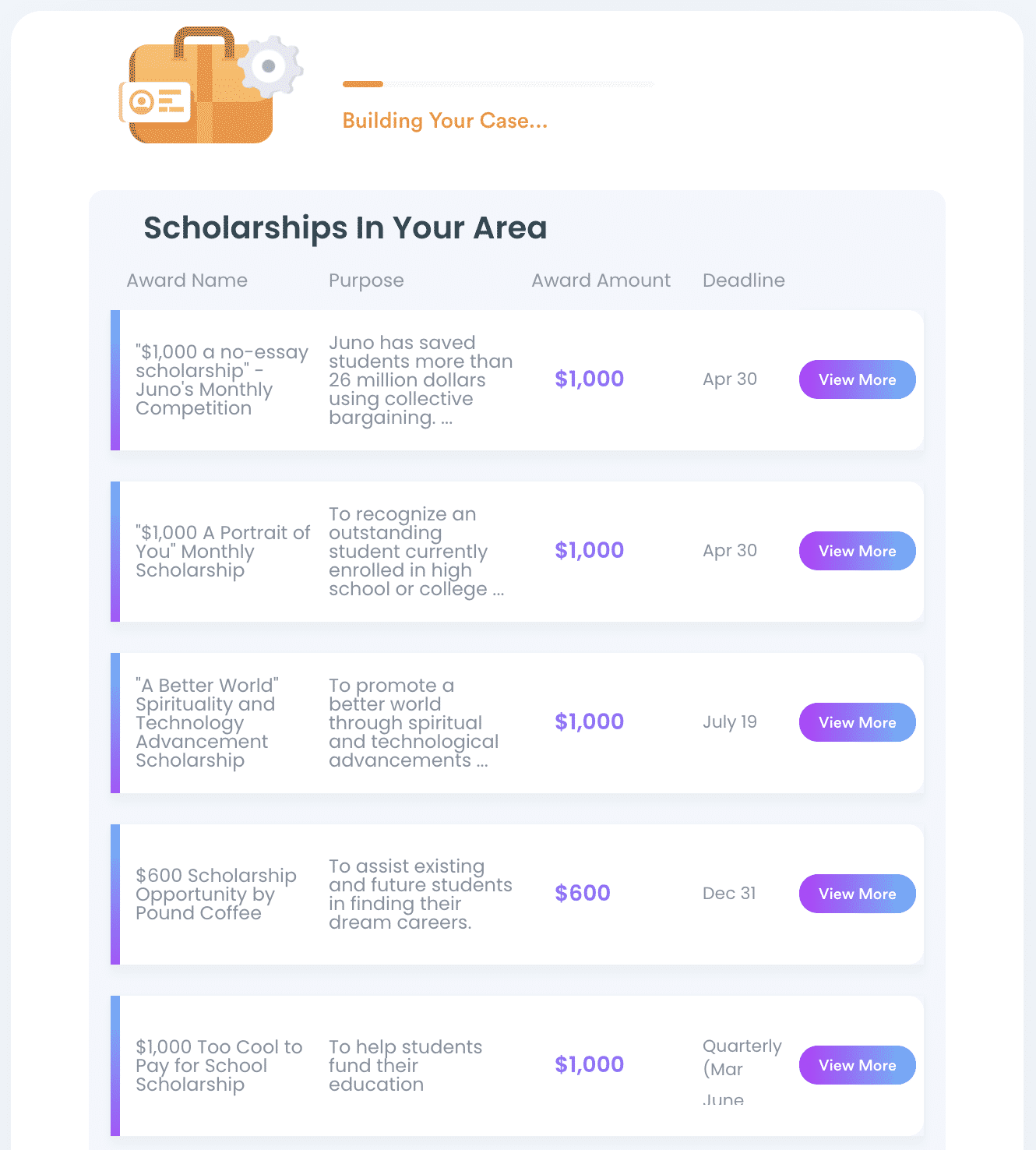 Managing Everyday Tasks With DoNotPay Is a Breeze
Completing mundane tasks doesn't have to be a nightmare! With our help, you can relax and finish them in a few taps! All you need to do is register for DoNotPay and let us help you with:
Have Your Documents Drafted and Notarized With Our Help!
If you need to draft a legal document, such as a divorce settlement agreement, power of attorney, or a child consent form, hiring a lawyer to assist you is probably the first thing that comes to mind. What if we told you that spending hundreds of dollars on legal services is unnecessary? Not only can DoNotPay draft contracts and agreements in a few minutes, but it is also your most affordable and effortless option!
The benefits our app provides don't stop there! After we generate your document, we'll connect you with a remote notary and show you how to get it notarized online without leaving the comfort of your home! You can even fax the document online and skip dealing with outdated fax machines.