A Rundown on Scholarships for Male Nurses
Due to a critical nationwide shortage of nurses, many organizations and institutions in the U.S. are doing everything they can to encourage more students to pursue a nursing career. Scholarships for nursing students of all levels—from undergraduate to graduate and professional—are essential for nursing students, especially as the expense of college continues to rise.
Unlike women, men are less likely to select nursing as a career, but generous scholarships for male nurses might make them reconsider.
How To Find Male Nursing Scholarships
Scholarships for male nurses are provided by:
Federal and state governments
Colleges and universities
Professional nursing organizations
The United States Military
You can look for male nursing scholarships by contacting all four sources directly or entering scholarships for male nurses into your favorite search engine. Both methods will require patience and enough free time.
Male high school seniors interested in obtaining a nursing degree should know that male-only nursing scholarships are not their only option. Many scholarships are available to minorities of all genders, such as:
If you're a male student wishing to apply for a nursing scholarship but you're too busy or don't want to take this difficult task upon yourself, don't worry—there is another solution. Sign up for DoNotPay and leave everything to us. We will match you with all scholarships you qualify for within minutes.
How To Apply for a Scholarship for Male Nurses
Nowadays, applications for most scholarships are submitted online. If you are applying for a federal scholarship or grant, you will have to fill out the Free Application for Federal Student Aid (FAFSA). The financial aid offer you receive depends on the financial information you provide in the FAFSA.
Filling out online forms is not enough to apply for most scholarships, including the ones for male nurses. In most cases, you are required to submit the following documents:
The official transcript of your grades
Your GPA score
A short scholarship essay
A resume
Each scholarship has its own requirements and deadlines you should check before applying.
Who Can Apply for Scholarships for Male Nurses?
Here are some general eligibility requirements for male students wishing to apply for a nursing scholarship:
Boasting good academic standing at the time of application
Being enrolled full-time in a nursing program
Possessing a nursing license
Residing in the U.S. legally
Consider joining one of the professional nursing organizations as many of them offer financial aid for student members. If you are an international student, keep in mind that you won't be able to apply for male nursing scholarships.
What Are Some of the Best Scholarships for Male Nursing Students?
The most visible organization advocating for men in nursing in the U.S. is the American Association for Men in Nursing (AAMN). The best scholarships for male nurses administered by this and some other organizations are listed in the table below:
| Scholarships | Award Amount | Who Can Apply? |
| --- | --- | --- |
| Men in Nursing Scholarship Award | Varies | Male members of the Great Nurse Foundation who are enrolled in a nursing school |
| Breaking Barriers: Scholarship for Men in Nursing | $500 | Men enrolled in an accredited nursing program, having a grade point average of at least 3.5 |
| AAMN Foundation Student Nurse Essay Content | $500–$1,000 | Graduate and undergraduate nursing students who are AAMN members and study in an accredited program |
| Army Nurse Corps Association Scholarships | $3,000 | Students who have served or are currently serving in the U.S. Army and are enrolled in accredited undergraduate or graduate nursing programs |
| Foundation of the National Student Nurses Association (FNSNA) Scholarships | Up to $7,500 per year | Enrolled undergraduate nursing students all across the U.S. |
| National Black Nurses Association, Inc. Scholarships | $1,000 to $5,000 | Students identifying as black who are members of the National Black Nurses Association (NBNA). They must be enrolled in an accredited nursing school and be in good academic standing |
| Philippine Nurses Association of America Scholarship | $1,00 | Graduate students working toward a master's or doctoral degree in nursing. They must be members of the Philippine Nurses Association of America, Inc., and have a GPA of at least 3.0 |
| Hector Gonzalez Past Presidents Scholarship | $2,000 | Students enrolled in a two-year associate degree in nursing |
Find the Best Scholarships for Male Nurses With DoNotPay
Why lose hours or days on finding the right scholarship when DoNotPay can do it in minutes? Make your life easier, and leave the scholarship search to us.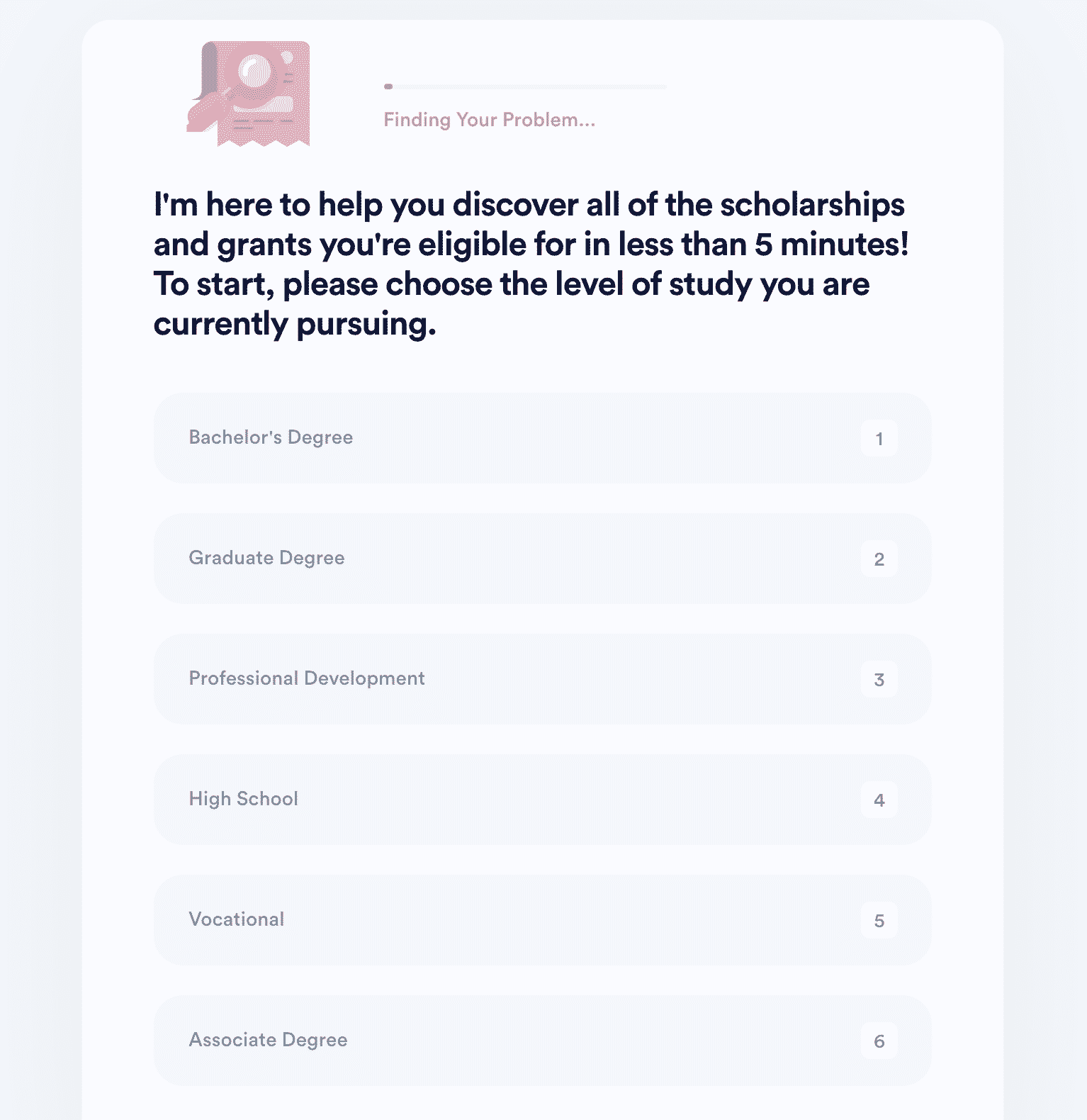 The following steps will get you your custom-made list:
Find the Apply for Scholarships feature
Answer a couple of questions regarding your:

Current level of study
Educational interests
Special qualifications (for example, veteran status)

Click on the Submit button
If you're interested in a no-essay scholarship, you can apply within our app. It will take a few seconds and a few clicks for the application to be sent.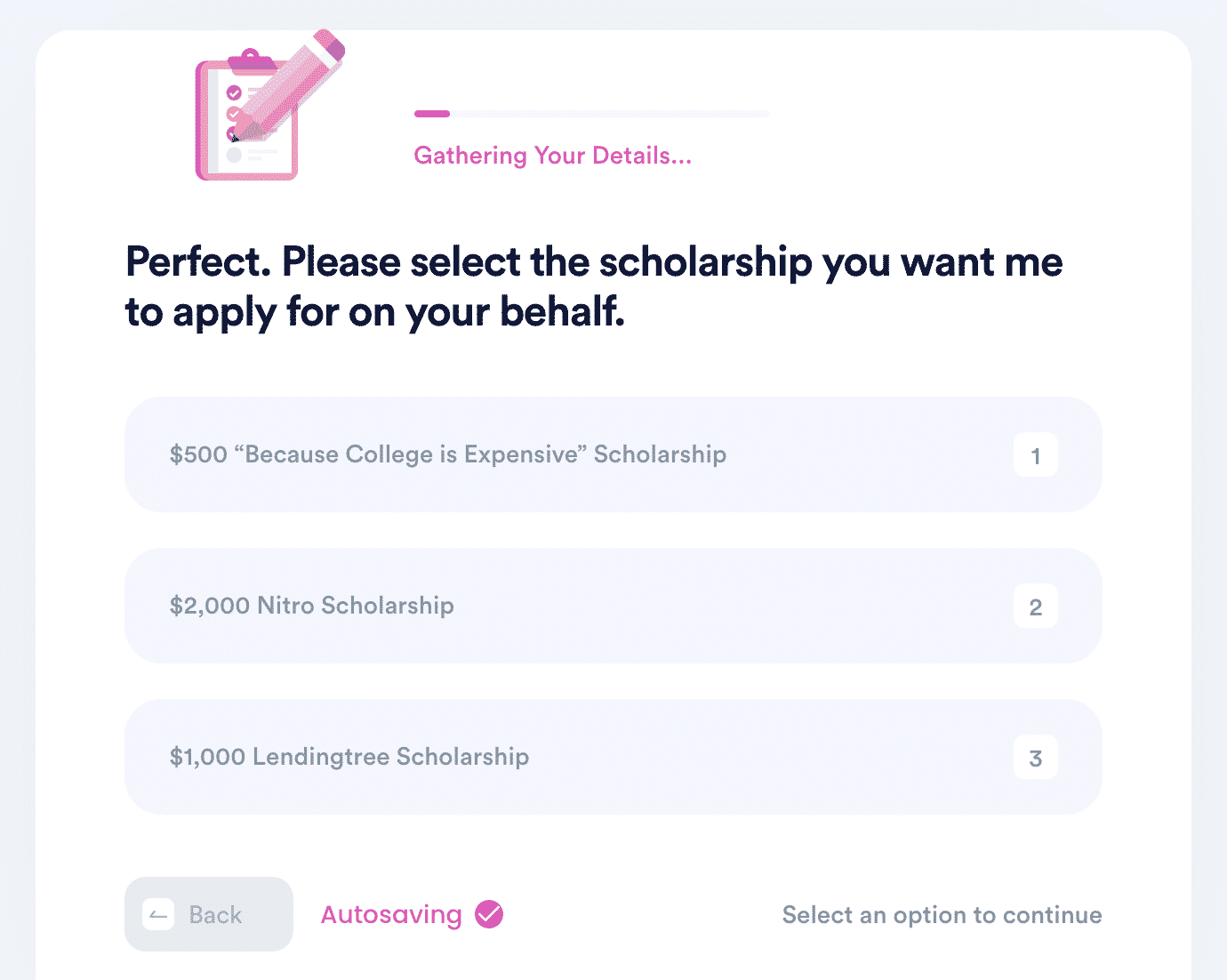 Use DoNotPay To Deal With a Plethora of Bureaucratic Tasks!
Tired of dealing with bureaucracy? We understand the struggle, and that is why our app makes handling administrative tasks a breeze!
Regardless of whether you need to compose a legal document, such as a power of attorney or a child travel consent form, appeal property taxes or your parking tickets, file a financial aid appeal and a FOIA request, or get a document notarized, DoNotPay has got you covered!
In case you also need to submit anonymous HR complaints, our app will provide you with the easiest way to do so!
Go on a Stress-Free Shopping Spree With DoNotPay
Do you like to shop until you drop? With DoNotPay, you won't have to worry about dropping! We'll make sure you can:
If you need more money to continue your shopping spree, let our app help you find any unclaimed funds under your name and enter numerous giveaways and sweepstakes!