What To Do About a Seatbelt Ticket in Florida—We Know
Seatbelts ensure the safety of the driver and passengers, but if you forgot to put yours on, you probably got a ticket. Did you know that you can fight your citation? In this article, we will explain how to get your seatbelt ticket in Florida dismissed. We'll also answer the following questions:
What's the cost of a seatbelt ticket?
Do you get demerit points for not wearing a seatbelt?
Is not wearing a seatbelt a moving violation?
If you need help fighting your Florida seatbelt ticket, to get it overturned easily.
Seatbelt Law in Florida—The Basics
Florida seatbelt law stipulates that the driver and front-seat passengers must wear their seatbelts. The driver also has to make sure that every passenger younger than 18 is properly restrained. If not, the driver could face a citation for every passenger under 18 not wearing a seatbelt.
Florida is a primary enforcement state—this means that a law enforcement officer may pull over a car if they see that someone isn't wearing a seatbelt.
Child Seatbelt Law in Florida
To ensure the safety of your little ones, you should get acquainted with the child seatbelt law in Florida. The key details of the child seatbelt law are listed below:
Children who are under four must be restrained in a car seat
All children who are four or five have to be in a car or booster seat
All kids under the age of 13 must always ride in the back seat and have seatbelts on
Are There Any Exceptions to the Seatbelt Law in FL?
There are a few exemptions to the seatbelt law in Florida. People who don't need to wear seatbelts are:
Drivers or passengers who have a medical condition that prevents them from wearing a seatbelt
Passengers of school buses purchased before December 31, 2000
Drivers of trucks that weigh more than 26,000 pounds
Is a Seatbelt Ticket a Moving Violation in Florida?
Not wearing a seatbelt in Florida isn't a moving violation, but the seatbelt ticket may go on your driver record and get you points. This can happen if you decide to pay for your ticket, which means that you're admitting guilt. You could get three points on your license for not wearing a seatbelt in Florida, which could affect your insurance rates.
Appearance in court isn't necessary for a seatbelt ticket in Florida. You'll only have to pay it within 30 days—if you don't, your license can be suspended.
How Much Is a Seatbelt Ticket in Florida?
If you violate a seatbelt law, you can pay the following fines:
$30 for the driver and all passengers over 18 who aren't buckled up
$60 for any child not restrained in a proper child safety seat
Can You Get Out of a Seatbelt Ticket?
If you received a seatbelt ticket, you'll be happy to know that there is a way to contest it. First, you need to determine your defense. There are two main ways you can argue your case. Check out the table below for more details:
Argument
Explanation
Reasonable doubt
If the law enforcement officer issued a ticket unfairly, you can argue that they were wrong to do so. Use this argument only if you were wearing your seatbelt and the officer made a mistake.
Due diligence defense
If you weren't wearing a seatbelt, you'll need to have a valid excuse. The due diligence defense means that you:

Didn't notice that your child unbuckled
Were wearing your seatbelt while driving but unbuckled when the police officer pulled you over
Have a medical condition that excuses you from wearing a seatbelt
Didn't realize that your seatbelt was faulty
You were driving in reverse
You might be tempted to hire an attorney to defend you, but consider that lawyer fees could cost you as much as the seatbelt ticket itself and more.
We have a simpler and more affordable way for you to contest your citation. If you use our platform, you'll only need to provide a few details, and we'll create a strong appeal letter that can help you get your ticket dismissed.
How To Use DoNotPay To Fight a Seatbelt Ticket in Florida
To help you avoid the complicated process of contesting seatbelt tickets yourself, DoNotPay created a Seatbelt Ticket feature designed to generate a convincing appeal letter. Once we draft your letter, we'll send it to the Florida seatbelt ticket authorities, making it possible for you to get the citation dismissed.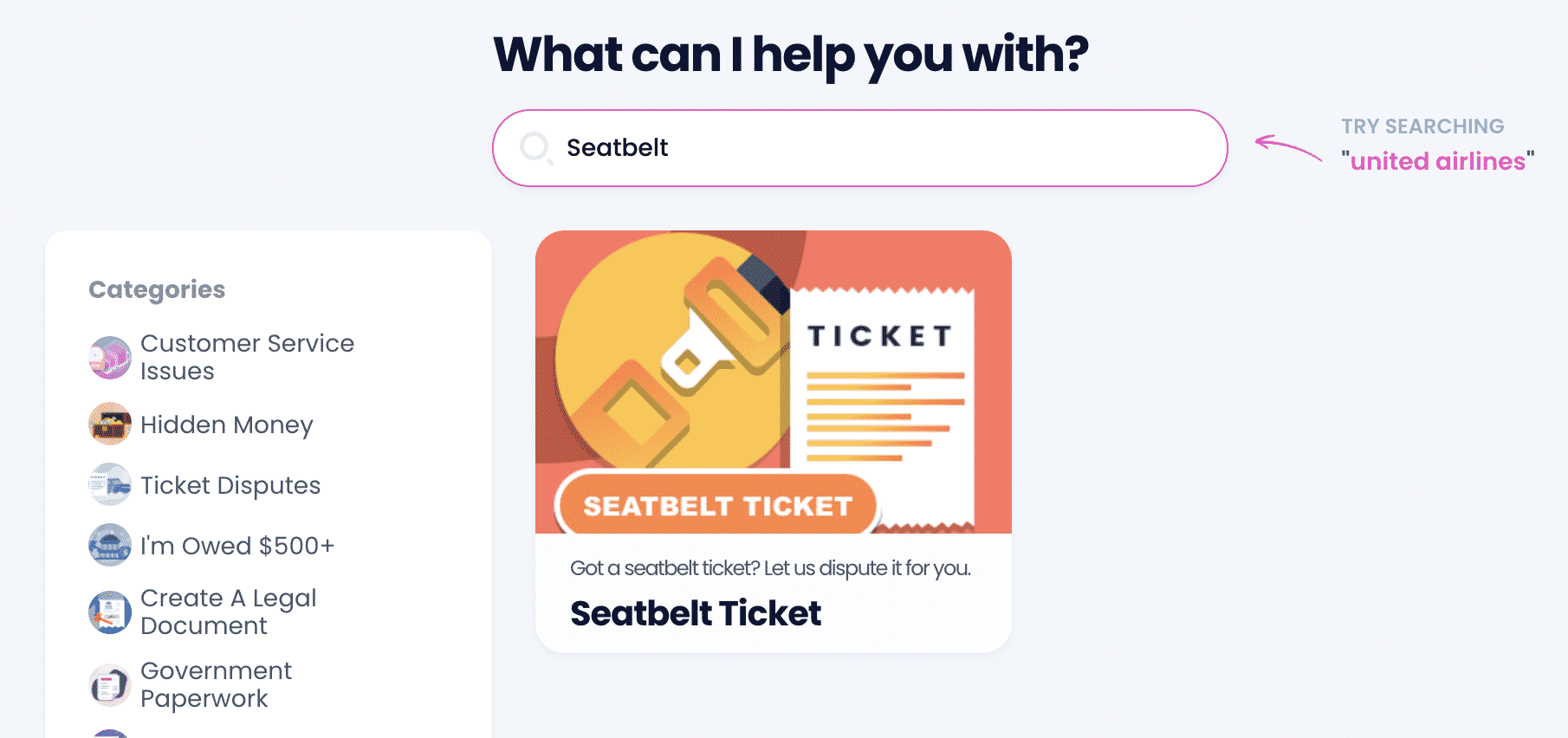 To use DoNotPay's helpful feature, you only need to:
and select the Seatbelt Ticket product
Upload a picture of your ticket
Provide information about the situation through a simple questionnaire
Choose the argument you'd like to use
Using the answers you provided, our app will draw up a fully personalized appeal letter in no time.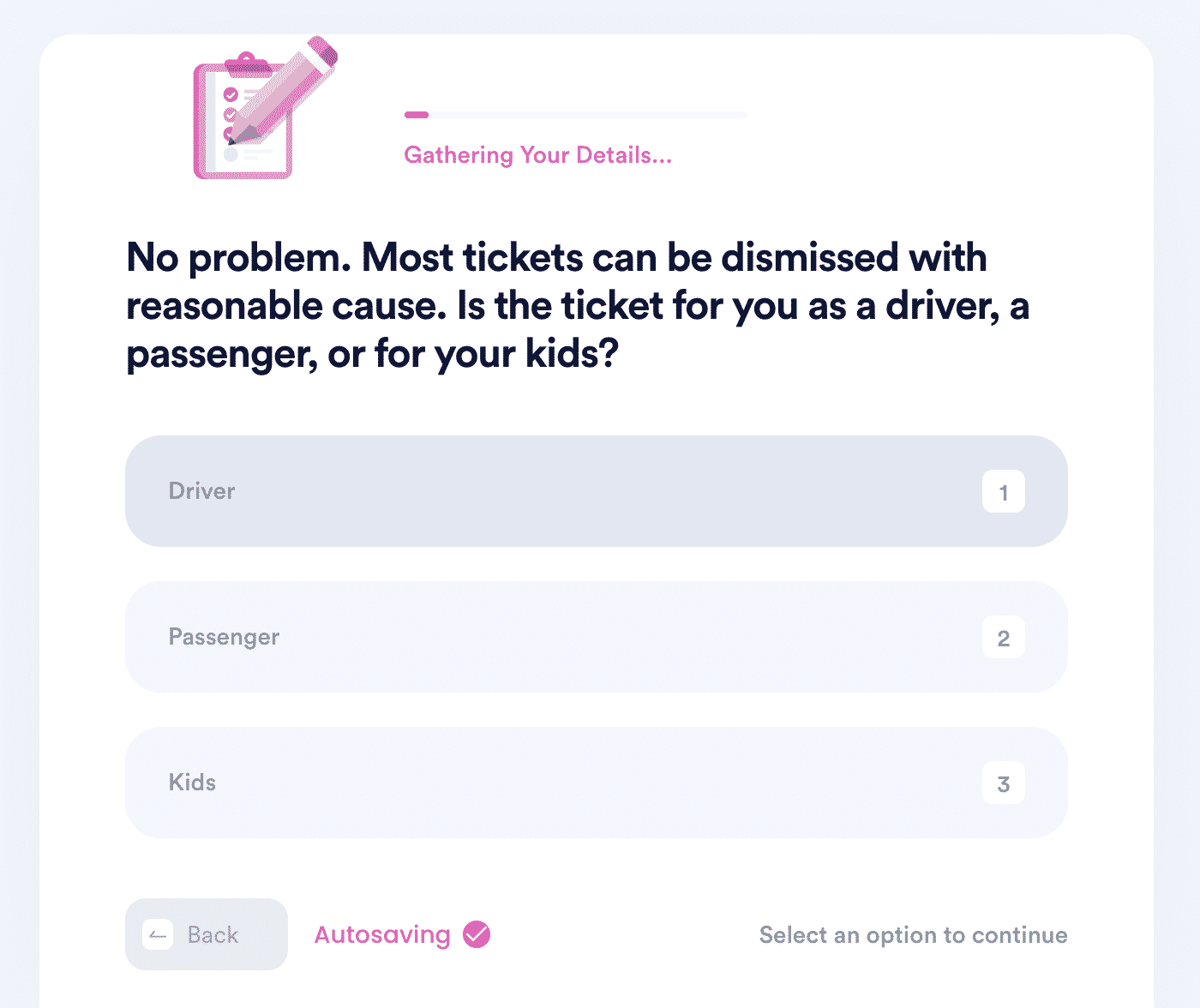 DoNotPay has plenty of other useful guides you can consult if you're still confused about seatbelt laws. We'll answer the following questions for you and more:
Protect Yourself With DoNotPay's Help!
In case you're looking for protection from harassers and stalkers, you can count on our help. Even if you're dealing with discrimination at work or noisy neighbors, our app can solve your issues. When spam is what's bothering you, our AI-powered app will put a stop to it. Email spammers, texters, and robocallers won't be able to reach you.
What if you need to take the issue to court? The world's first robot lawyer will be by your side. With our help, you can file a complaint or sue anyone in small claims court.
If you're wondering whether there might be a sex offender in your area, we can help you find out. Use our app to perform a sex offender search and get updates.
A Pocket-Sized Assistant Is All You Need
Is your to-do list getting longer and your paperwork piling up? DoNotPay swoops in! We'll cut through numerous bureaucratic tasks so that you can sit back and relax.
Here's what we can assist you in: